Enamel Tin Mug Candle DIY
See our DIY instructions to make a pretty and stylish enamel tin mug candle. It is the perfect gift for somebody!
I am always looking for more unique ideas for candles, and the great thing about candle making is that there are so many different containers that can be used to create one of a kind candles.
These tin mug candles not only provide a beautiful scented candle. But the mug can also be used as, well a mug, when the candle is all burned out!
It isn't just women who like candles also. But if you are going to gift a candle to a man, you want something a little less feminine smelling.
These tin can candles are perfect gifts for absolutely anyone. They smell great, they look great, and they have more than one use! What is more perfect than that!
These candles use soy wax, which is not just longer burning, it is also much more environmental to use and burn that other candle waxes.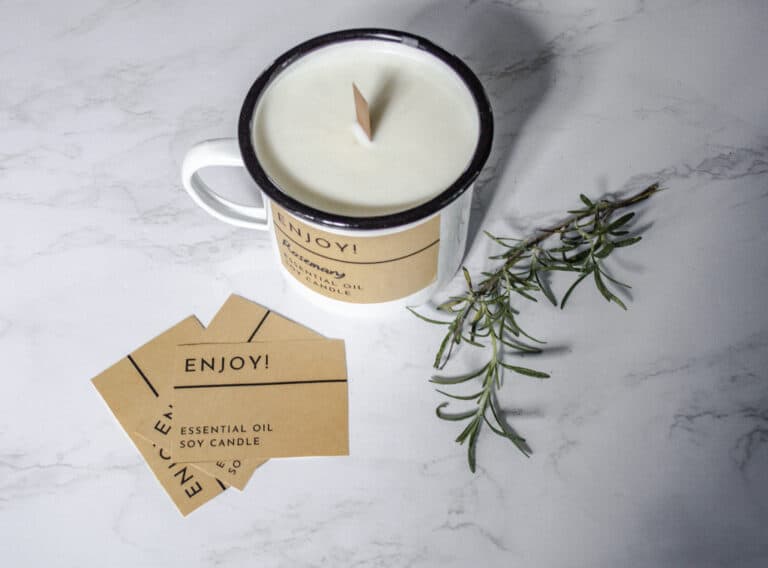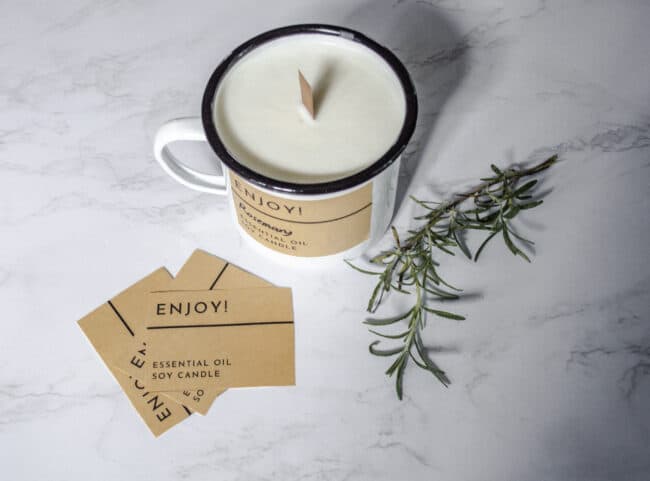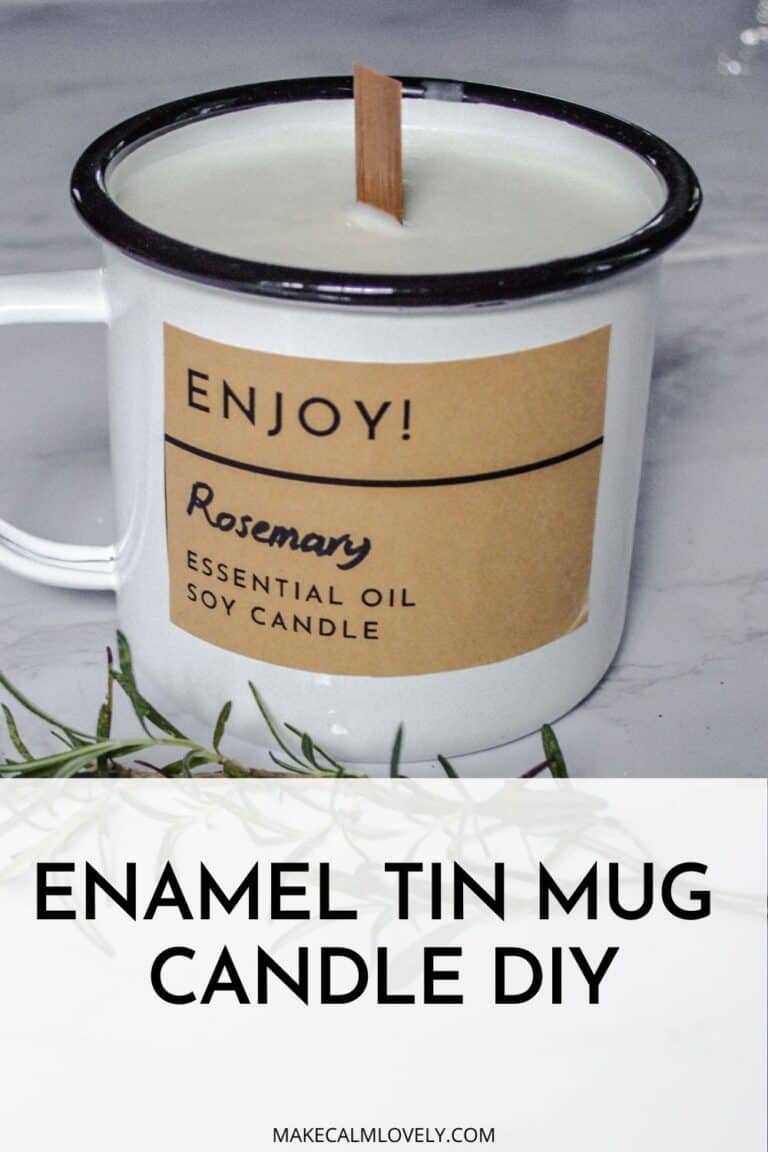 This post contains affiliate links. This means that if you click on a link in this post and make a purchase via that link I may receive a small commission, at absolutely no additional cost to you. You can view my disclosures here.
Supplies Needed to make the Enamel Tin Mug Candle
Soy Candle Wax (you can purchase wax flakes such as these ones)
Essential oil scents of your choice. You can use absolutely any essential oils that you want to for your candle scent. Ideas include rosemary, lavender, & eucalyptus among many others.
How to Make Enamel Tin Mug Candles
Step 1
Clean the enamel mug and dry thoroughly. Place the wooden wick so that it attaches to the bottom of the mug, centered in the middle of the mug.
You can either use a drop of glue onto the metal disk at the bottom of the wood wick for this, or use a sticker that comes with many candle making kits.
Step 2
Melt the candle wax in a metal pitcher inside a pan of boiling water. Heat a pan of water and place the metal bowl or metal jug inside the pan of water. Put the wax inside the bowl or jug, and let it heat up and gradually melt. You can stir it as it melts if you need to.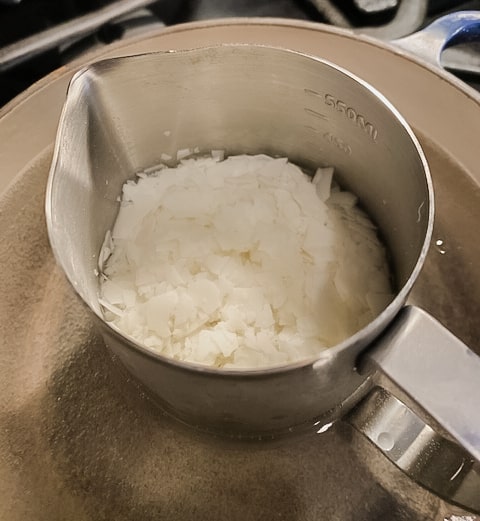 Step 3
Once the wax has melted, turn off the pan of water. Be very careful how you lift out the bowl or jug with the melted wax inside, as it will be really hot, and you can easily burn yourself on that and also the melted wax. I would suggest using something like oven gloves.
Once the wax is melted, add a few drops of the essential oil that you will be using to the melted wax and stir thoroughly. Stir with a wooden skewer or chopstick.
Step 4
Pour the melted, now liquid, wax into the enamel cup. Fill as far up and close to the top as possible (leave a little gap at the top of the mug).
The wick should already be centered where you placed it. Wood wicks are much easier to work with than other wicks, and you shouldn't need to secure the wick in place when you pour in the melted candle wax.
Step 5
Allow the wax to cool inside the enamel cup completely. This will take several hours, and ideally overnight to completely cool and harden.
Step 6
Once the wax is completely hardened and cooled, cut the wooden wick down to size if needed.
Step 7
Print out the labels on Kraft or other sticker paper. You can get a PDF download of the sticker sheet templates here, together with full DIY instructions to print.
I left a space on the label where you can write in what essential oils you used for your candle. Use a nice black fine marker for this. You can get as fancy as you want to with writing this out.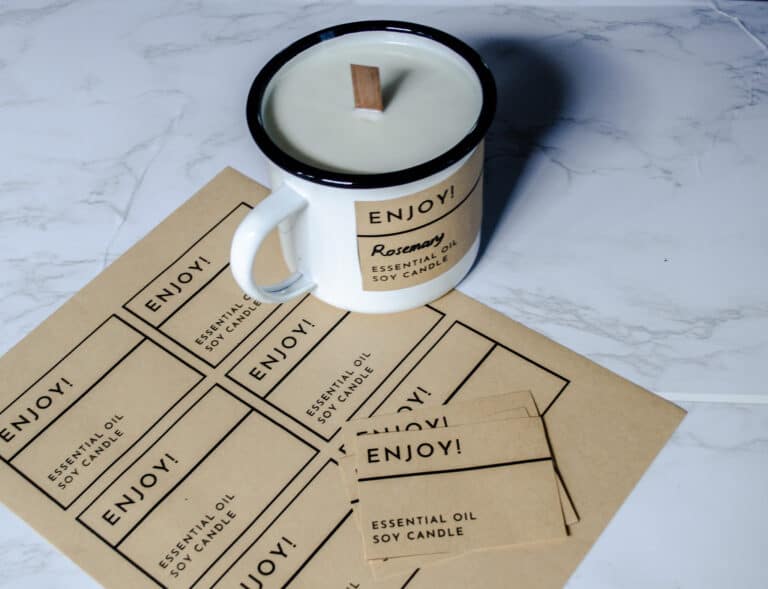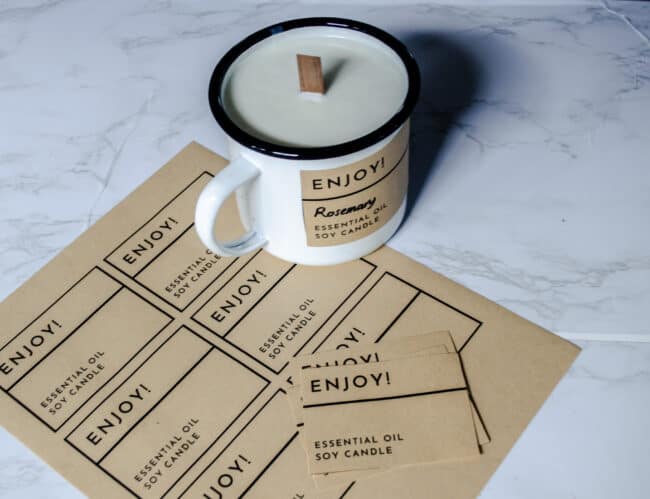 Step 8
Attach the label to the outside of the enamel tin mug.
Step 9
Gift and enjoy! That's really it!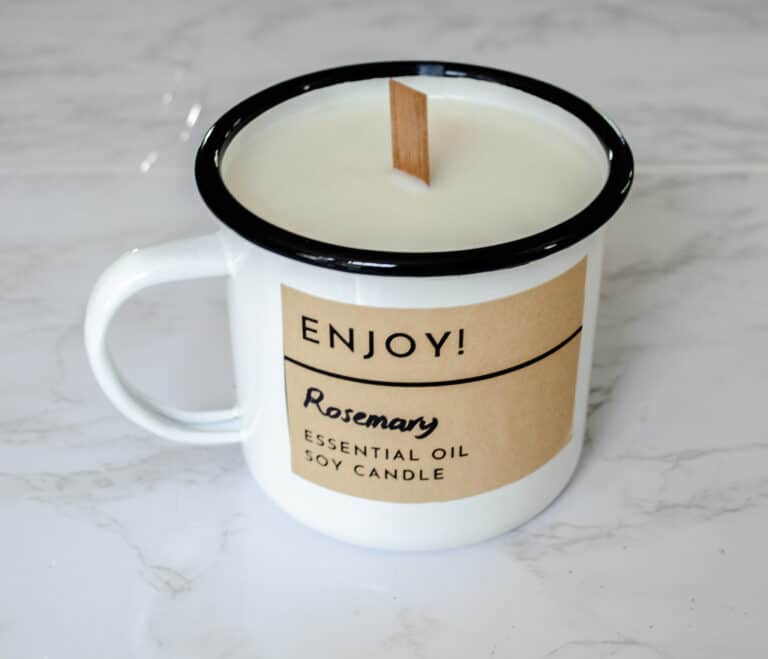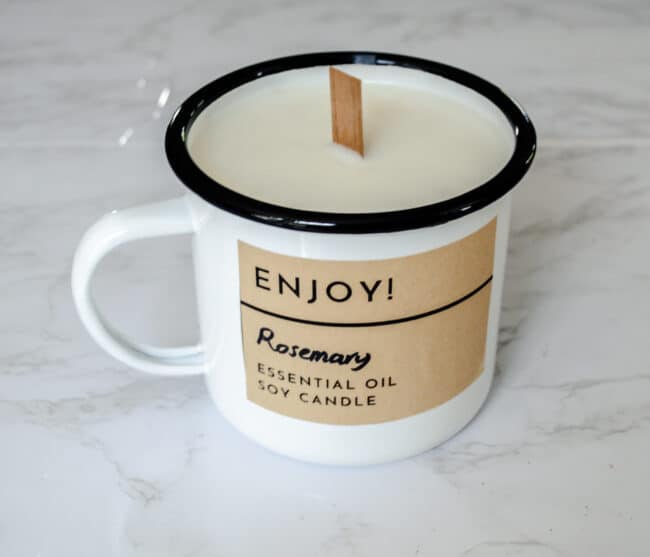 Related: Make this Lovely Copper Cap Candle
Related: Make these Tin Can Candles
Related: Beginner's Guide to Candle Making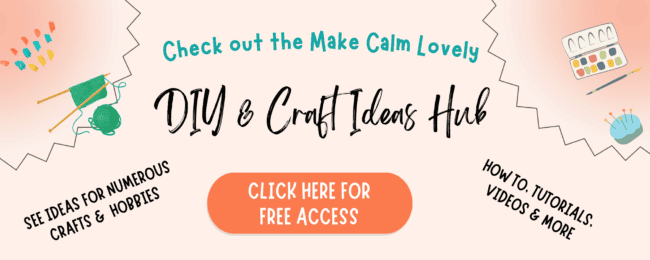 See our DIY instructions to make a pretty and stylish enamel tin mug candle. It is the perfect gift for somebody!