How to use an Instant Pot: Instant Pot 101 for Beginners
An Instant Pot is a pressure cooker that cooks your food and meals incredibly fast. If you just got an Instant Pot this is a complete tutorial on how to use it!
If you are thinking of getting an Instant Pot, have just bought one and don't really know how to use it, or you are just wondering what on earth an Instant Pot is this post is for you!
This is a basic Instant Pot 101 that will tell you all you need to know!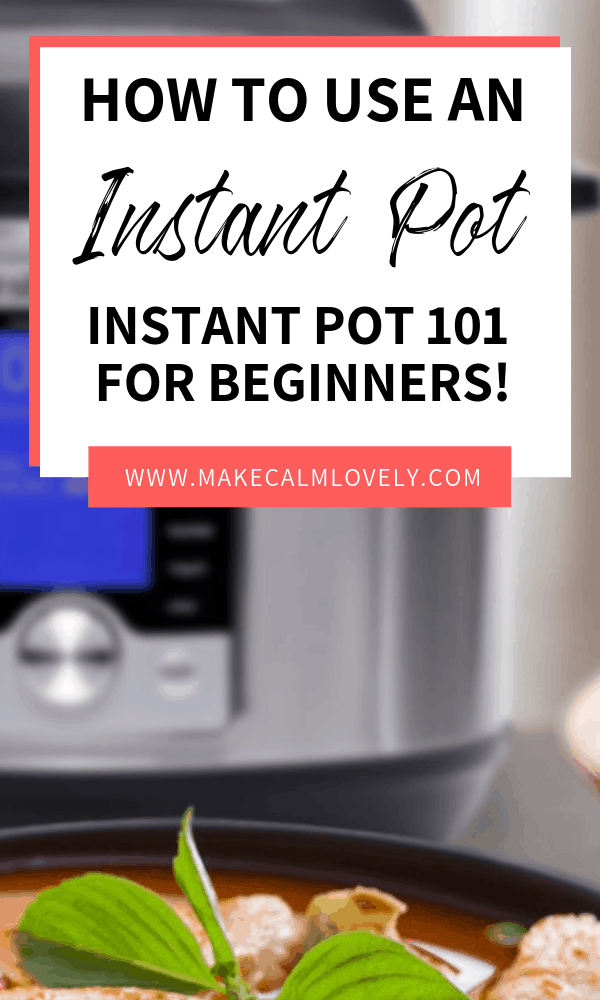 This post contains affiliate links. This means that if you click on a link in this post and make a purchase via that link I may receive a small commission, at absolutely no additional cost to you. You can read my disclosures here.
I finally succumbed to purchasing an Instant Pot because I was so tired of cooking an evening meal after a long day at work. Some nights I honestly would have rather pulled all my hair out rather than have to make a meal for my family. I was tired, my family were tired, but everyone needed to eat!
When you first get an Instant Pot it can be pretty daunting. I mean it looks like a kind of spaceship! Then you find out that you have to bring it to pressure, and release the steam and all kinds of things like that and it can be so overwhelming that many Instant Pots simply stay in their box after they are purchased!
But it honestly is a real time and sanity saver and it really IS easy to figure out. So stay with me – I will make you an Instant Pot expert in no time! Want to know how to set up your Instant Pot to use for the very first time? Read this post!
What you need to know about an Instant Pot
An Instant Pot is a pressure cooker, this means that it cooks with pressure and steam. Instant pots can cook all kinds of foods, including soups, pasta, poultry, meat and vegetables. They can also boil eggs and make yogurt!
Each pot has many different functions and can also serve as a rice cooker, slow cooker and vegetable steamer. One of the great things about them is also the fact that you do not need to defrost food first before using it, which saves an incredible amount of time.
The pots come in several different sizes – 3 quart, 6 quart, and 8 quart. There are several different models available – currently these are Max, Ultra, Duo, Duo Plus, Lux, Smart, Nova Plus and Viva. The main difference between each model is how many cooking programs that they have.
Depending on how many people are in your family you will want to purchase the size most adequate for your needs. My pot is a 6 quart which works well for the four of us. A 6 quart size is generally good for a family of 4-6 people. This is a good size for making soups and stews, and this size makes up about 3 cups of rice (dry). If you are a couple a 3 quart may be adequate for you. The 6-quart is the most popular size purchased.
The lid on top of the pot is a standard black lid. You need to twist it to open and close it. If you prefer to see your food inside the pot as it is cooking you will need to purchase a separate tempered glass lid.
An Instant Pot does need to reach pressure before you can cook with it. So bear this in mind when timing and planning recipes and dishes using your pot. It takes around 5 minutes to bring the pot to pressure, therefore this should be added on to any cooking times given for a recipe.
All inner parts, lids and accessories of an Instant Pot are dishwasher safe, which makes cleaning up even easier!
Read How to Set up your Instant Pot for the first time
Safety considerations of an Instant Pot
The pressure and heat of an Instant Pot can cause problems and possible injury if you do not adhere to safety procedures. It is highly advised to read the accompanying manual that comes with your pot for safety instructions and information. Instant Pots are made with better technology than the old pressure cookers, with greatly improved safety features.
You should not have your face or body anywhere near the valve on top of the pot when the steam releases, as it is extremely hot, this especially applies to your face and fingers. After you finish cooking with your pot, make sure that when you remove the lid your face is not near the pot. You should also never force the lid open.
All those Buttons and what they mean!
There are many buttons on an Instant Pot, and they can be daunting at first glance. Many of them however are self-explanatory such as: Soup/Broth, Meat/Stew, Bean/Chili, Poultry, Rice, Porridge, Steam, and Yogurt. Depending on the model that you have, you may have different buttons and programs on your pot.
Other buttons and their functions are less obvious, but this is essentially what they do:
Saute. This is good for pre-cooking something, such as meat. Using this function has to be done with the lid off, and is just like cooking on your stove. It is not a pressure cooking setting.
Multigrain. This setting cooks rices such as wild rice and brown rice. The rice setting applies to white rice.
Slow Cook. This setting is equivalent to a slow cooker or crock pot, which your pot can be used as. This is not a pressure cooking setting.
Pressure/Cook. This is the main button used for cooking in your pot.
Keep Warm. This will keep the food in the pot warm. It is not a pressure cooking setting.
Cancel. This will stop whatever you were doing, so you can change the function. You should press this button after changing functions, such as switching from saute to another mode.
Delay Start. This delays the start of cooking.
Minus and Plus signs. These are pushed to increase or decrease time etc on your Instant Pot.
All those terms and what they mean!
Quick Release. This just means that you just flip the valve on the top of the Instant Pot so that the steam bellows out very quickly.
Natural Release. You do not move the valve at all – you just leave it as it is. It will count down and naturally release the pressure very slowly. This can take anywhere between 10 to 30 minutes.
Dual Pressure: The cooker includes both pressure settings low and high.
Float Valve (Pin): The silver or red pin beside the steam valve, when it is up, your cooker is fully pressurized; when it drops it is no longer pressurized and you can open the cooker.
Recommended Instant Pot
The Instant Pot I own and use and one I can completely recommend is this model.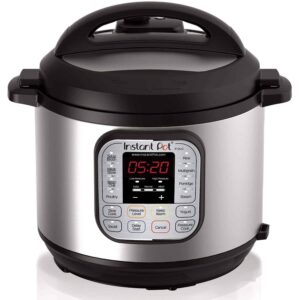 Additional things you may need for your Instant Pot
There are some additional things that are available to purchase for your pot. Depending on the types of things you cook and make, you may or may not need these accessories:
Steamer Basket. This is good for steaming vegetables. It is also used to cook more delicate foods, such as eggs, bread and cakes.
Glass lid. An Instant Pot doesn't come with a glass lid, so if you want a glass lid for easier viewing of what you are cooking this is a good choice. It is also easier to take off and on, and is easier for guests to remove if you are serving directly from the pot.
Silicone Lid Cover Seal. This lid seal allows you to save the contents of your pot, so you can serve them later.
How you actually cook with an Instant Pot
Here is one of my favorite recipes for an Instant Pot, Spaghetti. It is an easy dish to make, especially if you are a beginner at all this pot stuff. Through seeing this recipe (add it to your recipe file!), I can guide you through how an Instant Pot actually works.
Instant Pot Spaghetti
Ingredients:
4 cups water
1lb spaghetti
2 tablespoons butter
Pinch of salt
Directions:
Put all ingredients into the pot. Break the spaghetti up several times before you place it in the pot.
Secure the lid and set the pressure knob to seal.
Press the Pressure Cook button and set the time for 3 minutes. Note, your pot will have to get up to pressure, therefore once you press this button it may take a little time before it reaches pressure (perhaps around 5 minutes or so. Once it has reached pressure it will start counting down the time that you entered. It will say "On" as it is working on reaching pressure.
Once the time is up, do a natural release (doing a quick release will just shoot out scalding steam as there is so much liquid in the pot). A natural release will let the steam out on its own naturally, for anything between 10 to 30 minutes.
Remove the lid and serve.
Top your cooked spaghetti with sauce (you can microwave this or heat up in a separate stove-top pot).
You may also be interested in:
Ideas for Storing & Keeping your Instant Pot