IKEA can be a great choice for organizing products and items for your home. IKEA is affordable, has great design, and their products are so versatile.
But what do professional organizers, who really know their stuff, use for themselves and for their clients from IKEA?
I searched around to find out the best IKEA items that professional organizers swear by! These are the 11 items that most professional organizers use in their own homes, and recommend and use with clients.
This post contains affiliate links. You can read my disclosures here.
Bekvam Spice Racks
Bekvam Spice Racks are loved by professional organizers for numerous reasons. Not only are they great racks for holding your spices, they can also be 'hacked' and turned into pretty much any other storage or shelving in your home.
Bekvam spice racks can be painted to change their color. They can be used as book shelves in kids rooms, storage shelves for bathrooms, and so much more.
Lackisar Storage Bags
Lackisar storage bags come in various sizes and they make beautiful looking, and tough, storage bags for every purpose in your home.
They can be used inside wardrobes, on shelves, under beds, and more. Made of recycled PET, these storage bags also allow good ventilation, as ventilation nets allow air to circulate. They are easy to pull out as they have good strong handles, and they fold completely flat when not in use.
No wonder so many professional organizers swear by these affordable and attractive fabric storage bags for lots of different organization and storage needs!
Jonaxel Frame with Mesh Baskets
The Jonaxel storage shelves and baskets are so versatile and useful everywhere in a home. They give the popular Elfa product a run for their money, and are far more affordable.
Professional organizers use Jonaxel in closets and cupboards, in laundry rooms and more. They are also so useful for kids rooms.
Variera Utensil Trays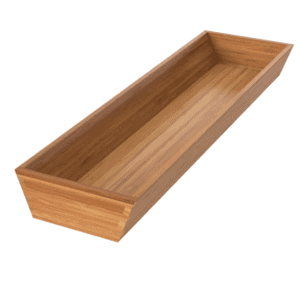 These beautiful looking utensil trays are so useful for organizing all drawers in absolutely every room of your home.
Use them in your kitchen to store your cutlery and kitchen tools. You can also use them in bedrooms, bathrooms and more.
Cluttered drawers are one of the worst clutter offenders in any home. So you need good drawer dividers to keep your drawer contents in order!
They are honestly so beautiful to look at, you could even use them out of drawers on top of tables and cabinets!
Moppe Mini Storage Chest
Moppe is a beautiful and versatile little storage chest, that can be used in every room of your home.
In its natural state it is a beautiful light birch plywood. But it can be stained, painted and decorated pretty much any way you want if you want something different. Check out my IKEA Moppe Apothecary Chest hack here.
Designers love this piece, as it solves so many storage problems. It can be used for storage in kitchens, in work rooms, in office, garages, and more. See these great IKEA Moppe Hacks here for further ideas.
Risatorp Baskets
Risatorp baskets are fantastic little baskets. They look so attractive, and organizers use them just about anywhere.
Risatorp baskets can store your kids art supplies, be used as containers in your kitchen, in your garage and shed for gardening supplies. They can be used to store cutlery, magazines, and even clothing.
Godmorgon Boxes with Lids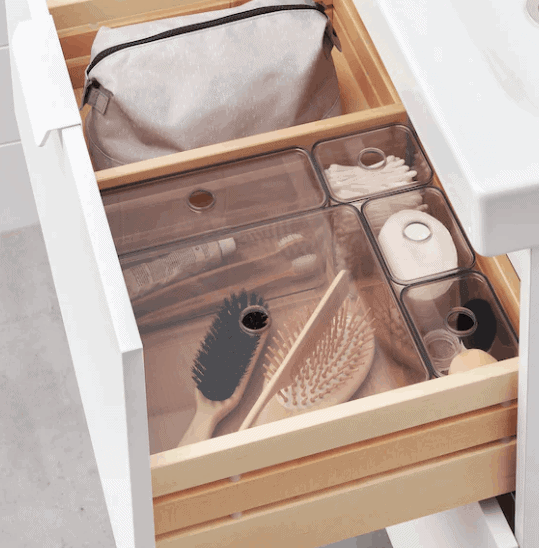 Godmorgon boxes are assorted sized clear boxes with lids, that fit perfectly inside drawers, or out on shelves.
Not only can you keep your drawers well organized, you can actually see exactly what you are looking for too.
Professional organizers especially love these for bathroom drawers and shelving, as they are sturdy and strong, and they can also be washed and cleaned so easily.
Fintorp Rail System
The Fintorp rail system is loved by organizers not only for its versatile storage capabilities. Fintorp is a sleek piece of equipment that looks so attractive too.
Fintorp can be used on kitchen back splashes, attached to cabinets, and even hung in kids rooms. It solves a variety of organization and storage needs.
Raskog Utility Cart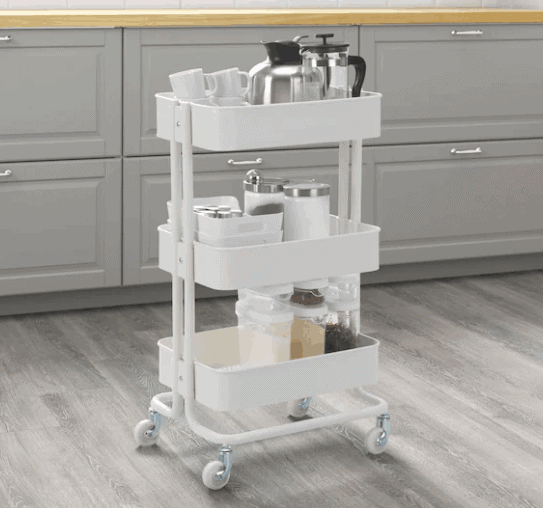 Who doesn't love the Raskog utility storage cart?! This amazing little cart can be used absolutely anywhere, and for absolutely anything.
Professional organizers love Raskog, because it solves so many storage and organization dilemmas. Need more kitchen storage? Need more bathroom storage? More kids storage? Raskog can solve all that. It can be used in kitchens, bathrooms, kids rooms, offices, garages, laundry rooms and more.
Raskog can be turned into a bar cart, a coffee cart, a craft supplies cart. It can be painted to change its color and more.
Pax Wardrobe System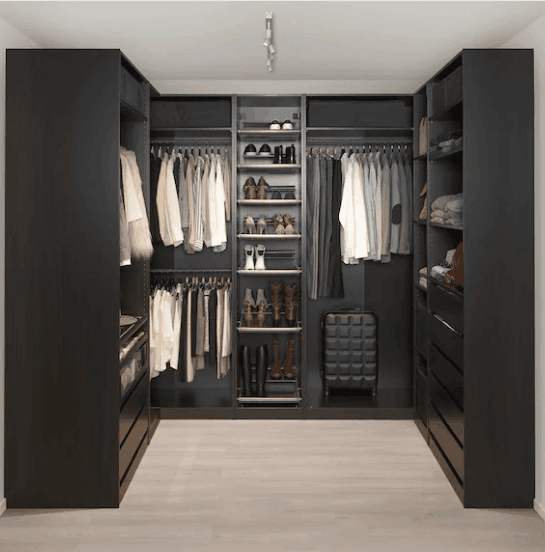 Professional organizers often have to come up with closet storage systems and ideas for their clients. Closet storage and organization systems can be expensive and challenging to find.
IKEA has a whole Pax range of wardrobes, closet interiors and more. Organizers use various Pax pieces to fit out existing closets, or to create new complete closets.
Pax also has all kinds of add on pieces, and the Komplement range of interior pieces IKEA sells also means that each Pax system can be unique and special.
Bottom line is that the Pax closet and wardrobe system makes an affordable option for any client needing a complete wardrobe storage and organization unit, without paying top dollar.
Jattene Moving Boxes
When clients have moving projects in hand, organizers need all the help they can get.
IKEA Jattene moving boxes are affordable and sturdy. The cut out handles on the sides of the boxes make them easy to move around and carry. They are also completely foldable when not in use.
Jattene boxes also make great storage boxes for garages, workrooms, basements and more.
These 11 great pieces from IKEA are just a selection of the products that professional organizers swear by for helping their clients. They also don't hesitate to use them themselves too!
If you are looking to get your home organized, and clutter and things under control, check out these great IKEA organizing and storage solutions.
You may also like these posts:
14 Great IKEA Hacks for your Kitchen
16 Amazing IKEA Hacks you can do in a Weekend
15 Great Home Storage items Available at IKEA