How to Start Making Money with Sponsored Blog Posts: Review of Blog Sponsorship Boss
Imagine a life where brands are pitching you on a daily basis, you set all the rules, and you bring in a few thousand dollars a month on top of your regular income! Sounds like a fairy tale?! Not at all with sponsored posts!
This post is all about how you can start making money with sponsored posts on your blog. It is also a review of a great course that I just took on sponsored posts called Blog Sponsorship Boss.
If you have been blogging for several years you may be considering adding sponsored posts to your tool bag, or you may need another source of income for your blog?
You may have considered sponsored posts and sponsorships – But are you just confused about sponsored posts and working with brands?
Are you confused about what to charge, what is the current going rate, and what the legal rules and considerations are with sponsored posts and sponsorships?
Are you being approached by companies who want to offer you a set (low) amount for a post, or want you to just slip a link into a post you have for a 'favor'?
Do you wonder if those enquiries are legit? Do you get an icky feeling from some of them? Do you wish you would be approached by the bigger well known legit brands, but just don't know how to go about it?
You may already be doing sponsored posts on your blog. But are you constantly chasing up payments, emailing back and forth with people who you are just not sure about, and letting those people be in charge of pricing and conditions of those sponsored posts?
You either know little about sponsored posts, or you are already doing them but you just don't feel that you are in charge of the process at all?
This was exactly where I was in my sponsored posts journey. Then I discovered this great course that literally blew me away.
The course, Blog Sponsorship Boss, is just so thorough and covers absolutely everything about sponsored posts and working with brands.
It is also just a really well put together course. To be honest the whole course feels less like somebody teaching you something and more like having coffee with a friend who is an expert on this and is spilling all she knows to you, warts and all.
In this review of the Blog Sponsorship Boss course I will be sharing with you:
Why you need this course to teach you everything you need to know about sponsored posts

Why you should consider doing sponsored posts on your blog

Why Lidiya is a great person to learn from about sponsored posts

How this course compares to other courses and resources out there about sponsored posts

How much the course costs and what you get in the course

The pros and cons of the Blog Sponsorship Boss course

What I personally learned and what I am integrating from this course
If you want to skip this review and go straight to the official sales page for this course just click here!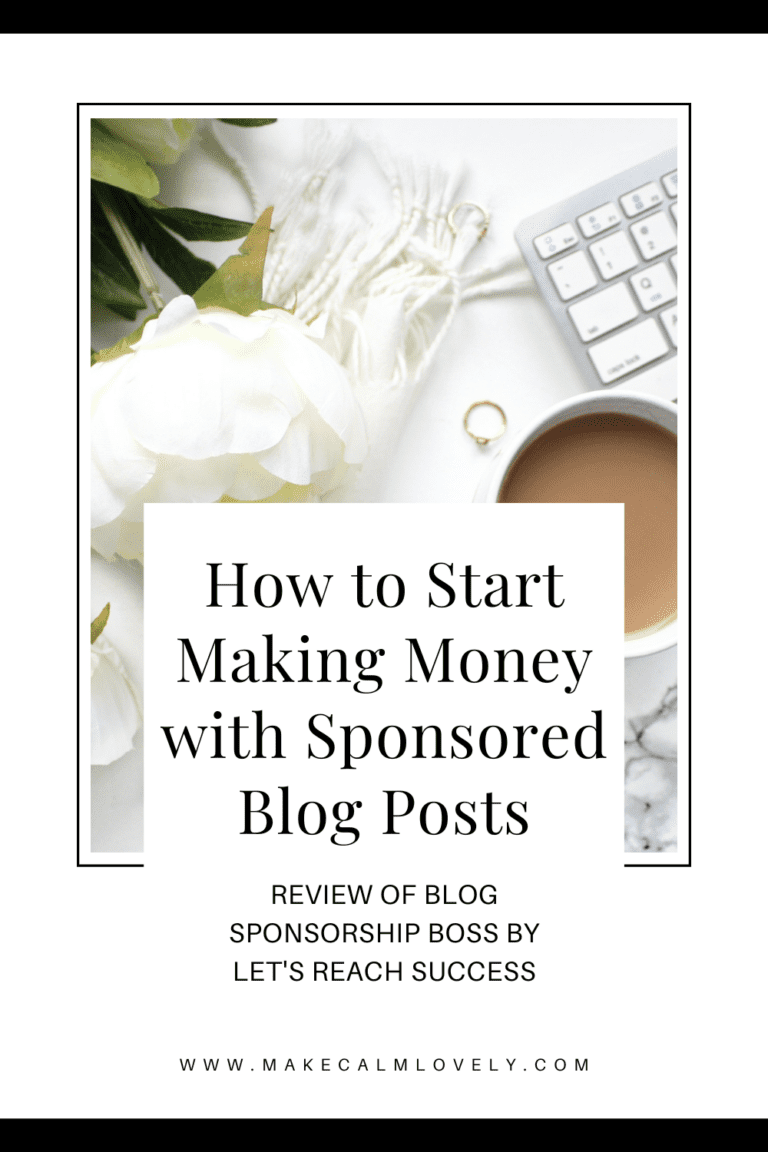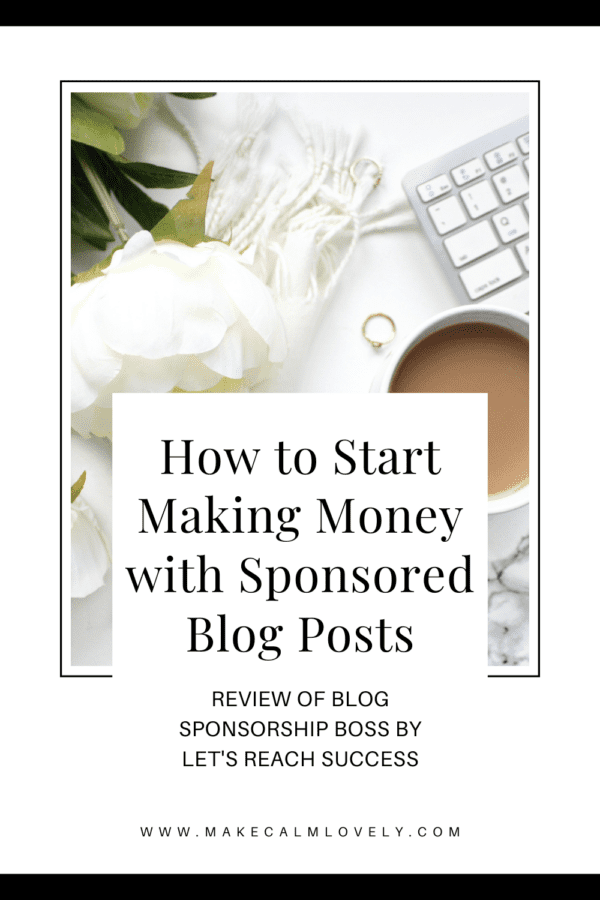 This post contains affiliate links. This means that if you click on a link in this post and make a purchase via that link I may receive a small commission, at absolutely no additional cost to you.
Why Should you do Sponsored Posts on your Blog?
A sponsored post is any blog post on your website that you publish on behalf of a brand that paid you for it.
If you have a great audience many brands would love to work with you to promote themselves to your readers.
As bloggers we are passionate about our blogs, they are our babies, and we work hard at our blogs to craft them into something wonderful that our readers love and follow.
Therefore brands and companies are only too happy to pay us to write about a product or service that they offer. We can let our audience know so much more, or introduce them to something that they may not have been aware of.
Those things can be things that would change our readers lives. They can discover new things, new ways of doing things, and even pursue new directions in their lives.
So having sponsored posts, and working with brands, for your blog can be amazing for both your readers and the brands you collaborate with. Plus you can earn extra income on your blog, in addition to the regular income that you already bring in.
What is the Blog Sponsorship Boss course?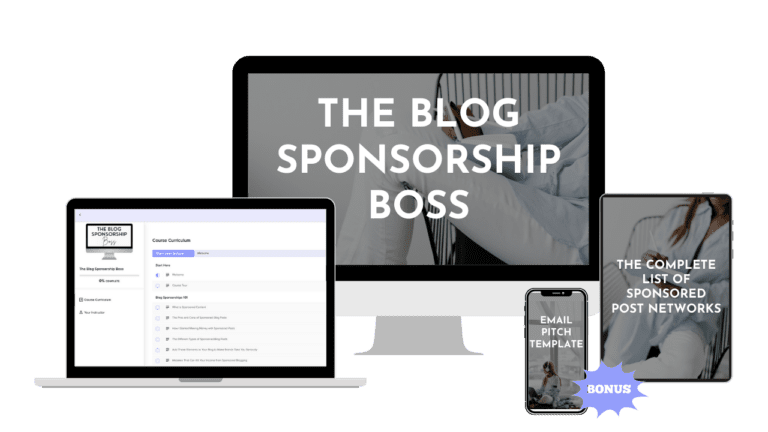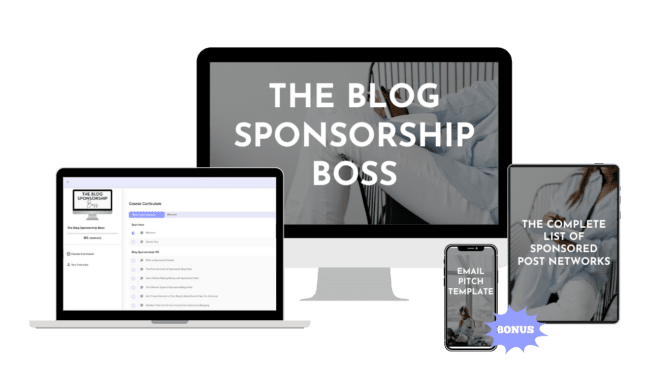 The Blog Sponsorship Boss is a really thorough online course program that teaches you everything about sponsored posts and working with companies.
The course is taught by Lidiya, who is the founder of the site Let's Reach Success. She has actually been named one of the top 10 course creators and experts to watch by Yahoo Finance. She has been featured on Time magazine, Thrive Global and more.
Lidiya has years and years of experience doing sponsored posts. She has seen it all! She has learned over the years through experience and helping others.
The whole point of this particular course is that your blog is special, you put so much hard work into it, you are passionate about it and so are your readers.
So therefore you deserve the best for your blog. You deserve to work with the best companies, for the best rates, and with the best content for your readers.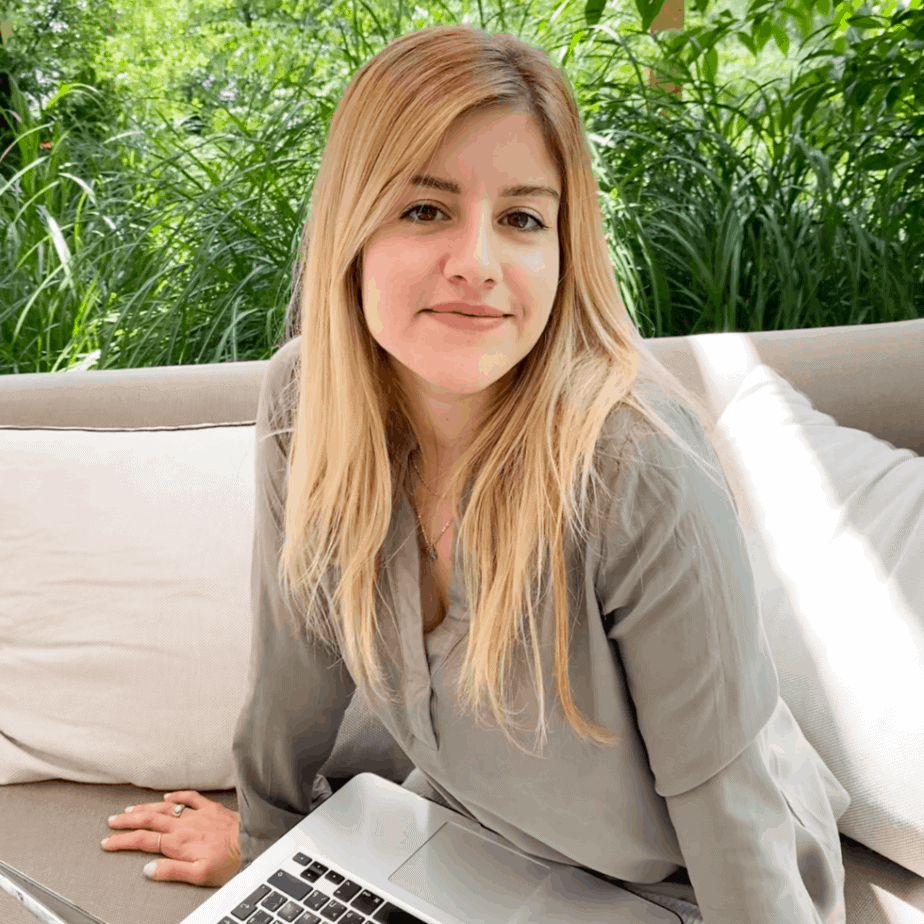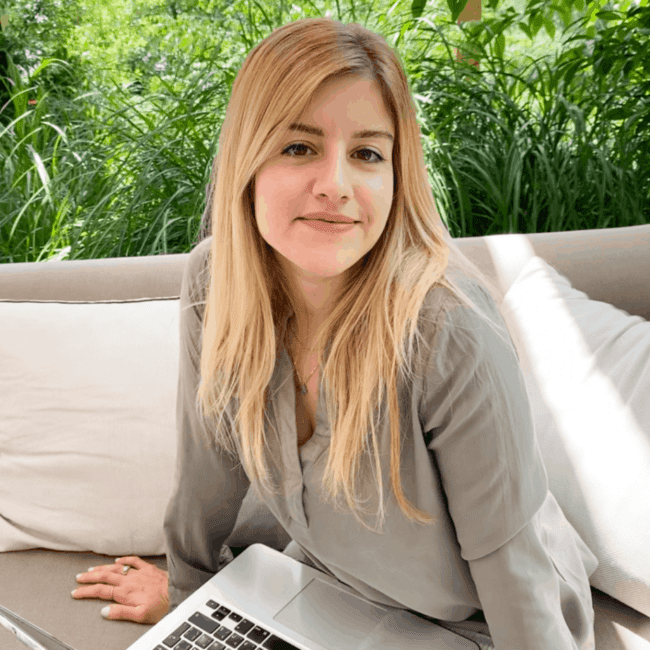 The Pros of Blog Sponsorship Boss
This course is taught by somebody who really knows what they are talking about. Lidiya isn't somebody who has just done a sponsored post here and there. She earned $128,000 in total from sponsored posts over the past 4 years.
The course is taught with videos and also accompanying text, so you can choose which way you want to learn. I personally love this option, as sometimes I can't sit and watch videos.
There are also downloadable PDF files that you can save to keep that knowledge to hand at all times.
Lidiya presents all the information as if she is having coffee with you as a friend – telling you all her insider knowledge and secrets of working with brands and creating sponsored posts.
This is a completely self paced online course. You can dip into it whenever you have the time. You can take the course as quickly as you want, or space it out.
There is a 30 day risk free guarantee, so if you do not like the course you can email for a full refund (note: you won't need to do that as you are going to love the course!).
Each lecture in the course is short and actionable. Lidiya gives lots of real life examples and case studies that really get information across.
Cons of the Blog Sponsorship Boss
There is no Facebook group attached to this course. Personally I don't need a Facebook group for a course and I just don't have the time for all those groups, but I know that many people like an accompanying Facebook group where they can share ideas and ask questions.
How does Blog Sponsorship Boss compare to other Courses out there on Sponsorships?
If you are looking for a course on sponsored posts there are really just a few out there that are by well known bloggers with a lot of experience in sponsored posts:
Making Sense of Sponsored Posts
This course from Michelle Schroeder-Gardner (of Making Sense of Cents) and Alexis Schroeder has 5 modules and over 20 lessons delivered in a text format. This course comes with a Facebook group too.
Making Sense of Sponsored Posts also includes email templates and media kit templates, as well as some additional bonuses such as How to Grow your Traffic with Google SEO, and Instagram Unlocked.
The cost of this course is $159 (or 2 payments in installments). It is slightly cheaper than Blog Sponsorship Boss.
Sponsored Success
This course by Traci Fobes has 6 modules and over 20 lessons, delivered in video and text format.
It includes bonus media kit templates for you to use to design your own, email swipe copy, Editable proposal template, editable insertion order, editable invoice template, sponsored post report, and it also comes with a Facebook group.
The cost of this course is $247 (no installments). This is the most expensive course in this list.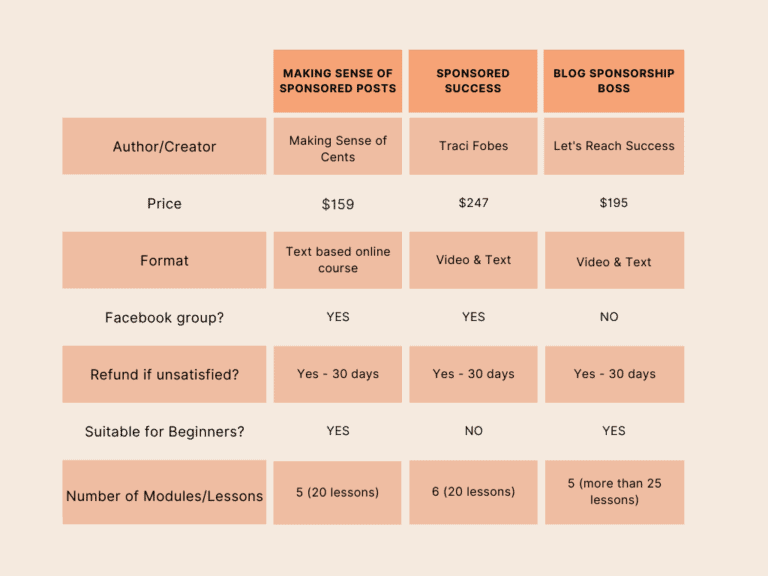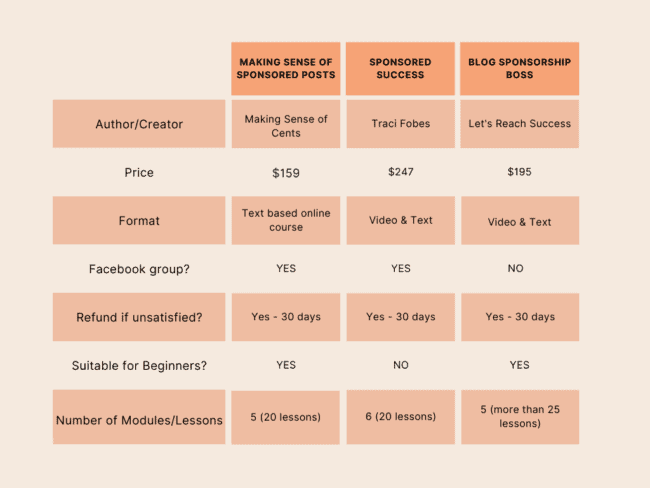 [lasso ref="blog-boss-management-system" id="84985″ link_id="7561″]

Why I think Blog Boss Sponsorship is the Best Course on Sponsored Posts out there
All the other courses and resources I mentioned above on sponsored posts are all legit well done courses and other resources on sponsored posts.
They are all done by bloggers who have a lot of experience doing sponsored posts on their blogs, and working with others, and they are all to be trusted and their information will be invaluable to you.
But why I think Blog Sponsorship Boss stands apart from the other courses is actually in the presentation and also in things that the other courses just don't cover.
One of the things that really tweaked my interest in actually taking the course was the fact that Lidiya covers how to spot a bad client, and how to really negotiate and get what you want out of any sponsorship deal.
My experience, and that of so many of my peers in blogging, is that you are constantly pitched by companies and others trying to get cheap content posted and links placed. I really feel that this part alone is essential education for everyone in how to deal with all this.
Because of how Lidiya presents this course and all the information given, I feel that she really makes you CONFIDENT about doing sponsored posts. She gives you all the information and tells you like it is – so you will definitely feel confident about sponsorships after you take this course.
Blog Sponsorship Boss also gives you a complete list of sponsored post networks, and gives you advice on applying to them all, so you can start applying and getting those really good companies to take notice of you and your blog!
For all the sponsored post courses that I mentioned above, Blog Sponsorship Boss is right in the middle on pricing. It is totally affordable and in my honest opinion offers more value and resources than the other two courses combined.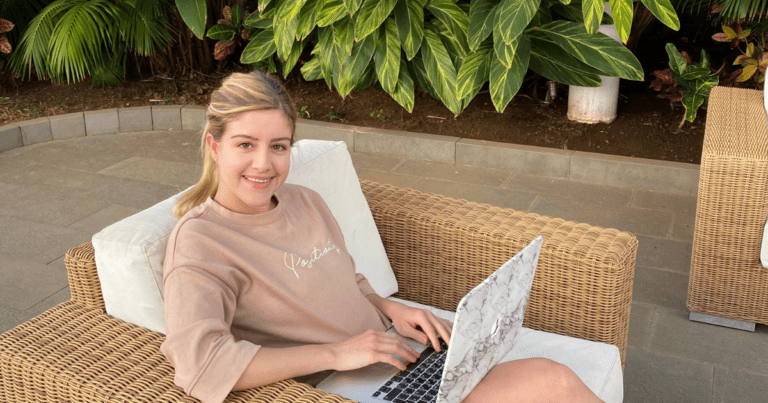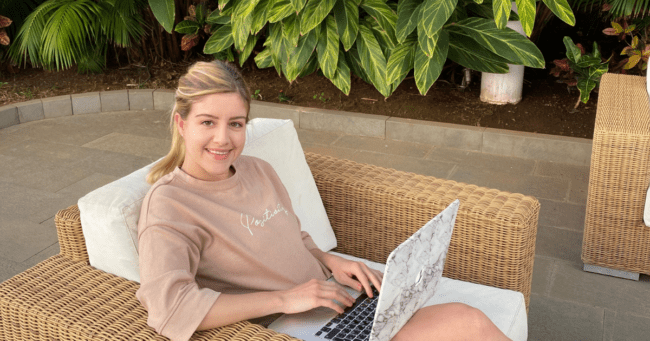 What I learned from the Blog Sponsorship Boss
Probably the most outstanding thing that I learned from this course is to have the confidence in me and my blog, who I choose to work with, and to stick to my own rules regarding sponsored posts.
When you first start out working with brands and companies and doing sponsored content you are unsure about everything – and you can so easily get taken advantage of.
You might be so happy that a company has contacted you for a sponsored post that you accept a low rate and let that company set all the rules. You just don't have experience with things yet.
But Lidiya makes all this clear in the course, and after you go through everything Lidiya says about what you are worth, what the going rates are, how to spot a bad client, how to set your own rules you really do feel ready to do this and do it all on your terms.
I also learned about creating my media kit, and with the advice given I was able to create my media kit in Canva in just one day! Lidiya shows you all the elements needed in your media kit and I followed this and I think I have created an amazing media kit!
After taking this course I feel confident and secure in working with brands and companies, in what I will charge, and what I will offer as sponsorships.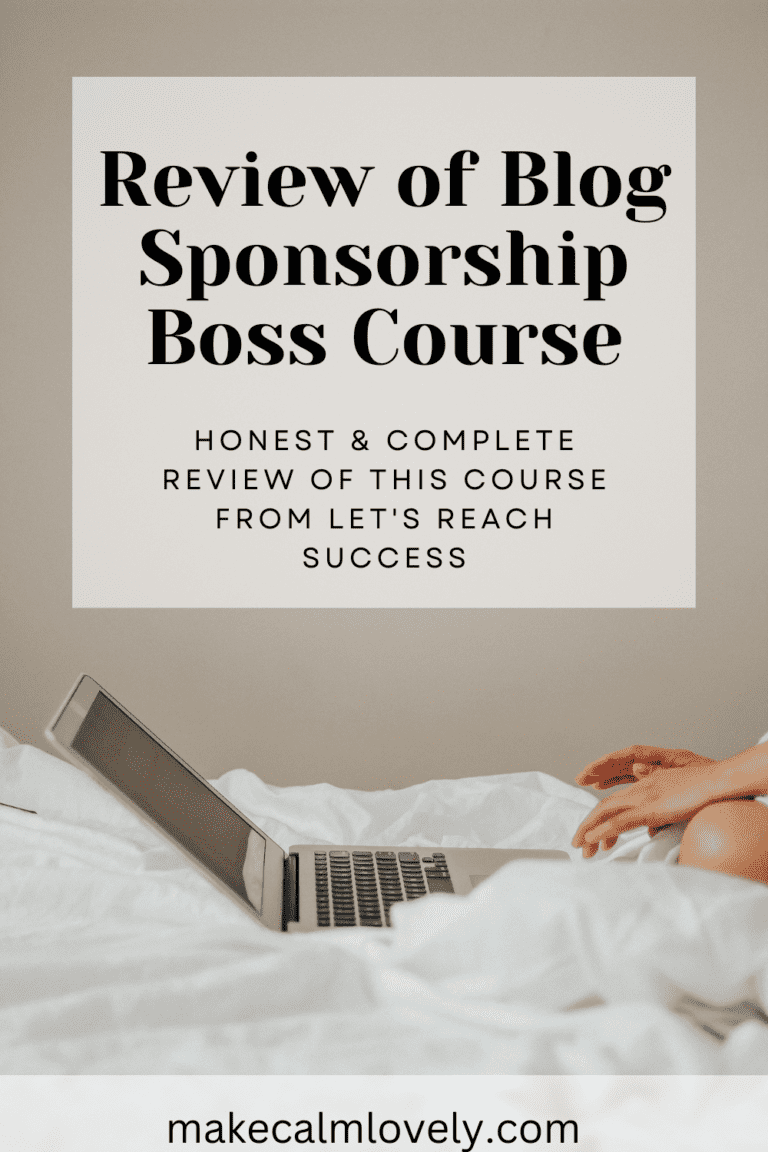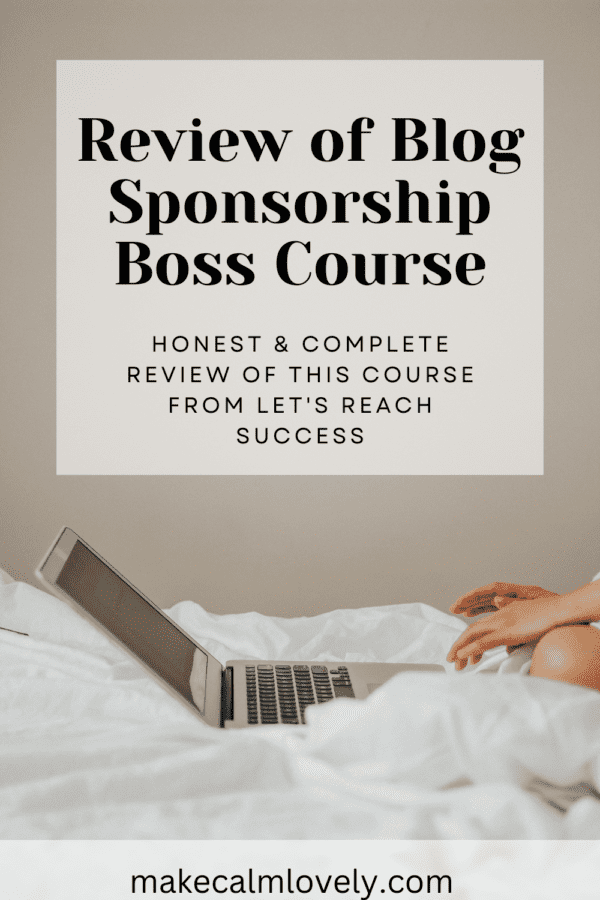 Frequently asked questions about Blog Sponsorship Boss
Will this course be good for me even if I have already been doing sponsored posts on my blog?
Yes – whatever stage in the process of sponsored posts you are at, this course can really help you. If you are currently getting enquiries about posts, or working with companies already you may be frustrated at how to negotiate and even get paid. This course will help you with all that. There are tips in this course that you just may not have been aware of.
Is this course for sponsored posts in a certain niche?
This course is for all blogging niches. Every niche could utilize sponsored posts.
What If I Purchase this course and I am unhappy with it?
There is a 30-day risk-free guarantee. If you don't like the course just email Lidiya and she will give you a full refund.
How long will I have access to the course?
You have lifetime access to the course.
Bonuses that come with Blog Sponsorship Boss
The Blog Sponsorship Boss course comes with numerous bonuses, these include:
Case Studies ($47 value)
Join Lidiya behind the scenes of her 2 latest collaborations with big brands to see who the companies are, the exact emails that were exchanged, the things that were agreed upon, the content she created and how she prepared for it, and any other little detail involved. The end result was earning $2,800 doing work that she absolutely loved and which didn't take much of her time.
Email Template to Pitch New Clients ($19 value)
The Complete List of Sponsored Post Networks ($97 value)
Email Reply Templates ($47 value)
Page for Sponsors Template ($19 value)


So are you ready to start doing Sponsored Posts?!
If you want to take your blog to the next level, increasing your content, offering more content to your readers, and earning more $$$ each month, you need to start doing sponsored posts on your blog!
By taking Blog Sponsorship Boss you will learn everything that there is no know about sponsored posts and working with brands.
You will feel confident and comfortable in your decisions and work, and that is quite simply priceless.
This post is all about how you can start making money with sponsored posts on your blog. It is also a review of a great course that I just took on sponsored posts called Blog Sponsorship Boss.