Easy & Quick Cranberry Brie Bites
These Cranberry Brie bites are the perfect holiday party appetizer! Made with just 3 ingredients, they are easy and fast to make, and so delicious!
If you are hosting a holiday party, or you need to take a dish to somebody else's, you need something easy and fast to make.
These Cranberry Brie Bites are not just fast and easy to make. They are absolutely delicious. The combination of the creamy brie cheese, coupled with the tartness of the cranberries, will make their (and your!) mouths water!
Another great thing about this recipe is that it only requires 3 ingredients! You just need frozen pastry sheets (or crescent roll dough), fresh (or tinned or jar) cranberries, and a slab of brie cheese. That's it!
Note: This post contains affiliate links. This means that if you purchase something via a link in this post I may receive a small commission, at absolutely no additional cost to you. You can view my full disclosures right here.
With regard to the pastry, I love to use this pastry. It is so easy to use, and the sheets come all ready rolled out! But you can also use crescent roll dough if you want to too. Crescent roll dough comes in little triangular shapes, and you can just cut those down to size. With these frozen pastry sheets you just cut out small squares.
I like to use fresh cranberries in these. But you certainly don't need to. In fact by using a jar or jelly of cranberries or cranberry sauce, you will always have it to hand to make these up fast and easily. You also won't need to shop around for fresh cranberries. I haven't tried these with dried cranberries, but that could be a nice twist on these too.
If you want to add something extra to these, you could place a nut, such as a pecan nut, on top of each. You could also decorate each one with a little sprig of rosemary or other garnish.
One packet of the frozen puff pastry sheets in this recipe, together with the pan size recommended, makes around 24 or so bites.
These appetizers look so festive, with the red of the cranberries, against the creamy white of the brie cheese. They are a perfect one-bite appetizer.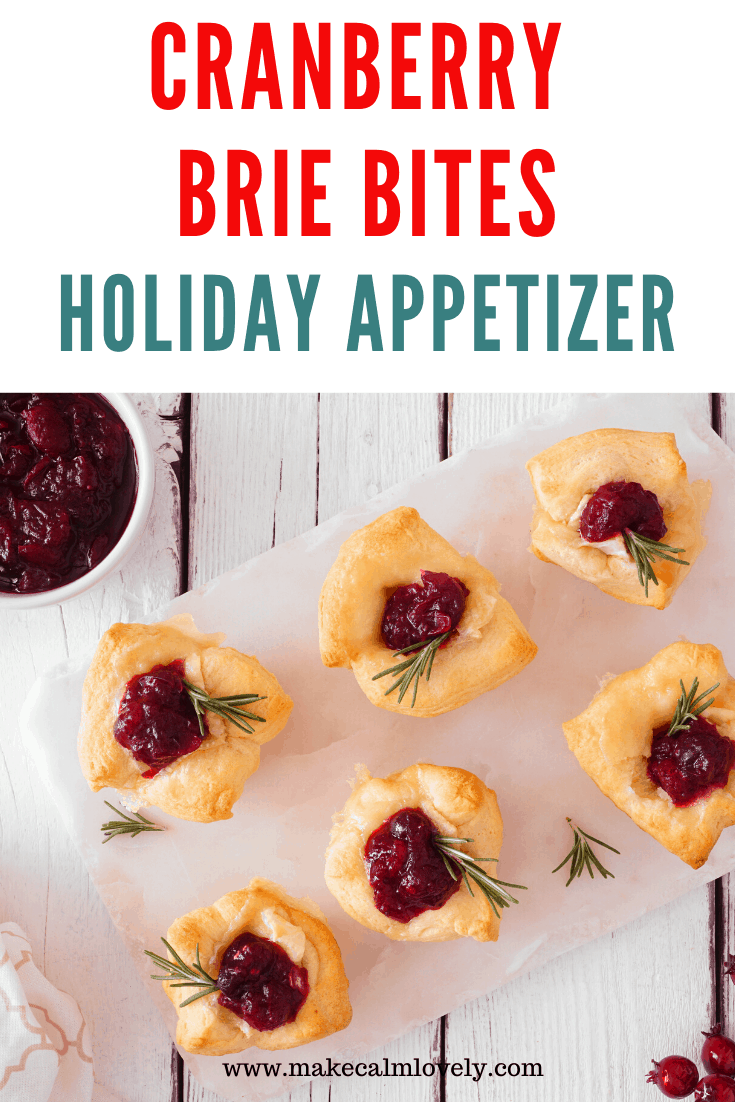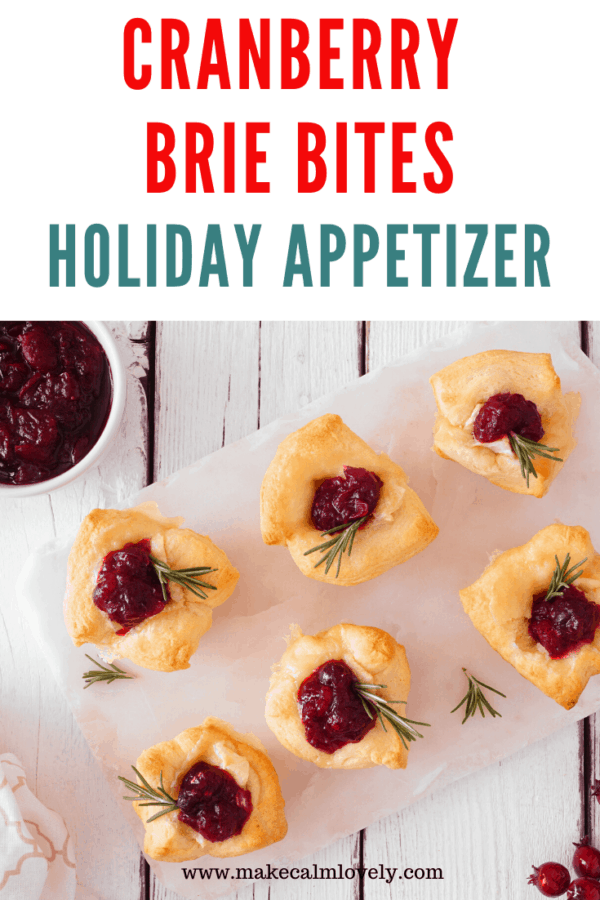 What you need for this Recipe
Packet of Frozen Puff Pastry Sheets
Brie Cheese
Fresh Cranberries, or cranberry sauce
Spray cooking oil
As you can see, you don't need many ingredients at all! Keep the frozen puff pastry sheets in your freezer. When you are ready to make the bites, just take out for a couple of hours to thaw at room temperature.
Equipment Needed: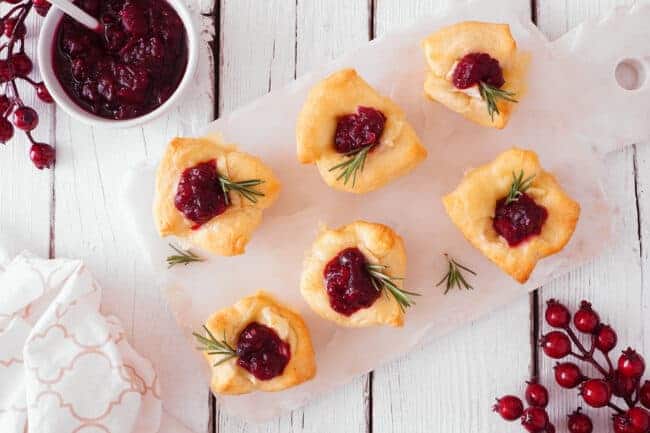 How to Make Cranberry Brie Bites
Preheat your oven to 375F. Spray the inside of each little muffin cup on a mini-muffin pan with spray cooking oil.
Roll out the pastry sheets (or crescent dough). You probably won't need to do a lot of rolling at all, but at the very least just smooth and open out the sheets.
Cut the dough into equal sized little squares. You want the squares to be sized to fit inside each little muffin cup in the muffin tin. Remember the pastry needs to go up the sides a little.
Cut the brie cheese into small pieces. Place one piece of brie cheese in the center of the pastry inside each little muffin cup.
Place a fresh cranberry on the top of each slice of brie cheese and pastry. Push down a little so that it stays in place (don't push too hard or it will burst some of its juice!). If you are using cranberry sauce, just spoon out a small amount of the sauce on top of the slice of brie cheese.
If you want to place something else on the pastry, such as a nut or garnish, just insert it on the top of the pastry.
Bake in the oven for about 15-20 minutes until the pastry has risen and is a golden brown color.
Leave in the pan for a little while to cool down, then lever the pastry bites out of the muffin pan and place on a wire rack or plate to further cool.
These Cranberry Brie bites are so much better served warm. If you will be serving them for over several hours of a party, try to keep them warm in some way.
These are actually a perfect appetizer to have on hand for last minute party needs. You can keep the frozen puff pastry sheets in the freezer, ready for when you need them. You can keep fresh cranberries in your fridge, or cans or jars of cranberry sauce in your pantry ready to use. Brie cheese can also be kept in a fridge for a while.
These Cranberry Brie bites are the perfect holiday party appetizer! Made with just 3 ingredients, they are easy and fast to make, and so delicious!