Crochet for Beginners: Everything you need to know to start this Great Craft!
Crochet is a fabulous craft to learn. It is relatively easy to learn, you can make some amazing items, and it is also relatively inexpensive to do. See our guide here on crochet for beginners!
If you are looking for a new craft to learn and master, crochet is an excellent choice! This yarn craft is relatively easy and inexpensive to learn, and there is no end to the wonderful things that you can create.
If you have been yearning to learn crochet, or need a craft to really get stuck into, consider crochet!
Read on for everything you need to know about learning and starting to crochet.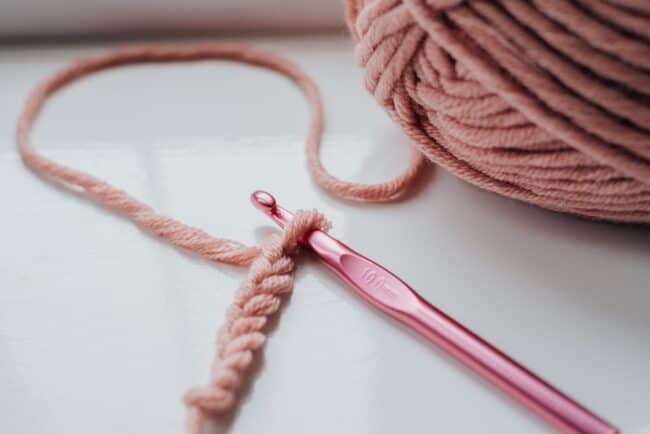 What is Crochet?
Crochet is a needlework/yarn craft in which loops of yarn (or thread) are interwoven together with a single hooked curved needle, known as a crochet hook.
You can make absolutely anything with crochet, including blankets, apparel, housewares, and so much more.
How Does Crochet Differ from Knitting?
Crochet and knitting are both yarn crafts, and both use needles, but there are major differences between both.
In knitting you use two pointed needles, whereas in crochet you use one curved hook/needle.
Crochet is faster to do than knitting, and it uses more yarn than knitting does. Both have a learning curve, and take practice to learn fully.
How Easy is Crochet to Learn?
Just like pretty much any craft, crochet needs to be practiced as much as possible to be learnt and mastered.
You also need to learn how to hold a crochet hook and yarn, which can be slightly difficult at first until you get the hang of it.
If you are a knitter, crochet can also be a little challenging because with knitting you are used to using two pointed needles, whereas crochet uses just one much smaller hook.
But many people do claim that crochet can be easier than knitting, because you are using one tool rather than two, and as crochet works with one live stitch, your work is less likely to get dropped stitches and become unraveled, which is what happens a lot with knitting.
Best Tips for Learning Crochet
Choose a simple beginner project for when you are first learning crochet. An ideal first project would be something like a dishcloth or simple blanket.
Be prepared to give it time – you need to practice, practice, practice.
Watch videos and read books on crochet techniques. Select beginner crochet patterns and spend time practicing. Remember you will make mistakes – that is normal. Just keep trying!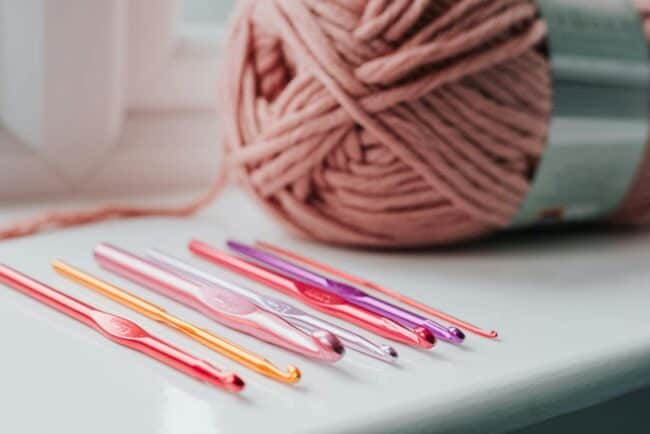 Materials & Supplies you Need for Crochet
The basic materials and supplies that you will need to learn and do crochet are:
Yarn
Crochet Hooks
Tapestry/darning needle
Stitch Markers
Scissors
Tape Measure
Case or bag to store crochet hooks
Yarn for Crochet
Yarn is the most essential supply you need for crochet! There are many different types of yarn available, including wool, acrylic, cotton, polyester and merino – to include just a few examples.
In addition there are several different yarn weight classifications. There are 7 in total which are:
Lace (0)
Superfine (1)
Fine (2)
DK/Light (3)
Medium/Worsted (4)
Bulky (5)
Super Bulky (6)
Jumbo (7)
Depending on what you are creating, you will need a different type and weight of yarn.
If you are making blankets you will need a more chunky yarn. If you are making something delicate you will need the lighter weight yarns.
These Paintbox Cotton Yarns are perfect and affordable for crocheting. I also love this Debbie Bliss Cotton Yarn.
Choose the yarn that matches your project needs. All patterns will tell you the exact yarn that is needed, and how much you will need.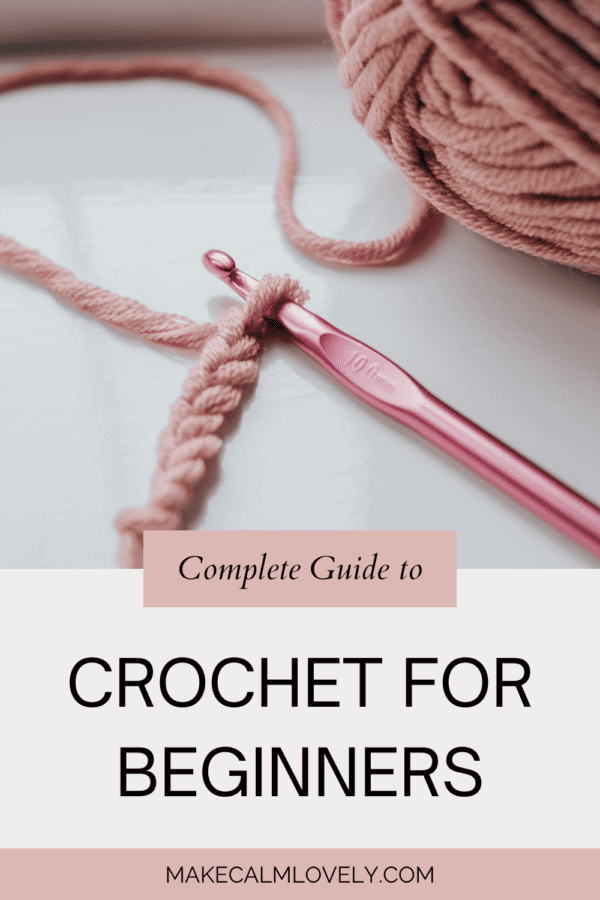 Crochet Hooks for Crochet
In crochet you use just one curved end hook, as opposed to knitting which uses two pointed needles.
The only two things you need to start to crochet are a yarn and a hook!
There are many different sizes of hooks, many different materials that hooks are made out of, and many different brands of hooks.
For thinner yarns you will use a smaller/thinner crochet hook. For chunkier yarns you will need a larger/fatter crochet hook.
Hooks can be made from aluminum, plastic, and wood. Aluminum and plastic hooks are the cheapest to buy, and they come in many different sizes.
Certain types of yarn may work better with different materials of hooks. You will quickly learn what hooks you prefer and like to use the most.
See the guide to Crochet Hooks for Crocheting
These are some of my favorite crochet hooks: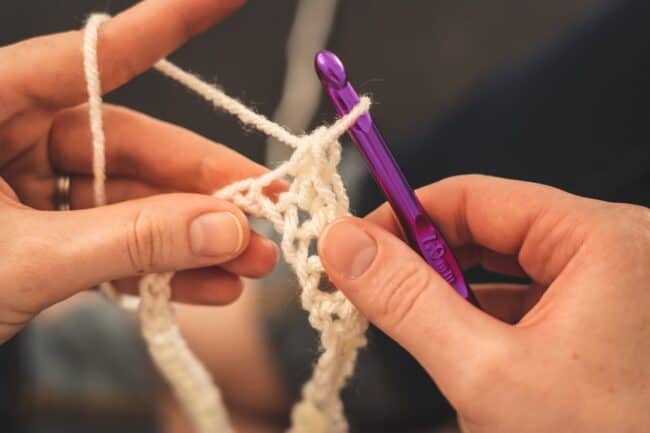 Tapestry Needles for Crochet
A tapestry needle is used to sew your crochet together. These types of needles look just like regular sewing needles, but they have a softer tip that will not split or damage your yarn.
Cases and Bags to Store Crochet Hooks
As you do more and more crocheting, you will amass quite a lot of different sized hooks! Therefore you will need somewhere to store your hooks all together, to be able to find them easily and protect them from damage too.
Stitch Markers for Crochet
Stitch markers are not essential for crochet when you are a beginner, but as you get better and more adventurous with crocheting you will definitely need these.
Stitch markers are used to keep track of rows when you are crocheting, to keep track of your first stitch when you are crocheting in the round, and to mark things such as armholes when you are crocheting garments.
See this ultimate guide to using Stitch Markers for Crochet
How to Learn to Crochet
There are many different ways to learn to crochet, and far more today than there has ever been.
The best way, if you are able to, is to learn directly from somebody else, who can show you in person, teach you and help you. But few of us are lucky enough to know somebody who can crochet, and crochet well, and who are willing to spend time teaching us!
But there are all kinds of resources around that can help you learn to crochet!
If you are a visual learner, and to be honest a craft such as crochet is best learned when you can actually see what is being done directly, watch a video.
There are numerous videos on YouTube. There are so many videos that go through crochet step by step.
If you are able to another great way to learn to crochet is to attend a local class. Many craft stores run regular classes for instance.
You can also consult a book and guide to learning to crochet. There are so many books on the subject that are great at explaining all aspects of crocheting.
There are also many online classes that you can purchase, or watch for free through various course websites.
Here are some of my favorite YouTube videos for learning to crochet:
Related: A Beginner's Guide to Tunisian Crochet
Basic Crochet Stitches for Beginners
A crochet project always starts with a chain stitch. A chain stitch is very simply a loop of yarn that is created by wrapping yarn around the hook and then pulling it through the hook. You then keep repeating this to create a chain.
A Single Crochet stitch is where you insert your hook into the next chain stitch, grab a strand of yarn, and pull it through the loop on the hook. You then wrap the yarn around the hook once more, and pull through both loops on the hook to create a stitch.
These are just two of several different crochet stitches, which include double crochet, treble crochet, and slip stitch.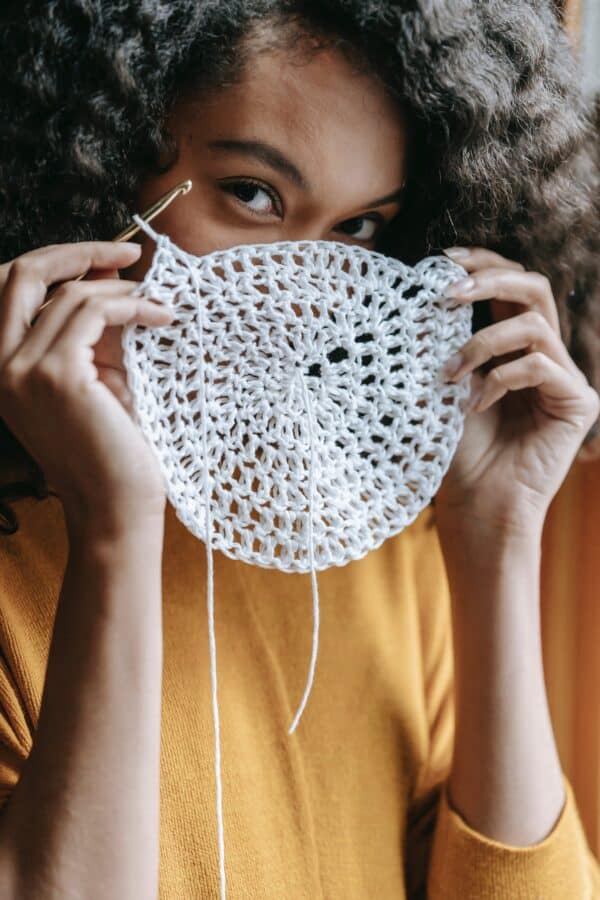 Easy Crochet Patterns for Beginners
When selecting a pattern for a crochet project, look at patterns that are marked suitable for beginners.
As a beginner you need a pattern that uses just the basic crochet stitches. As you get better at crochet you can start learning more complicated stitches and undertake more complicated crochet patterns.
Here are some free beginner crochet patterns that you may want to check out:
Easy Peasy Crochet Baby Blanket
You can also find many other beginner crochet patterns here!
Start learning crochet today and embark on a wonderful craft journey!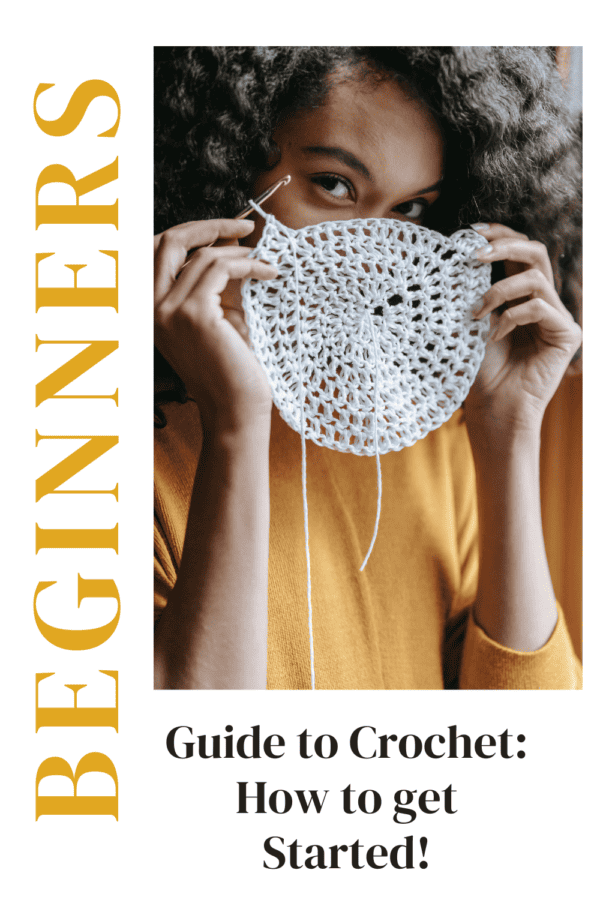 Crochet is a fabulous craft to learn. It is relatively easy to learn, you can make some amazing items, and it is also relatively inexpensive to do. See our guide here on crochet for beginners!