Review of Easy SEO Revamp course by Debbie Gartner, the Flooring Girl
Easy SEO Revamp is a complete search engine optimization course created by Debbie Gartner, the Flooring Girl. This course walks you through understanding and mastering SEO for your blog posts and products. This is my honest review of the course.
I want to start this review to state what an absolute gem I feel that Debbie Gartner is. Since finding her a few years ago, her resources have helped me so much with understanding and implementing SEO best practices.
The problem with SEO is that it is confusing. The very term SEO, and the words search engine optimization, strike fear in even the most knowledgeable of us. SEO is confusing, and it is scary. When you don't understand it or really know what it is.
Therefore we need resources that will walk us through it all, and explain it all, easily and understandably. We don't need really high level expensive courses to teach us about SEO. We just need somebody to explain it concisely and easily.
That is what Debbie Gartner does. Her presenting style is so down to earth and easy to understand. Debbie is one of us, not talking down to us from some higher place. She explains it like it is. She demystifies the entire process of search engine optimization.


This post contains affiliate links. This means that if you click on a link in this post and make a purchase I may receive a small commission, at absolutely no additional cost to you. You can view my complete disclosures here.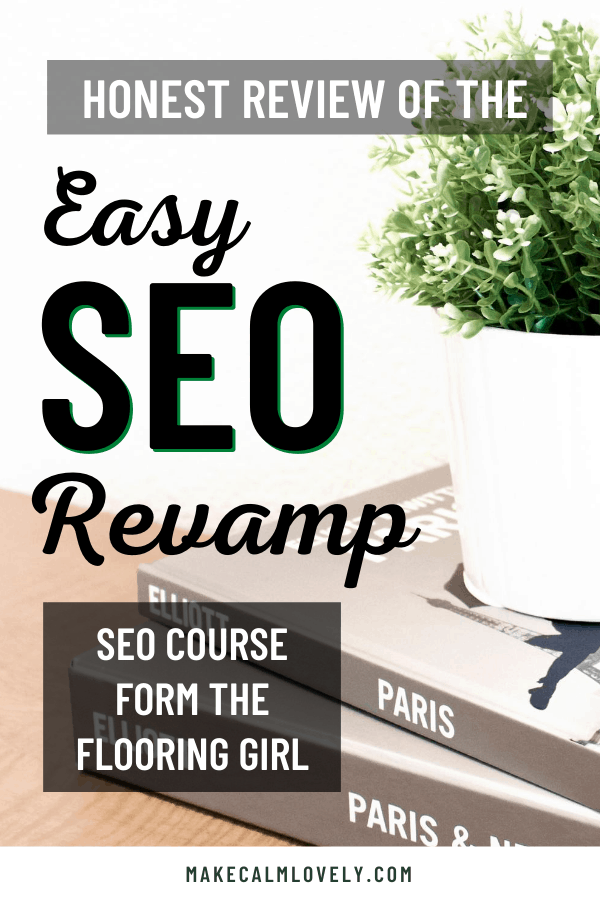 Why you Need to Master SEO
Before I go into the Easy SEO Revamp course in detail, I want to first address why SEO is so important, and so vital to your blogging career.
SEO stands for search engine optimization. It is quite simply the act of optimizing your blog and blog posts so that they rank highly on Google.
Getting Google organic traffic to your blog is so important. You may have great views and interactions from social media, such as Pinterest, Facebook and more. But you need organic traffic that comes from Google more importantly than that.
Social media could go away any day. If you are reliant on Pinterest for instance, your account could get blocked one day, and then all your page views go away. If a social media platform goes away (think Google Plus), you have completely lost your resources for readers and followers in a heartbeat.
But if you have good organic traffic, because your blog posts rank well in Google, and appear high in Google search results, you are not only going to get more traffic to your posts and blog. You are going to gain more readers, more followers, and more interaction with your blog and posts. Your advertising revenue will go up. You will sell more products.
SEO is so vitally important for you to learn and master. Therefore you need great courses and education in SEO in order to master it.
A Little About Debbie Gartner
Debbie Gartner has a successful blog, TheFlooringGirl.com, that she started in 2011. Therefore she has many years of successful blogging under her belt.
She has been featured in Entrepreneur.com, The Washington Post, Money magazine, the Wall Street Journal, and the Best of Houzz, including many other publications.
One of the most amazing things about Debbie is that she has paid off an enormous amount of debt through her blog and the products she sells. You can follow her entire journey from being about $238,000 in debt, to completely paying it off and being debt free, through blogging.
It was Debbie's mastery of SEO that got her there. She was able to optimize her blog posts so that they appeared high in Google searches, meaning that she got more traffic to her posts. That of course led to increased advertising revenue, and more sales for her products.
Debbie has been an SEO coach to other bloggers and businesses, and from there to went on to create e-books and this SEO course so that she could take her expertise further to others.
The Easy SEO Revamp Course
Easy SEO Revamp is a full course from Debbie Gartner, the Flooring Girl. It is packed full of videos and tutorials.
The course assumes that you have some basic knowledge of SEO first of all. It is a natural follow-on course to Debbie's e-book, Easy On Page SEO. This is an inexpensive e-book that teaches you the basics of SEO.
This course goes so much more in-depth and builds on everything that that e-book covers. To be honest, I do think you can probably still follow along with this course if you have not purchased and read that e-book. But if you want to really understand and master SEO, the e-book will guide you into it.
I would not recommend this course to complete beginners in blogging. You really do need some blogging experience under your belt first before you take this course and explore SEO. But certainly if you have been blogging for a little while, you are ready for this course. Especially if you have already viewed Debbie's e-book on Easy On Page SEO, you are ready for this course.
SEO consists of on-page SEO, and off-page SEO. On-page SEO is the SEO that is done to your blog posts and content. Off page SEO is the SEO that is backlinks and page authority etc, that is done outside your blog posts. This course covers all of this – as both on-page and off-page SEO are equally important.
Easy SEO Revamp uses many free tools, such as Google Search Console, and Google Analytics. I have to say that a course that promotes the use of free tools, without you having to sign up for a course, and then go ahead and sign up and pay again for the tools the course promotes, is refreshing.
I can't tell you how many courses I have signed up for that then need me to pay out even more money to use the tools they promote. Easy SEO Revamp doesn't do that.
The course begins with an overview of Google Search Console. This is a very powerful free tool for you to use as a blogger, but many of us don't completely know and understand what we can do with it.
There are so many amazing tools for us to use here, and Debbie starts out by taking us through all the amazing things we can use inside this console.
One of the most informative parts of the course is Debbie's complete overview of the overall process that she uses to optimize articles for SEO and conversion. This is a powerful key to understanding the entire SEO process.
Google searching is covered in-depth early on in the course. Debbie guides you through how to search on Google the right way, and how to get ideas for your own blog post content. She covers how to scope out your competitors for ideas, how to analyze your data in Google Search Console, and how to choose keywords to improve your posts.
Step Two of the course is a whole overview on how to optimize an article with on-page optimization, and how to optimize the page for conversions. This covers optimizing the title and permalink, content and header structure, pictures, pins and alt tags, formatting, adding affiliates, internal links, calls to action, Meta descriptions, and so much more. In short, this is a complete and thorough overview of everything you need to do to an article to get it to rank well in Google.
Step Three of the course is a complete overview of off-page SEO and page authority. This includes interlinking, building backlinks, and so much more. This section completely covers everything you need for off-page SEO.
In addition to the resources covered for on-page and off-page SEO, there is a special section of the course that covers so much more. This includes post analysis for seasonal events, finding new content ideas, no-indexing, content audits, and much more.
The course also includes some bonus features at the end. These are two complete masterclasses from well-known bloggers Traci Fobes and Kara Fidd on the types of products you can sell on your blog, and promoting your Printables.
My Honest Opinion of the Easy SEO Revamp course
As I mentioned previously, I just can't recommend Debbie Gartner and her SEO resources enough. Debbie is truly amazing, and her SEO resources are wonderful helpful resources that you need immediately (or even yesterday!).
Debbie's teaching style is easy to follow and understandable. She is down to earth and honest. She makes everything easy to follow and understand.
Easy SEO Revamp is a completely thorough, and totally affordable, concise course on everything you need to know about SEO. You honestly won't need any other course on SEO.
The topics and content covered in Easy SEO Revamp is SEO completely and utterly covered. Period. By following along with this course you will quickly master what you need to do before you write a post, what you need to do to your post, and what you need to do after publishing a post.
If you follow all Debbie's guidelines and tutorials you are bound to see an increase in your Google rankings. I honestly feel that you can't not see an increase if you follow this course.
My own experience of taking this course was that I was able to go back and revamp many of my posts, and they immediately improved their rankings in Google. Just by making some simple tweaks it was amazing what a difference they made to my rankings.
Now whenever I write a post, I research it, and develop it completely before I publish it. I have seen a higher increase in my posts ranking because of this, and the lessons I learned in this course.
If you want to get serious about ranking in Google, bringing in more organic traffic, gaining more readers and followers, making more product sales, and bringing in more advertising revenue to your blog, this course is truly unmissable for you to take.
Find out more, and sign up for, Easy SEO Revamp here.
Easy SEO Revamp is a complete search engine optimization course created by Debbie Gartner, the Flooring Girl. This course walks you through understanding and mastering SEO for your blog posts and products. This is my honest review of the course.