Liberty's of London – Lovely Spotlight Feature
Liberty's is a designer department store in London. Here is my lovely spotlight feature on Liberty's & why I love it so much!
My most favorite store in the world is Liberty's of London. This is why I have to feature it in my Lovely Spotlight of things that I love and I know you will too!
I have a lot of favorite stores, including London gems such as Fortnum & Mason and Harrods. I love them for various reasons.
But Liberty's of London is a beautiful designer department store nestled in the heart of London's west end. Visiting Liberty's is an experience more than just shopping!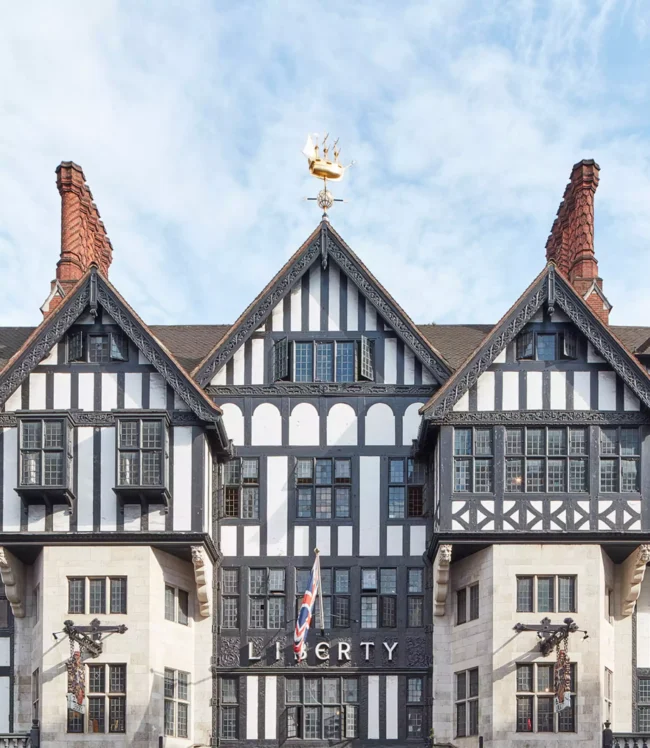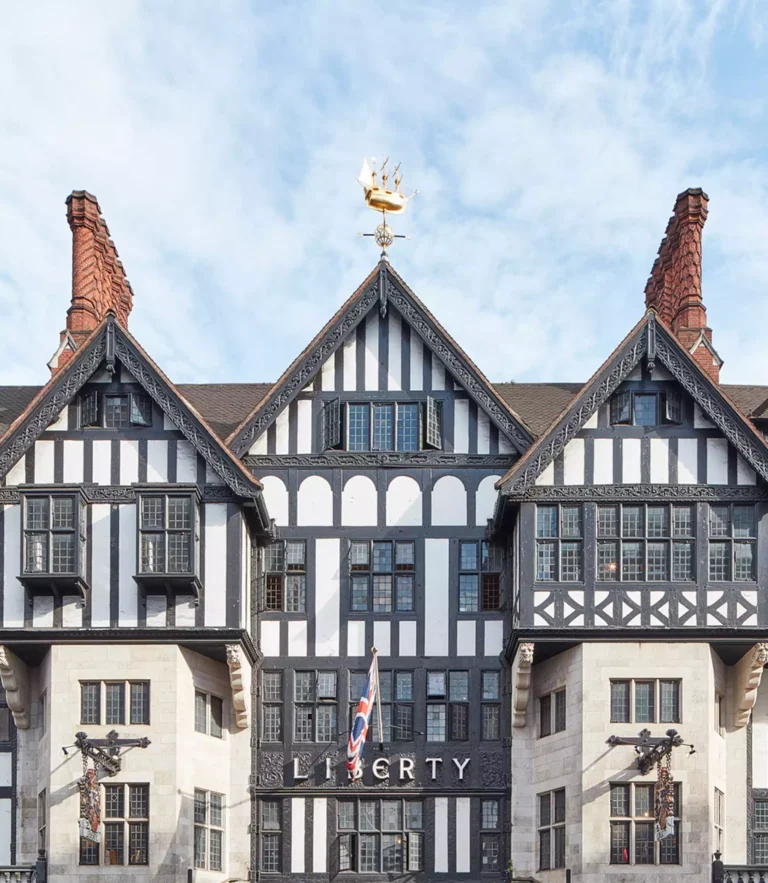 Photo credit: Liberty's of London
Liberty's sells all kinds of designer items, including clothing, fabric, furniture, housewares, beauty products, haberdashery and so much more. Liberty cotton fabric with its colorful designs is iconic throughout the world.
Liberty's features high end designer products, as well as beautiful products from up and coming and emerging designers.
Over the centuries Liberty's has collaborated with many famous artists and designers, including William Morris, Dante Gabriel Rossetti, Yves Saint Laurent, and Vivienne Westwood. The arts and crafts style of Morris can be seen throughout all Liberty's offerings.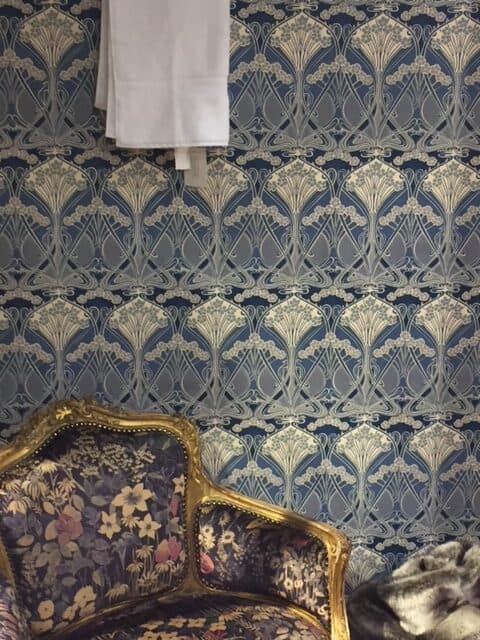 There are many other stores and department stores selling designer items. But no store does it as beautifully as Liberty's!
The building itself is a fabulous mock Tutor style building, in an iconic black and white design. It is set in Great Marlborough Street, just off Regent Street in London.
Wandering around Liberty's is exactly like wandering around somebody's home, filled with beautiful things that you can see and touch.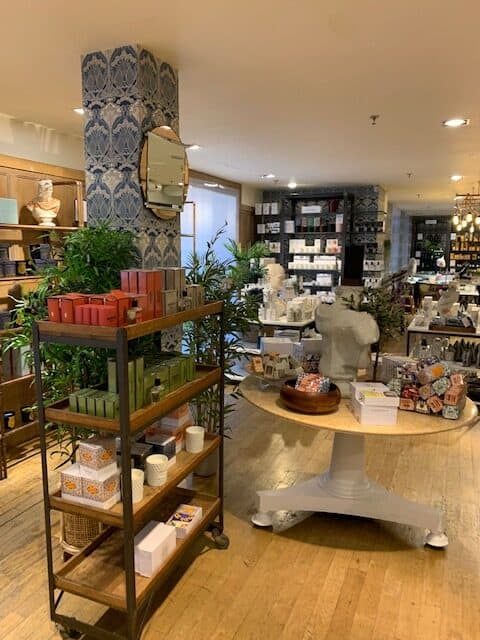 It does not feel like a department store at all. It has a cozy feeling, and as you wander from room to room you don't feel stressed or hassled as you do in many department stores.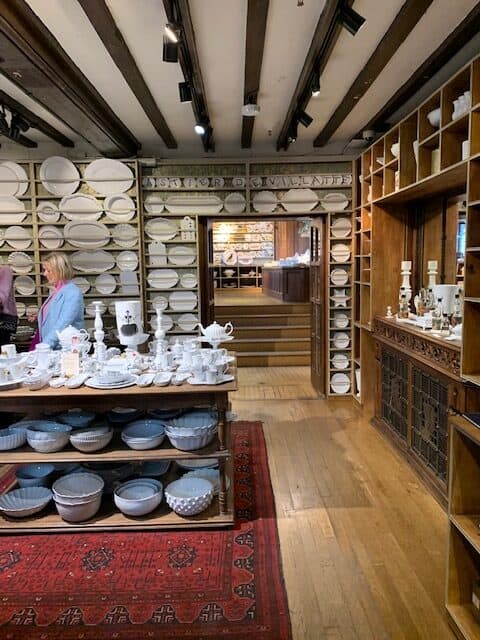 Liberty's has a calm beauty about it. It is a feast for the eyes and even if you don't buy anything, just wandering around is an experience!
Items in Liberty's are not just displayed on traditional shop counters and displays. Many of their items are placed on lovely dressers and tables, which are pretty and seem like your own furniture in your home.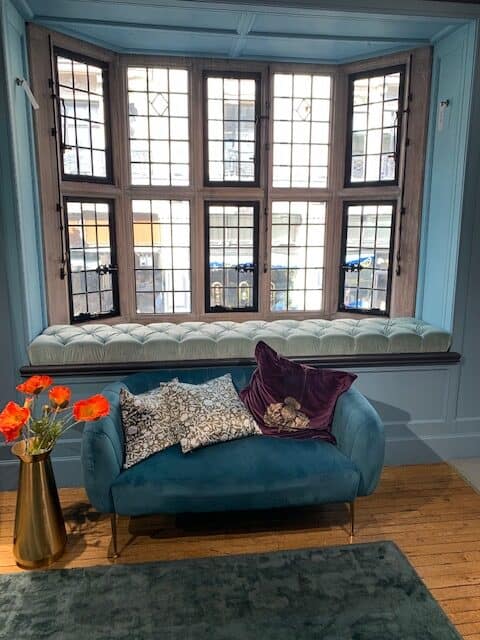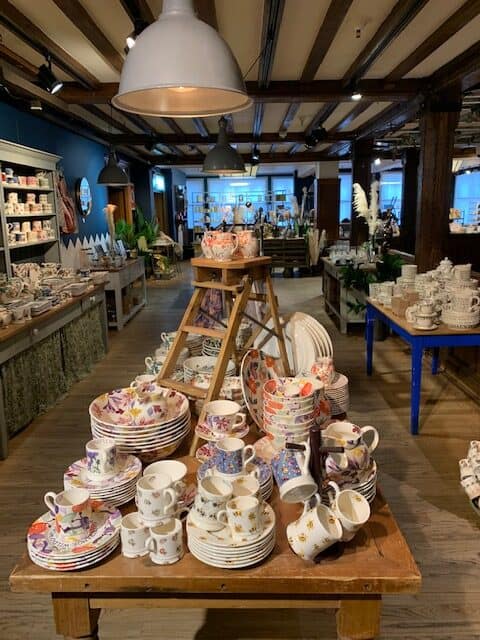 There are so many things in Liberty's that always give me a warm feeling when I visit. This includes a carved wooden memorial in the staircase that honors Liberty employees who died serving in the Second World War.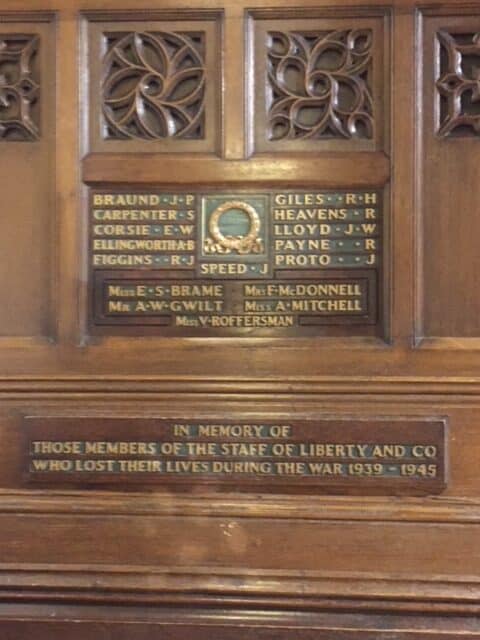 This monument reinforces the fact that Liberty's is a close family of employees and staff who really seem to embrace the vision of beauty and design that was first envisioned for the store.
There are also hidden miniature glass paintings in the windows amongst the wood panelling, that were taken from from a ship's captain's quarters, portraits of Henry VIIIs six wives, and even a gilded copper weathervane from the famous Mayflower ship.
"LIBERTY is the CHOSEN RESORT of the ARTISTIC SHOPPER"
Oscar Wilde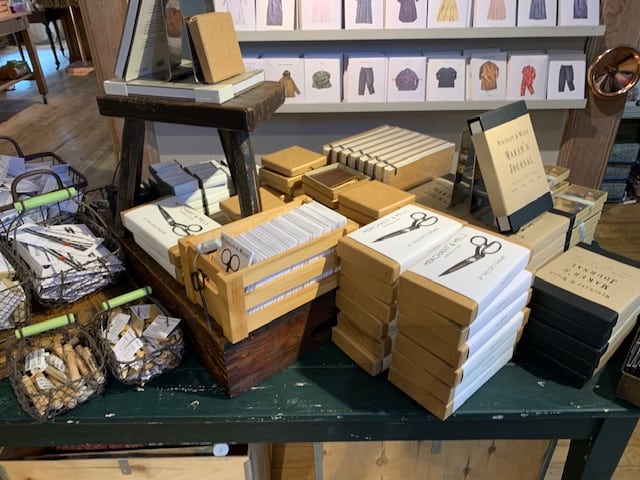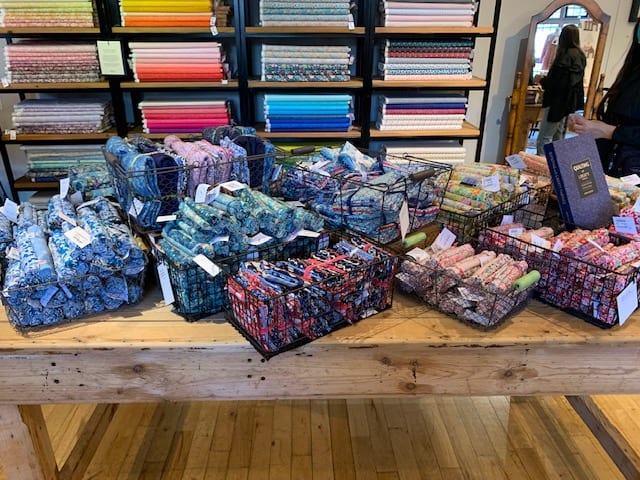 About Liberty's of London
Liberty's was established in London in 1875 by Arthur Lasenby Liberty. His vision was to create an emporium that was filled with luxuries and fabrics from distant lands.
He saw the vision as like docking a ship in the city streets, where all kinds of wonders were stored.
Arthur borrowed money from his future father-in law and took over a building on Regent Street in London.
In the beginning he had just 3 staff members, but he had a vision and a plan! He set out not to follow trends and fashion, but to create them.
In 1924 the current Liberty's store was created just off Regent Street in London. The building was designed by Edwin T. Hall and his son Edwin S. Hall.
The entire building was created using the timbers of two ancient three decker battle ships. More than 24,000 cubic feet of ships timbers, including their decks, were used for flooring and the structure of the building.
Arthur did not live to see the finishing creation of the building, but it had come from his vision and plans.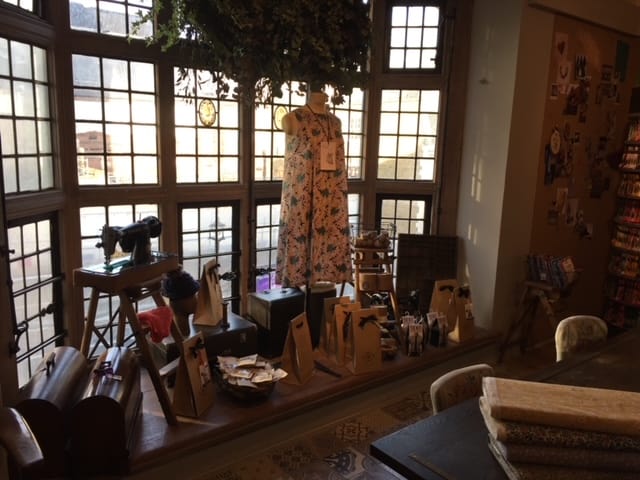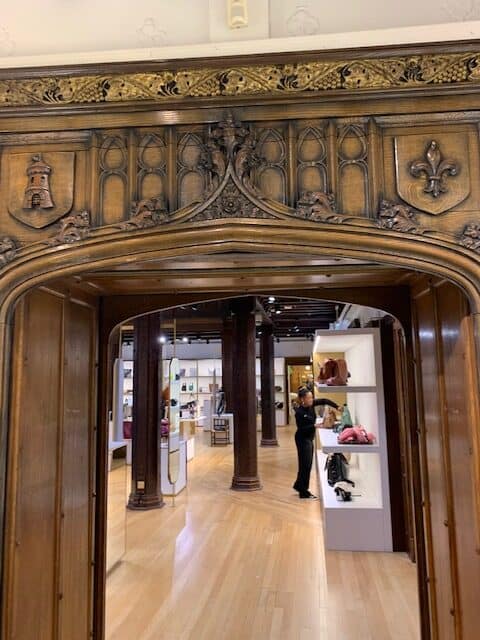 The Design of Liberty's of London
As previously mentioned above, the Liberty's store was created from the timber of two ancient three decker battle ships, HMS Ingregnable and HMS Hindustan.
The entire store is centered around 3 atriums, which gives the store an open, yet still cozy feel to it.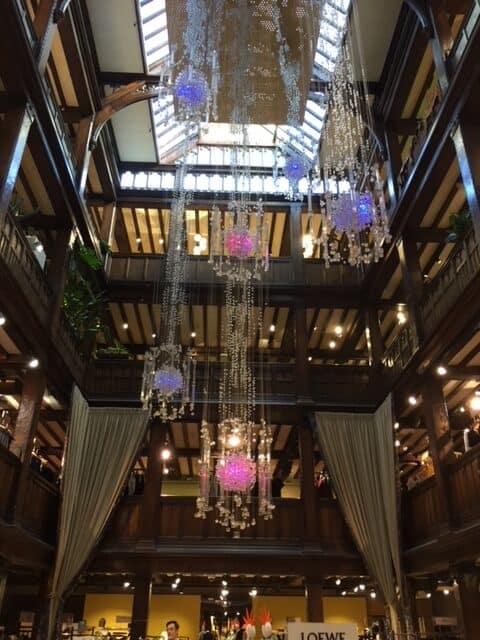 Each atrium is designed to feel like a home. Each atrium has smaller rooms that are all complete with fireplaces and furnishings – so it adds to the feeling of home.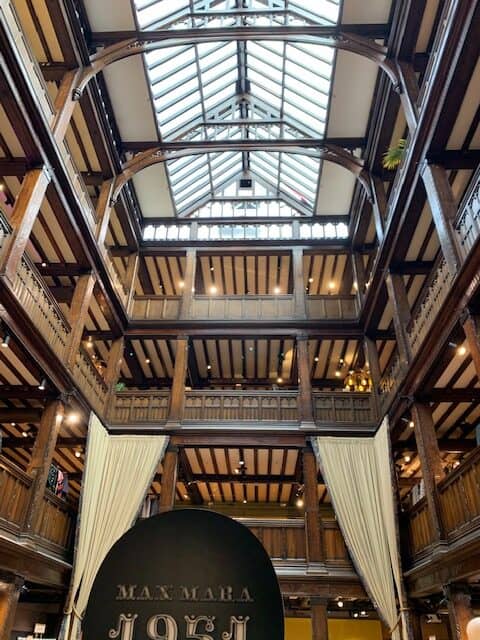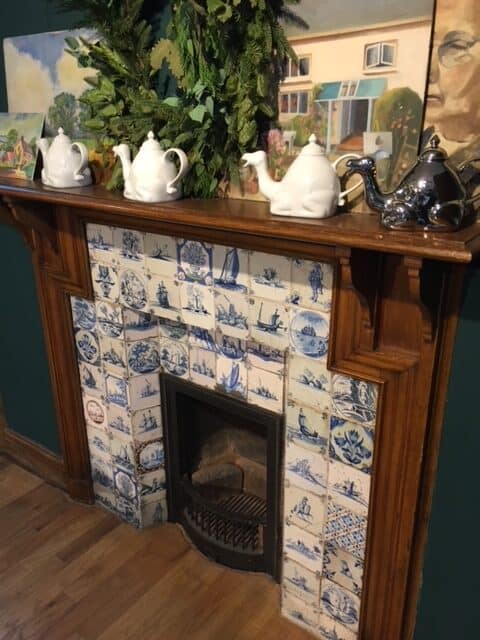 As you go from floor to floor in Liberty's you walk up and down beautiful wooden staircases with intricate carvings.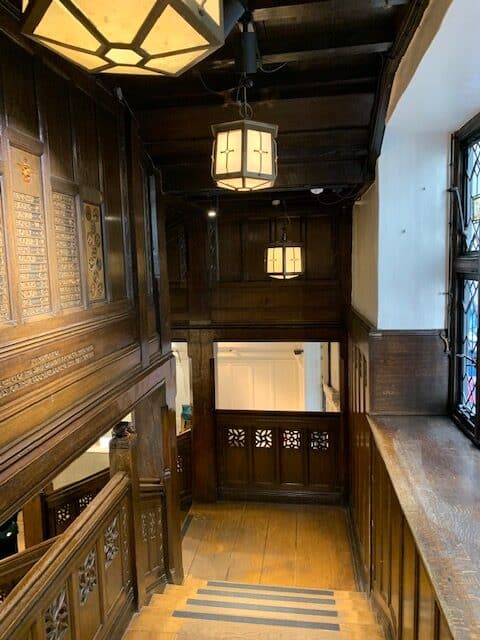 The building is today a listed building. It is famed for its architecture, design, and cultural collaborations.
Liberty's Tana Lawn Cotton Fabric
Liberty's sells iconic cotton fabrics in beautiful designs. Tana Lawn cotton is a beautiful smooth plain weave fabric that is prized for its durable and ultra-soft qualities.
The bright patterned Liberty fabrics are so iconic and are used for clothing, furnishings, curtains, drapes and so much more.
The fabric is perfect for creating beautiful crafted pieces including lampshades, headbands, Christmas baubles, scarves, clothing and so much more!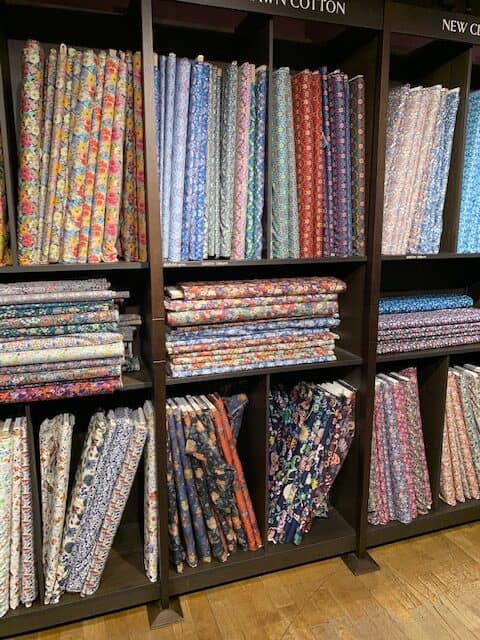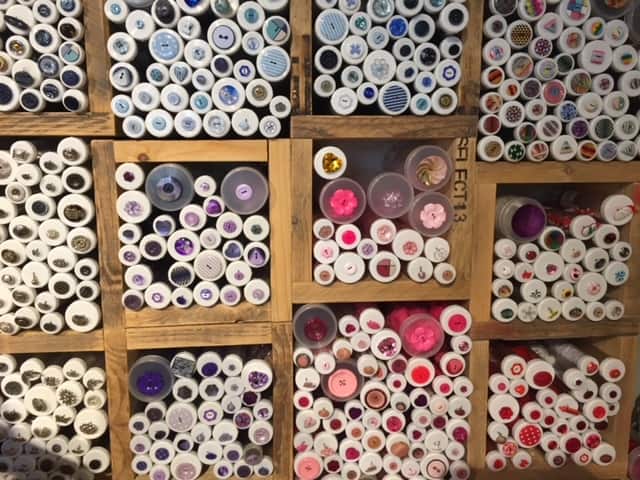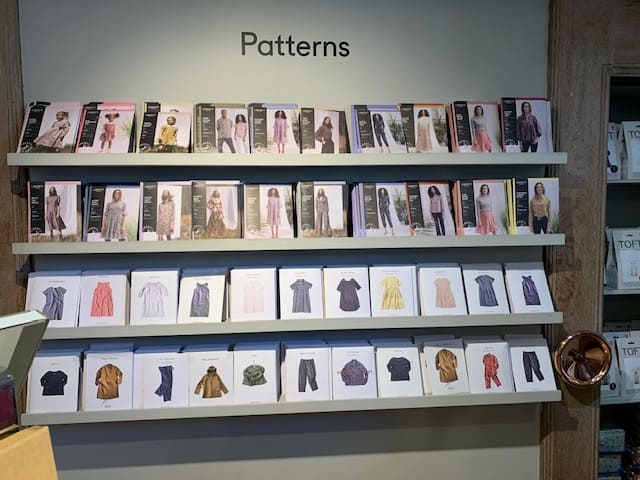 Visiting Liberty's of London
Liberty's is open seven days a week (check opening hours on specific days).
If you cannot visit Liberty's (and I encourage you to do so if you are ever in London to really experience it!), you can shop online on their website.
I also found a YouTube video that guides you through a visit to Liberty's!
You can even take a guided tour of Liberty's, which guides you through each department, telling you the history of the building, the man who founded it, and finishes with afternoon tea in its secret room.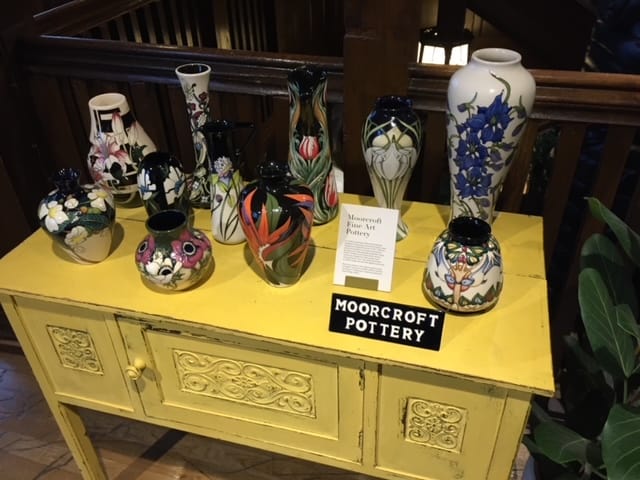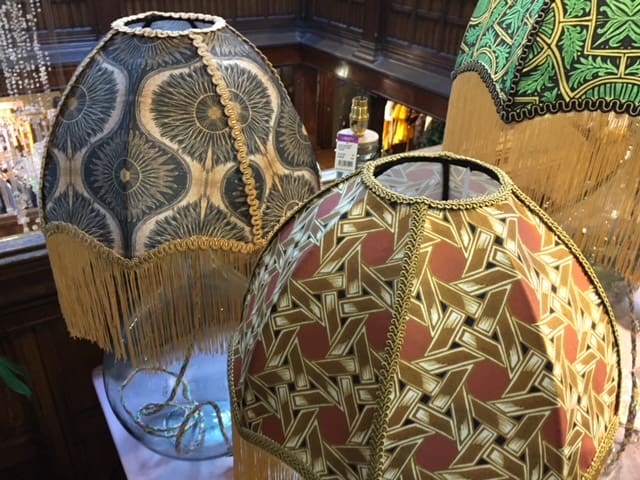 Liberty's is a designer department store in London. Here is my lovely spotlight feature on Liberty's & why I love it so much!