How to Stay Organized as a Blogger (& the Amazing Tool I use that Helps me!)
This amazing inexpensive tool helped me finally get my blog and blogging life organized! Now I can focus on what really matters with my blog
Being a blogger means wearing so many different hats – you are a marketing manager, a writer, a photographer, a social media manager, a designer, an SEO expert, and so many other things!
So how on earth do you get and stay organized considering all you have to continually do and attend to with your blog and online business?
When I first started blogging I was literally all over the place. I would have chunks of time in between my day job and the time I had to work on my blog at home, and I just didn't know how to use that time wisely – because I just wasn't organized.
I also had information in so many places. I had information in Google Docs and Sheets, I had information on a Trello board, I had paper notebooks and numerous other places where I wrote down and kept all the important information I needed relating to my blog.
I was just so overwhelmed with blogging and all that it entailed. That overwhelm made me so much less productive, and I just couldn't focus on the right things I should be doing for my blog and business.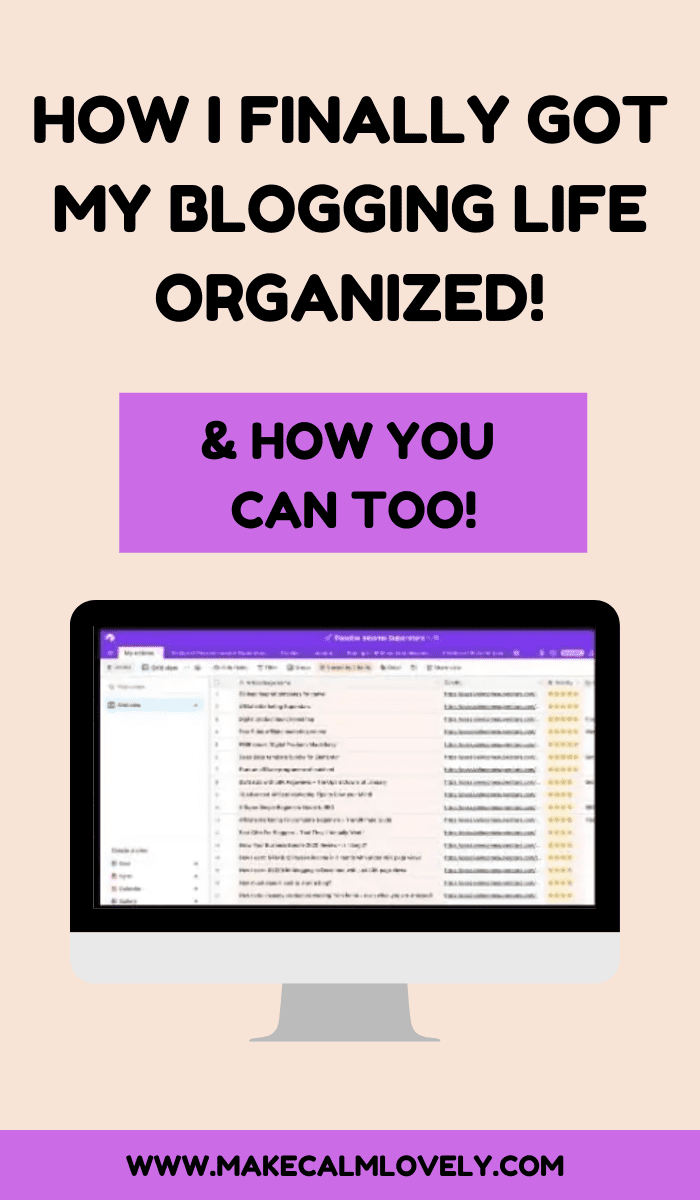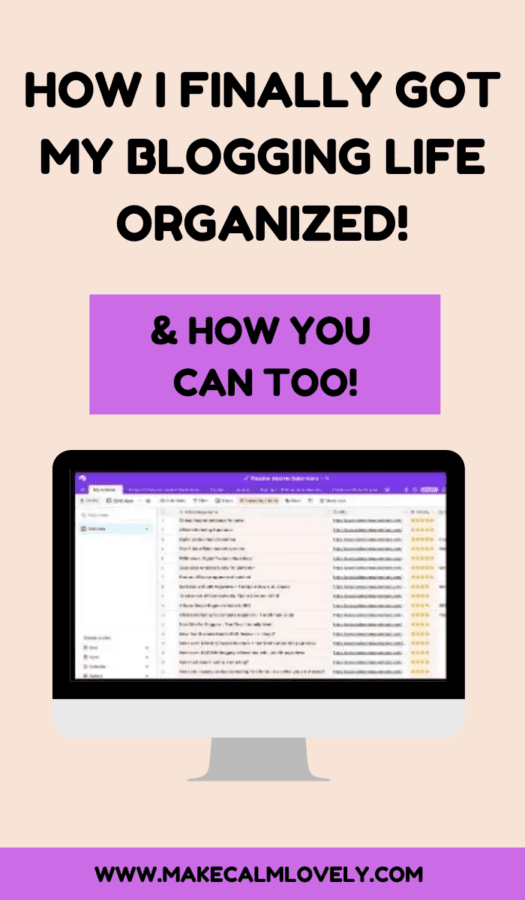 This post contains affiliate links. This means that if you sign up for a link via a link in this post I may receive a small commission, at absolutely no additional cost to you.
So what changed for me? I found this amazing organizational tool that really changed my blogging life!
This system is kind of like a blog organizational headquarters. It is like a command center for your blog and online business.
It completely changed my life and let me focus on what really mattered, and to get what needed to get done finished.

What you Need to Keep Organized as a Blogger
With all the different aspects of running a blog, what are the main things that you need to keep organized?
The answer is pretty much everything! You need to organize all that important information, so it is easily found. You need to know where to find the receipt for a blog-related expense, and how to locate a really important document.
You need to organize campaigns, projects, emails, lead magnets, email funnels, sales, stats, pinning strategy, content, blog posts, income and expenses, ads, collaborations, marketing materials, consultants, media, social media posts, graphics…. phew – the list goes on and on and that is just a sample of everything you need to organize.
In short – you need to find one tool that can organize everything for you, and keep you organized.
That one tool has to do it all, be easy to use and have a minimal learning curve, and be either free or inexpensive.
How I Finally got my Blogging Life Organized!
I got an email one day from a fabulous blogger that I subscribe to, who mentioned a blogger and her products in her newsletter. The rest is history!
Through that lead I found the Blog Boss Management System from Passive Income Superstars, and it changed absolutely everything for me!
This system keeps all your information in one place. In one easy to find, and most importantly, easy to use place.
The basis of the system is Airtable. Now I don't know if you have checked out Airtable but it is a game changer.
I have used many different systems such as Trello, Asana etc, and they were all good, but something was just lacking for me in all of those systems.
The Blog Boss Management System from Passive Income Superstars changed all that for me. It not only introduced me to Airtable, but it is also a complete blog management system designed in Airtable.
Leanne from Passive Income Superstars is just a genius. She has designed a complete blog management system within Airtable. It is the very system that she uses, and it is so incredibly powerful and amazing.
With this system I now keep track of everything relating to my blog and business. I know exactly where to find something, and I can find it in no time at all.
I don't have to worry about where to quickly locate an affiliate link, or dig out all the steps to my email funnel.
I can access all my courses from one place, I can see my income and expenses at a glance, and just so much more.
What is Airtable?
Airtable is like a mix of lots of different systems – Excel, Google Drive, Trello, calendar apps, and more.
The whole thing is like a simple spreadsheet to access. But it has all kinds of features that let you do more than see just a simple spreadsheet.
You can also upload documents to it (such as receipts and documents), you can view information in a card format, and you can also interlink tabs too.
The great thing also is that Airtable is free to use! It is also easy to learn to use (honestly it is just so simple to use). It is actually amazing that something that is free and simple to use is just so incredibly powerful.
What the Blog Boss Management System can Help you With
When I was telling a friend of mine who is also a blogger about the Blog Boss Management System I joked that the only thing it couldn't do was wash my dishes!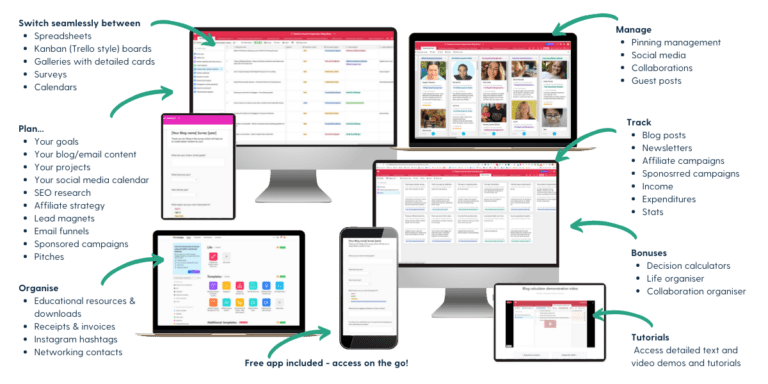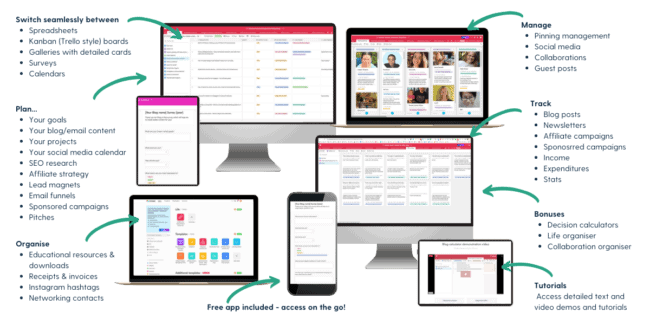 I do actually mean that!! It pretty much does everything you need it to do for your blogging life (yes I know washing the dishes isn't part of blogging, but it would certainly give me more time to blog!)
These are all the things you can get help with:
Planning
Goals
Blog content
Email content
Projects
Social media calendar
SEO research
Affiliate strategy
Lead magnets
Email funnels
Sponsored campaigns
Pitches
Tracking
Blog posts
Newsletters
Affiliate campaigns
Sponsored campaigns
Income
Expenditures
Stats
Organize
Educational resources and downloads
Courses
Receipts and Invoices
Instagram hashtags
Networking contacts
Manage
Pinning Management
Social Media
Collaborators
Guest posts
How I use the Blog Boss Management System
This is just a sample of some of the things that I use the Blog Boss system for, just to give you an idea of what it can do for you too.
Keep Track of Courses
I have so many courses that I have signed up for, and I can't always remember where to find the link to the course, and what my username and password is. With the course tracker I can now keep track of everything quickly and easily.
Plan the Promotion of Affiliates
This post that you are reading right now was planned on the system! I now know what I want to promote and when!
Plan Lead Magnets
I can completely plan all my lead magnets with this system, and figure out what products they will lead to, tripwires, email campaigns and more!
Track my Stats
Tracking your stats such as social media followers is not vanity. If you work with brands they will always want to know your up to date stats. You can track them here. You can also track page views, best performing posts and so much more.
Brainstorm & Track my Pitch Ideas
When I am making a pitch to a brand I need to keep track of when I made that pitch, who I contacted, my pitch outline and ideas, the outcome and more.
Plan my Email Newsletters
I can now plan all my email newsletters, the content and when they are sent using this system. It was a game changer for me because I no longer sit in front of a blank screen when I think it is time to send an email to my subscribers – now I know what to send and when.
Keep Track of my Blog Goals
It is so easy to lose track of who your ideal reader is, who you are actually blogging for when you get so caught up in blogging. I can easily remind myself of my mission statement, who my ideal reader is, and my goals for the coming days, months and years.
Keep my Blogging Knowledge in one Place
Whenever I come across a new blogging tip or some new knowledge that I want to hold on to, I just record it here, including any relevant links, and it is all there is one place easy to find.
Plan My Year
I plan out my entire year here. I know when I am going to promote something, when I am going to send out a certain blog post and more.
Keep Track of all my Blog Posts
So once upon a time I wrote a blog post that I thought was a great post, only to discover that I had actually already written a similar post. Without going through every post on my blog how was I supposed to remember what I had actually already written?! So now I keep track of every blog post here, and when it was published etc.
Manage all Affiliates
I manage all the companies and products I am an affiliate for in this system. I keep track of my affiliate link, links to promotional materials and more.
Keep Track of Social Media Posts
I keep track in one central place of all the social media posts I am planning or have done, including hashtags used and more!

Bonuses with the Blog Boss Management System
These are all the additional bonuses that come with the system, which is just so incredibly helpful.
Delegate Like a Boss Spreadsheet
This is a great bonus spreadsheet that helps you manage a team! You may have virtual assistants and consultants who do all kinds of work and steps for you. With this spreadsheet you can manage all that in one handy place!
Personal Boards
There are also some fun personal boards that come with the system! You may want to plan everything you want to watch on Netflix, or keep a shopping list!
Blog Post Decision Tool
This is a great decision making tool. You just answer some questions about a blog post you have in mind and it will generate a priority score for you!
Blog Project Decision Making Tool
Use this tool to rank each task you have to do, and figure out what takes priority!
Affiliate Product Decision Making Tool
This tool helps you understand which affiliate products are a best match for your brand and blog, so you can then focus on these products!
Video Tutorial – How to use Airtable
Audience Survey Template
You can use this survey to send out to your email subscribers/followers to find out what they like and don't like, and plan your content, projects and strategies for your blog! (you can get a free audience survey template here!)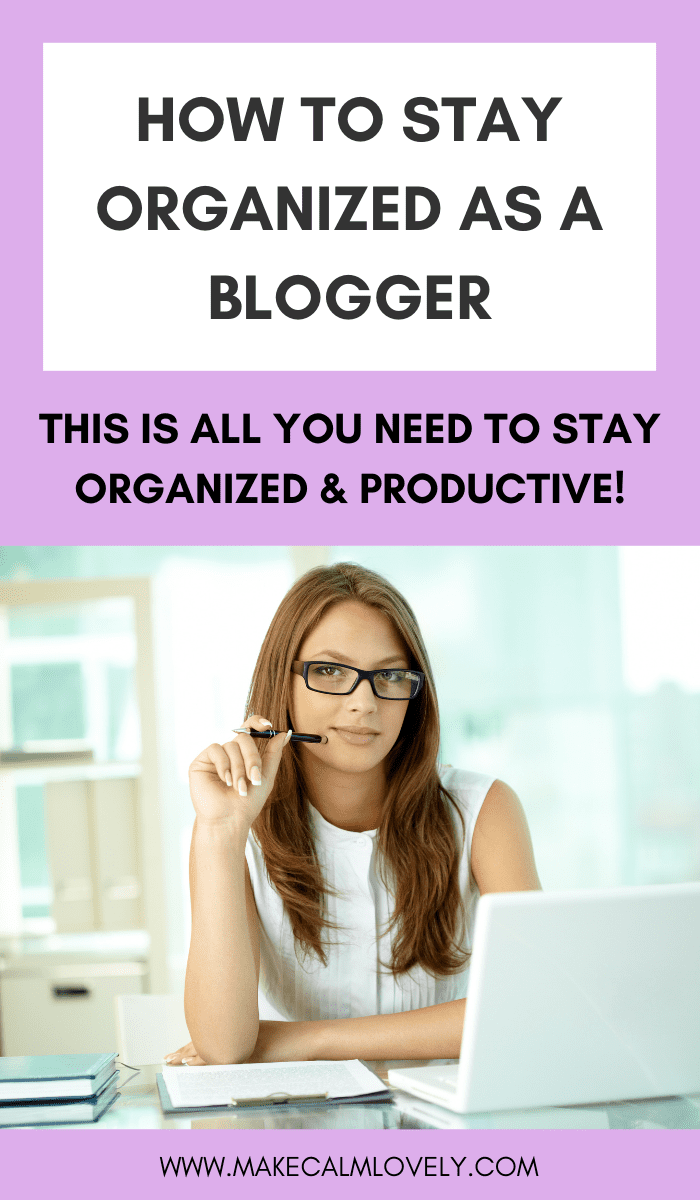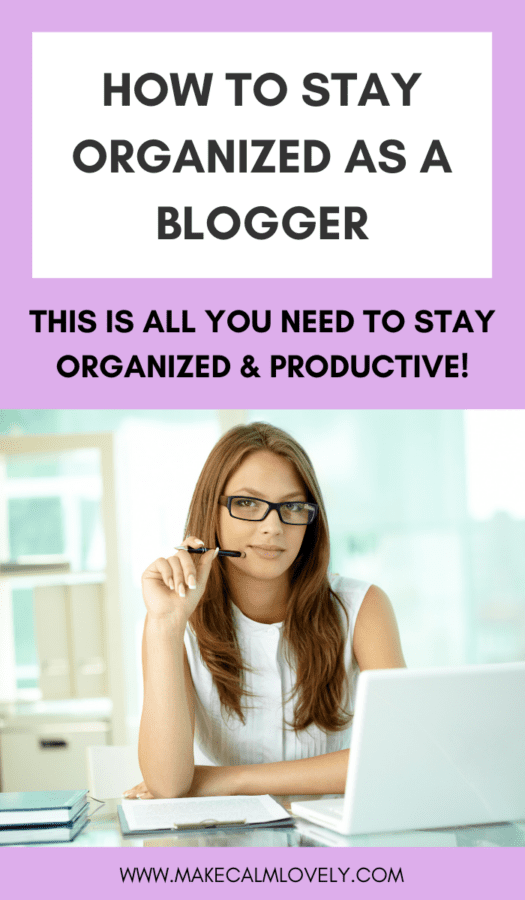 Why YOU Need the Blog Boss System
I am guessing that if you clicked on the headline for this post you really want to get your blogging life organized?
There are so many systems out there to help you get and keep organized. But most of them don't do it all.
You need a system that does it all for you – keeps you organized, lets you track important things, is a quick go to place for information and more.
That is why I am recommending the Blog Boss System to you from Passive Income Superstars. It really changed how I organize and run my blog and life, and I know it will help you so much too!

This amazing inexpensive tool helped me finally get my blog and blogging life organized! Now I can focus on what really matters with my blog