Free Printable & Editable Daily Planner Template to Better Manage your Day!
Get this Free Printable & Editable daily planner template to completely and better manage your entire day!
If you are anything like me, no two days are alike. One day I seem to be on top of everything and have meticulous lists that I follow.
Other days just seem to throw all kinds of stuff at me! And I struggle to stay on track with what I really need to do.
In both situations I have found that the best plan is to have a daily planner that is filled out and prepared for your day. And you can get a copy of this for free right now to use yourself! But read on because I want to give you tips for using the planner.
This planner is not just printable, it is also editable on any electronic device. That means that wherever you are you can pull up your planner, or you can print it off and leave it looking pretty and useful on your desk!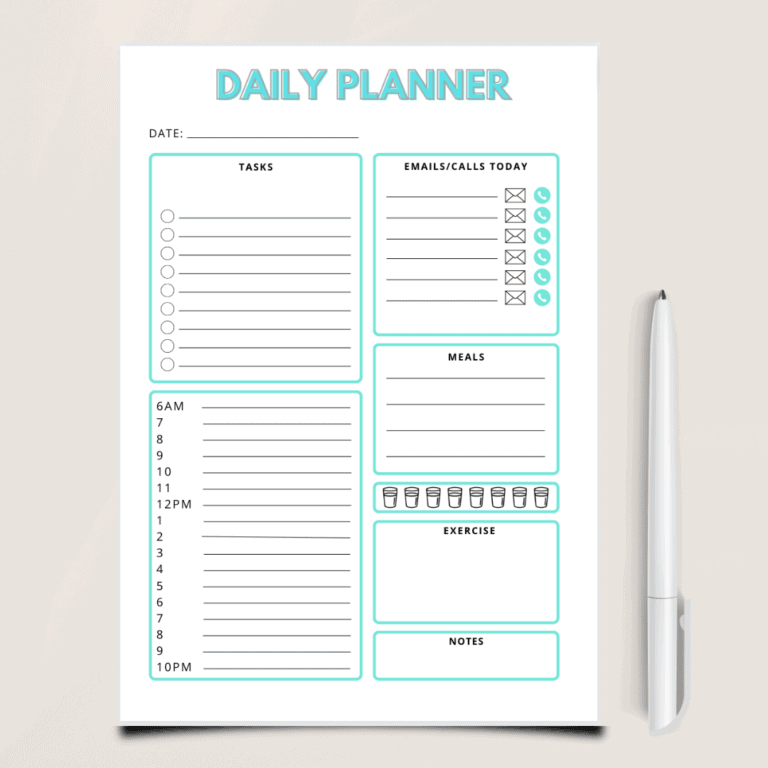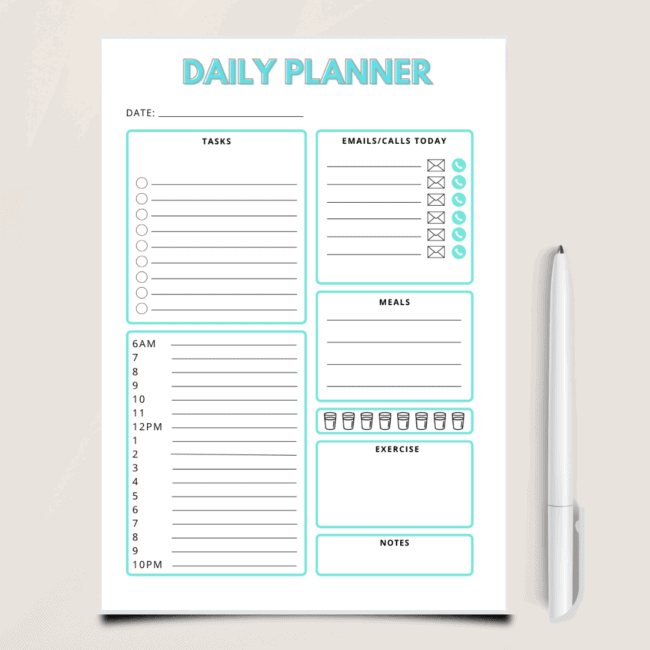 This planner will allow you to:
Write down all tasks you need to do that day
Write out the meals for the day
Plan out your day in time slots
Track your water intake
Plan/track your exercise for the day
Write out emails you must send/calls you must make that day
I promise you that if you use this planner your day will be much more controllable, and you are more likely to get things done.
This planner will work well for all the different types of planning that you have in your life.
The planner will work for planning out your family life, your own personal life, and also your work life.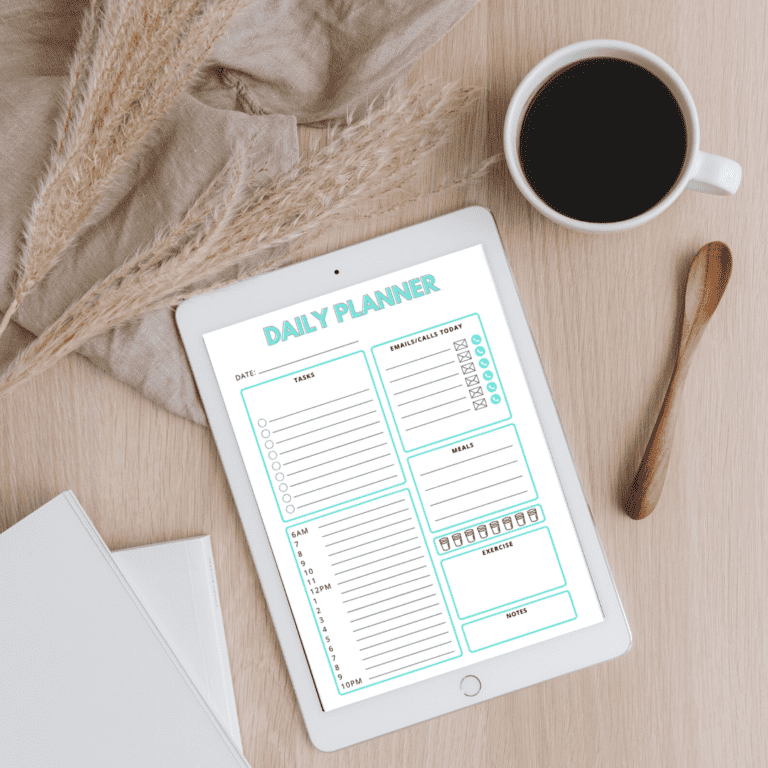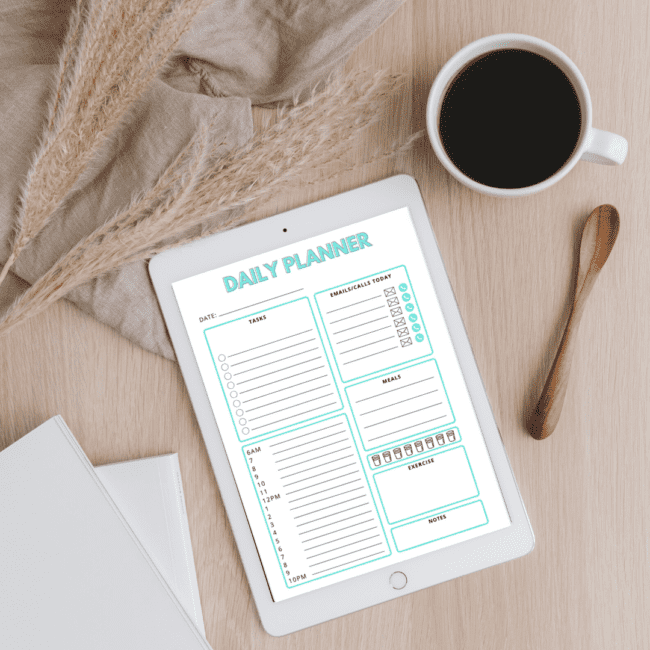 This post contains affiliate links. This means that if you click on a link in this post and make a purchase via that link I may receive a small commission, at absolutely no additional cost to you.
How to use this Free Printable & Editable Daily Planner Template
Write out your Tasks for the Day
Start out by writing down the tasks that you need to do that day/each day in the Tasks box.
Perhaps you definitely need to go grocery shopping, or you need to make sure that the project you are working on for work is turned in that day.
Write out in the Tasks box what you need to get done that day. List the priority tasks that you must do that day.
TIP: One of the best books I have ever read about productivity states that you should give priority in your day first thing to the tasks you least want to do, but that have to be done.
For instance, if you least want to make a certain phone call to somebody that just has to be made, do it first in the day, so that it is over with and accomplished.
You can then move on with your day having got the stuff you dread out of the way!
Write out the Emails/Calls you have to Make that day
In the Emails/Calls Today box write out those emails that you have to send that day, and the calls that you have to make.
You could either get creative by listing them in order of importance for the day, or you can just list everything out that needs to get done.
Plan out your Day Exactly
In the box with all the time slots you can plan out your day exactly by time!
You may have to take lunch at 12-1pm. You may have to pick your child up from school at 4pm. You may have an important call at 9am.
If you plan out your day in time slots you can see more easily how you can fit everything into your day.
Plan/Write out your Meals for the Day
Write out the meals that you will have that day – for breakfast, lunch and dinner. There is even room to write down a snack too.
By planning out you will know ahead of time if you need to take something out of the freezer, if you will need to make that dinner so need time to do that, or if you are following a certain diet plan it can be useful to plan everything out.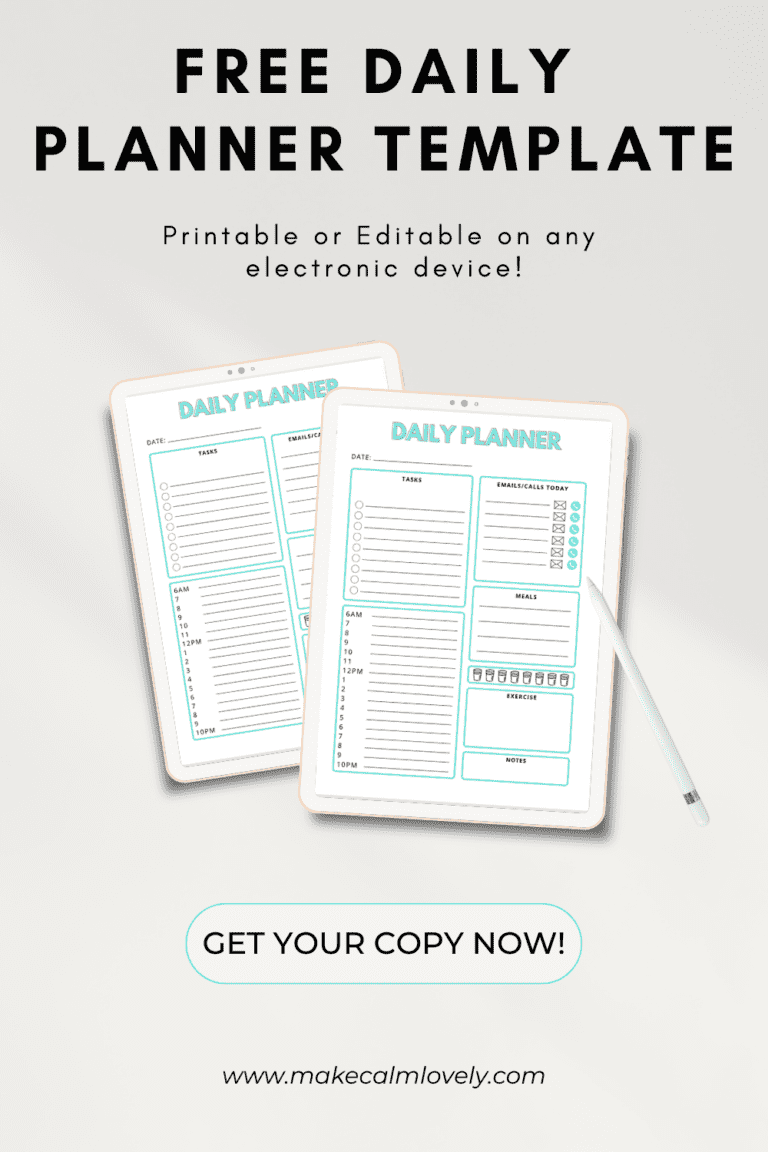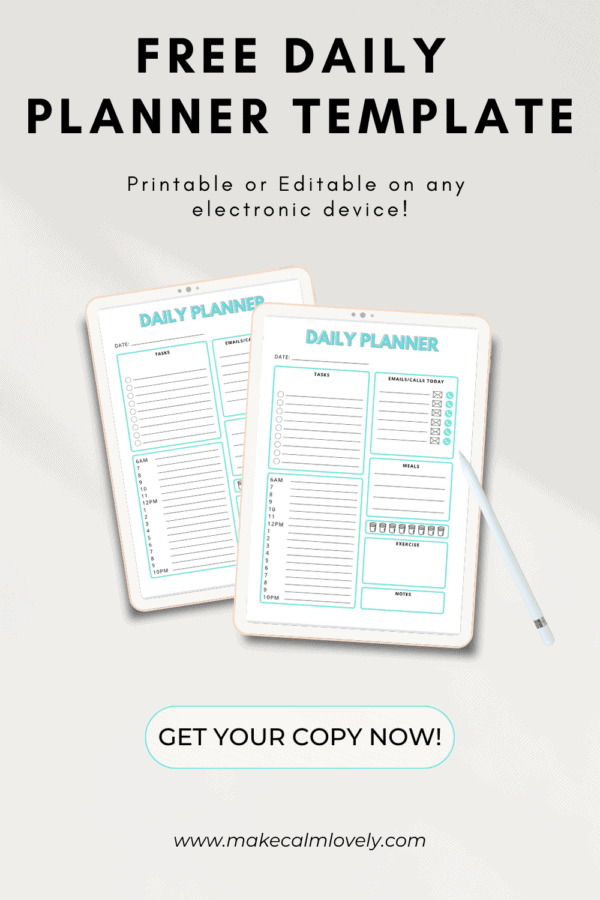 Drink Your Water!
I know that I need to drink more water in the day! But I struggle to remember to do it!
So that is why I put a water tracker on this daily planner, so that you can be reminded that you need to drink water!
As you drink a glass of water (or a full water bottle – whatever you want to set as the measurement) you cross it off on the planner!
Plan out/Record Your Exercise for the Day
If you are off to an exercise class that day – write it down in the exercise box. If you are going to the gym write it down.
You can also set yourself a goal – for instance – leg weight work today for 30 mins, or run today for 30 minutes.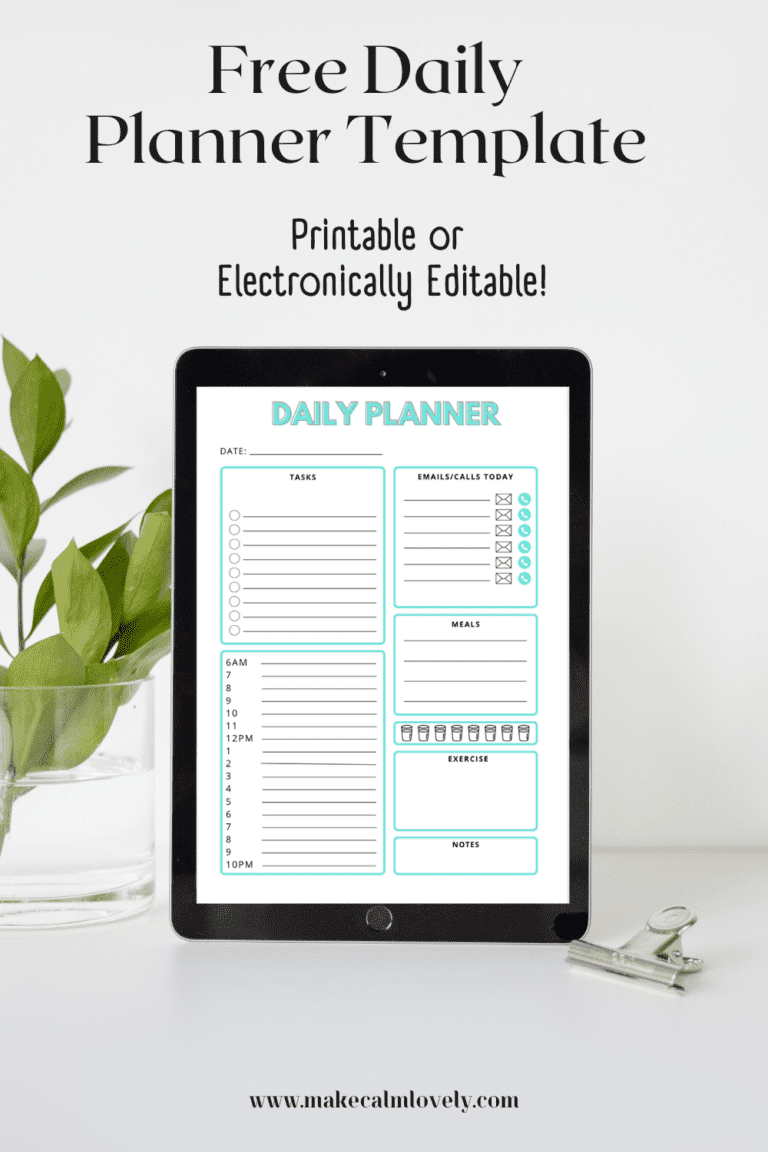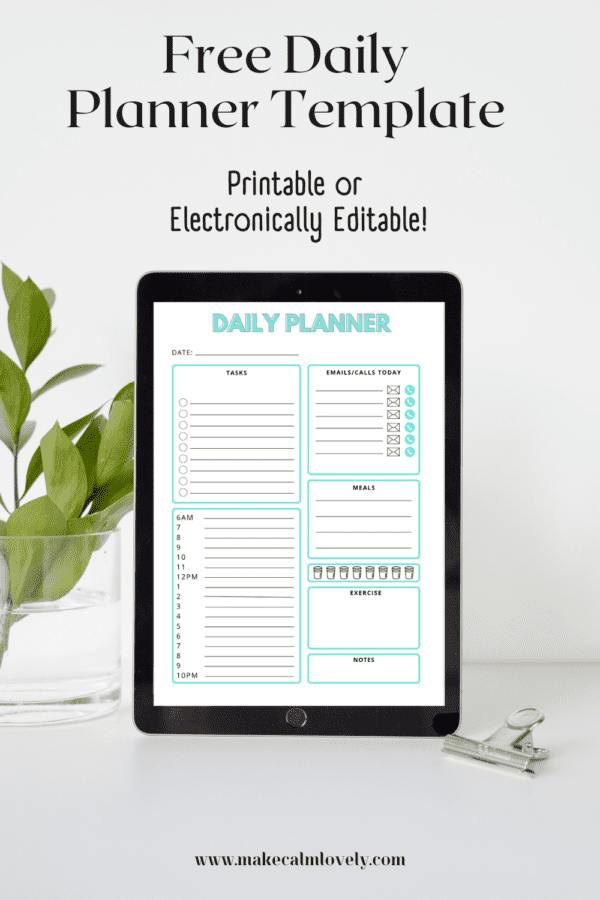 I hope that you get your days better organized, and so much more achieved with these free printable or editable daily planner template!
Related: 6 Reasons to Start Tracking your Habits
Get this Free Printable & Editable daily planner template to completely and better manage your entire day!