Emma Bridgewater – Beautiful Unique Pottery
The Lovely Spotlight series highlights great makers and designers, so you can learn about their journeys, and get inspired yourself in a new hobby and creativity!
The lovely spotlight today is on Emma Bridgewater, a creative china/pottery maker from the UK.
Emma's beautiful pottery and her incredible designs are real heirloom pieces, and all made from cream colored earthenware in Stoke on Trent, England.
Emma believes that everyday kitchen china sits at the heart of our lives, and that each cup, bowl, jug, and plate holds our personal stories, reflect our shared moments, and enriches us as we eat and drink together.
All Emma Bridgewater designs start out as a personal deeply felt response to what she loves and feels strongly about in the world around her. You will see this in so many of her designs and themes.
I first became aware of Emma Bridgewater many years ago when I saw her really unique and pretty spotted mugs, bowls, plates and more. They were just so different looking and like nothing else available. They embraced a vintage yet modern look and from that point on I was hooked!
Since then I try to buy her pieces whenever I can. They are so beautiful and unique, and they really are designed to last a lifetime and to be handed down through the generations even!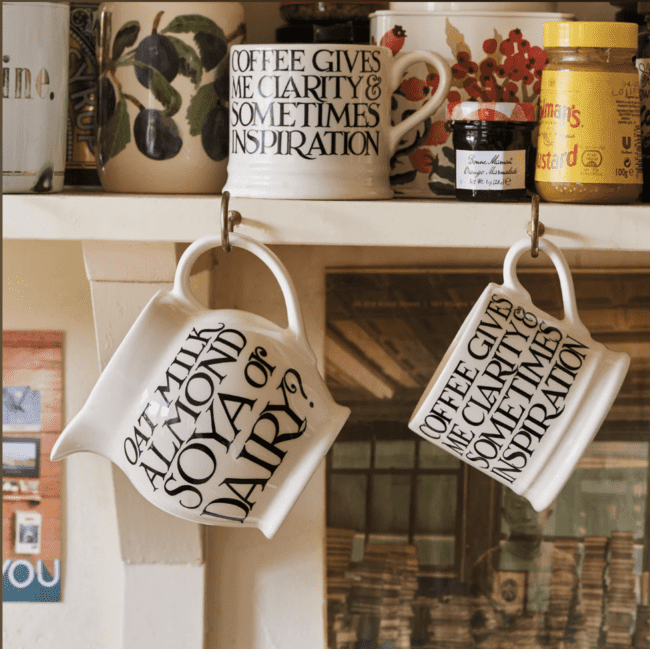 Who is Emma Bridgewater?
Emma Bridgewater is a British pottery/china maker who began making pottery in 1984.
Emma realized she needed to make her own pottery after not being able to find the perfect birthday present for her mother.
Realizing that the shops in England then did not make or even sell the types of pottery she was looking for, she decided there was nothing to it but to make her own.
During a conversation with a friend she was pointed in the direction of Stoke On Trent for making her pottery, a place where pottery has been made for centuries in the UK.
Today she employs over 300 people between her factory, offices, head office, warehouse and shops in Stoke on Trent, London, and Bicester.
Emma's pottery is sold in many places, including a lot of department stores in the UK, and also in her own speciality shops. You can also purchase online from wherever you are in the world.
Emma's range of pottery includes focuses on themes, colors and events. She constantly releases new collections, and special editions.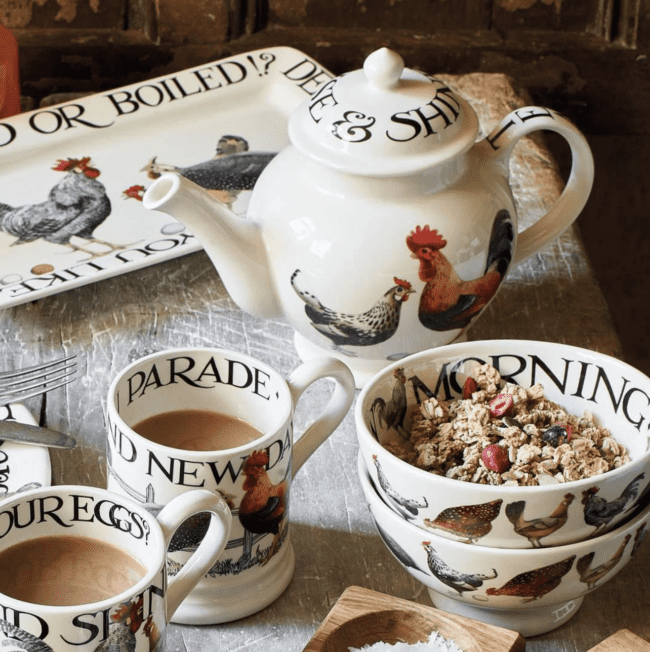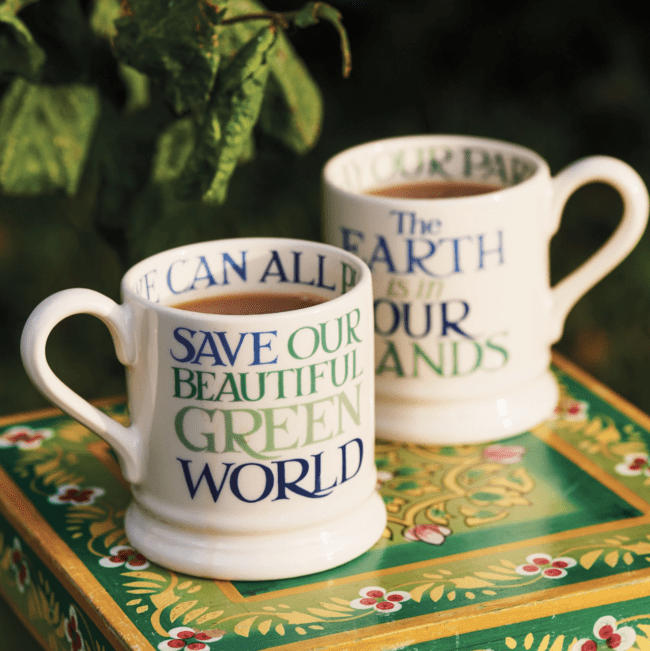 The Emma Bridgewater Collection
The collection of pottery that Emma Bridgewater produces includes all kinds of themes and designs.
Most people who purchase something from Emma Bridgewater become collectors. They may collect all her mugs, or a certain design or theme that she produces.
At the heart of all the themes and designs is something that Emma feels strongly about. She designs a lot of pieces to reflect major events or causes that mean something to her.
Recently when Queen Elizabeth II died she released a collection of pottery to mark her life and reign. She has also done a range for Save the Children.
There is a flowers and plants range, a polka dot range, a hobbies range, a fruit and veg range, a toast and marmalade range, a Christmas range, a pinks range, an animals and birds range, a people and places range, and a blues range.
The Emma Bridgewater range has also expanded in recent years to include etched glass, tins/containers, linens, and more, in addition to pottery and china.
There is also a personalization opportunity with many of the ranges. So if you are looking for a beautiful, collectable and unique gift for somebody, such as a personalized mug with their name, this would be perfect.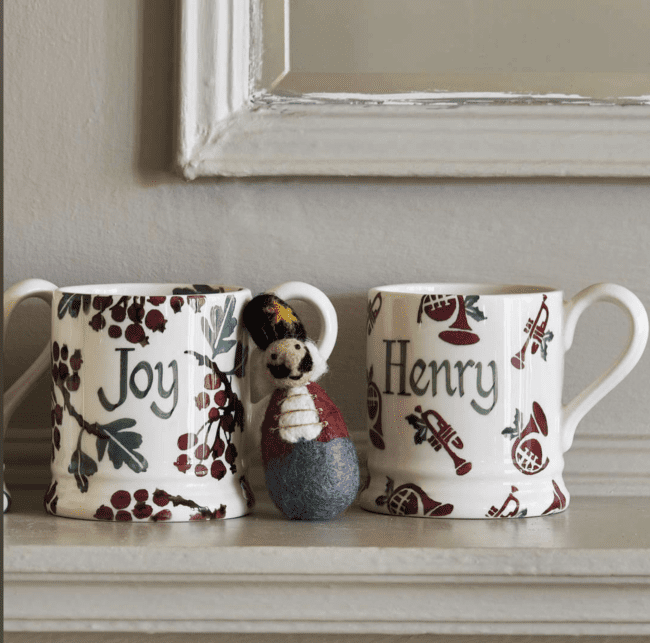 The Emma Bridgewater Factory
The Emma Bridgewater Factory in Stoke on Trent in the UK employs around 230 people, and is on the site of another pottery factory that has been there since the 1800s.
The clay used for each piece is dug from the ground in Cornwall, Devon, Wales and also Staffordshire where the factory stands.
About 30,000 pieces of pottery are made each week by the expert casters, and more than 50 expert designers decorate and glaze the finished pieces.
Mugs are decorated in two ways – either by hand cut sponges dipped into paint and applied to the piece, or by lithographing.
It is possible to visit the factory and see the making process, as well as have afternoon tea and/or lunch in the on-site cafe.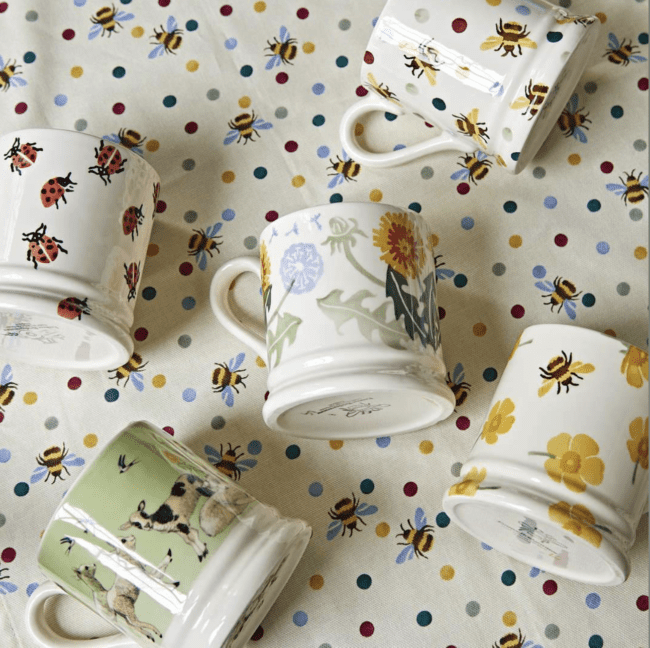 The Emma Bridgewater Christmas Collection
One of the prettiest and most collectable ranges from Emma Bridgewater is her Christmas collection of pottery and other items.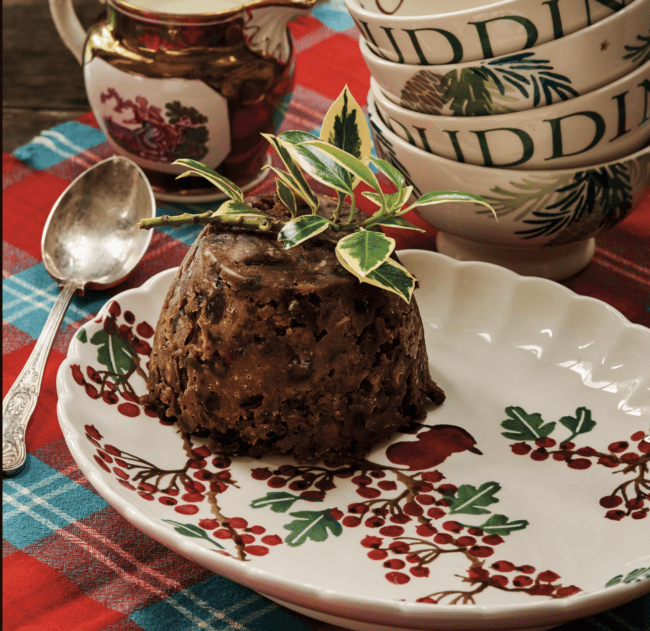 There are several ranges within her Christmas collection, including Gold Toast, Winter Wreath, 12 Days of Christmas, Christmas Toast, Christmas Cabin, Hawthorn Berries, Christmas Puddings, Christmas Biscuits, and more.
Emma Bridgewater Toast and Marmalade Collection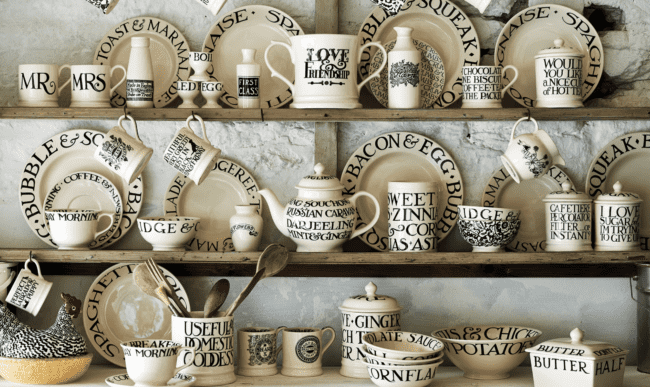 Another collection that I really love is the Toast and Marmalade collection of pottery.
This is one of Emma Bridgewater's most popular ranges and collections. The entire collection was originally inspired by a Votes for Women suffragette plate that was discovered by Emma on a trip to New York.
This collection is currently celebrating its 30th anniversary, and there are always new additions to the range.
The Lovely Spotlight series highlights great makers and designers, so you can learn about their journeys, and get inspired yourself in a new hobby, collecting, and creativity!