A COMPLETE HOW TO GUIDE TO STARTING YOUR OWN BLOG
You may be interested in starting your own blog. Blogging is a wonderful creative outlet, a great hobby, a great place to meet like-minded people, and it can be an incredible source of income for you.
Blogging is all about finding an audience and writing with that audience in mind. EVERYONE has a blog in them. EVERYONE has something they can blog about. It can be a skill, talent, life experience, ANYTHING.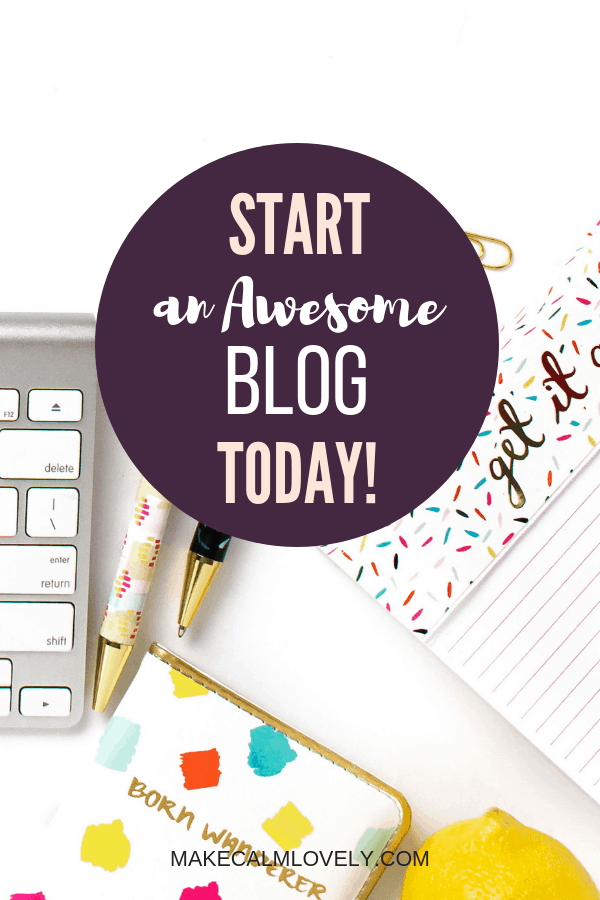 This post contains affiliate links. You can view my disclosures here.
You may have an idea about what you want to blog about? Or you know you want to start a blog but you just don't know what to blog about?
EVERYONE has something they can blog about. I will repeat that – EVERYONE. Everyone has something going on in their lives, some life experience, some knowledge that can be blogged about and find an audience for.
It is so easy to start a blog yourself. Honestly – if you are daunted by the idea, believe me – it is just so easy. I knew absolutely nothing about blogging when I started out. NOTHING.
What is a Blog?
A blog is a website, that features articles or 'posts.' Usually those posts (articles) are displayed in a blog roll, which means that the most recent blog post or article appears at the top.
A blog will be about a certain subject. My blog, Make Calm Lovely is a lifestyle blog for instance. I feature posts about organizing, DIY, crafting, and more. There are blogs about just about anything and everything.
Why Should you Start a Blog?
There are many reasons why people choose to start a blog. It can be for a new hobby, and to share your knowledge of something. A blog can also be a great side hustle, and can bring in additional money for you and your family.
I make money from my blog. I started my blog as a creative outlet. .But I very quickly realized that I could monetize my blog, and within a year I was earning an income.
With a blog you can make money working from home. You can run a blog as a side hustle to your regular job, or you can make your blog your main career.
You may just want to start a blog as a hobby, and that is great. You don't need to monetize your blog at all if you would rather just blog for a hobby and a creative outlet.
How Much Does it Cost to Start a Blog?
This is one of the main questions that people have for a good reason. The answer is, really not a lot. To start a blog, you can pay around $5-$10 per month, for hosting and a domain name.
I have set up a special deal with Bluehost for instance to give you a special hosting rate, which you can check out here. Take a look at the prices mentioned here to give you an idea of the pricing and packages available.
You really don't need a lot else when you are first starting out. As you go further in your blogging journey you can purchase things such as premium themes, plugins, and things to further your blogging. But starting out all you really need is hosting and a domain name.
Skip straight to How to Start a Blog with Bluehost
Can you Blog for Free?
The answer to that question is overwhelmingly yes. Yes you can blog for free, and not pay for hosting or a domain name.
But I would not recommend that. Because as your blog starts getting readers and publicity, you won't be able to do as much with your blog if you have a free blog. You cannot put advertising on your blog for instance if it is a free blog. You will not be able to promote companies or affiliates if it is a free blog as easily.
You also won't get support for a free blog. If you pay for hosting that hosting company will help you out and guide you with your blog, including technical support.
You can of course start a free blog, and then switch to a hosted blog later. But to be honest this is very difficult to do. It is very hard to switch a free blog to a hosted blog.
My recommendation is that if you really want to start a blog, you can do so very inexpensively, so it is worth starting out with a hosted blog from the start. That way you will have room to grow if and when you need and want to.
So you have decided to go ahead and start a blog! Here is my step by step guide to every aspect of starting your own blog.
Step One: Decide what to blog about
Do you have a skill that you can share with others? Do you want to help others? You can even learn about something and blog about your journey doing so.
Do you enjoy knitting or sewing? Do you like hiking? Do you love to cook? All those things could be a blog.
Think about blogs out there that you love to read. They can be about general lifestyle things, such as cooking, gardening, sewing, or home decorating. Or they can be about how to feed your picky toddler, or how to train your dog. They can be about how to play Poker, or how to build furniture. A blog could be about your journey losing weight, or about your travel to South America.
A blog can be about anything! But if it is something you enjoy, or something that you are good at or have experience in, or that you love doing, it will be much easier to start a blog about that.
Step Two: Choose a Blogging Platform
You will need to choose a blogging platform to prepare and write your blog. A blogging platform is a content management system.
There are many different blogging platforms available, including WordPress, SquareSpace, Blogger, and Weebly, to name just a few.
WordPress is the most popular of all of these. It is also very easy to learn, and most of the blogging world uses WordPress, therefore it has a lot of support and information available.
WordPress has two different options available. There is WordPress.org and WordPress.com. You need the WordPress.org version, because that is the 'self hosted' version. This means that you have full control of your blog and you can also monetize it later should you want to.
A blogging platform, such as WordPress, where you will write your blog, needs a hosting company to run it. I cover all about hosting companies in the next step.
Don't be confused at this step. You just need to decide at this point if you want a free blog or you want a self-hosted blog (that gives you more options and you can monetize if you want to).
If you want a free blog just go to wordpress.com and start it now. But if you want a self-hosted blog, which I would totally recommend and so would most bloggers, then just go to the next step about finding a hosting company. Once you choose your hosting company, and select a package, you can download WordPress automatically with just the press of a button.
Step Three: Choose a Hosting Company
A blogging platform is what lets you write your blog and manage your content, but you need something to host that blogging platform. This is a hosting company. Hosting is what makes your blog live and available to the public and readers.
There are many hosting companies available to choose from. These include Big Scoots, Bluehost, Siteground, and more. You can run a Google search for hosting companies. Read reviews from others regarding their experiences with certain hosting companies to get more ideas.
I started out with Bluehost, and I would completely recommend Bluehost as a great starting hosting company. They are inexpensive, and they have everything that you need when you are first starting a blog.
The most important thing when you first start blogging is that you don't want to pay out an enormous amount of money starting out, just in case blogging isn't for you.
That is why Bluehost is a great starting host. They also have great technical support, which is vital for when you are starting out. I used their technical support constantly, for some quite silly things I am sure starting out – but I just didn't know! But they never made me feel stupid or inexperienced, and they even suggested things that would make my site better.
Click here to go straight to How to Start a Blog with Bluehost
Step Four: Set up Your Blog
As I have previously mentioned, I completely recommend Bluehost as a hosting company.
You can read my complete post on how to start and set up a blog with Bluehost right here.
Step Five: Start Writing Content!
Content is the most important part of your blog, and you should focus on your content more than anything else with your blog and blogging.
Your content is what brings people to your site. It is what people read and follow. People are not coming to your site for anything else other than your content – so make it great!
If you want to Make Money with your Blog
You can monetize your site for income as soon as you start your blog. Monetizing your blog can be done in many ways – advertising, becoming an affiliate for companies (including Amazon), selling courses and e-books you write/design.
Monetizing your site is not essential, and you may choose not to monetize it. But monetizing your site will give you more freedom to do more for your blog and your readers.
I hope you have all the information to start your own blog! If you have questions I am always happy to help answer them – just email me at Makecalmlovely@gmail.com!