Creative Ideas to Transform Old Windows and Doors into Functional Garden Pieces
All DIYers see functionality in old pieces of wood.
Transform old windows and doors into valuable garden pieces with these
ideas.
If you have had your house for several years, chances are you are due for new windows and doors. Instead of throwing them away or lighting them on fire, you want to up-cycle them.
As they say, old is gold. Keep them and use them to make functional pieces for various uses around your garden and house. They may not even need much work; a little painting, hook installations, and your old door or window serve an entirely new purpose.
For all creative minds and DIYers, this is an excellent chance to showcase your creativity. Here are a few ideas for transforming old doors and windows into usable pieces around your garden.
8 Functional Pieces You Can Create With Your Old Doors and Windows for Your Garden
Old wood can be made like new with sanding, painting, and varnishing. Try to create any of these garden pieces using old windows and doors in your home.
Mini Sheds
Mini sheds can be used for many purposes around the garden. You can use them as storage for your gardening tools, such as spades, rakes, and water pots, as a potting area for cold winters or hot summers, or as a bike shed.
The beauty of a mini shed is that it is small enough to fit even in the tiniest gardens. Making it out of old doors and windows is an even cheaper venture.
To make your mini shed using old doors and windows, you will need at least four doors, iron sheets, a screwdriver and screws, a hammer and nails, a saw, and paint.
Most of the tools are readily available in most hardware stores and are cheap to acquire. The number of doors used will depend on how wide you would like your mini shed to be. If your doors have glass, replace the glass with wood panels.
You may sand and paint the doors before starting the build or afterward. However, it is wise to do so before starting the build, as it will be too much work later.
Building a mini shed usually does not take more than half a day, depending on your level of expertise in DIY builds. Safety is a priority when making your structure; wear gloves, goggles, and a mask.
Mirror Frames
Mirror frames in the garden area always add an enchanting feel to the space. They are a great way to up-cycle your old doors and windows as they enhance the illusion of a bigger space in your small garden, reflecting sunlight and simply making your area look beautiful.
However, you must choose which door or window to use to accomplish this look. Please select one with a unique shape, as it will give your garden that wow factor you want.
Items needed
Glass cutter

Tape measure

Marking pencil

Glue
Instructions
Ensure you take measurements of the spaces in your door or window you plan to attach to the mirror and sand them thoroughly using an

orbit sander

.

Mark the measurements on your mirror and gently use a glass cutter to cut the mirror.

Carefully glue your mirror to the door or window space and let it sit for an hour to dry.

Know how and where to place the mirror frame professionally. The ideal way to do it is on eye level and out of direct sunlight to avoid fires from sharp ray reflections.

It would also be best to put them away from birds' nests as they may cause harm to the creatures.
Porch Swings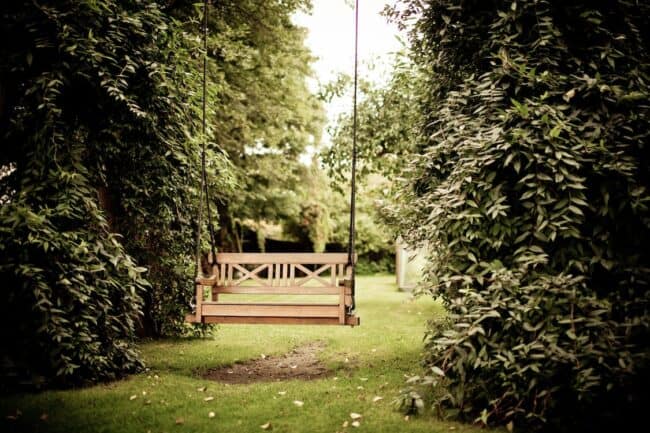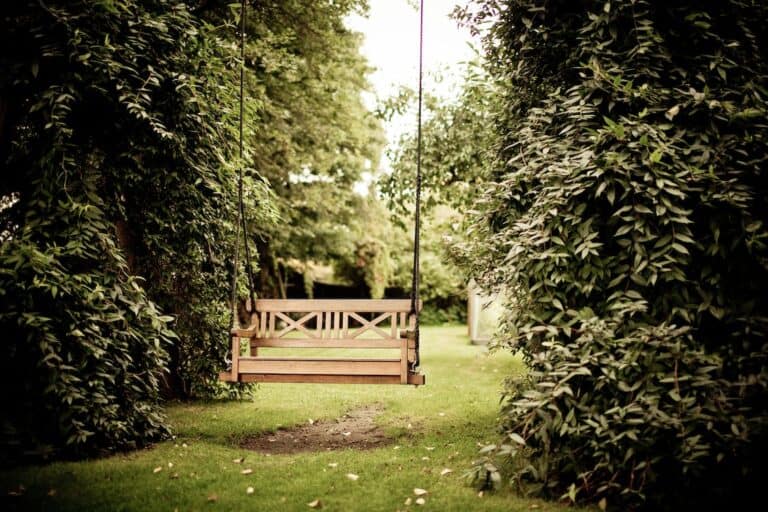 Porch swings are an excellent addition to your garden space. They are helpful during summer as you enjoy the weather or read a book. Using an old door as the material will give a feel of authenticity to your area, not to mention less pressure on your wallet.
All you will need is an old door, a nail gun and nails, eye hooks, a measuring tape and pen, a rope, a screwdriver and screws, and some paint and a paintbrush.

To start, you need to make a frame for the base with a depth of 16′ to 18′.

The cross braces are then placed 19" apart for the extra support and then the seat boards.

Afterward, it's time to add swing support in the bottom area.

Ensure an overhang of at least 4" on the four corners, as it is where the eye hooks will be placed.

Attach the door vertically across the seat board using decking screws and the armrests.

Move on to paint your seat and attach the rope to the overhangs using the eye bolts and hang it securely upwards on the pillars.

Cautiously test the swing to ensure it is secure enough to hold weight.
A Herb Garden
If you have limited space to plant your favorite herbs in your garden, vertically placing old doors and windows will offer you more options. All you need is to fit some support on your door or window for planting pots.
If you are not up for that, install hooks on your door or window and use a rope to hang your planting herb pot to the door or window. Gardens made from doors and windows are preferable since they are portable and cheap to maintain.
The door or window must be securely placed to accommodate the weight of the various pots, preferably leaning on a wall or having support pillars.
It is also essential to check for any weak points, such as cracks, before you begin putting pots on the doors and windows to avoid incidents of pots falling off due to accumulated pressure on them, causing them to break.
Remember, these are old doors and windows, and weaknesses are common. You can, however, fix them up by adding support from planks.
Garden Gates
Garden gates are beneficial to ensuring your property is secure from wild animals and strangers and to guarantee privacy. There could not be a better way to build and install a garden gate than by using old doors.
The doors give the feeling of a secret hideout, like a scene from medieval times or straight out of the book The Secret Garden.
All you need for the gate is to secure an old door onto the garden wall using hinges.
Choose a uniquely shaped door and be creative with the paintwork. Decorate the entrance with quotes you like or flower pots, or let overgrown climbing plants be on it. It will only enhance its looks.
Depending on the height of your fence or wall, trim the door accordingly, preferably from the bottom, to ensure the original shape is kept.
Paint your doors and windows with waterproof paint, sealant, and treatments to prevent infestation of wood-eating carpenter ants and termites.
Decorative Hangers
If you want to add character to your garden space, then using old doors and windows to make decorative hangers is the way to go. This idea will be a great way to present your plants. It also helps maximize the use of the small space.
To make the hangers, you will need a rough idea of what you need, and using a saw, screws, nails, and some paint, you will be able to make the hanger of your dreams.
This way, you can save money on an expensive ready-made decorative hanger and stir your creative juices to life. You must ensure that the hanger is stable enough to accommodate planters, though.
A Succulents Hub
You can never go wrong with old window frames for succulents. Succulents add life to your space. Therefore, use this knowledge to make an authentic contrast between your window frames and your plants.
An overhanging window frame will be best for these beauties to facilitate proper water drainage, as they may rot when faced with water-clogged soil. You must also ensure that the window frame is placed directly facing the sun, as these plants require a lot of sunlight to thrive.
Planting succulents on overhanging window frames will enable their owner to provide better care, unlike when mixed with other plants in the gardens. They may even die due to the sun being blocked by other taller plants.
Section Separators
If you plan to plant different plants in your garden, you can creatively use old doors to separate each section. You will be tasked with ensuring the doors are stable on the ground and can not fall over your plants. This idea is unique and will make your garden all the more organized.
Making Bird Houses
If you are not up to buying a birdhouse, you should make it using old doors or windows. It will give you a great platform to customize them however you wish.
You only need to draw what you want and make up your mind on the measurements using a saw, tape measure, pencil, some screws, and screwdriver, to make the birdhouse of your choice.
Final Thoughts
Making your garden space a jealous focal point to your friends and family does not have to be an expensive process. Using old doors and windows, you can quickly transform your garden space into a wonderland to relax, meditate, or host guests. These tips will help you creatively transform your old doors and windows into functional and beautiful pieces for your garden.
All DIYers see functionality in old pieces of wood.
Transform old windows and doors into valuable garden pieces with these
ideas.