11 Brilliant IKEA DIY Hacks from YouTube
Two of my favorite things ever collide in this post about IKEA hacks from YouTube! Here are 11  absolutely brilliant IKEA hacks from YouTube that you will want to check out!
Anyone who knows me and my blog well know that I absolutely LOVE IKEA hacks!  I just can't get enough of them!
 I also absolutely love the YouTube channel.  I just think it is amazing that pretty much anything you want to know about and look up is right there on You Tube.  The fact that you can actually see a video demonstrating something or showing it is so useful and awesome.
So here are those two favorite things combined – IKEA hacks and You Tube.  Because not only can you get incredible ideas here for IKEA hacks, but you can also watch exactly how they are done on video.
So take a look here at 11 brilliant ideas for hacks that you can do with IKEA pieces!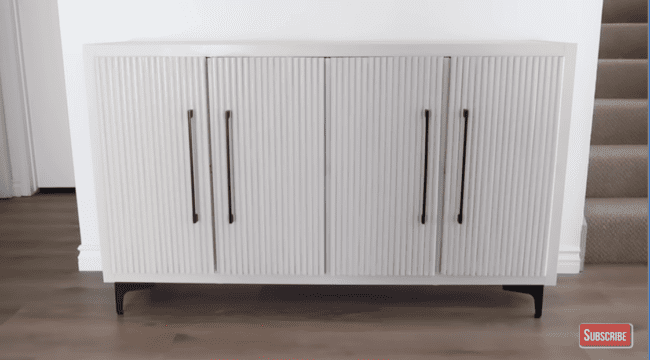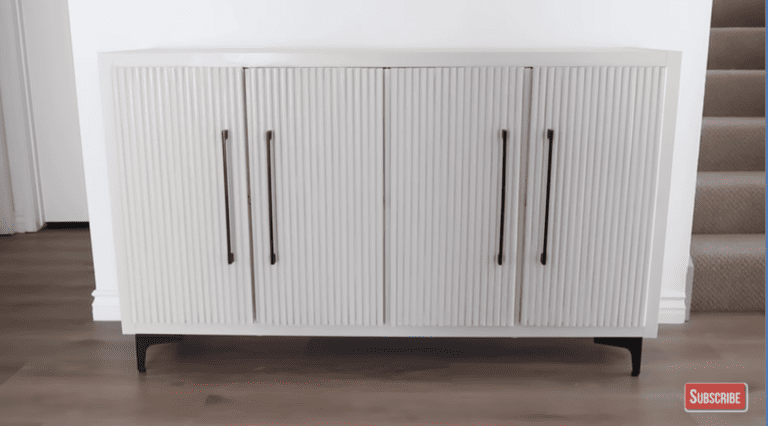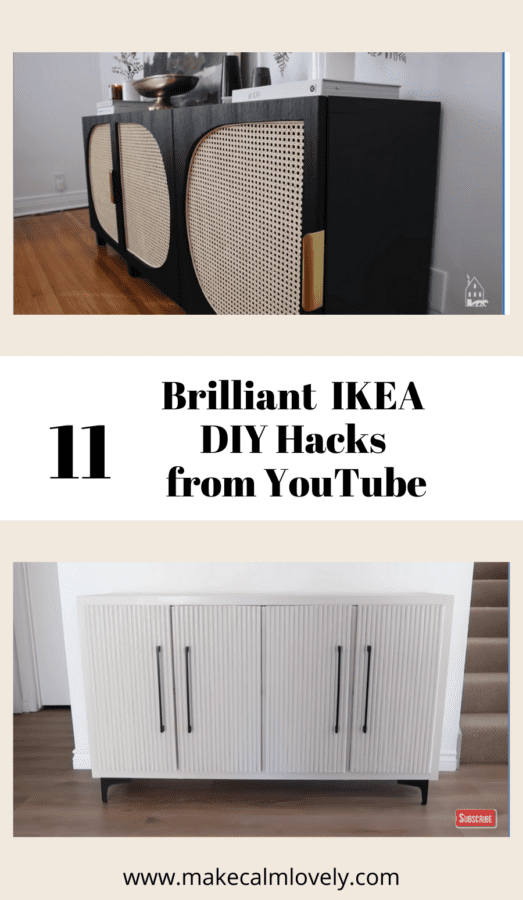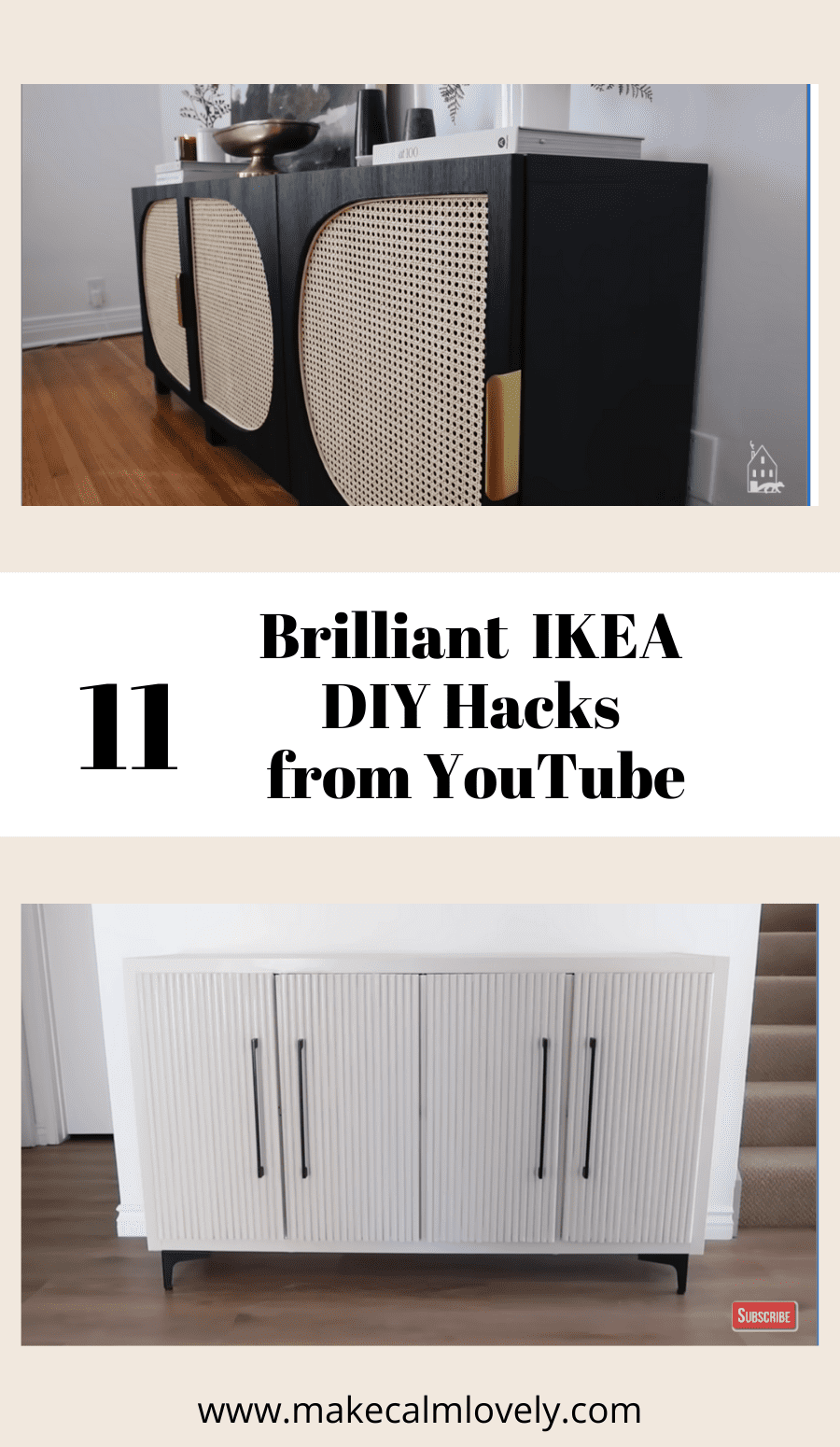 Kallax Fluted Sideboard Hack
The IKEA Kallax shelf unit is an incredible unit for so many uses in your home.  Just as it comes from IKEA it is already so useful and amazing, but with this hack from interior designer Kristen McGowan you can totally transform it into a gorgeous fluted sideboard.
Related: 17 Amazing TV Stand Media Console IKEA Hacks
DIY Window Seat with IKEA Nordli Hack
One of the things I most love about IKEA hacks is that you can take something from IKEA and completely transform it into something else.
This hack using Nordli is just that. We all know IKEA doesn't actually sell window seats! So by hacking something you can totally change it into something completely different – just like this hack does!
Nordli are great drawer units from IKEA, and this hack from Hydrangea Treehouse transforms them into a gorgeous window seat with storage.  It looks custom made and is just so unique.
Shiplap Style Storage Bench
My Rehab Life has created this great shiplap style storage bench with this IKEA hack. This hack again uses an IKEA Kallax shelving unit, and transforms it into a lovely and useful storage bench with that unique shiplap style.
Modern Floating Console IKEA Hack
IKEA Ivar cabinets are used in this hack by The Awesome Orange.  Wooden strips are applied to the cabinet to give it a unique and stylish look, and the floating concept of this cabinet is so modern and on trend too.
DIY Cane Dresser IKEA Hack
Cane is very on trend and stylish right now, with its wonderful boho vibes.  This hack from Megan Bell uses the IKEA Tarva dresser, which is a lovely inexpensive dresser in its own right.
This is a very easy IKEA hack that is suitable for beginners and those without much DIY experience at all (or who think they are not good at DIY!).
West Elm Inspired Fluted Dresser IKEA Hack
The fluted furniture look is very 'It' right now. But you can spend a lot of money at stores such as West Elm for a fluted piece for your home.
So here is an IKEA hack from Sabrina Latoya, which takes an IKEA dresser and turns it into a beautiful fluted dresser that is worthy of West Elm (but not worthy of West Elm prices!).
Mid Century Modern Sideboard Desk Hack
DIY Danie creates a beautiful and stylish Mid Century Modern style sideboard with this IKEA hack. Ivar cabinets are the basis for this sideboard. It takes quite a bit of work to create, but it is so worth it!
Related: 40 IKEA Mid Century Modern style hacks for your Home
IKEA Dresser turned into a Modern Apothecary Cabinet
This is an amazing hack of a generic IKEA dresser that is turned into a beautiful apothecary cabinet.  Apothecary cabinets are so beautiful. They cost an absolute fortune to buy new, because just about everyone loves them!
I think you will agree that Modern Makeovers has outdone themselves with this incredible hack!
Related: IKEA Moppe Apothecary Storage Chest Hack
DIY Woven Cane Storage Console IKEA Hack
Lone Fox has created an absolutely beautiful and stylish console cabinet dresser with this IKEA hack.  This hack uses the IKEA Besta TV unit and accessories. This is an absolutely gorgeous piece!
Craft Room Organization Cabinet IKEA Hack
The Daily DIYer has created this amazing craft room organization cabinet to really help with organization in your craft room.  You can of course also use this piece in any room where you just need ample storage.
DIY Cane Cabinet IKEA Hack
This beautiful DIY cane cabinet is the creation of The Navage Patch.  This hack will work on any cabinet that has a glass door.  This is a lovely piece that will really stand out in your home.
I hope you enjoyed this collection of 11 absolutely brilliant IKEA hacks that are featured on You Tube! I think you will find many ideas here that you can use to create your own IKEA DIY hacks!
Two of my favorite things ever collide in this post about IKEA hacks from YouTube! Here are 11  absolutely brilliant IKEA hacks from YouTube that you will want to check out! 
About Make Calm Lovely
Make Calm Lovely is a lifestyle blog specializing in IKEA DIY hacks, DIY & craft projects, home decor and so much more! Check out all the amazing things you can do and create to make your life calmier and lovelier at Makecalmlovely.com!