Learning a new craft, and mastering a craft, is one of the best feel good things you can do. Crafting and DIY is good for your mental health, it gives you a goal and purpose, and you can make some amazing things. But do you feel like you are useless at crafts?
This post contains affiliate links. You can view my disclosures here.
It it totally fine to feel like you are just not good at crafts and crafting. Perhaps you started a craft once and failed miserably? Perhaps you look at a certain craft project and feel that it looks too complicated, so you don't go any further with it? Maybe you just don't think that you have the time to learn a certain craft?
I never had a natural gift for crafts. I learnt to knit when I was a child, under my mother's overwhelming patience and guidance. There were many times that the knitting project I was working on was thrown across the room in frustration. But I am so glad that I did stick with it, because as an adult, I know that I can easily pick up yarn and needles and start a knitting project anytime I want to.
I learnt to knit through one on one instruction, and staying the course – practice really does make perfect. But if I had never had my mother to show me and guide me, I doubt that I would have persevered and stayed the course with knitting. We didn't have online videos available to teach us, we had to learn one on one or from a book.
Since childhood I have also learnt to quilt and sew, and I have tried numerous other crafts. My first attempts were awful. But I stayed with it and I have to say I did make a wonderful hexagon quilt that I gifted to my mother. I also made curtains, pillows and things for my home that weren't too bad! I didn't just sit down and do those things though – I had to learn them, through watching videos and reading. But the videos were the best.
That is why I really love the instruction that is given on all types of crafts and crafting by Bluprint.
Bluprint (formerly called Craftsy) is an app and website that is designed for anyone who wants to learn a craft, no matter what level of experience you may have. Whether you are a complete beginner, intermediate or experienced, you can find a craft and level of instruction that will really suit you.
Watching the videos that Bluprint produces feels just like somebody is there with you, showing you and guiding you through starting and learning a craft. Just like my mother sat with me, showing me what to do and how to do it, online video classes can do just that.
You don't have to be good at crafts to learn and master a craft. Nobody just starts out doing a craft and knows how to do it immediately. You have to watch and learn. Most importantly you just need to try and practice.
If you look through Bluprint's huge library of classes you will see that there is a class in just about anything and everything. This is just a selection of all the classes that they offer:
Hand embroidery
Knitting
Quilting
Crochet
Cake decorating
Sewing
Watercolor painting
Drawing and sketching
Baking and cooking
Photography
Pattern making
Machine knitting
Yarn dyeing
Spinning
Hand lettering
Jewelry making
Cross stitch
Journaling
Dressmaking
Calligraphy
As I mentioned, this is just a selection of what is on offer, but this gives you a pretty good idea of the range and scope of classes offered.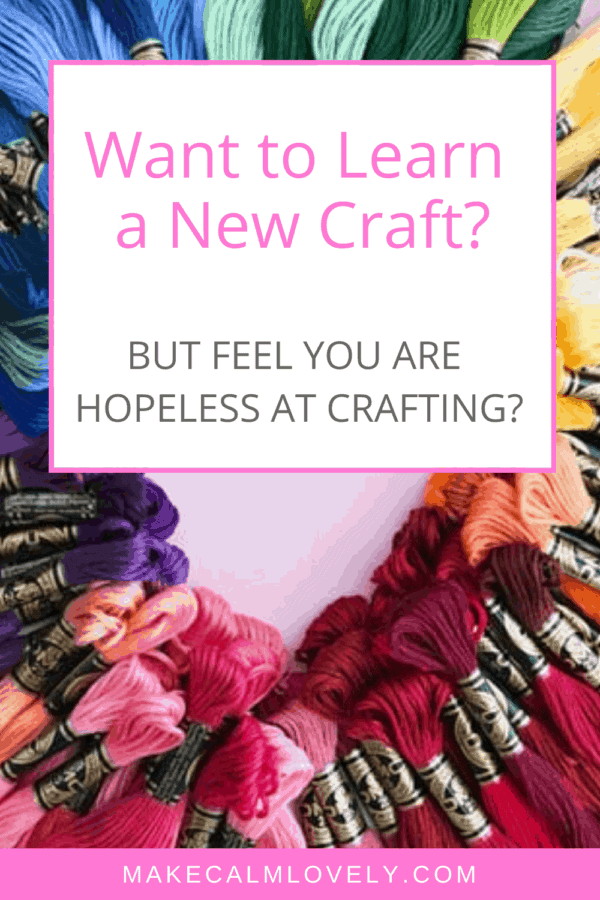 Get a Subscription Box to Help you Craft
Bluprint also has a subscription box, that is delivered to you 4 times a year. Every season you get to choose whatever craft you are interested in learning.
You will then receive a box with everything that you need for that craft. For instance, this Fly By Quilt which is offered in one subscription box, contains all the fabric that you need for the quilt, the batting for the quilt, thread and pattern.
In addition to getting a box with all you need to learn the craft and actually make something, the box subscription lets you access any crafting video whatsoever. So you can constantly learn a new craft anytime you want to, especially in between getting your crafting box!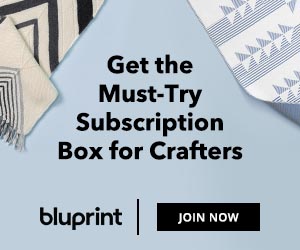 Check out lots of Free Classes for Crafts
You don't have to pay for a subscription to get access to craft videos on Bluprint. They also have a huge range of free classes. The free classes currently include classes on things such as:
Sewing Machine Basics
Figure Drawing
Bag Making
Quilt making
Acrylic painting
Cake Pops
Wirework jewelry
So don't let fear, or lack of time, prevent you from learning and mastering a craft that you would love to do!
We all start out being fairly bad at whatever craft we try, because we are not experts and don't yet know that craft! But by sticking with it, practicing and trying, you can be the best at that craft.
Just imagine how great it would be to be seen as an expert in something! For your family to count on you to knit beautiful knitted sweaters as Christmas gifts. For your friends to be in awe of the beautiful cakes you make for parties and special occasions. For you to take all your family photos, as well as any professional photographer does!
No more excuses! You too can learn and master a craft that you will love. You just have to stick with it and try it!