A Viral Pin on Pinterest is like an explosion of activity. When a pin goes viral it gets you more page views, visitors and readers to your blog. You need viral pins!
A viral pin on Pinterest is every blogger's dream. But how exactly do you make your pins go viral? What are the secrets to designing and producing a viral pin? This post covers everything you need to know to start getting viral pins on Pinterest!
When I had my first viral pin on Pinterest I was so excited! I got so much more traffic to my blog, and gained so many more readers. (If you are interested, this was my first viral post!)
I have had many more viral pins since that first initial pin. But that first viral pin was like my baby! That pin still continues to do well to this day.
Many Pinterest users will tell you that they had pins go viral that they least expected to. Sometimes a pin goes viral that doesn't have a particularly great graphic or interesting title. Sometimes the image just isn't that clickable. But something about that pin sent it viral. This could be down to luck, or other factors. It is sometimes hard to know why one pin takes off, and another doesn't.
But there are definitely things you can do, and put in place, to try to ensure that you get a viral pin on Pinterest. You do not need a huge following at all on Pinterest to get your pin noticed, and eventually to go viral.
This post contains affiliate links. You can view our disclosure right here.
1. Create Pinnable images
Pinterest is all about images. The first glance anybody has of you and your blog on Pinterest is a particular Pinterest pin.
There are thousands and thousands of pins going through Pinterest feeds every day. Your pin has to stand out among all those pins to get a click or a closer view.
Your pin has to have an interesting or noticeable image. It has to tell the reader before they click what that pin/blog post is going to be about. It has to have a call to action – to make the person want to click on the pin.
Colors are important on a Pinterest pin. People tend to be drawn to, and click more, on brightly colored pins. Reds and pinks do very well, as do orange and yellow. Dull and darker colors don't do so well.
Pin size is very important. Vertical pins tend to do better on Pinterest. Pins that are about 600×1000 tend to do very well. 600 x 900 also does well.
Here are some examples of bright, well-designed pins. These pins all have attractive images that make the reader want to click on them. They feature bright, attractive colors. The eye is drawn to these images. They have clear calls to action – places you can go to make extra money. Cleaning hacks that will make cleaning faster for you. Lovely summer journals that you can make.
2. Use Graphic Design Services for your Pins
This point also goes hand in hand with the create pinnable images point above.
By using software and/or online design and photo editing services, you can create much better quality Pinterest pins.
There are a couple of design sites I would highly recommend for this. Both are free, but do have upgrade options if you want more features:
PicMonkey
PicMonkey features ready-made templates for Pinterest pins that you can edit yourself. It has numerous fonts and graphics available for making Pinterest pins. You can try it for free right here.
Canva
Canva is similar to PicMonkey in the features it provides. It also has templates and fonts, photographs and graphics that you can use on your pins. Currently this is my photo editor of choice.
If you know PhotoShop or InDesign, these are also great graphic design services to use to design pins. But if you don't know how to use these, there is a big learning curve involved.
That is why I recommend PicMonkey and Canva. They are easy to use. There is little learning involved, and they do just what you need them to do.
3. Add a Pinterest 'Pin It' Button
When somebody comes across a post on your blog, you want them to pin it to Pinterest.
In addition to having those pinnable images, you need to provide a way for them to pin the image straight through to Pinterest.
There are many plugins available that can add a Pin It button to your images. One that I use and love is the Tasty Pins plugin.
4. Pin and Re-Pin Constantly
Once you write a blog post, and create a pinnable Pinterest image, you immediately post it. But do you keep on posting it? A pin will not go viral if it is only pinned once. It needs to be re-pinned over and over again.
Using Tailwind is a great way to keep re-pinning your pins. With Tailwind you can keep scheduling your pins to go out onto Pinterest at all times of the day (and night). You can schedule certain pins to go out every day, numerous times a day if you want to.
Tailwind also has the great Smart Loop feature. This enables you to set up looping of certain pins, that will constantly be pinned and re-pinned.
You can sign up for a 30 day free trial of Tailwind right here if you want to check it out.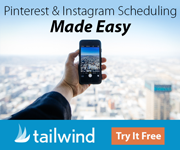 5. Use Good Keywords
Your pin will be found by somebody searching Pinterest for a particular item or topic.
If somebody is searching for 'chocolate cake recipe' they won't get your pin up in their feed, unless you have somehow marked it as being about a chocolate cake recipe.
Keywords are used in a couple of places when pinning on Pinterest.
The Alt Text field is an important field to edit on an image. Fill out that field with a description of what the pin is about. Include good keywords here. If you are pinning a great recipe for a rich moist chocolate cake, use those words as keywords. This is what will be picked up by Pinterest.
When you post a pin, also make use of the Description field. This is where you can describe what your pin is about. It should be packed full of keywords.
It is also a good idea to use hashtags in your pin description. If your pin is about a chocolate cake recipe you could include hashtags such as #chocolatecake #chocolate #chocolaterecipe #chocolatecakerecipe.
This pin description for a chocolate cake is using key keywords. In the description above you will see the following keywords being used: chocolate, cake, moist, buttercream etc. If you note they have used the words chocolate and cake together many times. This pin actually comes up high in a search for "chocolate cake recipe".
Think about the search terms that somebody is likely to use on Pinterest. If you are searching for a recipe for a chocolate cake, what would you put into the search field? You would likely put 'Chocolate Cake Recipe', 'Chocolate Cake', or even just "Chocolate". If you use those terms as hashtags in the pin description area, they will be picked up by people searching for those things. Therefore your pin is more likely to be found.
6. Have a Good Quality Informative Post
Your Pinterest pin image is bright and attractive. You have a great title and call to action on your pin. But when somebody clicks through are they getting what they were promised, or what they were searching for?
One of the most important components of a viral pin is that it leads to good content.
Your blog post that you are directing a reader to should satisfy their wants and needs.
Try to write good quality blog posts, that readers will want to share time and time again. If you have a recipe for chocolate cake, make it a good one. Make the recipe easy to follow. Have lots of good color photos in the post (people want to see what it is they are making).
Quality content will always be shared, and re-shared.
7. Make Multiple Pins for Each Post
Pinterest loves new content. Even if you have a pin that has gone viral, you can still continue to make new images for it, to keep it going and going.
If a person is looking for cleaning hacks for their car, and you have a post called "20 Best Hacks for Cleaning your Car," with a picture of a red mini car on it. That pin might go viral for a while. But after a while many people have already seen that pin – so they won't keep visiting it or clicking on it.
Make multiple pins for each blog post. 3 different pins is a good guide to follow. Have different slants on that post on each pin.
For instance – taking the "20 Best Hacks for Cleaning Your Car" example above. I could make 3 different pins with these different messages (but all lead to the same blog post):
Hate Cleaning your Car? 20 Hacks for getting it done fast and easily
Get your car clean with these great tips
20 Best Hacks for Cleaning your Car
8. Promote your Pins on Pinterest
Ads on Pinterest are called Promoted Pins. It is possible to promote your pin, for a charge, and get it out to more people. That way it will be seen by more people, and therefore shared and read by more people.
You write your blog post, and design your pin(s), and then you can promote it easily on Pinterest through a promoted pin.
Pinterest went public in April of 2019, and many people are predicting that promoted pins will make it much easier to get your pin out there. Pinterest going public means it has to make money. You will have to be prepared to pay (a little bit) to use Pinterest sometimes.
You want your promoted pin to be a great one, and do well, as you are paying hard-earned money to promote it. To ensure you do it the right way, I can highly recommend this course: Pin Practical Promotions.
I took this course, Pin Practical Promotions, by Redefining Mom, and it is a great course that covers absolutely everything you need to know about promoting pins on Pinterest.
Pin Practical Promotions is a paid course (but worth every penny). But if you want to dip your toe in the water, they also do a great FREE course called Pin Practical Ads that I would highly recommend.
Pin Practical Ads will show you how to use the right keywords for a promoted pins campaign. It covers images and funnels to use, and much more. It is worth checking out this completely FREE course.
Bonus tip for getting Viral Pins!
I have personally been using a plugin called Tasty Pins on my blog. This dynamic and inexpensive little plugin allows you to optimize your blog's images for Pinterest and SEO purposes.
It has multiple functions, but some of the ones I really love are: Hides images you don't want people to pin. If you have images in a post that you would rather people didn't pin you just check on a box in the image editor, and it won't be able to be pinned. Hover button to pin to Pinterest, and Pinterest Text Field. This field enables you to maximize the description for Pinterest. You can check out this great little plugin right here.
It is possible to get numerous viral pins on Pinterest, even if you only have a small blog and little Pinterest traffic. Follow our 8 tips to greatly increase your chance of viral Pinterest pins.
You may also like these posts on Pinterest & Blogging:
Exactly how to use Pinterest to Explode your Blog Traffic
Disclaimer: I cannot guarantee that by following the advice in this post you will have a viral pin(s). But these are suggestions based on my own personal experience, and the experience of others, that have definitely worked for us.
A Viral Pin on Pinterest is like an explosion of activity. When a pin goes viral it gets you more page views, visitors and readers to your blog. You need viral pins!