The Blue Lagoon is one of the must-see and do destinations in Iceland. Every week thousands of people visit the Lagoon. If you are planning a trip to the Blue Lagoon here are the best tips and suggestions for making the most of your visit there.
The Blue Lagoon is listed as one of the wonders of the world.  It is located in Iceland, about 20 minutes from the main and only airport, Keflavik.  An average visit to the Lagoon is around 1.5 to 2 hours.  If you have a quick stopover in Iceland, or if you are planning to visit Iceland for several days, a trip to the Blue Lagoon is a must-do excursion.
You do not need to know how to swim to visit the Blue Lagoon. It is all pretty much walkable, or water treadable.  The deepest part of the Lagoon is 4.7 feet (1.4m), so most people (apart from children of course) will be able to comfortably stand. I have never seen anybody actually 'swimming'. People are just walking or doing little tready-doggy paddles.
Bathing in the Lagoon is like wallowing in a warm bathtub.  When it is cold outside, as it frequently is in Iceland, you will still be warm and toasty in the water. It was actually freezing rain on the day I went, but apart from the rain getting in my eyes a little, it didn't matter, as that water was just so warm!
This post contains affiliate links. You can read our disclosures here.  
Plan Your Trip in Advance
You must book tickets to the Blue Lagoon in advance. It is unlikely that you will be able to just show up on a certain day and get tickets for entry. You could of course try if you have an unexpected stop-off in Iceland. You might get lucky if it is low season. However, I would always advise calling or emailing to check before setting out for the Lagoon.
Try to visit the Blue Lagoon before mid to late afternoon if you want to avoid the crowds.  Many of the tours that include a Blue Lagoon stop-off, drop their guests off at the Blue Lagoon usually one of the last steps on any tour. This is usually around mid to late afternoon.  3-4pm seems to be the prime time for many trips to land at the Lagoon. Therefore, if you want a more peaceful experience go earlier in the day, or prior to that time period.
The Icelandic summer months (May to September) are the busiest at the Lagoon.  The Lagoon opening hours also vary by season. Always check ahead for opening hours and availability.
You will need a swimsuit to visit the Lagoon. If you don't have your own you can rent one there.  Some of the packages do provide you with a bathrobe and slippers. But to be honest you don't really need these (but they do add to the pampering experience, and they are convenient).
If you also want to eat something at the Lagoon, there is a restaurant there. But you do need to book in advance usually to secure a table. If you are not able to get a table there is a small snack bar at the Lagoon, where you can buy drinks and some snacks, including sandwiches. Just remember that everything is expensive, as is Iceland itself.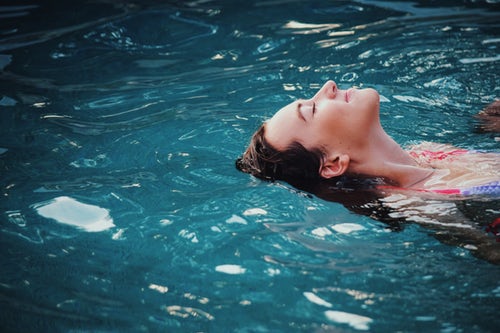 Tips for the Visit Day Itself
If you are likely to arrive at the Lagoon earlier than your ticketed time, just call ahead to see if you can move your time up. We were able to do this, as our tour finished earlier than expected.
If you need to leave your luggage somewhere while you visit the Lagoon, there is a luggage storage area, which is located in a small building close to where the path is leading up to the Lagoon. There are also special lockers in the Lagoon building itself.
Towels are provided with all entry tickets to the Lagoon. These are basic white bath towels. Therefore, no matter what ticket you book, you will always get a towel.
You only receive a bathrobe and slippers with a Premium and spa package ticket.  You could certainly take your own bathrobe and slippers if you wanted to.  The slippers they give you are actually flip flops, emblazoned with the Blue Lagoon logo.  The bathrobe has to be returned at the end of your visit, but you can keep the slippers (flip flops).
You will need to shower before you enter the Lagoon. This means showering without any clothes on. There are shower cubicles if you are hesitant about being naked in front of others.  There are also a couple of restrooms where you could change if needs be in privacy.  The main changing room area is open, like in a gym changing room. Lockers are provided to store your things.
You are given a little bracelet once you sign in. This is your ticket to the Lagoon. It also has information about the package you purchased, and whether or not you get certain things as part of that package.  It is also scanned when you go to the bar. That way if you buy drinks that are not in your package, it adds them to your bill, via that bracelet.
Towels, slippers and bathrobes get 'stolen' frequently. Therefore there is a high chance that when you get out of the Lagoon your slippers, robe and towel won't be there! This happened to me, and many other people I know. It isn't always malicious of course. People get confused when they get out, and let's face it all the towels, slippers and bathrobes look exactly the same.  Try to put yours in a more hidden place.  But to be honest, everyone who has their stuff 'stolen' just grabs somebody else's! So the cycle just goes on and on!……
There is a very short walk to get into the Lagoon pool from the main building. Really just a few steps. They have coat racks outside that entrance,outside, so that you can hang up your towel, bathrobe etc. You can also hang them inside, just before you exit.
A face mask is given with your entrance ticket. Some tickets give you more than one face mask.  There is a face mask 'bar' in the center of the Lagoon itself. You walk or paddle up to it and a staff member puts the mask ingredients into your hand. The masks are applied yourself, and left on for a certain amount of time. You then just rinse the mask off in the Lagoon water.
Drink lots of water on the day. The Lagoon can make you very dry. You will get quite thirsty.  You can also get a little light-headed feeling when you emerge from the pool, so water is good to get. Water is provided near the exit to the pool.
Take all your jewelry off. The water in the Lagoon can damage jewelry.  I kept my gold rings on and they seemed to be fine, but I wouldn't chance it with some jewelry.
Avoid alcohol, or just restrict it to the one drink that you get with most entrance tickets.  It is tempting to make that one drink an alcoholic drink, but you may feel better if you go non-alcoholic. The Lagoon is very drying, and drinking alcohol can make those effects worse.  You can also feel a little light-headed when you emerge from the pool, and alcohol with only make that worse.  There are numerous non-alcoholic options, as well as alcoholic options for drinks in the Lagoon bar.
If you want to get something to eat and drink before or after your dip in the Lagoon, there is a restaurant on-site there.  You may need to book in advance however, as this can get quite busy.
If you want to take photos and/or video in the Lagoon, you will need a waterproof case for your camera or phone.  It would be very difficult to constantly hold your phone or camera up so that it doesn't get wet.
Personal/Beauty Tips
Your skin can feel very dry after bathing in the Lagoon. Take moisturizer and body lotion, so you can slather it on yourself afterwards. No moisturizers or lotions are provided, therefore  you will have to take your own. Or you can of course purchase them in the shop there.
Your hair really does need protecting from the Lagoon water. This especially applies if you have colored hair.  The Lagoon does provide conditioner, so it is advisable to slather your hair with conditioner when you are showering prior to entering the Lagoon. Don't wash the conditioner off, let it sit on your hair whilst you are bathing in the Lagoon.  Alternatively, you can wear a shower cap or bathing cap to protect your hair.    Consider using a deep conditioning hair mask after your visit, so your hair has a good deep conditioning treatment.
There is no need to take shower gel, shampoo and conditioner, unless you want to use your own.  Shower gel, shampoo and conditioner is provided in all the showers.
The Lagoon does provide hairdryers in the changing rooms. So you will be able to dry your hair. There is also a dressing table with stool that you can use to put on makeup etc.
A trip to the Blue Lagoon is a great experience. You won't regret going and wallowing in the warm bath-like water!
The Blue Lagoon official website is here.
You may also like these other travel related posts: