Take an Amazing Journey with Yourself: The Magic is You!
The Magic is You is a beautiful experience that will help you shed what no longer serves you in your life, let you realize your true power, and finally embrace your desires – to become the person you were always meant to be.
Do you feel that you are stuck in a rut right now? Do you feel that you are not reaching your full potential, desires, and making the best of yourself?
Do you feel that you have lost your spark, that your creativity has slowed or stopped, and you just cannot move on in the way you want to in your life?
Most of us feel stuck these days – and it is no wonder why. We are busier than ever, have more on our plates to do, and we never get enough time to ourselves.
I was feeling exactly that way too. I still do. But I am making progress with reevaluating myself and my life with a wonderful course The Magic is You by the Secret Owl Society.
This course was so transformative to me, that I wanted to write this article about it so you can decide if this is something that may help you too.
As women we constantly put everyone else first before ourselves. It is something that is ingrained in us from when we are children. We feel selfish and guilty if we do something for ourselves.
But then we suffer from burn-out and conditions such as anxiety and depression. When we start suffering from these conditions it is hard for us to help others.
But if we take stock of our lives and learn how to look after ourselves, we can then be available for others too. Because most of us have others to take care of – whether it is children, parents, partners etc.
We also hide our true selves – not just to the outside world but to ourselves too. We are not the person we feel that we should be. We ignore our true selves and don't ever reach our full potential.
But what if you could realize what is holding you back in life? What about if you could rethink many of your negative belief systems and realize that they are not valid or pertinent to you anymore?
What if you could work through your fear, create and embrace opportunities and advancement, and let your wonderful inner person finally shine through? What if you could remove all the clutter from your life?
That is exactly what this beautiful and amazing course experience can do for you!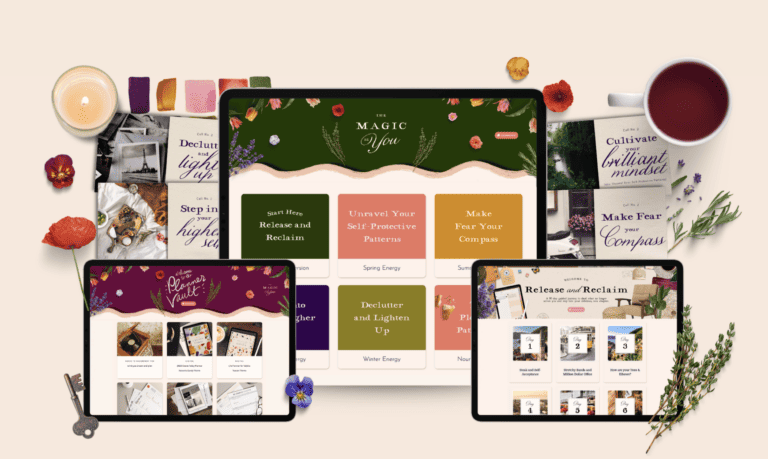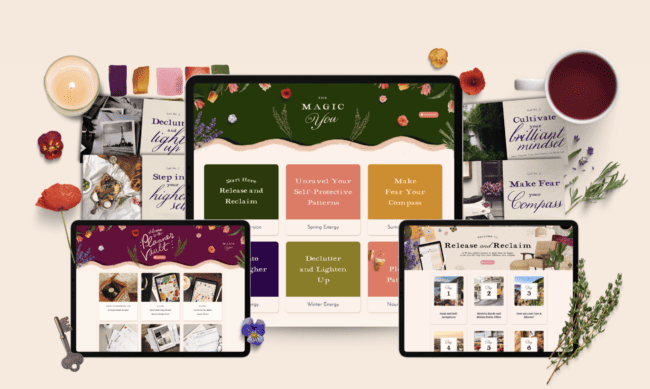 This post contains affiliate links. This means that if you click on a link in this post and make a purchase via that link I may receive a small commission, at absolutely no additional cost to you.
About The Magic is You
The Magic is You is an online personal development program that was developed by Michelle and Aimee of the Secret Owl Society.
This special program gives you the framework that you need to embrace the inner work of becoming the fullest expression of who you really are, and by letting go of what no longer serves you.
The first part of the program is about exploring yourself – your beliefs, what makes you tick, what holds you back, what you fear.
There are recorded coaching calls where women have looked into themselves and shared with others their beliefs and what is holding them back. You will realize that you are not alone, that what you feel others feel too.
It will not surprise you that we are all holding onto beliefs about things that we created in our childhoods – when we did not have the skills or knowledge to deal with those situations.
Now we are adults we can re-wire our brains about those beliefs. Many of the beliefs we have carried over from childhood are really not worth worrying about if we look at them from our adult selves and our skills and experience now.
In the Magic is You you will learn how to get past your feelings and face them head on – and move past them to finally break free of many of the things that are now holding you back.
You will also realize the person you actually are and were meant to be – without all the clutter and others telling you who and what you should be.
You will re-discover yourself and all your potential that comes with that. You will take chances, embrace new adventures and so much more.
Throughout the course there are modules such as the Pleasure Patisserie where you can nourish yourself by doing things that make you feel beautiful and make your life better.
There are music and videos that will inspire you, make you feel good, give you inspiration and inspire you to learn and create something new.
There is also the Planner Vault where you can access all kinds of beautiful digital and printable planners to help you in every aspect of your life, and also a library with book recommendations for making the best of yourself and your life.
The creme de la creme of the course is the Release and Reclaim module. This is a beautiful and amazing 30 day guided journey, with an accompanying journal (computer, tablet and printable versions) that will help you shed what no longer serves you, and will help you step into your new wonderful chapter of life.
This module of The Magic is You also comes as a stand-alone course. So if you want you can check out the teaching style and content, and then up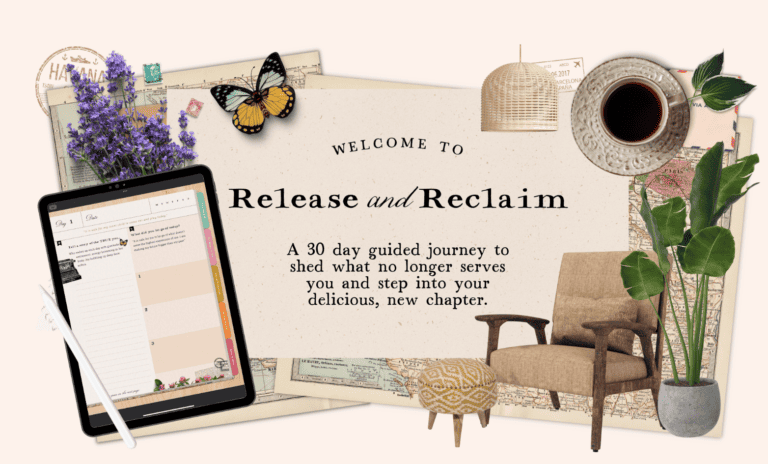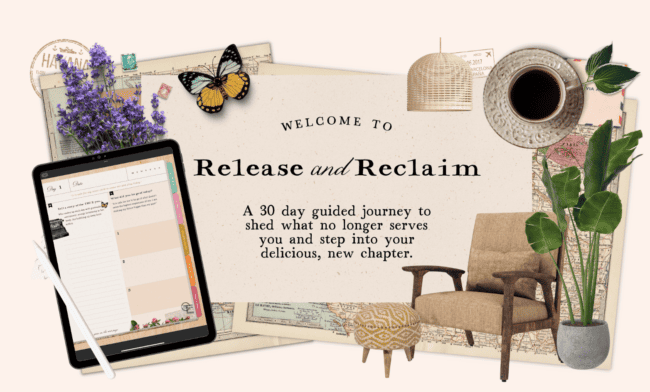 With The Magic is You you get:
40+ hours of classes
Release and Reclaim 30 day immersion program
30 Day Guided Journal
The Planner Vault – which is full of all kinds of tools to help and reinforce you
Resource Library
Planners, journals and so much more!
Take a look at what's inside The Magic is You!!
Who are Michelle & Aimee and the Secret Owl Society?
Michelle Rohr and Aimee Johansen created the Secret Owl Society. It is a place where they share their creations for people who want to take 100% responsibility for their lives through planners, passive income and personal growth.
The society started many years ago when Michelle created a digital planner, The Ultimate Life Binder. This planner started an entire business – with courses on how to design and create digital planners and more.
The entire business of the Secret Owl Society started from an epiphany that Michelle Rohr had many years ago, all about turning her life around and creating the business of her dreams.
Everything that the Secret Owl Society creates is all about Michelle's journey, which she shares with us for us to be the best we can be.
Today the Secret Owl Society encompasses many courses and programs, and they also have a great YouTube channel and podcast too (the Magic is You).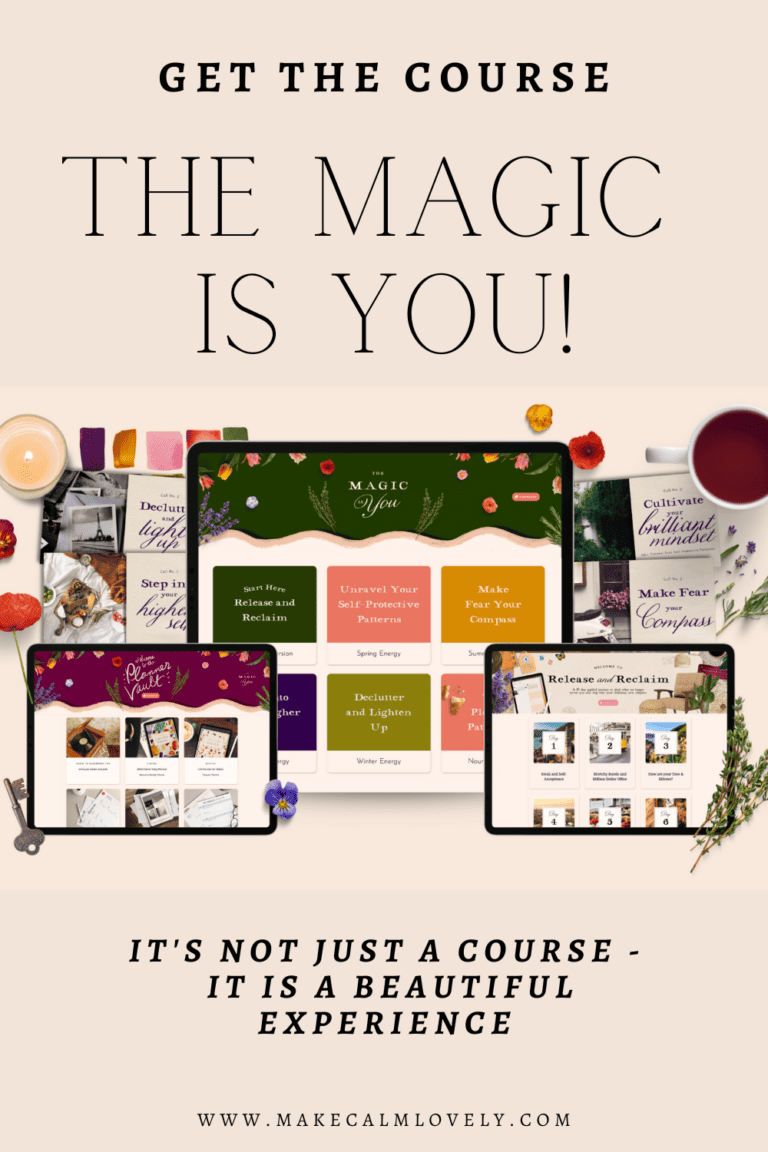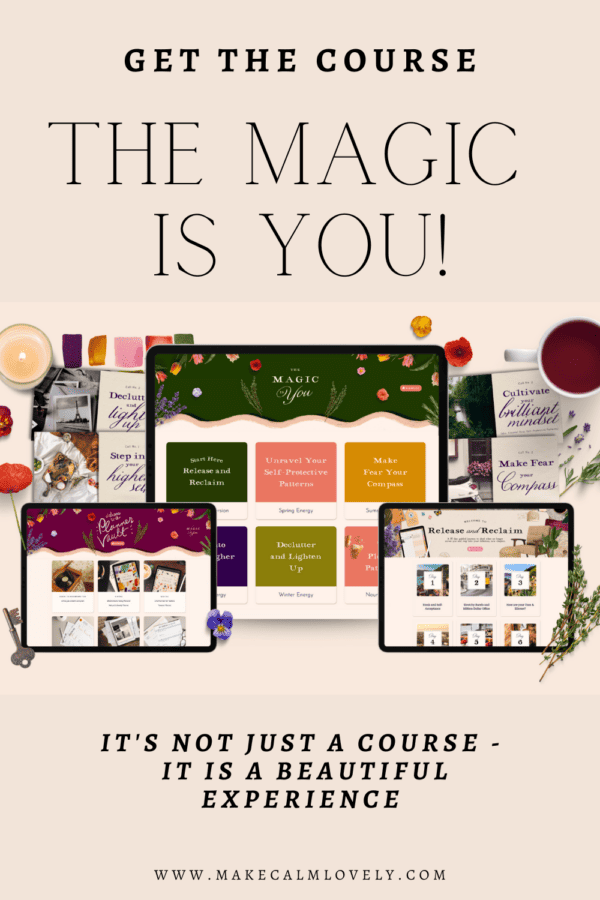 My Experience Taking The Magic is You Course
I am a pretty skeptical person when it comes to self help. I was brought up very much with the whole "just get on with it" mentality.
Recently I was feeling very burned out and suffering from anxiety. I consider myself a very strong person mentally, so that went against what I thought about myself and expected of myself.
I was the absolute last person to ask for help. But I realized that I needed help. I needed to reset my life.
But above everything else I just kept thinking "is this all there is?" What about the energy and desire I had previously in my life where everything was an adventure, and there was always something new to be learned?
I questioned who I was as a person. I thought I still knew that person, but she was hidden deep inside me. Because on the outside I was being what everyone else wanted me to be, and had been doing that for pretty much my entire life.
I have bought many courses from The Secret Owl Society. They are all beautiful courses that have helped me design digital planners, create an Etsy store, and more. So I know the high quality and beauty of all their offerings.
When I read about The Magic is You it made sense to me. This was talking to me directly in the exact stage and place I was at in my life.
I usually only buy courses on things such as how to create courses, how to do a certain craft, how to do various parts of blogging more successfully etc, so purchasing a course that was absolutely for ME – for my mind, body and soul so to speak, was something I had never done.
I had to give myself permission to purchase this course, and put myself first by taking this course. But I did – and I am so so glad I did!
The course itself is absolutely beautiful. It is more of an experience than a course that you are taking with The Magic is You. (The course is designed in Teachery which is a wonderful and beautiful software platform for course design)
I would look so forward to the next part of the course as I was going through it because each lesson was just such a beautiful heart warming experience.
The entire course takes you on a journey – a beautiful journey into discovering yourself again, and giving yourself permission to move forward into a new and improved you.
I thought about the beliefs I had, most of which had been formed in my childhood when I didn't know any better and didn't have the skills and experience to deal with the situations that created them at the time.
Looking at these events that created my belief system in a different light, as a different (grown up) person I realized that many of these beliefs were just not valid, were overblown, and had they happened now would not have been a big issue for me, and would certainly not have shaped the person I am.
But these were the beliefs that had made me the person that I am. Viewing these in a different light now meant I could strip away many of those beliefs. I could break through them – and no longer let them control me. That is pretty powerful stuff!
I learned to declutter my life – both mentally and physically, to get rid of clutter in my brain that doesn't serve me, that holds me back and makes things harder for me.
I learned to embrace the good clutter in my brain, to let those good things come to the forefront of my brain and to celebrate those things.
Looking at the lovely videos and resources gave me so much inspiration for my life. For travel, recipes, creating a business, and loving myself more.
I felt so good after taking the course. I really felt replenished and had a spark again. I had all kinds of ideas for what to do and create in my business, my work life, and my home life.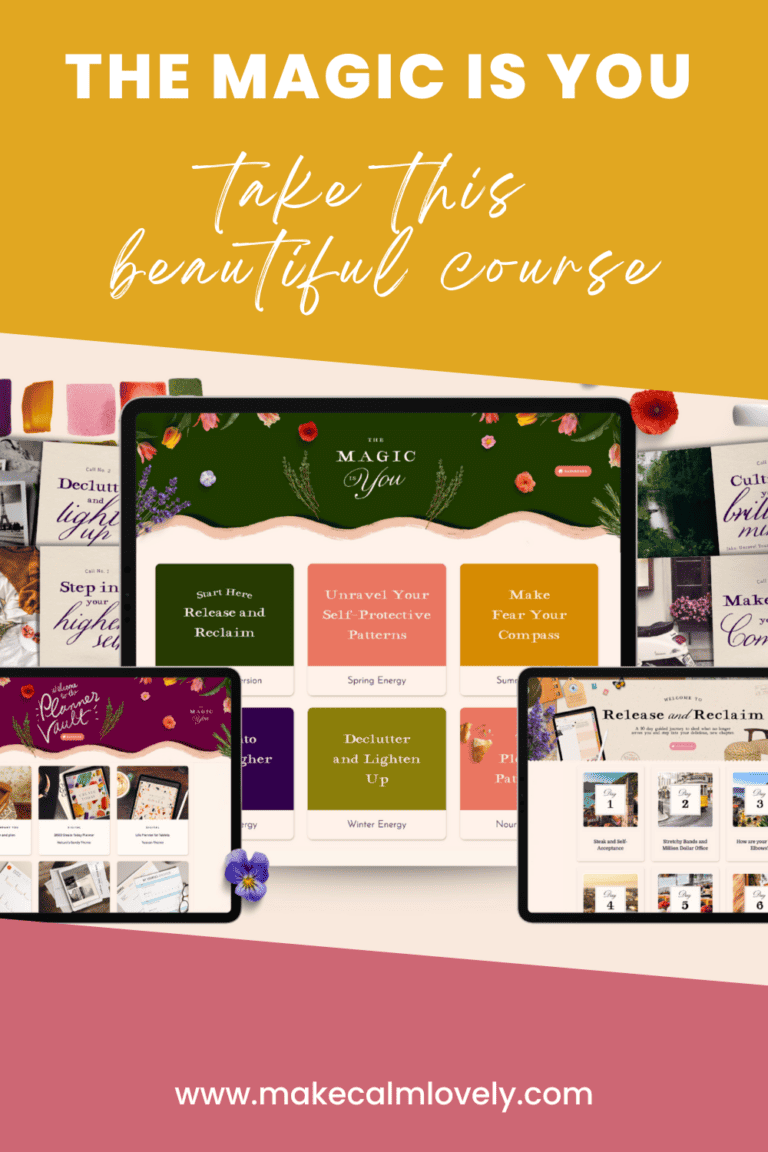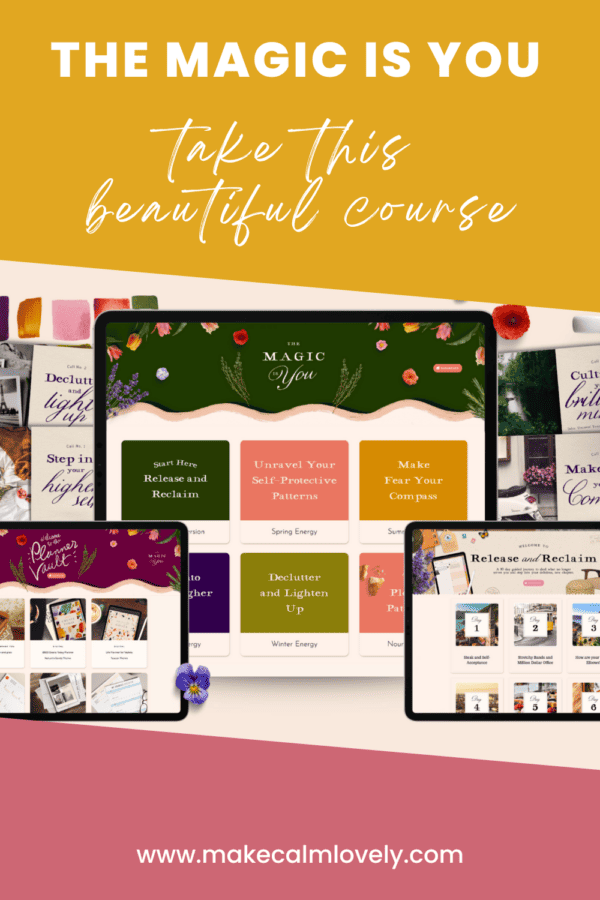 Why you Should Buy The Magic is You
You are stuck and crave more adventure and direction in your life.

You are no longer sure of the person you really are, because everybody else has molded you into the person you are today.

You need to feel a spark again in your life

You need to feel creative again

You need a re-set on your life
Why you Should Not Buy The Magic is You
You are not prepared to invest in something completely and especially for you.

You don't believe in self help programs or anything that makes you re-evaluate your life

You are not prepared to put in the work entailed in the program on yourself
Disclaimer: I cannot publish this article and review of The Magic is You without this important disclaimer. If you have suffered severe trauma in your life, it may be hard and triggering to re-look at this and evaluate your beliefs that came out of this and your experiences.
Do not take this, or any, course or read any book that is going to make you really look in-depth into your life and relive past experiences if you are suffering from severe trauma and traumatic experiences in your life.
I would always advise consulting a therapist, doctor or coach before any exploration on your own of severe trauma that you have suffered.
The Magic is You is a beautiful experience that will help you shed what no longer serves you in your life, let you realize your true power, and finally embrace your desires – become the person you were always supposed to be.