Due to recent world events you may be wondering why you even bought that planner! But even though every day seems like the next right now, there are still so many good reasons for you still to be using your daily planner!
Don't give up on using a planner right now just because your world has been turned upside down. Now, more than ever, you still need to be using a planner to keep your life on track.
That planner that you bought doesn't need to just sit there empty. There are so many things to use it for right now to greatly help you out, even though your life may not feel as busy or as full as it used to.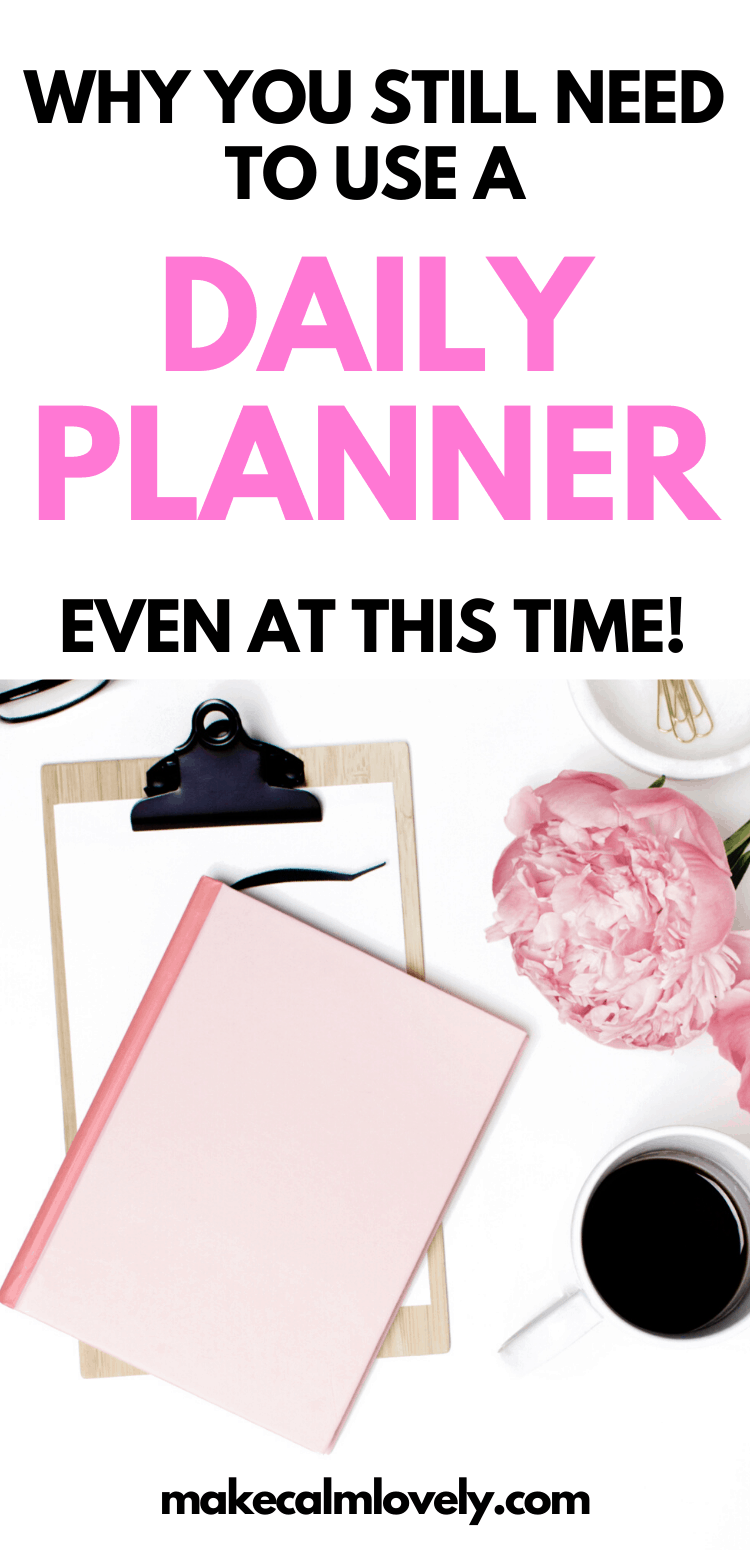 This post contains affiliate links. You can view my disclosures here.
At the beginning of the year I splashed out and bought an expensive paper planner. I actually use this free digital app for my family's calendar, planning and coordination, because we can all share it over all our devices. But for everything else in my life, I love a paper planner. I love the look of it, and the feel of it, and I love the way it looks when it is all filled up with the promise of what I will be doing!
So I bought that expensive planner. I justified the cost splurge because I had a busy full time job, a business to run, kids and everything else. Boy – was I going to be filling that planner fast! That planner was going to really keep me on track! The planner had everything in it that should help me sort out my life!
Then the disease that shall have no name hit us all. On a few occasions in the very beginning, when being busy was the least of our concerns, I remember looking at that planner sitting there on my desk, almost gloating at me with its fancy colorful hardbound cover! Would I ever use that planner again?!
You may have bought a planner for the year, maybe even went a little crazy for a fancy expensive one. Now that planner is just sitting there, its pages eerily empty of detail and appointments?! One day may be like the next for you right now – without all those appointments, and things your kids did constantly like sports and activities? So that planner is just sitting there – gloating at you!
But – don't give up on that planner just because your world has been turned upside down. Just because you are not crazy busy doing all the things that you were doing before, doesn't mean that you don't need to use a planner right now. That planner actually can be so incredibly useful to you during this unprecedented time for so many reasons.
Here are 10 reasons why you should still be using a daily planner right now:
You Still Have Important Events to Remember
There are still important events in your life and the lives of others, despite everything going on right now. You still have family and friends birthdays to remember. You still have important appointments (even though they may be scheduled out far in the near future). You still need to remember the important things.
You still have things to do Every Day
Your days may be quieter and less busy than usual, but you still have things to do, and things you want to do. You may still want to keep a daily to do list in your planner, so you can figure out what to do, and what you have to do on certain days.
If you want to make sure that your days are at least somewhat productive you could set yourself several things to do and get done each day. That way you achieve something, and get things done. A planner will help you so much with that.
You are Still Busy with Other Things
Even though you are not running your kids to music lessons, and sports practices, and attending school events. And even though you are not going to dinner parties, and book club, and everything else you used to do in what now feels like your former life, you must still have things that are keeping you busy?
You may have started new hobbies during recent weeks. Don't you need to remember to feed your sourdough starter? Don't you need to remember when the next episode of that amazing new Netflix series you have been watching is airing? Remember you can be busy with fun things too, and a planner will help you keep track of all that.
Organize Home Schooling
If you are home schooling your kids right now (I bow down to you in admiration if you are!), then you will want to get all that organized. You may have set days for certain subject lessons. Set routines for certain projects. A planner can really help you organize all that home schooling right now.
You may be Working from Home
If you are working from home – or WFH as is the newly coined term! You still need to be organized. All those Zoom calls and meetings, deadlines that you still have and more need to be kept track of and remembered. Not to mention those Zoom happy hours that you just don't want to miss!
Your House May be Cleaner than it Usually is!
With all that extra time that you have right now, you may be doing things around your house that you don't normally do. You may have a spring cleaning session that is lasting several weeks right now! You are finding things to clean that can't remember ever having seen a duster or sponge! You can use your planner to keep track of what you are cleaning and when. You can set up a cleaning schedule of what and where to clean on certain days.
If you have realized that you have a garden, like so many of us during this time, you could record when you are planting things, when you water, when you need to water. You can track your seeds growth and so much more.
It Keeps Track of Your Finances
One thing that is certain during this time is that those bills didn't go away. You still need to pay bills, and keep track of your bills too. A planner can help you remember what bills to pay, and when. You can set reminders to pay certain bills and pay down your debts at certain times.
Related: This Budget & Finance Pack will keep all your Finances in order
You can Make sure you are Looking After You
You still need to be practicing self care during this time, in fact you should probably be doing it more at this time. But it can be hard to stay on track with that. When the days all seem the same, it is hard to remember when you last exercised, when you last slapped a face mask on your face and more.
Therefore your planner can help you make sure you are taking care of yourself right now. You can write in it every time you exercise, record how much water you are drinking, and so many other things for YOU.
Related: Why you should schedule and plan your own Self Care, otherwise it just won't happen
You can Plan your Future Goals
You still have those future goals and projects that you are hopefully working towards. You still intend on doing that home renovation project when everything settles down. Or you have a 5 year plan that you are working towards.
You can use your planner right now to plan out those projects and goals. You can even spend some of this additional time perhaps in working towards those goals. Perhaps you can take a course or dedicate time to planning something that you wouldn't usually have time to do.
You can Plan the Fun Things
There are so many fun things you can plan right now. Are there certain books you have always wanted to read? Write them in your planner and set a schedule of when to read them. Have you always wanted to bake your own croissants? Write that in your planner, and schedule the time to learn and do that.
What are the Best Planners to use?
Now that you know what to do with that planner, and what you can definitely use it for right now, do you need a planner if you don't already have one?
A planner can be paper or a digital app. This, in my opinion is the best digital app to use. It is great because it is free, and you can share it across all your devices – your laptop, your phone, your iPad and more. You can also share it with all your family members, so you will all share a calendar and even a meal planning menu that you set up! Check out this post all about using the Cozi app to easily meal plan for your family!
For paper planners, I used to recommend certain ones. I still think that Mom Agenda is a great planner. If you are a mom with more than one child, Mom Agenda has space for you to record what needs to be done for each child, as well as yourself. Therefore it makes a great planner with that feature.
But really any paper planner should work for you, as long as it has what YOU need. Whatever planner you end up buying, just check that it has the features that you need for your particular life. Some planners will be overkill – they will have far more than you need, and some won't have enough. Spend some time researching and finding the right planner for you.
Related: How to use a Planner Effectively
So dust off that planner, and bring it back into your life at this time! There are so many reasons why you still need a planner, even now!
Due to recent world events you may be wondering why you even bought that planner! But even though every day seems like the next right now, there are still so many good reasons for you still to be using your planner!