Sleep seems to be a luxury more and more in our fast-moving world.  There are few of us who can honestly say when we wake up that we had a really good night's sleep the night before.   Sleep almost seems to get in the way of us achieving everything we need to. Time is short, and sleep makes it even shorter.  But sleep is so important.  Sleep deprivation has been used as a torture on prisoners of war. That is pretty telling on how important sleep is.  A Washington Post article of 2007 reported on studies that show how a midday nap helps to fend off heart disease.  We need sleep to refresh our bodies and minds.
So what can we do about our lack of sleep in this crazy, fast-moving world we live in?  It seems that there are companies now intent on doing something about it.  Take a look at these companies/businesses that are addressing sleep (or our lack of!)!
Siesta & Go (Source: Siesta & Go).
Siesta & Go
A company in Madrid, Spain has come up with a 'nap bar'!  Siesta & Go charges by the minute or hour, in either a private or shared bunk room, for a nap!  You can either book in advance, or just walk in off the street. Siesta & Co cleans and changes laundry daily, so the risk of bed bugs and other nasty things is low, and every visitor gets their own set of sheets and single-use blankets.  The company also advises that if you just want to read or go on social media that is also fine – and they provide phone chargers and digital tablets for that purpose.  In addition they have study and work tables, with internet connection.  Currently their charges are around 7 Euros for a single room for 30 minutes, and 5 Euros for a bunk bed for 30 minutes. Spain is one of those countries in the world that traditionally has a Siesta each day, the word Siesta actually means 'nap'! Siesta & Go was started by a Spaniard who seeing how modern working culture was cutting out the traditional daily Siesta in Spain, wanted to do something about it.  Take a look at this Bloomberg article about Siesta & Go.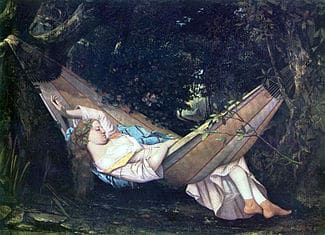 Napflix
This is a special TV channel showing boring or repetitive things to help us get to sleep!  You can choose from numerous categories, including sport, education, documental, music etc. All categories feature videos that they deem so boring and un-exciting that they will be guaranteed to put you to sleep!  Take a look at this video of Matthew McConaughey watching rain and drinking coffee!
Sleep is lacking, but try to get a good night's sleep every night, and nap when you feel like it.  Look at these tips from the Mayo Clinic on how to get a good night's sleep.  Try to shut off all social media at least 30 minutes before bedtime, and try to stick to a set time every night for bedtime.
Above all else, don't feel guilty about sleeping! Yes it may take some time away from you, but it is time that can refresh you and make you more productive in the long run.