The Brother CS5055 PRW Project Runway sewing machine is an affordable computerized sewing machine, packed with features and easy to use. It is ideal for both beginners and more experienced sewists.
The Brother CS5055 sewing machine constantly came up in reviews as being one of the best affordable sewing machines out there. It is also one of the best recommended sewing machines for beginners.
Therefore it seemed like the ideal machine to purchase when I was seeking a new sewing machine, to replace the one I had had for years, which was now giving me so many problems.
Here is my honest review of the Brother CS5055 PRW Project Runway sewing machine. I purchased this machine, and now use this machine.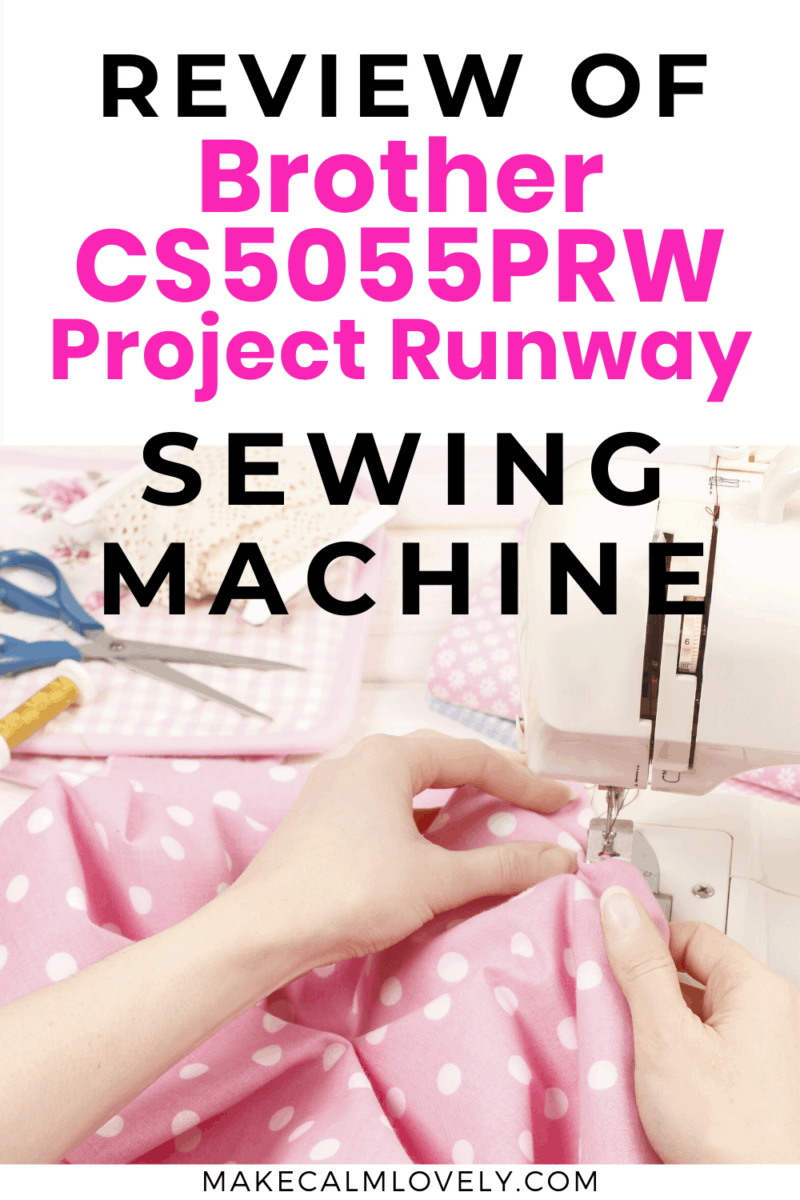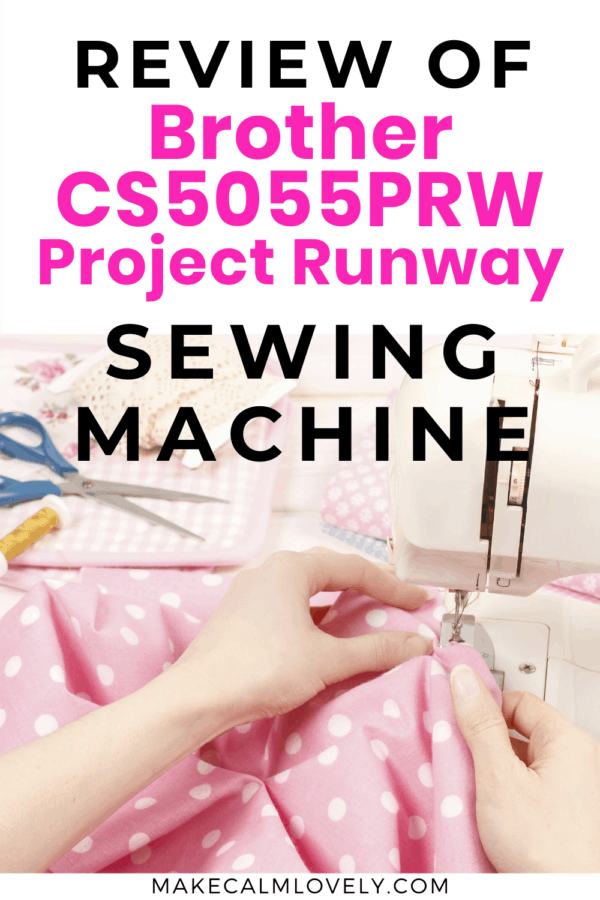 This post contains affiliate links. You can view my disclosures here.
Overview of the Brother CS5055 PRW Project Runway Sewing Machine
The Brother CS5055 Project Runway sewing machine is a computerized sewing machine, that is packed with features.
There is a reason it is tagged Project Runway. Brother are gearing this sewing machine to people who like watching Project Runway on TV, and want to take on sewing projects for themselves, especially clothing.
This particular machine has been designed to handle all different kinds of fabrics and thicknesses, therefore no sewing project and fabric should be a problem.
This machine can also be used to make pretty much anything, from clothing to curtains, and more.
This particular model comes up constantly in lists of recommended sewing machines for beginners. It is also recommended highly for more advanced sewists too. So this machine should see you through all stages in your sewing journey.
The features of this machine include:
Advanced Needle Threading System
This model has a built-in automatic needle threading system.
Quick-Set Drop in Bobbin
Easy to drop the bobbin into place and pull the thread through.
50-different built-in stitches
These include regular basic stitches, as well as decorative, quilting, heirloom and garment construction stitches.
5 Automatic buttonholes
This enables you to make high quality professional buttonholes for all your clothing sewing.
87 stitch functions
7-part Feed Dog
This allows for sewing speeds of up to 850 stitches per minute.
LED light
LCD Display Operation Panel
The LCD display on the front of the machine tells you the number of the selected stitch, which presser foot to be used, the stitch length in mm, and the stitch width in mm.
Vertical Spool Pin
This ensures more consistent threading, especially if you are using special and heavier sewing threads.
What this Sewing Machine Comes with Additionally:
Foot pedal controller
Several different feet, including zigzag, buttonhole, overcasting, monogramming, zipper, blind stitch, and button fitting.
Seam Ripper
4 Bobbins
Needle set
Twin Needle
Ballpoint Needle
Cleaning Brush
Disk Shaped Screwdriver
3 Spool caps, sized small, medium and large
Extra Spool pin
Built-in Accessory Storage
How Easy is it to Set up and Use?
This is a very crucial issue when getting a new sewing machine. You don't want to spend a lot of time setting up the machine in the first place. You certainly don't want to spend hours trying to figure out how to use your new sewing machine!
The Brother CS5055PRW was very easy to set up and use for the first time. In fact I was on my way to making my first sewing project quite fast after I first un-boxed this machine.
The manual is very well written and understandable. There is also a handy quick-start guide.
The Pros of this Sewing Machine:
This machine is so lightweight. It weights just over 10 pounds. It is a sturdy machine, but lightweight at the same time. It could easily be carried from room to room, if you don't have a set place to do your sewing and crafting. It also has a handy built-in carrying handle.
This machine was easy to thread. With my old machine I had so much trouble threading the needle, but it was fast and easy to do, even the first time, I used this machine.
The quick-set drop in bobbin is a really nice touch. It made pulling up the bobbin thread so easy.
Good price. This machine (check current prices on Amazon) is a great and affordable price.
The manual was easy to read and follow along with.
The Cons of This Sewing Machine:
The LED light on this sewing machine is not the brightest light. If you are using this machine in good daylight this probably won't be too much of an issue. But you may want to use an additional light with this machine.
This machine has a lot of plastic parts, some of which seem like they may not hold up to constant wear and tear. For instance, the lever to raise the foot is made of plastic.
This machine doesn't come with a case. It is possible to buy one separately for this machine, but it does not automatically come with the machine. As the machine is so lightweight, obviously for ease of moving around, I would have thought that a case would automatically come with this.
For more information about this machine, and to read detailed reviews, head here to Amazon.
Related: The Best Sewing Machines for Beginners