Review of Affiliate Marketing Superstars Course From Passive Income Superstars
Don't you wish that somebody would just take you by the hand and show you everything you need to know about affiliate marketing? That is essentially what Passive Income Superstars will do for you!
Do you want to start affiliate marketing but there is just so much information out there, and you don't know who is giving the best advice or the correct way you should do it?
Do you just need somebody to show you? Without all the fluff and chatter. Just show you directly and easily how it is all done, with examples and resources to help you too?!
You may be a blogger or online business owner who needs to introduce an additional source of income to your business, such as affiliate marketing?
Or you may already be doing some affiliate marketing but feel you are stuck on growth? You may be earning some income from affiliate marketing, but you just know you can do better but you don't know how?
That is exactly the position I was in when I came across the Affiliate Marketing Superstars course!
I have taken a few affiliate marketing courses over the years. But to be honest I really felt that there was no actual course I had taken that really got deep down into the subject.
I would take yet another affiliate marketing course that looked so promising, but I would find it just too basic, covering strategies and things I already knew about affiliate marketing.
So finding the Affiliate Marketing Superstars course was really a game changer for me and my blogging business.
I honestly wish I had found this course when I first started out blogging, because it would have helped me right from my beginner blogging days to now when I am considered an intermediate more experienced blogger.
Affiliate Marketing Superstars is so thorough that you really won't ever need another course on affiliate marketing.
I can honestly say that! It covers absolutely everything about affiliate marketing, no matter what stage you are at in your blogging journey and business.
This is my honest and complete review of the Affiliate Marketing Superstars Course from Passive Income Superstars. I paid for, and took this course in its entirety.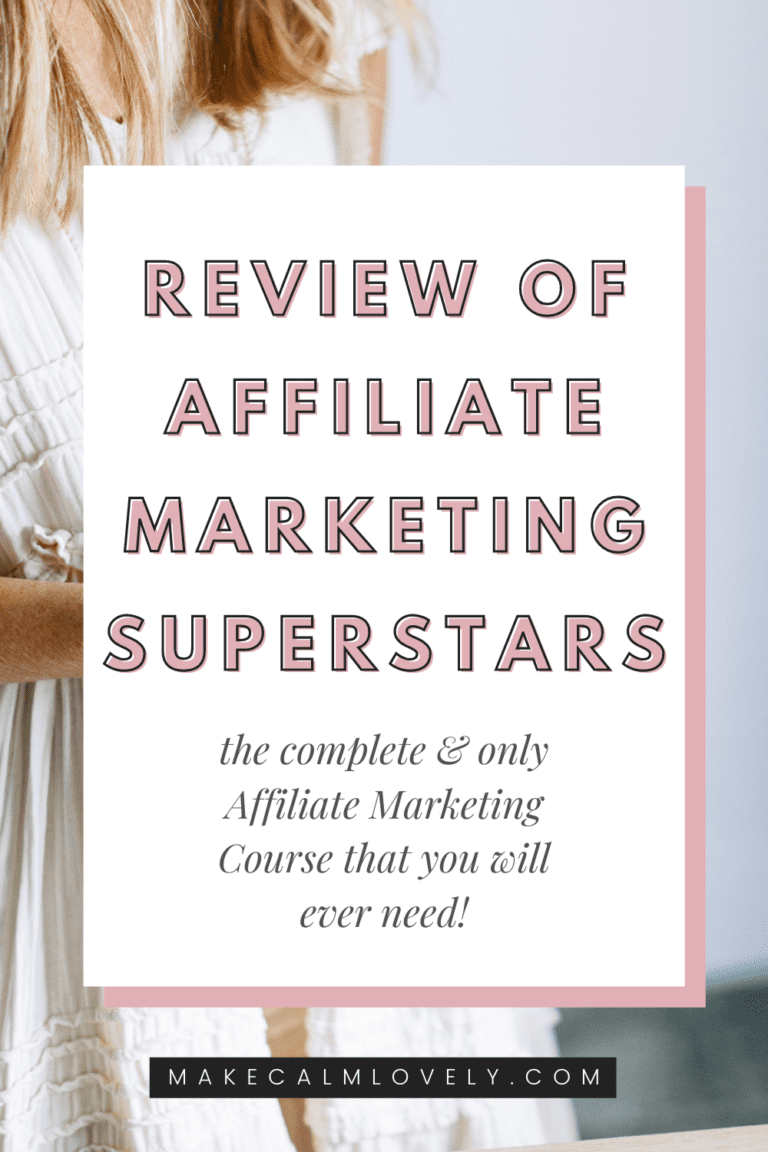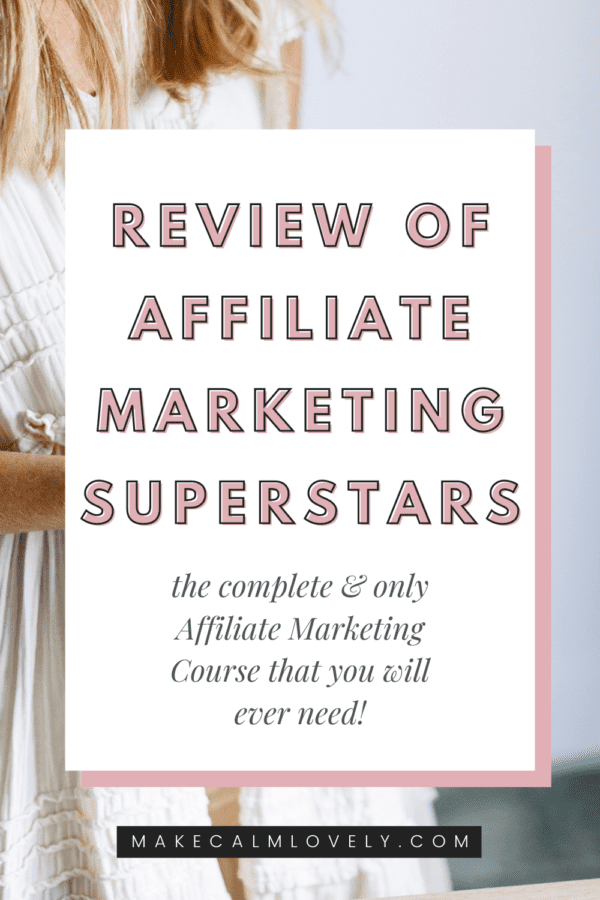 This post contains affiliate links. This means that if you click on a link in this course and make a purchase via that link I may receive a small commission, at absolutely no additional cost to you.

The Affiliate Marketing Superstars Course
Affiliate Marketing Superstars is a course from Passive Income Superstars, a blog that shows and teaches you how to make a viable career from your online business and doing something that you love.
Leanne, the brains behind Passive Income Superstars, is a former physician in the UK who started a travel blog, as that was what she loved.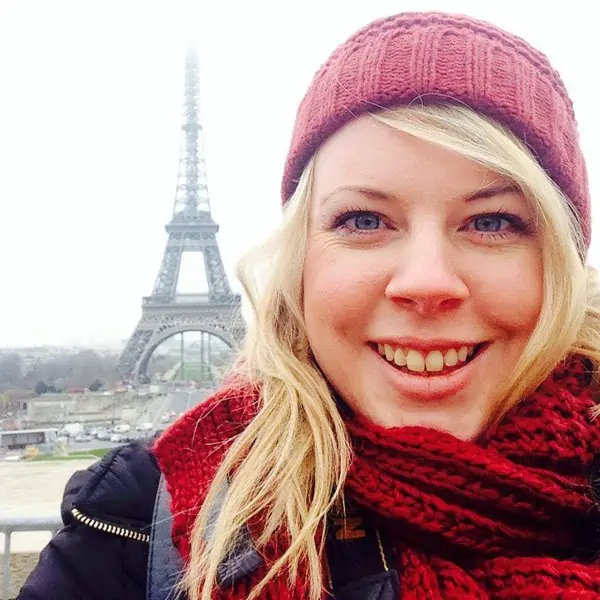 The blog quickly took off and is now an award winning travel blog. Based on that success Leanne started Passive Income Superstars to share all her secrets and tips to creating a great money making blog and online business!
I have taken many of Leanne's courses, and I had the absolute pleasure of working one on one with Leanne too during a strategy planning session recently. She is warm, approachable, knowledgeable and passionate about what she does.
Affiliate Marketing Superstars is THE affiliate marketing course. Teaching you everything you need to know about affiliate marketing, no matter what stage you are at in your blogging journey, or what your level of blog expertise is.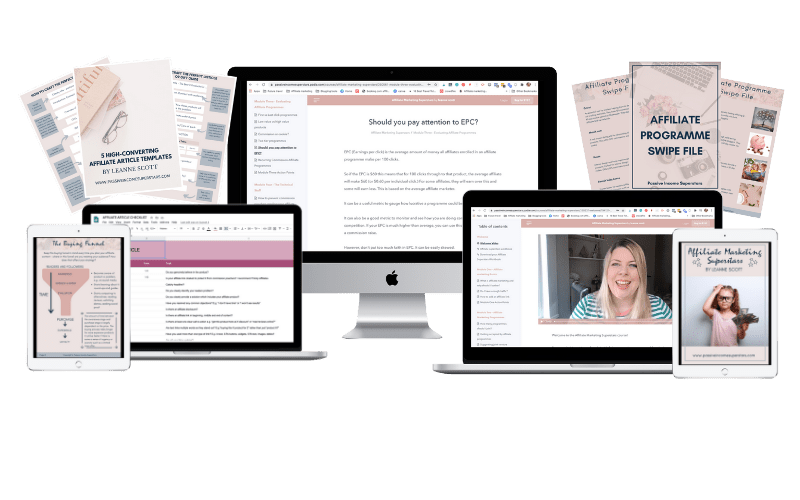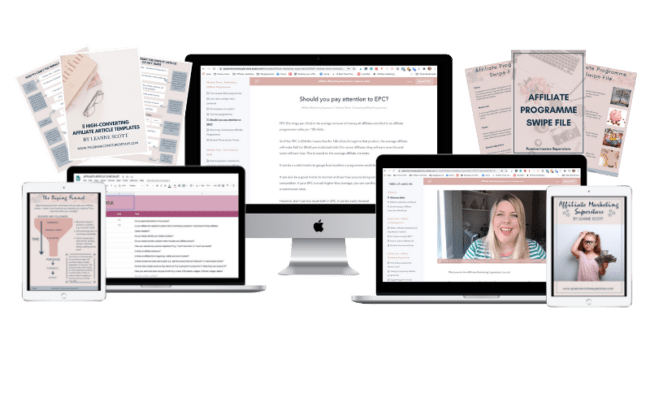 The Pros of the Affiliate Marketing Superstars Course
The course is Self paced – you can dip into it whenever you have the time
It has a great active Facebook support group
The course covers advanced affiliate marketing strategies that other courses don't even touch on
This is a complete course – you shouldn't need to buy any other affiliate marketing course – ever!
This course covers all ways of earning affiliate income – blog posts, social media, email funnels, open-close cart sales and so much more
This course only teaches ethical affiliate marketing techniques – No pushy sales techniques are covered
This course is great for any level of blogger expertise – beginner, intermediate & advanced
This course can very quickly take you from earning a little affiliate income to earning an amazing amount of income from affiliate marketing
This course shows you how to work smarter not harder
This course can get you out of a rut, if you feel you are not progressing with your affiliate marketing efforts
This course shows you much more than just inserting an affiliate link here and there! It shows you all the ways you can promote being an affiliate
You don't need to have a lot of readers or traffic to implement the ideas and strategies in this course
You can quickly see results taking this course
This course really holds your hand through the entire process of affiliate marketing!
The Cons of the Affiliate Marketing Superstars Course
Everything in life, even great things, comes with cons right?!
There is a LOT in this course. A lot of information and tactics and strategies to implement. So you might get a little overwhelmed by all the information.
But really there is no hurry to finish this course and get through it all at once. When you purchase this course you get lifetime access, so you can dip into it anytime whenever is good for you.
The course is also designed in great bite sized chunks. Those chunks are manageable chunks. So you could run through a lesson in your lunch hour, while the kids are napping etc.

Who Should Take the Affiliate Marketing Superstars Course?
Brand new bloggers who want to start out with affiliate marketing
Seasoned bloggers who need to develop their affiliate marketing strategies and efforts, or add another stream of income to their business
Bloggers who want a complete course that will take them from beginner to advanced affiliate marketing strategies
Is Affiliate Marketing Still Worth It?
If you are questioning whether it is even worth spending time on affiliate marketing and considering it for your blog/online business the answer is an overwhelming yes it is worth it!
Forbes magazine recently mentioned that affiliate marketing is "poised for continued growth." They state that affiliate marketing is one of the most effective ways to earn an income online. So yes – affiliate marketing is still worth it!
Affiliate marketing is a great way to bring in extra income that is easy to do and implement.
When you are running a blog/online business you know that you need to have several different streams of income in order to make a good income from that blog.
Many blogs run successfully bringing in income from advertising alone for instance. But if you diversify and add more streams of income you will be able to make a more regular and higher income.
Affiliate marketing is an excellent income stream to add to your blogging business. Many successful bloggers earn an affiliate income only on their blogs, they don't even bother with advertising and other sources of income.
For instance if you write an affiliate article that gets a lot of page views you can bring in a substantial income from just that one article, as people will click on the affiliate links and make a purchase via that article.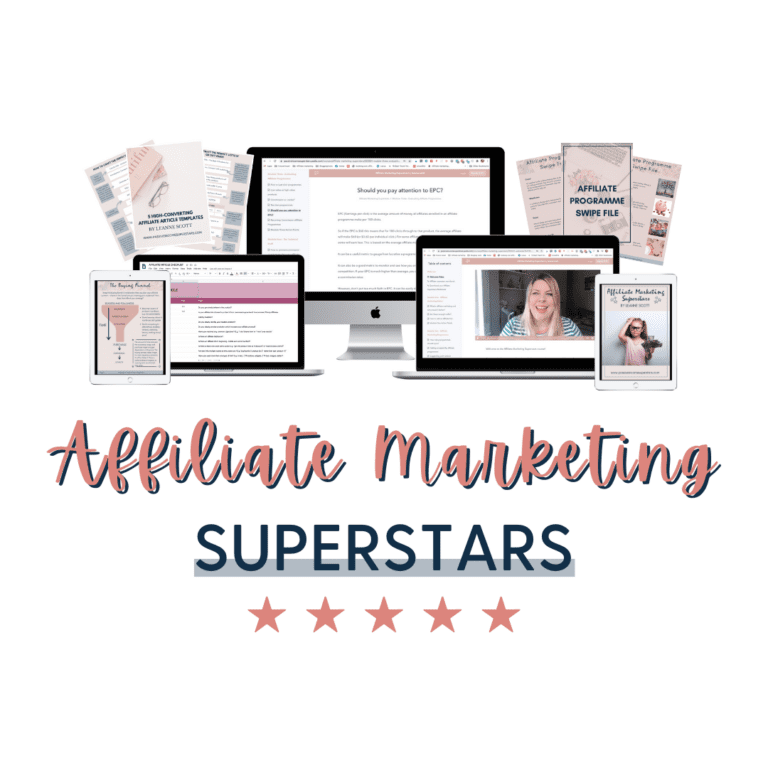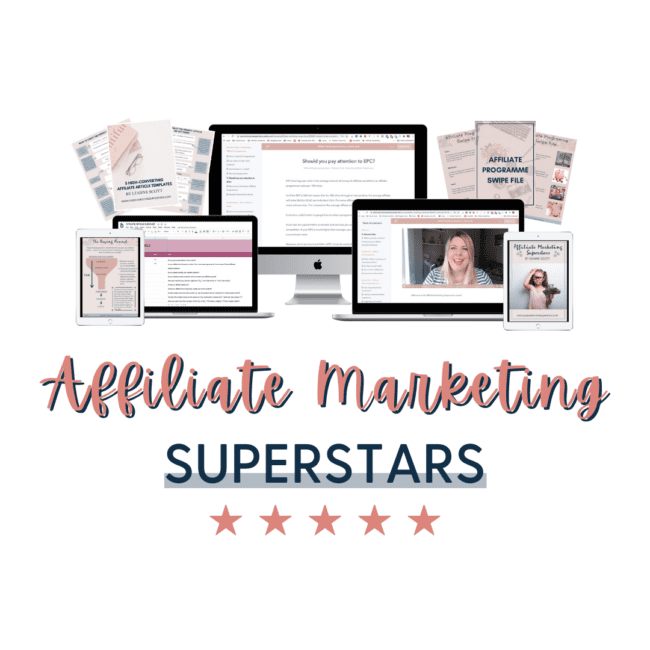 Complete Contents of the Affiliate Marketing Superstars Course
Module 1 – The Basics
Module 2 – Joining Programs
Module 3 – Evaluating Programs
Module 4 – The Technical Aspects
Module 5 – Affiliate Strategy
Module 6 – Crafting Blog Articles
Module 7 – Pinterest AF Marketing
Module 8 – Using Social Media
Module 9 – Flash Sale Strategies
Module 10 – Email AF Marketing
Module 11 – Retargeting Strategy
Module 12 – Making Tweaks
Affiliate Marketing Basics & Technical Strategies
How to find and add affiliate links
How to join affiliate programs and get accepted every time
How to evaluate programs and know which are worth joining
Creating joint venture partnerships when no program exists
How to get a commission raise
Cookie vs commission – which is more important?
What is EPC and does it matter?
What is a 2-tier program?
1st vs last click products
Should you promote low or high ticket products?
Recurring commission programs
How to geo-tag your links
How to avoid affiliate theft
How to add an automatic disclosure to every post
Tools to make your life easier
Affiliate Marketing Strategy
How to find and choose the right product for your audience
How to sell without being salesy
Affiliate marketing psychology
Nurturing your audience and building important relationships
How to explode your click through rate
How to dramatically improve your conversion rates
Using power words for more sales
Targeting keywords which convert
Why & how you should use video
My secret cluster strategy and why it works
Creating sales pages for high ticket products
How to make money without spending money
How to get someone to use your link, not someone else's!
Detailed guides for 11 of the best types of affiliate articles + templates
Auditing your Affiliate Strategy & Making Tweaks
Mistakes you are probably making and how to avoid them
Using heat maps to optimize your content for sales
How to work out an article's RPM for earning potential
How to analyze what is working and what isn't and start making changes to see more moolah!
How to identify low hanging fruit affiliate posts with the potential to make you more money
Email Marketing Affiliate Strategy
How to set up and run evergreen affiliate funnels on autopilot – growing your email list and income
How to encourage people to sign up for your email list with content upgrades
How to approach sales funnels
How often to email your list about deals if you are just starting out
What to email your list about
How to write and deliver a welcome nurture sequence
How to add urgency and scarcity to an evergreen funnel driving more sales
Pinterest & Social Media Affiliate Strategy
3 lesser known Pinterest affiliate strategies
Tips for promoting affiliate products directly on Pinterest
How to use Instagram to promote affiliate links even if you don't have the swipe-up feature
How to use Facebook pages and Facebook groups plus tips to leverage the algorithm
Promoting affiliate links on Twitter
Understanding ROI and whether promoting your products with ads would be effective
How to run a successful promoted pin
How to run Facebook and Instagram ads for your affiliate products and articles
Why retargeting is powerful and how to do it
A case study: How I made $2k in 4 days on Facebook
Open Close Cart and Flash Sale Strategy
Why open close cart sales are so lucrative
What you should email your list during a flash sale
Where to find details about flash sales for your niche
The best open-close cart affiliate program for all niches
How to promote flash sales on social media
An open close cart checklist for easy affiliate launches
What I Learned from Affiliate Marketing Superstars
Before I took the course I was an intermediate blogger with a successful blog and some affiliate marketing sales under my belt.
But I was just at that point where I could see the shiny potential of affiliate marketing way off in the distance – as I was already making some sales – but I felt I wasn't quite getting there, and I didn't know how to get there.
I had some posts that were doing fairly well with bringing in affiliate income, but I wasn't bringing in what I felt I should be able to achieve.
Affiliate Marketing Superstars helped me see how I could improve those blog posts, and what I was doing wrong.
Sometimes it is just a small tweak that you need to make, but you are not aware of what that is until somebody points it out. That was what I found with most of my affiliate posts.
I learned that I didn't have any kind of strategy in place for affiliate marketing – which is essential. So the course taught me how to put strategies in place, which then quickly increased my income.
The course also showed me some amazing new ways of promoting my affiliate links. Ways I hadn't even considered.
Reviews of the Affiliate Marketing Superstars Course
You don't have to just take my word for what a great course Affiliate Marketing Superstars is!
There are so many reviews by grateful students and bloggers for the course. Here are just a sample of those reviews: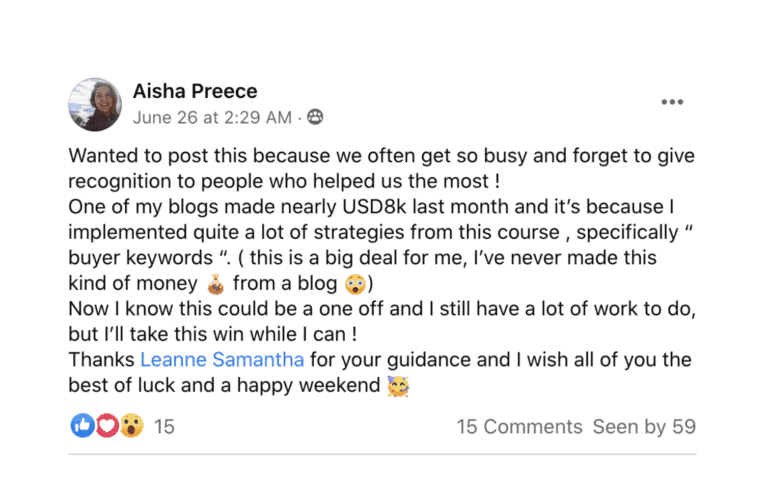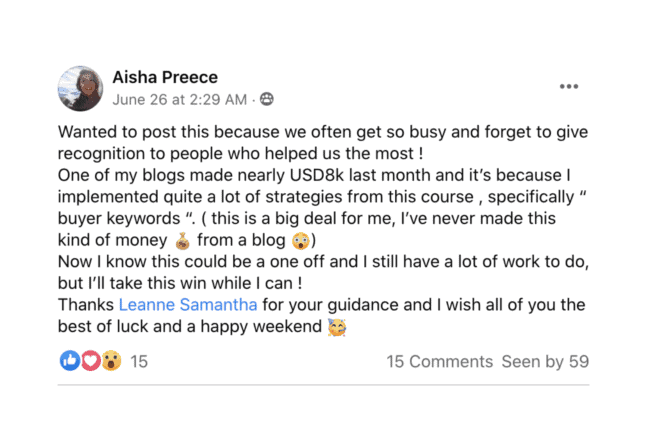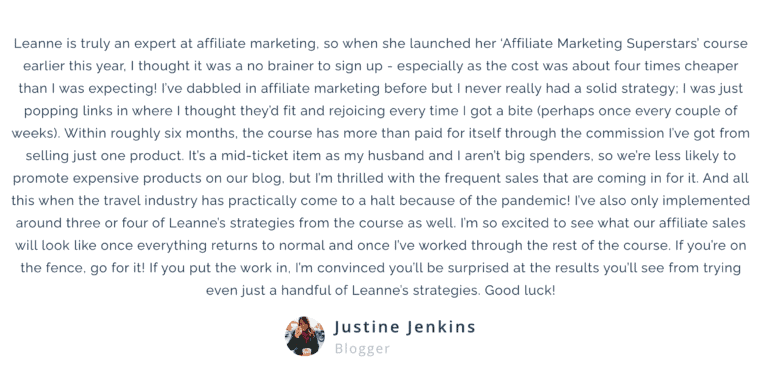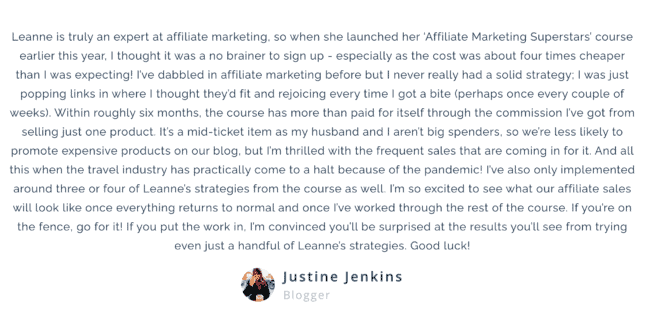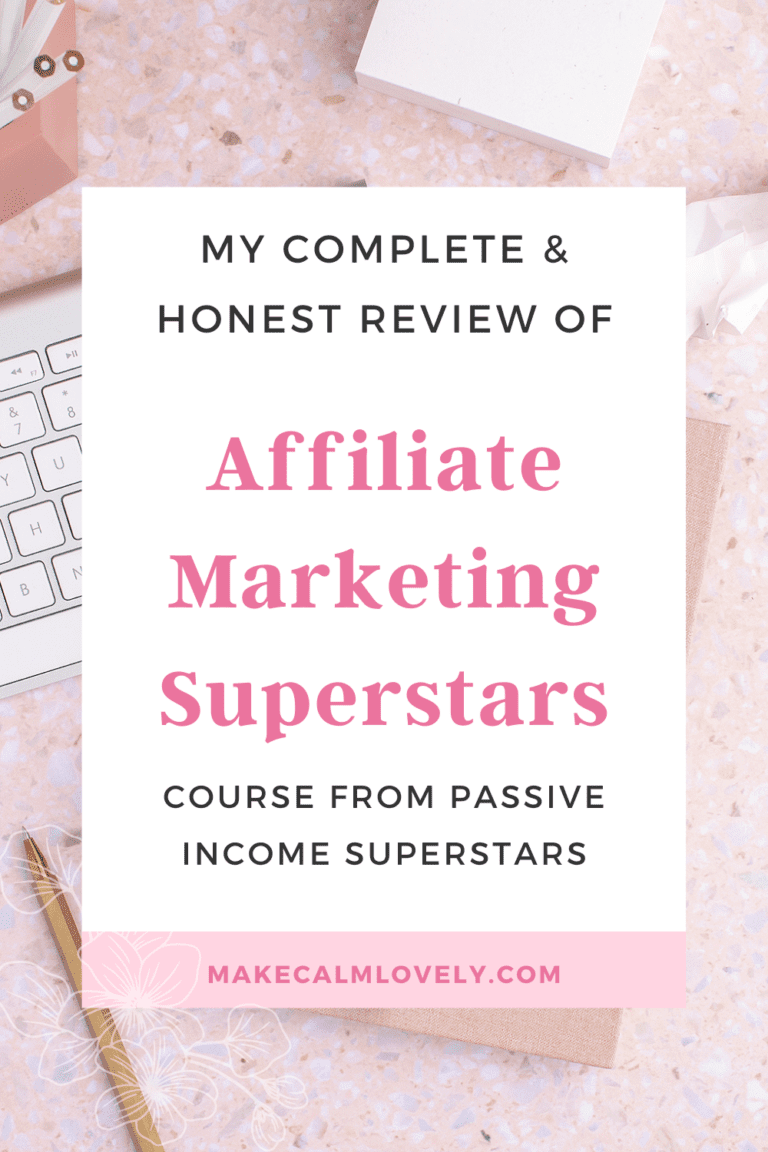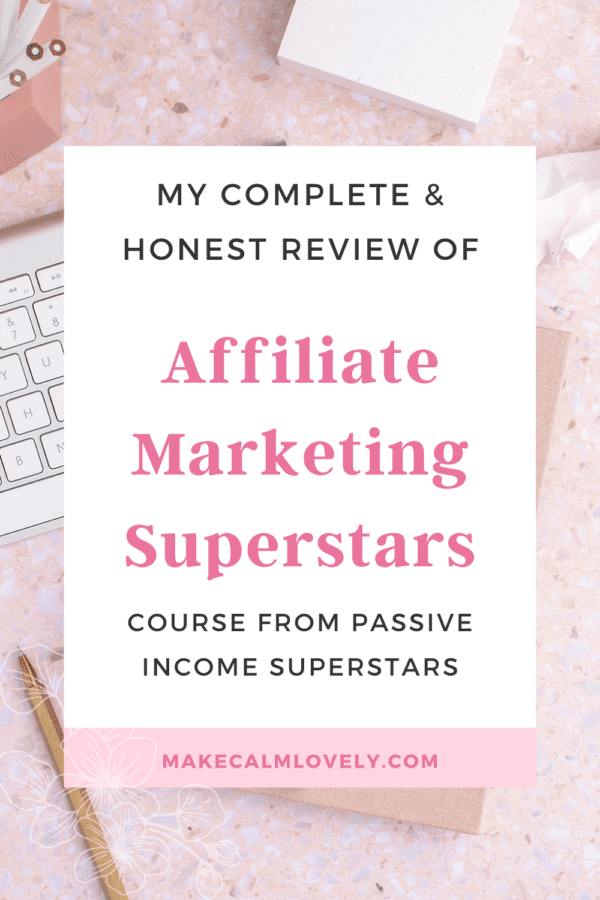 Conclusion
I absolutely recommend Affiliate Marketing Superstars if you are looking to start affiliate marketing, if you are trying to increase your affiliate marketing sales, or if you need to bring in an additional source of income to your blog.
Don't waste time on other courses that claim to teach you everything about affiliate marketing, and then fall short, leaving you needing more.
Affiliate Marketing Superstars covers everything you need to know. There is no stone of affiliate marketing left unturned in this course.
Purchase this course once and have it alongside you for your entire blogging journey and business.
I have already dipped into this course several times since first taking it, and I know you will too. There is so much here and so much information that you will constantly be looking for new ideas and strategies.
My complete honest review of the Affiliate Marketing Superstars course from Passive Income Superstars. This is the complete and only course that you need to learn everything there is to know about affiliate marketing!