Lavender has many healing properties, and above all is calming and smells delicious.  Lavender's calming effects can be used for anxiety and depression, insomnia, scrapes and wounds,   Prior to the First World War, Lavender was commonly used to treat and disinfect wounds.  It is also a natural disinfectant and insect repellent.  Lavender oil is also said to help headaches and head and neck tension.
I have a gorgeous lavender bush in my garden that flowers year after year.  It is very pretty to look at, and the bees love it.  It is great to be able to use something so natural for many beauty sources and household products.  One of the things I enjoy making with the lavender is a sugar scrub. It is easy and inexpensive to make, and you can use it in the shower or bath.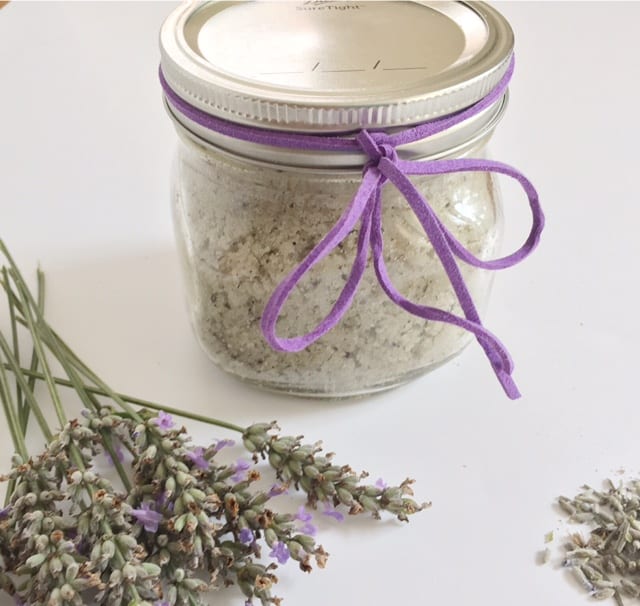 This post contains affiliate links, which means that if you click on a link and purchase something I may receive a small commission, at no additional cost to you.
This sugar scrub contains the actual dried lavender flowers, plus essential oil, for twice the healing properties. Use it in the bath or shower before going to bed for its powers in helping insomnia.  Use it first thing in the morning for a calming revitalising start to the day.  In addition to the great smell, which is a mood enhancer and anxiety buster, the healing powers of the lavender, and the gentle creaminess of the coconut oil will be kind and gentle to your skin.
Supplies needed:
2 cups Granulated white sugar
1/2 cup Coconut oil
Dried lavender – about 1 cup
Jar with lid
8-10 drops Lavender essence/oil
If you don't have your own dried lavender, it can be purchased online from many sources, including this one.  I just used regular pint mason jars to put the mixture in.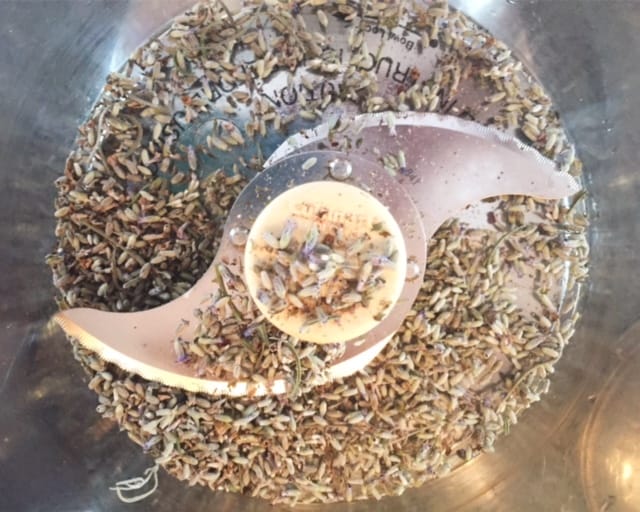 To make:
Place the dried lavender into a food processor or mixer.  Pulse the mixture just a couple of times.
Add the sugar and the drops of lavender essence and pulse several times to mix together.  Add the coconut oil and pulse together some more.  Keep pulsing the mixture gently until all ingredients are mixed well together.
Once mixed together, spoon the mixture out into a glass jar. It is ready to use immediately.  You can decorate the jar and label it if you want to. I prefer the basic home-made look to the jar on its own, and I just added a splash of colour with the purple ribbon. Enjoy!