When you have a busy family life your own self care and priorities take a back seat to everyone else's. But you just can't take care of everyone else well if you are not healthy and happy yourself. Planning and prioritizing your own self care is a must.
When you are busy of course it is hard to find the time to fit in a workout, or a relaxing bath, or even just a quick sit down with your feet up.
But your own self care is vitally important. Self care isn't selfish. Repeat: Self care isn't selfish. Creating time for, and practicing good self care will make you healthier and happier.
A healthier happier person is far more likely to be able to take care of others! So stop feeling selfish and bad about doing things for yourself. You deserve to be pampered and treated too.
But self care isn't just about pampering and treating yourself. It is about making the time to exercise, eat healthily, drink enough water, and get enough sleep.
It is about taking time to relax and decompress. Self care is for your physical body, as well as your mental health.
I just don't have time for Self Care & Looking After Myself
This is a common statement from practically every woman out there. Whether they work in the home, outside the home, have kids, or just have a busy life in general.
But looking after yourself, and taking care of yourself, doesn't have to take a lot of time.
There are things that you can do that are so beneficial for you, but don't take a lot of your time.
Walk to the school bus stop with your kids, put on a face mask while bathing your child, go to bed 10 minutes earlier to read, or buy or make a healthy smoothie for breakfast one day.
These are all examples of quick fast things that you can do for yourself, that will have some benefit to your general health and well-being.
Check out these 64 ideas for Self Care!
You have to Plan and Schedule your own Self Care
Just as you plan your family's meals every week, and organize your family's bill paying, grocery shopping, and more, you need to also plan and schedule all your own self care.
It is a fact that if you don't plan for, and schedule, self care for yourself it just won't happen.
Plan your own care out ahead of time. It is then so much more likely to happen. You have created time for it, and you have scheduled it on your busy calendar of events.
Why a Self Care Planner can help you Stay on Track
Our self care planner contains all the worksheets and charts that you need to stay on track with your own self care.
You can write in your calendar or journal that this week you need to work out for instance, even set a day.
That is a great goal. But a self care planner will be more likely to keep you to that goal. In addition you can plan out what you need to do at the gym, and track your progress. You have made working out into a scheduled, achievable goal.
The Make Calm Lovely Self Care Planner
I created this Self Care Planner especially for busy women who don't feel they have enough time to take care of themselves.
The Self Care Planner contains 21 pages of worksheets and charts to help you stay on track with all your self care and health needs.
The planner contains the following worksheets and charts:
Monthly Calendar
Weekly To Do Planner
To Do List
Fitness Planner
Workout Planner
Food Tracker
Sleep Tracker
Meal Planner
Healthy Planner
Cardio Training Tracker
Before & After Tracking
Recipe Cards
Word of the Year Tracker
Exercise Log
Books to Read Tracker
Self Care Ideas Tracker
Healthy Habits Tracker
30 Day Challenge Worksheet
Weekly Self Care Tracking
How to use the Self Care Planner
The Self Care Planner is a digital download if you sign up for my Free Printables Resource Library.
The Free Printables Resources Library also has all kinds of free Printables for you to download and use.
With the Self Care Planner you can print fresh sheets whenever you need to. You can keep the sheets together in a binder, or slipped inside a notebook.
Not sure what to do for your own self care? Write out possible self care ideas on the Self Care Ideas Tracker.
Want to start a new healthy habit? Use the Healthy Habit Tracker to stay on track and monitor that new habit.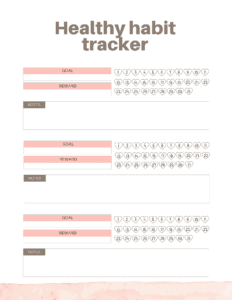 Want to achieve something in a month such as lose weight, eat more healthily, drink more water etc? Set your own 30 day challenge and track your progress with the 30 Day Challenge worksheet.
Starting to do cardio workouts? Track your progress with the Cardio Training Tracker.
Trying to eat healthier? Plan out all your healthy meals for the week ahead with the Meal Planner. Track your food and calories with the Food Tracker sheet. Want to keep track of your favorite recipes? Use the Recipe card.
In addition to tracking all kinds of exercise, food intake, calorie counting, sleep tracking and so much more, the planner also contains a regular undated monthly calendar, so you can stay organized with everything going on in your life (not just your self care!)
It also contains a Weekly To Do Planner sheet, so you can keep track of everything you need to do that particular week, together with a To Do list to plan out your entire to do's.
So do something for yourself, and ultimately for others, by planning out and scheduling your weekly self care!
Get your free downloadable Self Care Planner right here
Pin this for later!
When you have a busy family life your own self care and priorities take a back seat to everyone else's. But you just can't take care of everyone else well if you are not healthy and happy yourself. Planning and prioritizing your own self care is a must.