If you have a blog, or are thinking of starting a blog, you will need to feature many different graphics on your blog, including logos, headers, photos, images, and so much more.  Chances are if you are starting a blog you have little to no design experience whatsoever, yet you need some design knowledge to make your blog look professional.  You may have also been running a blog for some time, but you are not aware of PicMonkey's existence or its great inexpensive design features.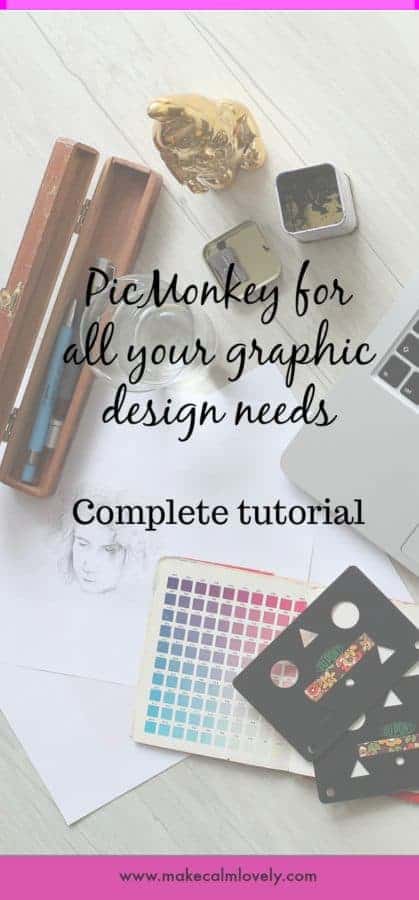 There are many great FREE and INEXPENSIVE graphic design and editing programs available to help you with all your graphic needs.  There is no need to have to learn and master the expensive graphic design programs such as Adobe, which have a high subscription price and large learning curve. Yes the Adobe suite of software programs is pretty awesome, if you can afford it and have the time to learn it, but there are many free software programs out there that can do exactly what you need, with professional looking results, and they have very low learning curves.  The one I love the most, which I am talking about in this series is PicMonkey.
So what is PicMonkey?
PicMonkey is a free software (with a (low) paid option for more advanced features) that is a photo editor, collage maker, and graphic designer, all in one. It is easy to learn and use, and creates professional looking images and graphics.  I use PicMonkey to edit my photos, design Pinterest pins, all my graphics for my blog and more more more!  I flirted a little with using Adobe – I was really interested in doing the things Adobe could do for my blog, but it was so hard to learn, and the price was just so difficult to justify, especially when I was just starting my blog.  PicMonkey has allowed me to do everything I need to do, for just a very small subscription price to use the more advanced features (and many of what I use it for are free features).  So let's get started and dip into this great resource for you and your blog:
To sign up for PicMonkey just go to their main site HERE.
As a first-time user of PicMonkey you can sign up for a free trial.  This gives you 7 full days of PicMonkey for free – with all the features it has available to you. This will allow you to really play around with it and find out what it can do for you. I would highly encourage you to do this. You can find out if you like the way PicMonkey works  (you will!), and you can see exactly what it can do for you (loads!).
Just go ahead and sign up for an account.  You can create an account, or you can sign up with your Facebook account.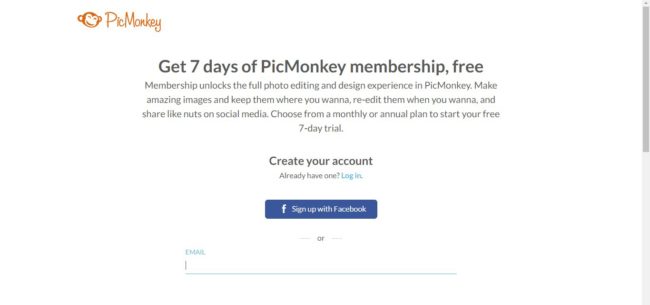 Once you have created your account, sign in and start using it! Here is the main page you will see once you have signed up for a PicMonkey account (graphics on the front page may change every now and again).
Now you have your PicMonkey account you are ready to get going!  For the first PicMonkey lesson I am going to show you how to edit a photo.  It is really easy to do this, and photo editing is something you are going to be using constantly with your blog. This lesson will give you a great introduction to PicMonkey and show you what it can do.
You are going to start by selecting Edit on the main PicMonkey screen, which is at the top of the screen.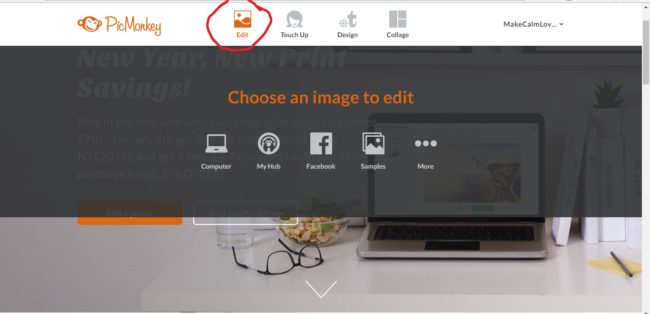 When you click on edit you will see several options of where to select an image to edit – either from your computer, 'My Hub', Facebook, Samples or More (I will go into all these options and what they mean in later lessons).
At this point we are assuming that you have a photo already on your computer that you want to edit. Therefore click on the Computer icon to choose the photo that you want from your own computer files.
PicMonkey will now hook into your computer files.  Select the photo from your computer that you want to edit by clicking on it.  PicMonkey will do some thinking while it uploads your photo (the monkey will wink!!) , and then you will see the photo all ready for you on the PicMonkey desktop:
The first thing you may want to do with your photo is CROP it.  You may not need to do this to the photo that you are using, but the crop feature is good to know and you will find yourself using it many times during the course of your blogging.
With the photo that I have selected to use, I want to just show the notebook and confetti part of the photo, so I will need to do some cropping to allow this. (by the way this is a stock photo from Pixabay, which I highly recommend for free stock images for your blog and photo needs).
Select the Crop feature from the left hand side of the editing screen, by clicking on it.
As you can see from the screenshot above, two features will appear for you to crop your photo – a grid on your main photo that you are trying to edit and crop, and in the control panel on the left there are size options. You are going to use the grid option to select the part of the photo that you want to use. The grid is the highlighted white part you see in the photo above.
Just move the grid with your cursor, to select the part of the picture that you want. I moved the grid lines to just feature the part of the photo that I want to keep – which shows just the notebook and confetti. I am disregarding the rest of the photo.
When you have the photo as you want it, by using the grid to select it,  click the green Apply button on the control panel on the left to save the crop edit that you just made.
Now you should see the photo completely cropped how you want it.  As I mentioned, I am only now seeing the notebook and confetti part of the photo, as that is all I want to see and use in my photo now it is edited.
So now you have cropped the photograph that you need PicMonkey has all kinds of features to edit that photo further.
Using the control panel on the left of the screen, you can ROTATE a photograph.  Just click on the Rotate button. It will open up a little control box for rotating your photo, with control arrows to rotate in different directions. Just play around with hitting the directional arrows. When you have the photo in the rotation that you want, just hit the Apply button to make it stick.
You can also adjust the EXPOSURE of your photograph.  Just click on the Exposure button on the control panel.  A box will open allowing you to control the exposure editing of your photo:
You will see that you can control the brightness, highlights, shadows and contrast of your photo. It is best to start with the Auto Adjust feature in this control panel, which is the orange button at the top of the panel. Just click on this and see how PicMonkey automatically adjusts the exposure of your photograph. If you don't like what it automatically does to your photo, just play around with the different features by moving the bar until you achieve what you want in your photo. Click Apply to save the edits to your photo.   Try not to over-expose your photo however.
The COLORS button can adjust all the colors in your photo.  Once again this feature has an Auto Adjust button feature that you can start out using. You may want to go a bit 'wild' with your colors, and you can really play around with this feature! Here I have completely turned down the temperature by moving the bar all the way to the left, so it comes out a very cool blue.  Just hit cancel at any time to reverse any changes you make.  Once again hit Apply when you get what you want to save it.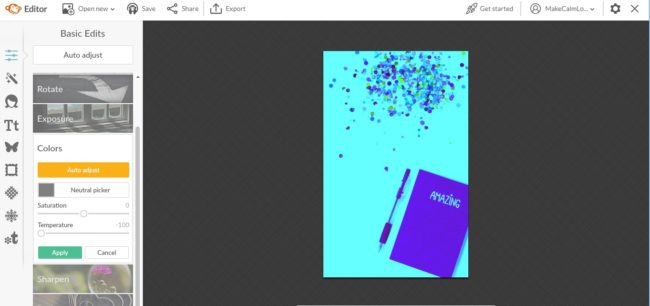 You can also SHARPEN your image. This is a feature I don't use very much, but certainly you can play around with this feature to see how it makes your photo look.
At the top of the control panel is also an Auto Adjust button, which can be used first before you start out tweaking all the other individual feature buttons. This might do just what you want before you resort to all the individual button tweaks also.
I auto adjusted the photo and it made the notebook look more red (see below). I could either leave it like that, or edit it again using all the different editing features in the control panel as noted above: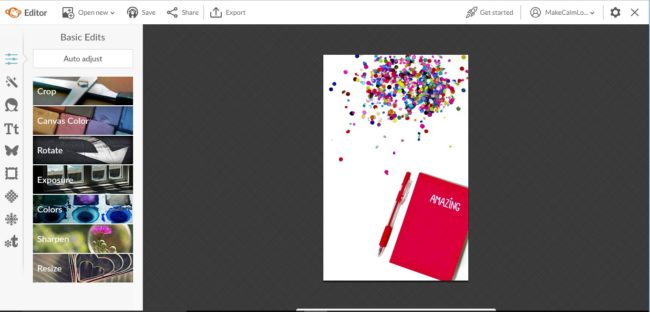 This concludes all the basic edits in PicMonkey that you can make to your photograph.  Go to lesson two for the Touch Up features that PicMonkey has for photographs.