This is my honest review of the Making Sense of Affiliate Marketing course by Making Sense of Cents. If you are considering taking this course, read this review first! I will give you many reasons why you should (and shouldn't) take this course!
All successful bloggers know that in order to make a good income from your blog you have to diversify and have many different sources of income.
One of the best sources of income as a blogger is to be an affiliate for other people's products and services. You promote that product or service, and if a sale results from your promotion you will get a percentage pay-out or commission.
But where do you start with affiliate marketing? What is involved in affiliate marketing? Where do you find products and services to promote? These are all the questions many of us have when starting out with this source of income.
That is why I took the Making Sense of Affiliate Marketing Course by Michelle Schroeder Garner of the blog Making Sense of Cents. This course taught me very early on everything I needed to know about to be successful be an affiliate, and bring in extra income to my blog.
Promoting other people's products is a lot easier than creating your own products to sell. They have already done all the work with creating the product and marketing it. You are just promoting it for them and receiving compensation for doing so.
You don't have to be the one worrying about technical support, handle cancellations, manage customer service, and everything else that comes with creating your own product or service. Being an affiliate for somebody's else's product lets you bring in money without doing all that hard work!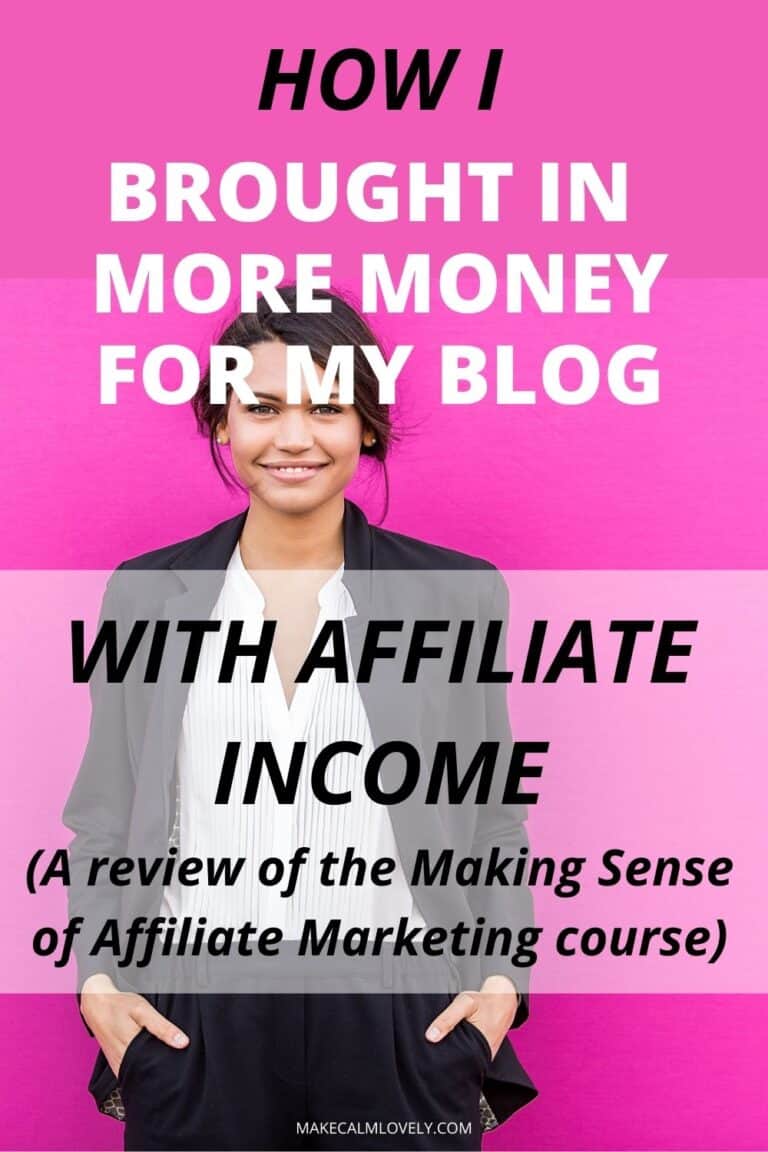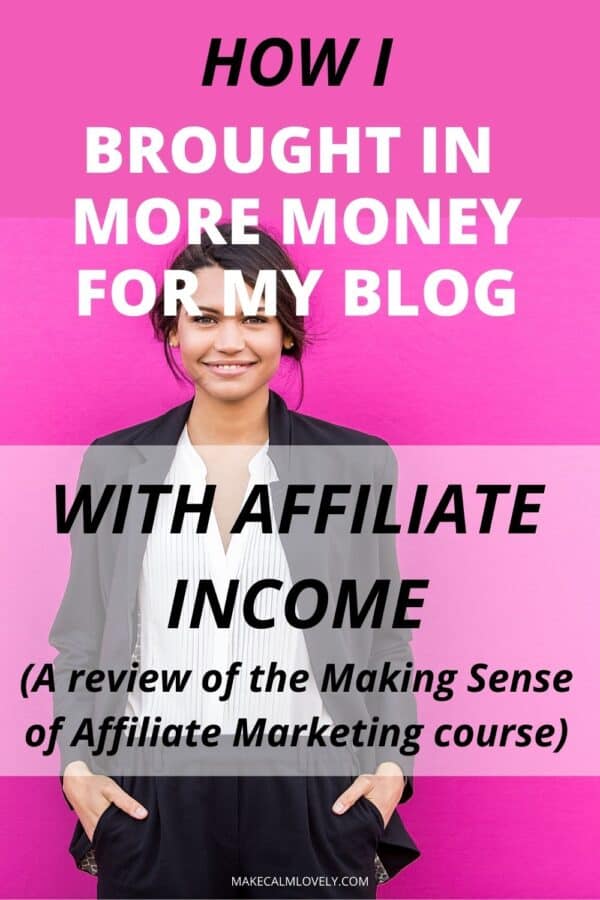 This post contains affiliate links. This means that if you click on a link in this post and make a purchase via that link I may receive a small commission, at absolutely no additional cost to you. You can view my disclosures here.
What is Affiliate Marketing?
Affiliate marketing simply means that you are promoting somebody's else's product or service, and in return you receive a commission payment.
This usually consists of putting your own affiliate link inside an article or blog post and publishing it. Then when somebody reads your post/article and makes a purchase via your affiliate link you receive a monetary commission payment.
Your affiliate link is usually a special url or coupon that is issued by the company you are an affiliate for. It is unique to you – nobody else has your same affiliate link.
Each company has a different payment structure for affiliates. It is usually a percentage of a sale – for instance you may get 25% of a sale. If the product costs $100, you would receive a $25 commission payout!
There are many ways you can do affiliate marketing. You can write a product review, send an email to your readers and subscribers, and also do a social media post. There are so many ways to promote affiliate products and your affiliate link (and these and other ideas are all covered in the course).
Affiliate marketing is passive income to a certain extent. You can sit back and watch your commissions roll in.
Who is Michelle from Making Sense of Cents?
Michelle Schroeder Gardener started a blog in August of 2011 called Making Sense of Cents. Her blog completely took off (it is in the money saving finance niche) and since then Michelle has been quite frankly killing it!
Making Sense of Cents has won many awards, and consistently earns over $100,000 a month, half of which comes from affiliate income.
Michelle and her husband both left their day jobs and just concentrated on her blog. They travel, a lot. They spent some time living and travelling in an RV, another time living and travelling on a sail boat for example. All while still running a blog that keeps bringing them income.
Michelle claims that she herself is earning over $50,000 a MONTH from affiliate income – that is promoting other peoples products and services. So she is therefore in a good position to know what works, and what doesn't work for affiliate marketing and promotion.
The Making Sense of Affiliate Marketing Course
There are 6 total modules in the course, which includes 50+ lessons, including 2 videos. The majority of the course is however written text only.
The course also comes with numerous worksheets, that you can download as you go along. They help you define your needs and goals, and are an integral part of the course.
The modules and lessons in the course are as follows:
Welcome
Introduction to the Course
Workbook
Making Sense of Affiliate Marketing Facebook Group
Module 1: What is Affiliate Marketing?
Why affiliate marketing is great
The basics of affiliate marketing
How affiliate links work
Module 2: How to Find & Apply to Affiliate Programs
The amount of traffic you need
How to determine what your readers want
Worksheet: Brainstorm what your readers want
How to find affiliate programs
80+ affiliate program ideas for different niches
Worksheet: Affiliate programs you are interested in
Affiliate tracking spreadsheets
Module 3: Follow the Rules
Requirements & disclosures
Understanding no follow and sponsored links
What to do if you live in a Nexus state
Module 4: How to get your Readers to Convert
The tool you need to master affiliate income
How to build trust
Worksheet: How to pick the right affiliate product to promote for your brand
Deep linking 411
The importance of your click-through rate
The value of a bonus
Worksheet: My bonus ideas
How to have affiliate marketing success
Improving your top 10
Worksheet: Improving your top 10
Module 5: Strategies and ways to Promote Affiliate Links
Introduction to the different strategies
Creating successful affiliate reviews
Worksheet: Creating the perfect affiliate review
Teaching with tutorials
Having a helpful resources page
Using interviews to drive sales
The money is in the list
Your average blog post can lead to affiliate success
How to rock affiliate marketing on social media
The crazy impact Pinterest can have
How I've earned over $500,000 from one affiliate product
Worksheet: Strategies to promote affiliate products
Module 6: Rinse and Repeat
The importance of a strong relationship
Maintaining your affiliate marketing strategy
Worksheet: Regular maintenance checklist
The things you do not want to do
Making your affiliate marketing strategy long-lasting
Tips to improve your affiliate income around the holidays
Worksheet: Tracking your affiliate marketing income
Bonuses
How to always get approved for an affiliate program
How to drive thousands of visitors to your blog with Pinterest
9 things you must do when something goes viral
How to increase your page views
Worksheet: My affiliate products and services
Worksheet: The perfect affiliate link checklist
How to maximize your reach, your impact, and your revenue with Facebook ads
Editing and writing strategies that will take your content to the next level.
How to legally protect your blog.
This also includes:
Lifetime access to take the course at your own pace.
24/7 access to the private Facebook community for Making Sense of Affiliate Marketing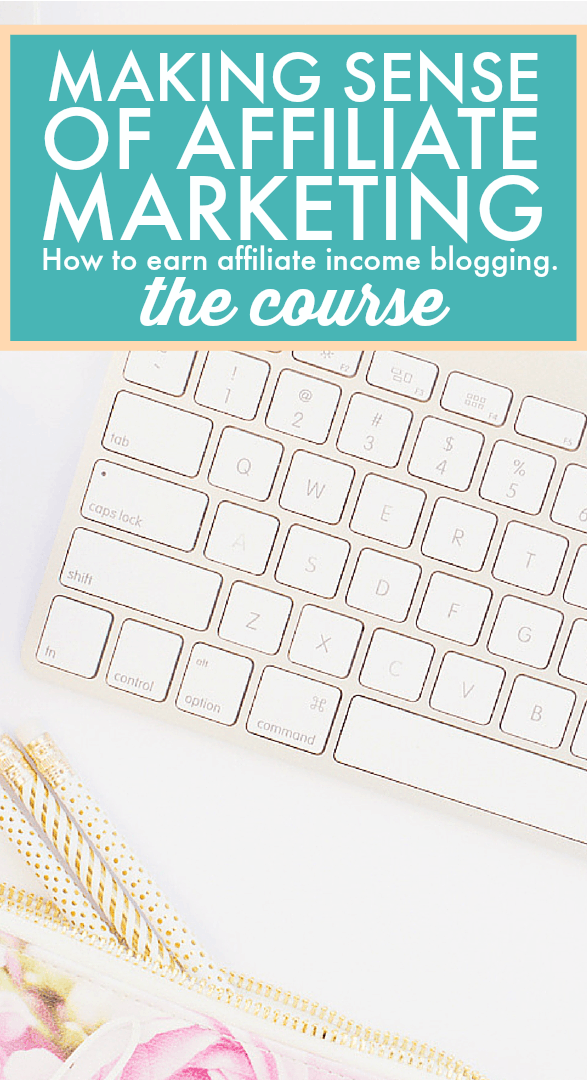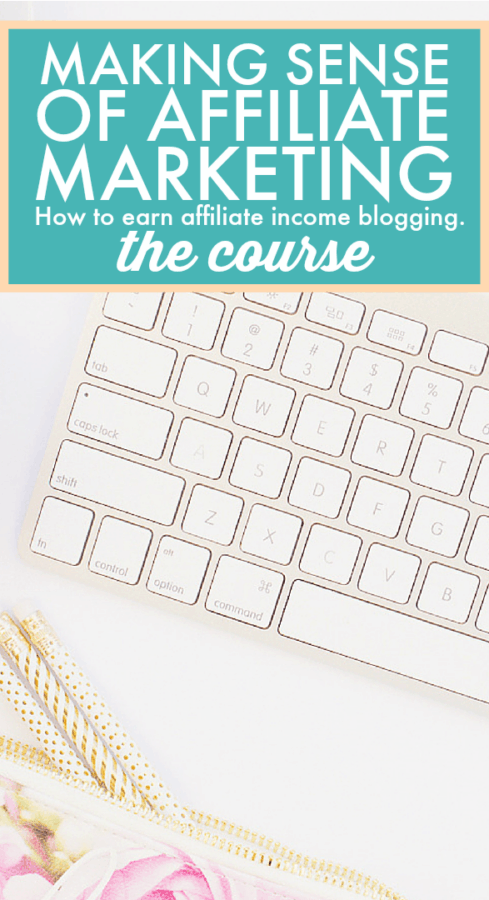 Who is the Making Sense of Affiliate Marketing Course for?