I recently finished taking the course Making Sense of Affiliate Marketing by Michelle of the popular blog, Making Sense of Cents. I was really interested and excited to take this course, because as a blogger my only source of income is affiliate marketing right now.  I blog because I love it, but I do need income to run my blog, and make it worthwhile for me.
This post contains affiliate links. If you click on a link and make a purchase I will receive a small commission, at no additional cost to you.
There are so many bloggers out there doing incredibly well through affiliate marketing, and I constantly sit and wonder how on earth they are able to do so well. I had dabbled a little bit in affiliate marketing before taking Michelle's course, but I really wasn't that successful at it, and I just knew there was so much more I could be doing, so much I was not utilizing for affiliate marketing income with my blog.  There is a lot of information out there about blogging and affiliate marketing, but I just felt that to get the best information I should go to the best.  Michelle consistently makes over $50k per month with affiliate marketing!  That is pretty amazing, and she backs this up by revealing and showing her income reports every month, showing how and where she is making that income. She is incredibly transparent and open about her methods and what she earns.

Michelle constantly shares information on her blog about ways to make money, and she shares her own constant money-making stories.  One of her latest posts is on how she made over $110,000 in November of 2017 through blogging.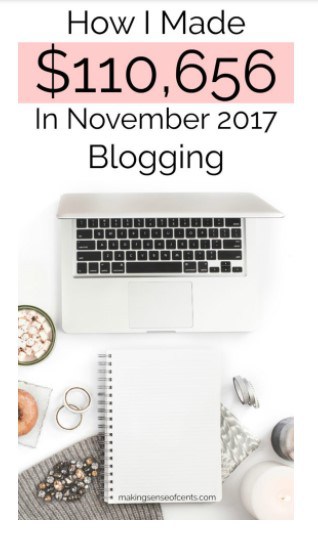 Why should you try affiliate marketing?
The big question to start with is why should you try to make money as a blogger with affiliate marketing?  The reason is very clear and Michelle explains this fully – it is untapped income potential, and it is so easy – it is complete passive income – you just set it all up and then sit back whilst your income comes rolling in. It really is that easy!  You do need to build a following with your blog, write blog posts and great content, and get people to trust you.  But if you are genuine about your blog and blogging, that really shouldn't be an issue for you at all.
Your concerns about affiliate marketing
Are you worried that you will turn your followers and readers off by promoting affiliate products and services? I certainly was.  But I learned that there is absolutely no reason to worry about that. You are not making people buy products or services, you are merely just directing people to a link where they can purchase something if they want to.  No pressure.  They don't have to purchase anything at all.  If they do purchase something it will only cost them what the product or service costs, they won't pay you anything at all.  You receive a commission payment on that purchase from the affiliate company if a purchase is made, but it is absolutely at no extra cost to them, the buyer. Therefore, you aren't misleading people at all to buy a certain product or service (and you do need to make it clear to them that you are an affiliate for that particular company straight off the bat I should add).
Why affiliate marketing is a great thing!
So what is not to love about affiliate marketing?  Your readers are directed to great products or services that they can purchase IF they WANT to, and if they do, you make a commission on that sale.  That's it.  All you have to do is promote their company/service/product in some way, through your blog and content.  That is it.  Yes you could create your own product, but that takes a lot of work. Creating an e-book or a print book for instance is a lot of work.  With affiliate marketing, you are promoting somebody's else's product. You don't have to do any work at all in creating a product.  Once you are approved by an affiliate company you can start promoting, and making income from, their products immediately.
I should just add here something that Michelle complete advocates  – you should ONLY promote products, services and companies that you yourself believe in. Don't lose the trust of your readers and subscribers by promoting services or products that are below par, or that you would never use yourself.  Be honest and open with your readers.
Why this course is great!
Michelle takes you from beginning to end through all the aspects of affiliate marketing.  She starts out advising you how to choose products and services to promote that your readers would want and be interested in.  She gives you examples of affiliate programs in all niches of blogs, and she shows you how to find these affiliate programs and companies.
The entire course is full of worksheets so that you can record notes and ideas as you go through the course. You can brainstorm many of Michelle's suggestions as you go along, and apply her ideas and suggestions to your own blog and business.
One of the most valuable parts of Michelle's course for me was the section on Following the Rules.  Michelle covers completely in this section the Federal Trade Commission's (FTC) requirements for affiliate marketing, and disclosures that you must make to your readers and subscribers.  She teaches you all about things such as No Follow links and what to do if you live in a Nexus state.  This part made me feel so much better about affiliate marketing  – knowing that I knew what the requirements and rules were, and how to adhere to them.
Michelle also covers strategies and ways that you can promote your affiliate links.  She shows you tips and tricks for promoting affiliate links through Pinterest, courses, blog posts, reviews and more.
I really felt in taking this course that I was being guided by the hand carefully by somebody who was looking out for me.  Michelle made me feel better immediately by stressing how you don't need a ton of page views to start making money with affiliate marketing, and good advice on how to always get approved to an affiliate program. She also shows you how you can do this even as a beginner blogger!
And you know why I am sitting here writing this post really excited right now?!  Because just after finishing the course, I made $140 within just a few days! Because I signed up for a particular affiliate program that I learned about through this course, and I made a few sales immediately!
The course also comes with some great bonuses:
A Facebook Mastermind Group for Making Sense of Affiliate Marketing.
This group lets you connect with other students who are actively taking the course, or have previously taken it, so you can all share tips and success stories with one another!  You can learn so much from these bloggers – not just about affiliate marketing. Many of the bloggers in this Facebook Group have been blogging for a long time and really know their stuff!
Personal attention from Michelle
Michelle replies to comments on the Facebook Group, she is always on hand to answer questions and point you in the right direction. Now how often would you get that from an expert? You kind of have an 'in' to Michelle!
Opportunity for you to be an affiliate for Making Sense of Affiliate Marketing
As is only right, you can't be an affiliate for the course until you have taken it – so you know exactly what you are promoting to your readers and subscribers, and you have personally experienced the product you are promoting. That is why I became an affiliate for this course!  If you sign up to be an affiliate you get your own affiliate link to use to promote the course.  Just like Michelle advocates – don't promote anything at all to your readers and subscribers that you haven't personally used or experienced, or that you believe is below par.  This course is just really great, and it is money well spent (I practically earned back the cost I had paid for the course within just a few days).  By taking this course you are really getting expert advice, from an expert, in an easy to learn format.
So let's get down to the nitty gritty of what the course actually is:
6 modules
over 30 lessons
Worksheets
Access to Facebook exclusive Mastermind group
You can take the course at your own pace – in one sitting or several sittings. You can go back to any aspect of the course at any time.  The worksheets can be printed off for use in your own affiliate marketing planning as you go through the entire course.
For more information about the course and to sign up, click here!