Make Over Your Mornings & Have More Time & Energy for the Things that Matter Most
Make Over Your Mornings is a 14 day online course by Crystal Paine on making your mornings so much more organized and better. Just by dedicating 15 minutes a day to this course, your mornings will change for the better!
Make Over Your Mornings is a 14 day online course by Crystal Paine, of the popular blog, Money Saving Mom. The entire course is designed to help you organize your busy chaotic mornings, so your mornings are far more productive for you, and give you more time to do what is important to you. The course is in smaller bite-sized chunks to make it easy to fit into your busy life, and it is also so incredibly affordable!
This course focuses on creating an intentional morning routine. Our mornings are the time when we can be our most productive, whether that is our home or our work life. But for most of us our mornings are crazy busy and out of control. We are lucky if we can even take a shower, let alone do something that is incredibly productive.
Now I know you just don't have the time to go through a course as well as everything else you have to do in your busy life. But Crystal promises that this course will only take you about 15 minutes per day. Could it be worth 15 minutes of your day to have the best mornings ever? (of course you could knock out this course in one to two sittings if you wanted to..)
The course is in an easy to follow video format. There is a short video every day that you can easily watch while sipping your coffee, or sitting in your car waiting for your child. If you don't like videos there is also an accompanying Workbook, that talks you through everything too.
I took the course, as I consider myself a busy person. I have two jobs (one is my own business), a home, a family, and more. Mornings are a time I can get things done, without distractions and interruptions. I really need to make the most of my mornings.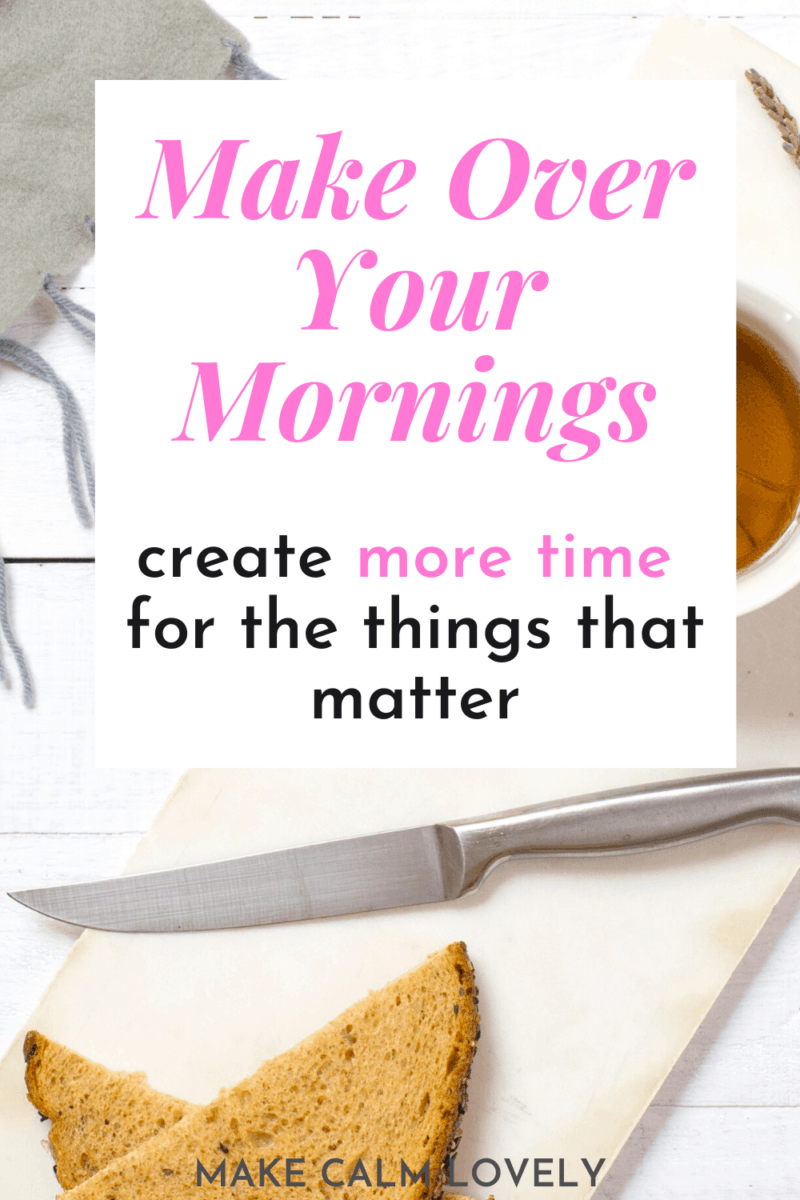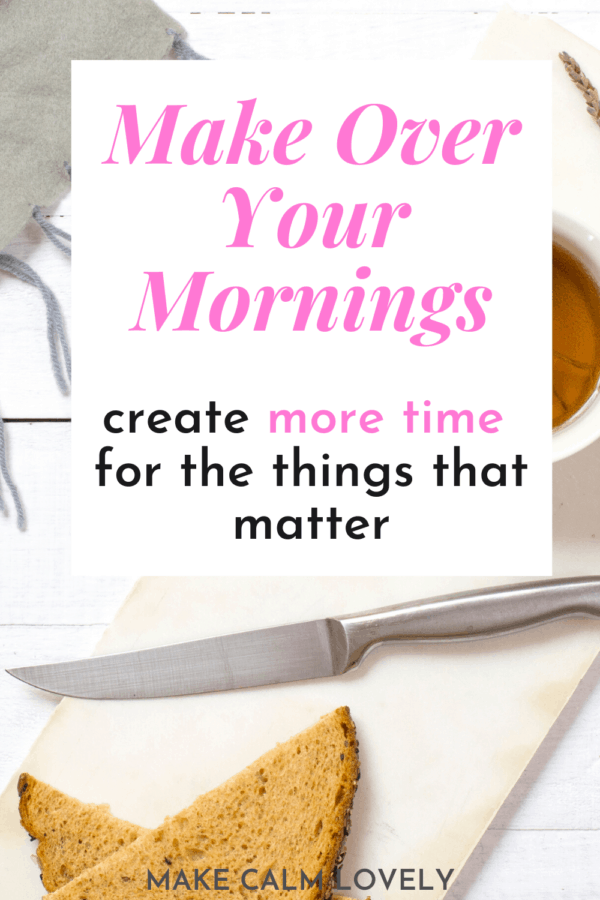 This post contains affiliate links. This means that if you click on a link and purchase a product via that link I may receive a small commission, at no additional cost to you. You can view my disclosures here.
You're Not a Morning Person?
What if you are NOT a morning person? That applies to so many of us. So how can a course that is going to let you know about creating a better morning help you? Isn't it going to just tell you to get up earlier?
You may not be able to get up any earlier. You may have a baby that doesn't sleep through the night, small children and more. You may need every single second your head gets on a pillow. Or you are just not wired that way? Some of us are morning birds, and some of us are night owls. We are all different. But just because you are not a morning person doesn't mean that you can't have better more productive mornings.
This course is not about getting up earlier. Yes of course getting up earlier is helpful – and this course is going to help you with getting up earlier, but it is not what it is all about. This course is about goal setting, realizing your pain points, prioritizing, planning, and motivation. It is not just another course telling you to get up earlier.
This Course lets you go Easy on Yourself
As Crystal states, there is no perfect morning routine! That statement alone should let you breathe a huge sigh of relief. There is no perfect morning routine. You do not have to have a perfect morning routine. You do not need to be perfect during your mornings!
You are going to mess up, everyone does. But just because you mess up doesn't mean you have to abandon your good intentions. This course will help you get back on track, and deal with being imperfect!
You don't need a course that is just going to make you feel bad if you didn't achieve everything that course was teaching. You don't need a course that has so many things that you have to achieve that you just can't get there. This course is easy-going, small steps along the way. It is a course that really works.
Contents of Make Over Your Mornings
This is a guide to the contents of the Make Over Your Mornings Course:
Day 1
Why are we Doing This Anyway?
Why do you need your mornings to be better? There is a reason that you are even looking at an article/course about making over your mornings. How are your mornings currently?
Making over your morning is simply a way to ensure you have more time and energy for the things that matter most: Caring for your family, taking time for yourself, whatever is important to you.
Day 2
Your Morning Begins the Night Before
A Successful morning always begins the night before. In so many cases disorganized mornings are a direct result of what is not happening the night before. As I have written about previously in How to set up the Perfect Morning, with the Perfect Evening Routine.
Day 3
Put the Big Rocks in First
Your Big Rocks are what you should focus on first. So how do you decide what your particular Big Rocks are? This is where you set your priorities.
Day 4
Yes, You Need an Incentive
This does all relate to getting up earlier in the morning. Yes the dreaded advice that to get the most from your mornings you do need to get up earlier! But you don't have to just do housework or something in getting up earlier. What about if waking up earlier meant you could actually exercise, or read a book, or just have to quiet time to think in the day?
This day is going to really help you be more of a morning person in setting incentives and rewards for yourself to get up earlier.
Day 5
How Setting Goals can Change Your Life
Today you are going to look at what your goals are for your life. You will think about what you want to change, accomplish or work toward in all the important areas of your life.
Day 6
How to Break Your Big Goals Down into Bite-Sized Pieces
Big goals can be really overwhelming. So break them down into bite-sized pieces, so you can more easily get there. Today you will be breaking those goals down, and you will be taking responsibility for them.
Day 7
Accountability Partners: The Missing Ingredient
You need others in your life to help you achieve what you need and want to do. Today you will consider who your accountability partners are in your life, and you will approach them!
Day 8
Creating a To Do List That Serves, Not Strangles
All those sticky notes scattered around your home are really not helping you. They all need a home. You need to create an accurate and actionable to-do list if you want to smoothly run your home and your life.
Today you are going to set up a daily system of creating a To Do list. You are going to decide where to keep that To Do list, and you are going to at least think about creating that To Do List.
Day 9
Nailing Down Your Morning Routine
This is a really important day, as you will start to come up with your morning routine. There is a Printable Worksheet that comes with the course to help you with this.
Day 10
Crush the Mindset of "I Can't Do It"
Today you are going to deal with those negative thoughts. You are going to turn them around, and stop making excuses.
Day 11
Don't Neglect Diet and Exercise
Good healthy breakfasts are important to your day. Today you will come up with some breakfast ideas, and perhaps even start meal prepping breakfasts. You are also going to really think about incorporating more physical activity into your day.
Day 12
Building Endurance and Strength + Eliminating Decision Fatigue
Today you will focus on helping yourself through everything. This involves shortcuts and incentives.
Day 13
What to Do When You Fail (Because We All Do!)
It is ok to fail at things. Everyone does. Today you will see how you can rethink and retweak things. Everything is not lost, you can still get there with what you want to do.
Day 14
You Made it to the Finish Line!
Today is the finish line! You should by now have a great morning routine in place. You should have systems in place. Your mornings should be, at least starting to get, smoother and easier!
Related: How & Why to Track Your Time
What the Course Consists of
A video every day for 14 days
Course Workbook
Printables & Worksheets
Why you Should Take This Course
You're busy. life is busy. Therefore you have to make the most of every minute of your day. But you don't need a task master cracking a whip making you completely change your life.
You need somebody who totally gets it. You need somebody who knows you are not perfect (because nobody is), to gently guide you through making changes to your life.
You need somebody real, somebody who has done this, and you need something easy to follow along with, that is affordable and not too time-consuming.
Make Over Your Mornings is that course. It costs only $17! Yes – $17 for a 14 day video course, workbook, and Printables. That is an affordable $17 to perhaps completely change your life for the better, by creating easier and more organized mornings.
For more information on the Make Over Your Mornings course click here!
Make Over Your Mornings is a 14 day online course by Crystal Paine on making your mornings so much more organized and better. Just by dedicating 15 minutes a day to this course, your mornings will change for the better!