Lunches for your work week can be so stressful! You either have to grab leftovers from your fridge in the morning to take to work, or spend time (that you just don't have in the morning) making sandwiches or salads to pack up for lunch. If you don't have time, or really just don't have the energy to make your lunches ahead of time you are probably buying lunch out every day or most days. I would guess that you can't get a lunch for much less than $5 a day (certainly not where I live and work!), so over the course of a month if you are buying your lunches every day it is probably costing you at least $100 a month in lunch money.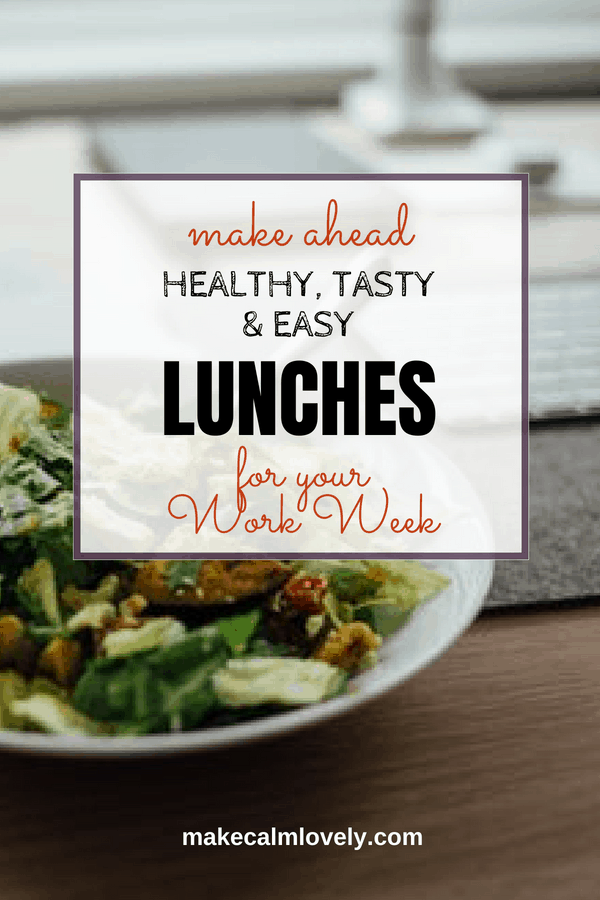 If you are taking leftovers to work for your lunches I am also guessing they are not very exciting to eat! Probably neither is that quick sandwich you just threw together in a couple of minutes that morning, using whatever fillings you could find and were to hand.
But what if you could make healthy, tasty lunches ahead of time that you could keep ready for lunch during the week? These recipes below are all for healthy foods that are easy and fast to prepare ahead of time, but that will keep in the fridge ready for you to grab in the morning to take to work for lunch. What's more, these recipes are tasty, and you will actually look forward to that lunch that you made every day, rather than just eating something or the sake of putting some food inside you!
Zucchini Cheddar Cheese Savory Muffins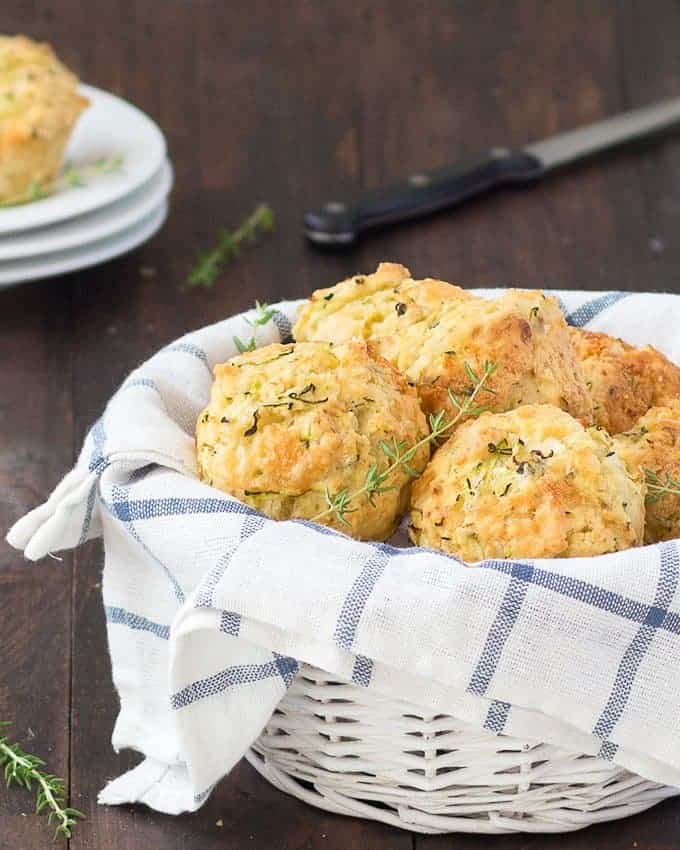 Photo: As Easy as Apple Pie
These are easy to make and you can make a big batch on the weekend, ready to grab during the week for lunches. They can either be eaten cold, or re-heated in a microwave or toaster oven. See the recipe here at As Easy as Apple Pie.
Taco Salad in a jar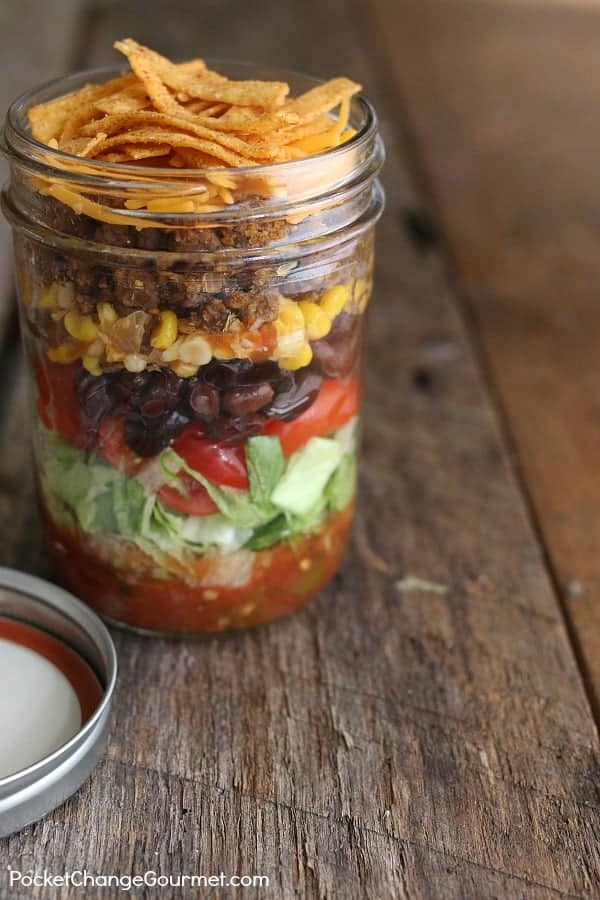 Photo: PocketChangeGourmet.com
These salads can be made up in jars ahead of time, and just grabbed when you need them during the week. A taco salad is a tasty option for a salad. For the full recipe from Pocket Change Gourmet click here.



Santa Fe Chicken Salad Wraps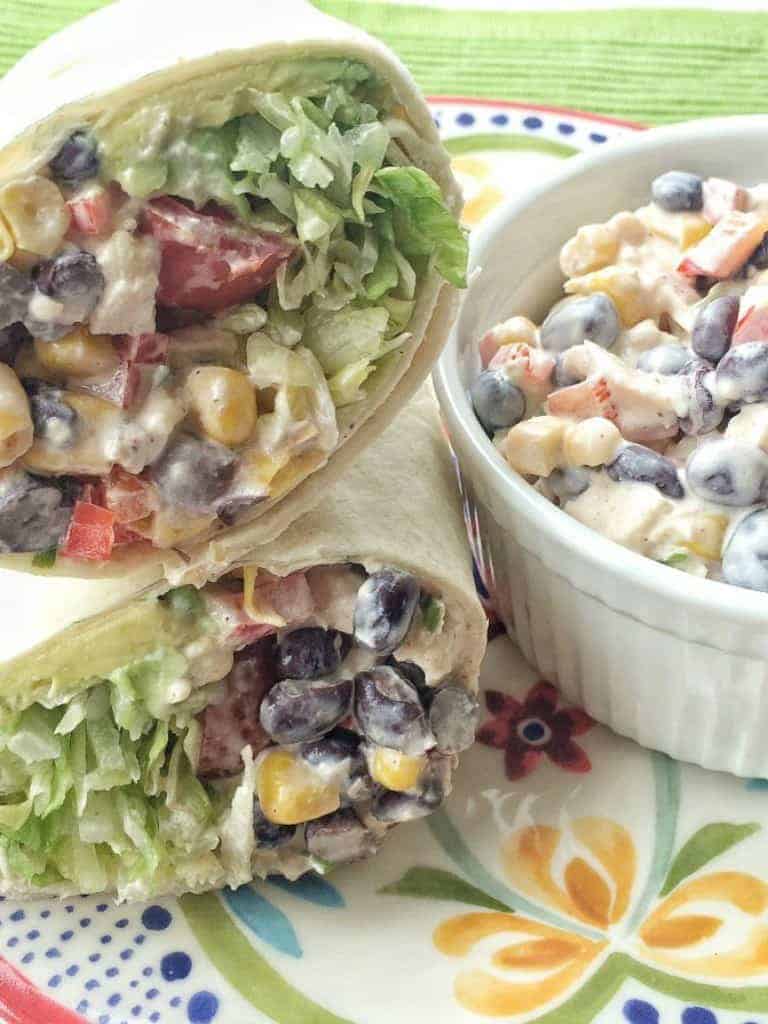 Photo: Togetherasafamily
These chicken salad wraps can be made up ahead of time and stored in the fridge, ready to grab. Or you can keep all the ingredients together in the fridge and just make up these wraps in the morning. See the full tutorial here from Together as a Family.
Greek Pasta Salad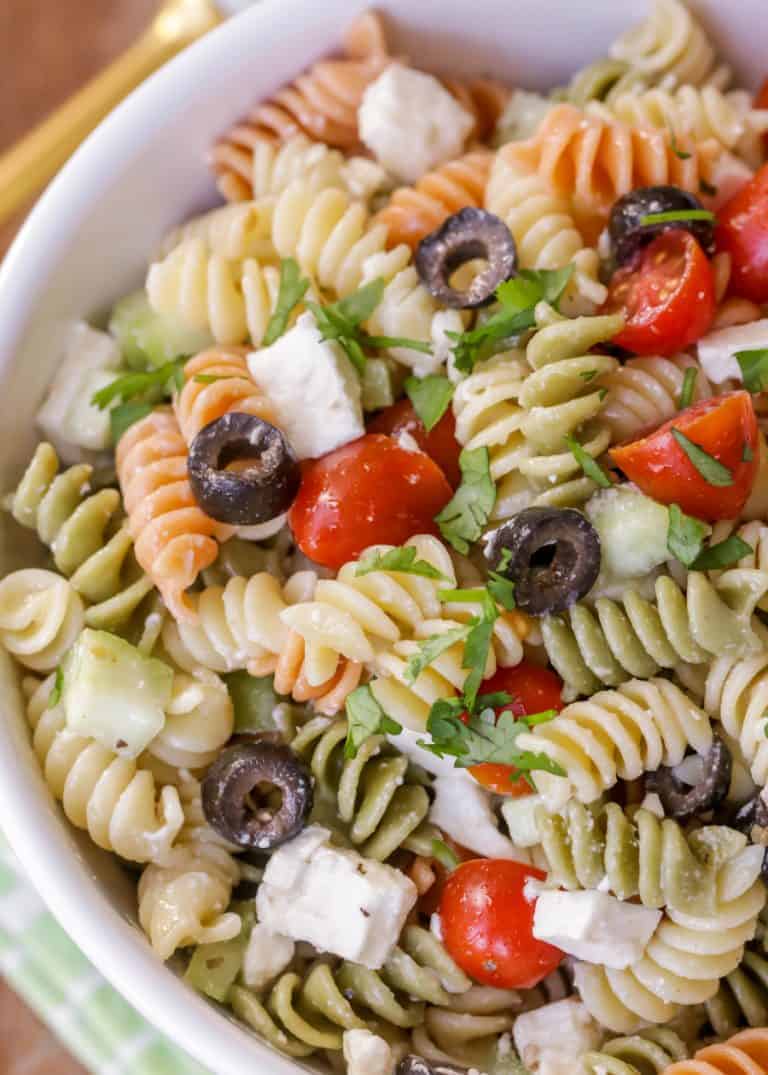 Photo: Lil Luna
Pasta salad are so easy to make up on the weekend, and they can be stored in the fridge until needed. See the full recipe here from Lil Luna.
Honey Sesame Chicken Lunch Bowls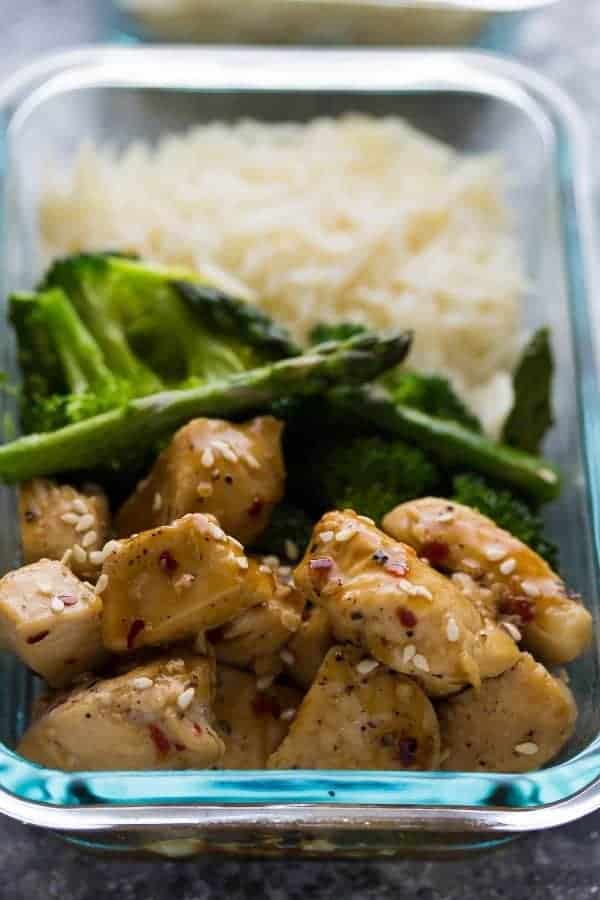 Photo: Sweet Peas & Saffron
These bowls are full of chicken and vegetables, tossed in a honey sesame stir fry sauce. They are delicious and easy to make ahead of time, and can be stored in your refrigerator. Get the full recipe here from Sweet Peas and Saffron.
Greek Chickpea Salad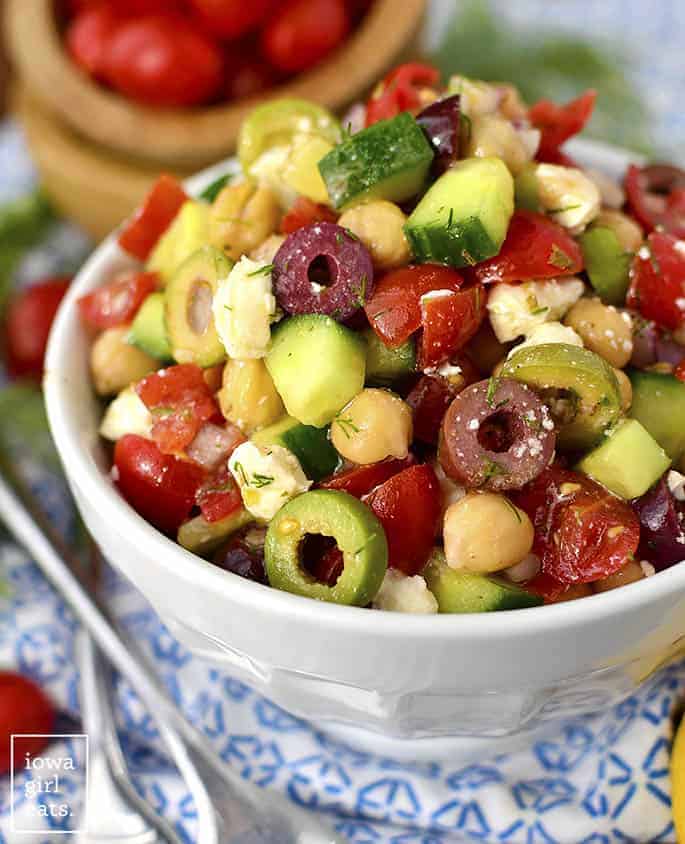 Photo: Iowagirleats
This is full of fresh vegetables and chick peas, tossed in a lemon oregano salad dressing. You could put this salad into containers or mason jars, then store in the fridge until ready to take to work. Get the full recipe here at Iowa Girl Eats.
Chickpea Egg Salad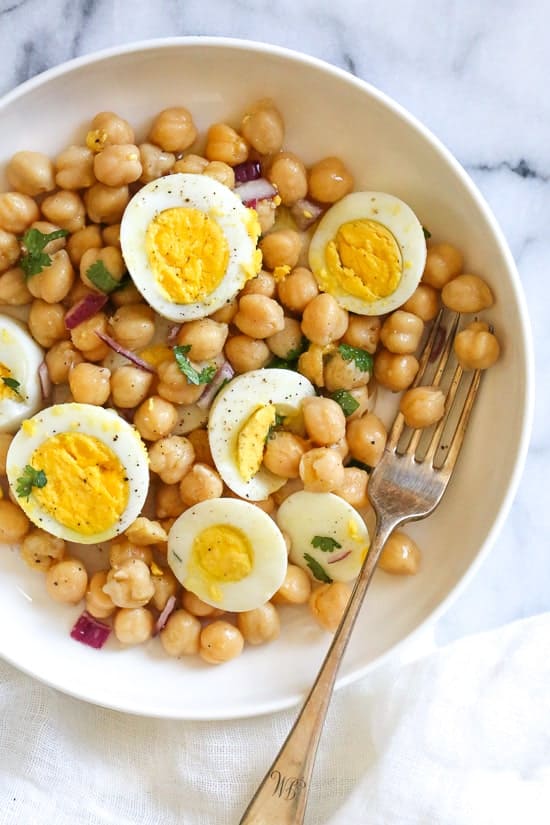 Photo: SkinnyTaste
This lunch is loaded with protein an fiber, and is gluten-free and dairy free and vegetarian, although so tasty meat eaters will love this too. Get the recipe from Skinny Taste here.
Greek Couscous Salad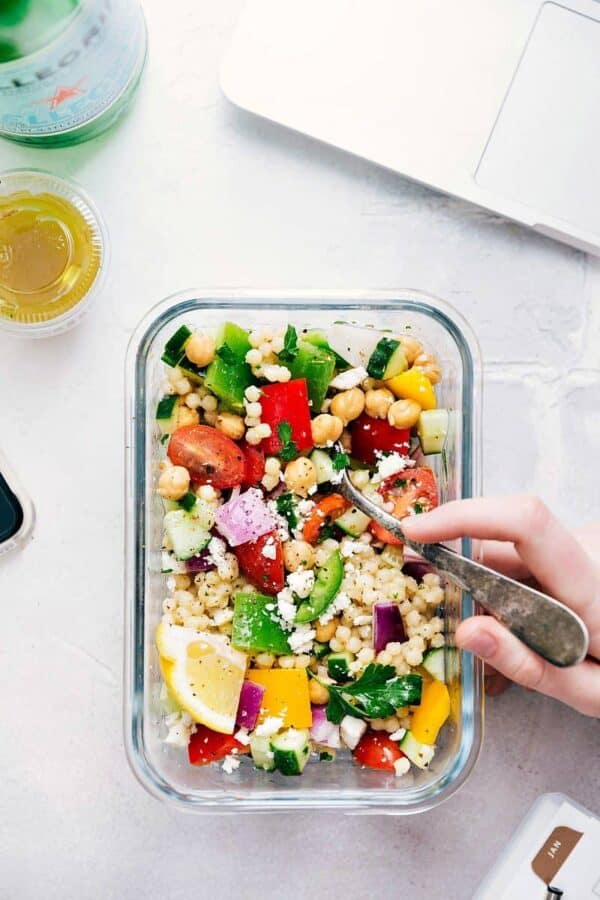 Photo: Chelsea's Messy Apron
These salads can be meal-prepped ahead of time and several salads made at once, then just kept in the fridge for your work week. These salads are really tasty and very healthy, which means not only will you have salads for lunch to hand easily, but they are good for you too. Get the full recipe here at Chelsea's Messy Apron.
Shrimp Taco Bowls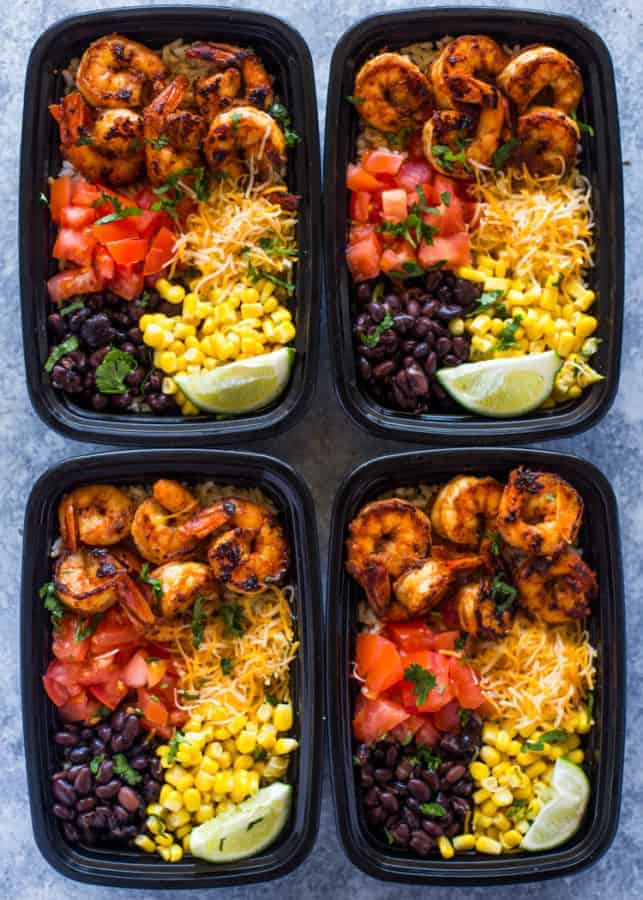 Photo: GimmeDelicious
These taco-spiced shrimp bowls are loaded with beans, cheese, tomatoes, brown rice and corn. A very tasty lunch for your week! Get the recipe here at Gimme Delicious.
Teriyaki Salmon and Vegetable bowls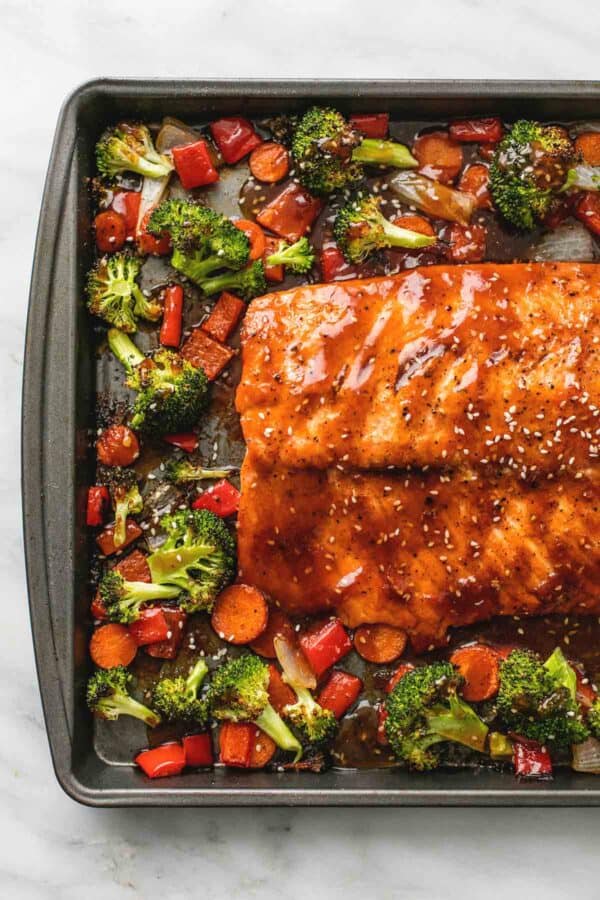 Photo: CremedelaCrumb
Make this sheet pan recipe for Teriyaki Salmon with vegetables at the weekend, then make it into several meal bowl portions for lunches. Easy to just heat up in the microwave at work, and a good protein meal for lunch. Get the full recipe here at Creme de la Crumb.
Check out our Pinterest board for more great recipe ideas!