This is a review of the Living Well Planner. It is a detailed review so that you can decide if the Living Well Planner is the right planner for you!
This is a long detailed review of The Living Well Planner. If you don't have a lot of time to read through this entire article, just scan down through the sections below for the important information that you need!
Note: I have a special discount coupon for you if you want to order the planner for $5 off! Click here for that coupon!
The Living Well Planner is a mammoth planner for anyone with a busy life. It packs a lot into one planner, with large monthly sections to really plan out every day of your month, set your goals, and track your progress on goals, projects and everything that you need to do each and every month.
The Living Well Planner is offered by Ruth Soukup and the Living Well Spending Less team. Ruth Soukup is the business owner behind many productivity help materials, a website, and also runs a highly successful blogging course.
The planner itself is a hard cover, spiral-bound brightly colored planner. It is attractive to look at, and is fully packed with calendars and numerous planning features.
The planner is of extremely high quality with thick quality pages, and is well designed and thought out. This is not a lightweight planner!
This post contains affiliate links. Click here to read my disclosures.
Overview of the Living Well Planner
The Living Well Planner does not have sections as many planners do. Instead it is split into months, with numerous sections within each month, such as various calendar views, goal tracking and more (see the section below under The Living Well Planner Calendar and Monthly Sections for a breakdown of the total contents of each monthly section.
Who Would Benefit from a Living Well Planner?
Busy moms, business owners, anybody with a busy life with many different responsibilities and demands on their time.

Anyone who loves using a paper planner over an electronic one

Anyone who likes to see all they have to do out in front of them, all in one place

Anyone who needs to keep multiple sources of information to hand in one place, such as their calendar, to do list, expenses, budget and more
Who the Living Well Planner would not be good for
Anyone who hates writing out things, this planner requires you to write a lot in it

Anyone who needs a smallish planner that will fit inside a regular bag or handbag

Somebody who doesn't have a lot of variation in what they need to do in their life, and a lot of demands on their time.

Someone who isn't good at keeping up with entering information into a planner
Pros of the Living Well Planner
Undated pages, so you can start the planner anytime of the year you want to

Spiral binding, so the planner will lay flat allowing you to write in it more easily

Beautiful cover choices, so it looks attractive to use

Hard solid cover, so it will be protected from much wear and tear

Numerous calendar views – monthly views, daily views, and weekly plans

Monthly expenses and budget tracking per month

Plenty of room to write in all you need to do, and when you need to do it

Perfect size for a desk planner

Handy stickers to make special events and notations stand out more

A bumper mega planner for really busy people

High quality paper pages
Cons of the Living Well Planner
The planner is fairly large and heavy, which may make it hard to carry around with you in your bag

If you don't want to write out a lot, you won't like this planner

If you don't have a lot of responsibilities, demands and tasks that you need to do overall in your life, this planner will be overkill for you.

The pages are undated, so if you don't want to write in all the dates for the year ahead, you may not like this.

If you prefer an electronic calendar, this will not be for you

If you need to share information among different family members, choose an electronic calendar format instead

The price can be a little high for some people. That is why I only recommend this planner if you need a very heavy duty planner, otherwise you won't get your money's worth. But if you follow this link here you will get $5 off the price!
The Living Well Planner Size
The Living Well Planner isn't a small planner. If you have a large bag that you tote around with you every day it may fit inside that. But it is more of a desk calendar by it's size. It is also a little heavy, with a solid hard cover, so will weigh a little to carry it around with you.
The Living Well planner Binding
The planner is spiral bound, which makes the pages easier to turn, and also allows the planner pages to lay flat for much easier writing and entering information.
The Living Well Planner Cover and Back
The cover and very back of the planner are very sturdy hard cardboard. It would not be possible to bend these covers, and they would resist most everyday wear and tear. There are also metal edges on the very edges of the cover and back, which means they won't get dog-eared and folded back.
The inside of the front cover has a handy pocket. Both the inside of the cover and inside of the back cover have lined paper. You could either use this for your own notes, or you could even create a collage of sorts and completely personalize inside the front and back of your planner.
There are 3 different cover options for the planner. A color striped version, colorful floral version, or a newly released plain navy version.
The Living Well Planner Calendar and Monthly Sections
The monthly sections contain action pages as well as traditional calendar pages. Each month has a divider tab, which is color coded and sturdy. Every month you have pages to write out:
Monthly Goals. What your motto statement is for the month. Your top goal for that month. Your big three goals that month, and goals for all areas of your life – including personal growth, fun & recreation, health and fitness, home improvements, and finance goals.
Goal Crushing. This breaks out your big goal into bite sized action pieces. You claim your target goal, and write out steps to reach that goal. Perfect for smart goal planning.
Project Planning. Important dates & milestones for your project. Must do items for that project. Notes and ideas and a section on brainstorming.
Month at a Glance. This gives you a month at a glance overview of the entire month, split over 2 pages. On these pages you can write out your entire month of appointments, tasks and commitments.
Weekly Plans. 4 whole weeks pages of weekly plans, split into time sections per day.
Monthly Budget. Record your entire monthly budget on these sheets. There are categories for everything you need to budget for, including savings, clothing and more.
Monthly Expenses. A page to write down all your expenses for that month.
Thoughts & Thanks. Your reflections on grace and gratitude for the month.
Notes & Ideas. A page to write down all your notes and ideas for the month.
Motivational Quote. Every month starts with a motivational quote to inspire you.
The Living Well Planner Additional Features
Pockets are great inside a planner, and the Living Well Planner has a handy pocket just inside the front cover. This is great for keeping additional papers inside the planner, such as receipts.
The planner also comes with a set of colorful stickers. Those stickers include:
Months

Days of the Week

'Done'

Party Time

Date Night

Important

Big Plans
Using stickers will make certain events really stand out in your planner. These stickers are nice and colorful and will really get noticed.
However if you want to use a lot of stickers, for varying events, you may need to purchase more outside of what comes with this planner, such as these. You can buy additional stickers the same as offered with the planner through the Living Well shop.
What you can use the Living Well Planner for in your Life
Meal Planning
The Meal Planning section of the Living Well planner is based under the Weekly Plans section each month. You can easily record what meal you are serving each and every day, for every week of the month.
There is plenty of space to write out every meal for the entire day, including breakfast, Lunch and dinner.
There is a list section to the right of these pages, where you can record your shopping list for the month. It isn't a very big section, and if you have a lot of groceries to buy, this may not be large enough for you. But you could certainly record the essentials for your monthly grocery shop. You could also record anything you have run out of, so you can keep that information in a handy place.
To Do List
Under the Weekly Plans section there is a small section to write down your 'must dos' for each day.
You can also use the Monthly Goals section to write down your goals for that month.
The Project Planning section contains a to do list for a particular project.
There are plenty of opportunities within the planner to keep to do lists.
Monthly Expense Tracking
The handy Monthly Expenses section within each monthly section allows you to track all your expenses per month.
Monthly Budget
There is a full two-two page spread inside each monthly section especially for budget tracking. The sheets are also split into categories for common budget items. You can record your estimated expense, actual expense and calculate the difference.
Goal Planning
There is plenty of room for goal planning inside the Living Well Planner. Each month you can record your big three goals, your motto statement, and also your goals for every area of your life, including health and fitness, home improvements, finance goals, personal growth goals and more.
There is also a Goal Crushing section, where you can really break down your goal. This is especially good for smart goals – breaking a goal down into sections, to make those goals more manageable and achievable.
Appointment Tracking
If you run a business and see clients, you can use the Weekly Plans section of the Living Well Planner for appointment timing.
Each day is split into times from 6am through to 10pm. Or of course for those using the planner for personal use, this can be used to really get into detail about your day.
Time Block Scheduling
The Weekly Plans section with its time breakdowns can be used very successfully for time block scheduling. If you work well using time blocks this is a great section for you.
General Calendar
With various different calendar views, the Living Well Planner will work really well for you in planning out your days, weeks and entire month.
You can choose from a Month at a Glance View over two pages, and 10 pages of Weekly Plans every month – split down into time increments per day.
Project Planning
If you are running a project for your home or work, there is a section each month just for Project Planning.
This allows you to write down the details of a project, the must dos for that project, a brainstorming section, important dates and milestones for that project, and notes and ideas for the project.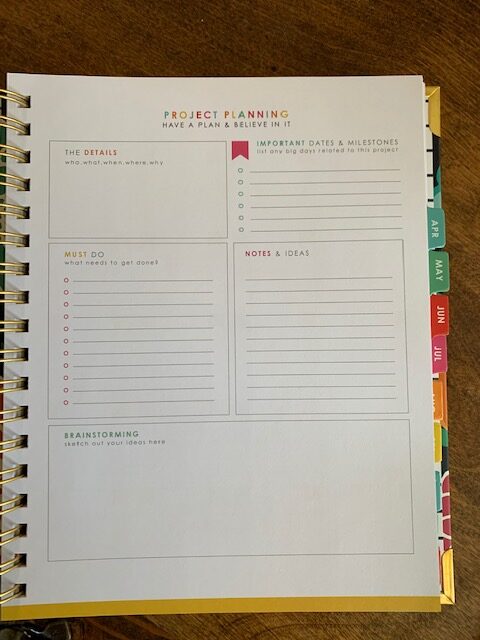 My Conclusion on the Living Well planner
If you have a busy life, with lots of responsibilities, appointments, and things to do, this planner would be perfect for you.
It is a heavy duty, high quality planner, that you can use to record most aspects of your life quickly and easily.
If you need a planner that does more than just let you record what you need to do each day, this planner has so many additional opportunities. With sections to help you meal plan, goal plan, project plan, and more, this is a hefty workhorse of a planner for you.
Don't forget to use your $5 coupon off the full price of the Living Well Planner!