Whenever I visit London I love visiting Liberty's of London. It is my favorite shop in London because shopping there just feels so special, not to mention they have the most wonderful selection of goods and offerings.  Liberty's is a department store on Great Marlborough Street in London, which is just off Regent Street. From the outside it is a Tudor-style black and white wooden building, that looks like it is from another age entirely.
Liberty's Tudor-style building was actually built in the 1920s, using the timbers of two ships.  It is now a beautiful listed building in London.  It was built in the Tudor-style because at the time of its initial building Tudor revival was all the rage. Liberty's has a very unique Art Nouveau style, due to its early collaborations with William Morris.  The fabric and many items it sells feature the designs of William Morris. If you love Art Nouveau and the work of William Morris, you will absolutely love Liberty's. But Liberty's isn't just about William Morris and Art Nouveau, it also showcases the latest in homewares and designs, furniture, clothes, toiletries, food and drink, and much much more.
The entire shop is built around a main light well.  The store was designed to have different 'rooms' for different goods situated all around the light well, to make it feel like you are visiting somebody's home rather than a large store. Lights and chandeleirs hang from the central light well, and the various 'rooms' look out over this central space. A twisting wooden staircase takes you to each floor.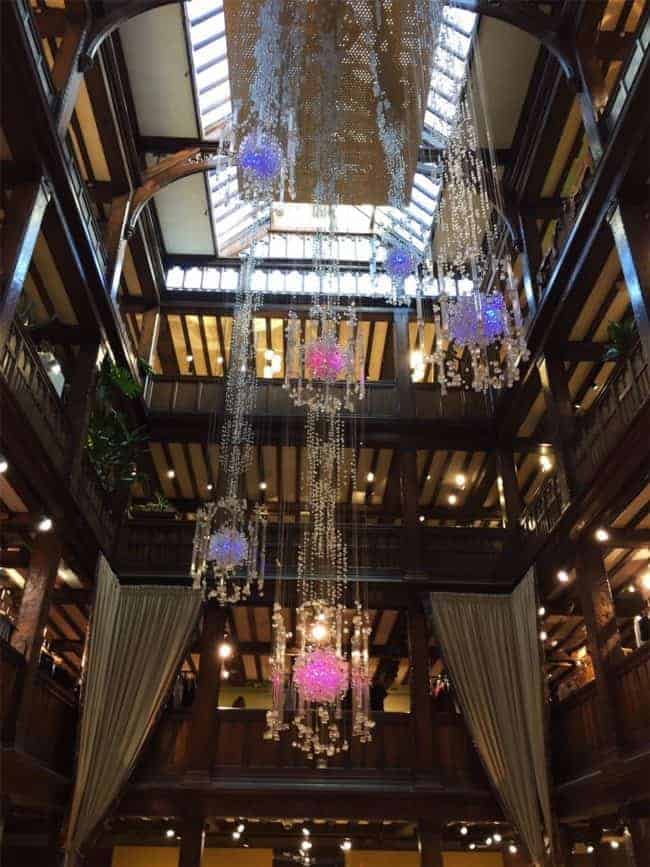 The central lightwell
All of the displays are just so well put together and beautiful to look at, showcasing the goods on offer so well and beautifully.  All the windows and internal spaces act as display showcases. Liberty's also features antiques, so you will find antique furniture and items displayed throughout the store that can be purchased as well as lots of new items.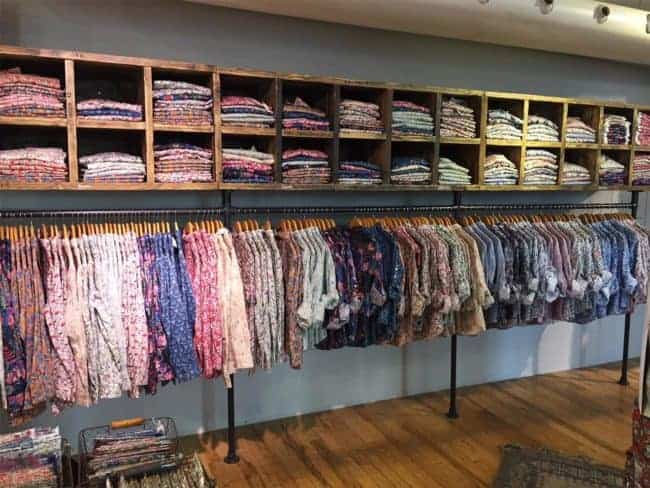 These are all the shirts available in Liberty fabrics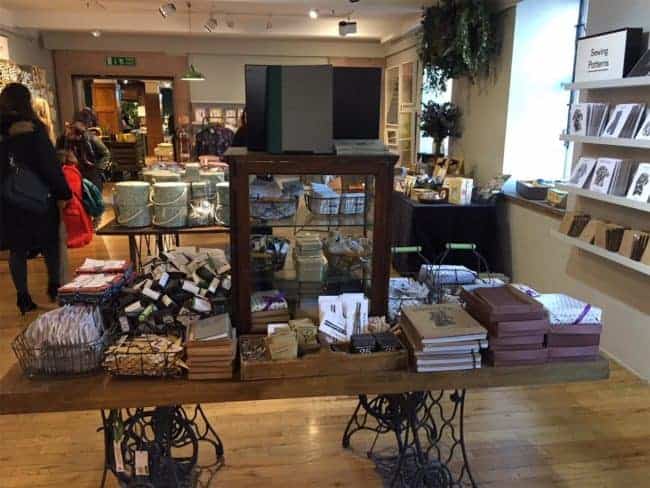 Many of the rooms had fireplaces when the store was originally built (to add to the look of individual rooms), and many of those fireplaces still exist today. The tiles are Dutch Delft tiles.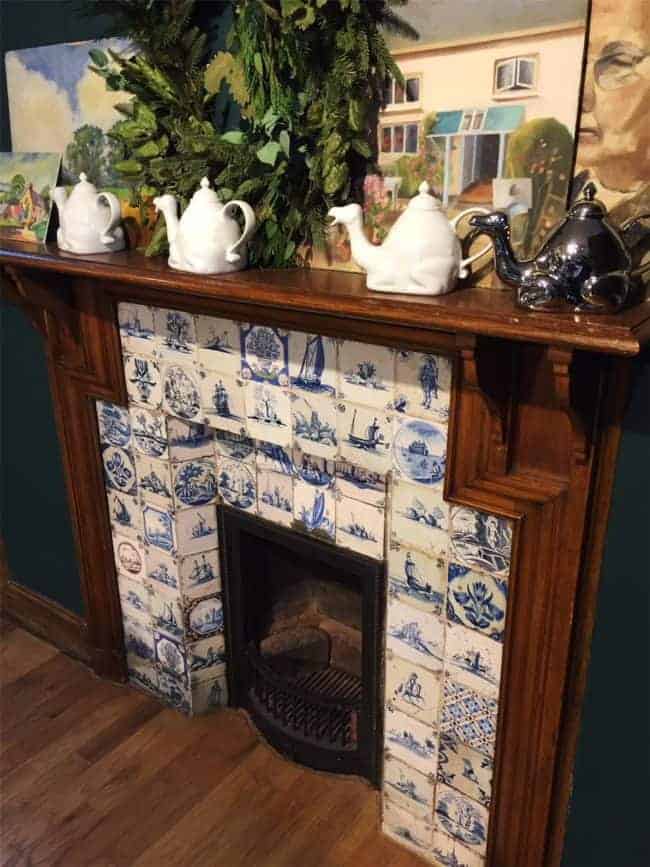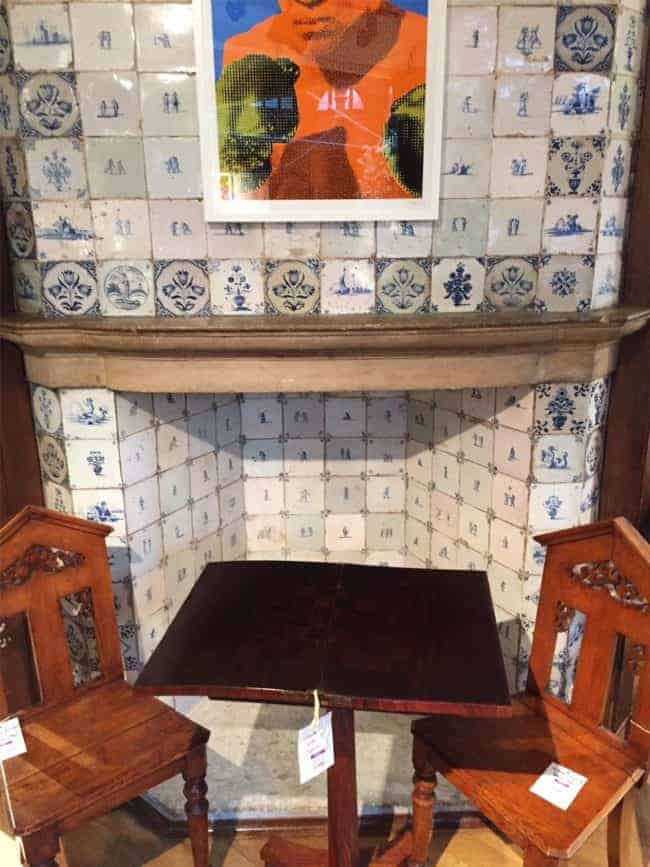 Liberty's features the most beautiful and varied collections of items, just like this selection of Moorcroft pottery that is prominently  and beautifully displayed.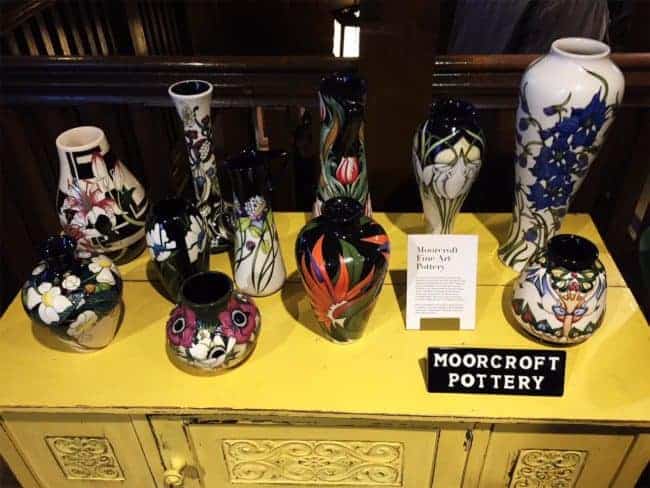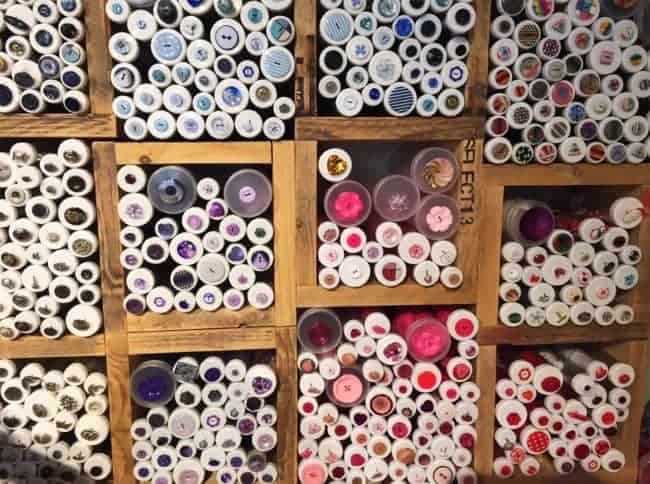 This entire display is buttons.
Liberty's history is always present.  The gorgeous carved wooden staircase that takes you to each floor features a memorial to staff members who were killed during the Second World War.
There are certain items that Liberty's sells which are unique to Liberty's and things you should always consider buying there:
Liberty's notebooks
Liberty's does the most beautiful notebooks.  The designs are iconic to Liberty's and based on William Morris designs.  They are beautiful Art Nouveau works of art! They make great gifts, or just something special to keep for yourself.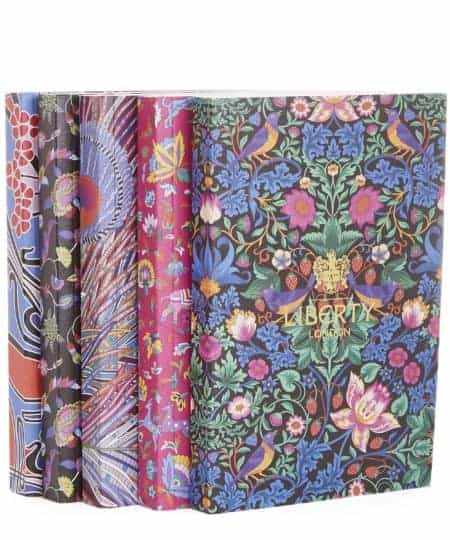 Fabric:
Liberty fabrics are just beautiful and many are based on William Morris designs.  The Haberdashery department sells fabric bundles that allow you to sample and use scraps of famous Liberty fabrics, to use for your own sewing projects.  Much of the fabric is the classic Liberty Tara Lawn cotton, which is so soft.  There are also luxurious silk fabrics, fleece and jersey fabrics, all available for purchase by the yard. The Haberdashery department features sewing supplies, sewing kits, buttons, yarn and wool and so much more.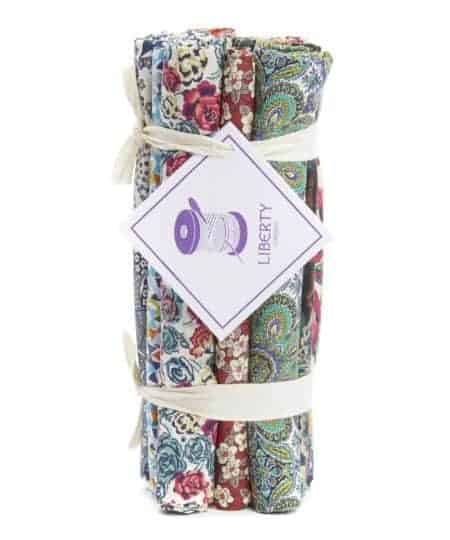 If you want to give somebody a unique sewing project for a gift using Liberty fabrics, there are many beautiful kits available:
Next time you visit London, be sure to visit Liberty's – honestly you won't regret going there and it will quickly become your favorite store too!