Google Calendar is a well known digital calendar. It is also free to use, and incredibly easy to learn and master.
This is why Google Calendar is the perfect digital calendar for your family schedule!
In this post I will show you how to set up family calendars and schedules in Google Calendar to get your family far more organized.
As busy as your family life is, you need a good calendar to keep track of all family members activities, appointments and schedules.
Google Calendar can sync digitally across all your devices, making it the perfect go to calendar wherever you happen to be.
Google Calendar is also so easy to use that your kids can also learn how to use it effectively.
Get your family organized today, by setting up family schedules in your Google Calendar!
Set up or Use Your Existing Google Account
If you already have a Google account, you will find the Calendar in the menu that appears in the top right of your screen. Just click on the icon in the top right with the 9 dots, then click on Calendar (as shown below).
If you do not already have a Google account, you can sign up for one right here.
Once you have gone through the steps, and signed up for a Google account, go into your Google menu (as mentioned above) and go to your Google Calendar.
The first time you use your Google Calendar you will see a blank calendar:
Where the yellow highlight is above, under My Calendars, is where your calendar name will appear. For instance, if your account is set up as Jane Doe, that is what will appear in that highlighted yellow area.
Google automatically sets fields under My Calendar also for Birthdays, Reminders and Tasks.
Related: How to use a Daily Planner Effectively
Add all Your Calendars
You will now need to add a calendar for every schedule you want to have, and also for every family member.
You add a calendar by clicking on the Other Calendars section, which is underneath the My Calendars section.
Click on the plus sign that appears after Other Calendars. It will now give you several options, including Create New Calendar.
You will now see a box to create a new calendar:
Fill out the name of the Calendar you want to create. For instance, you can create a calendar here for all family members. You can also create calendars for things you want to separate off from your main calendar to schedule, such as Meals, Workout schedule, a personal calendar (for you only) etc.
Create a calendar schedule for everything that you want to include.
On the left hand side here, under My Calendars, you can see all the calendars that I created. These include for my kids (let's say my kids are called Johnny and Patty), for my own 'me' time, for family time, meals, and my workouts.
Color Code your Schedules
Now this part is where the magic happens! Google Calendar has a great feature where you can color code all your calendars/schedules. It makes glancing at your calendar and knowing what is what so much easier. It also helps keep you more organized.
When I created all my different calendars, Google actually made it easy for me by automatically assigning colors to all my calendars and schedules. Which makes less work for you.
However, you may want to come up with your own color coding system for all your different calendars and schedules. Perhaps you have a color code already for other things in your life, or you just don't like the assigned colors.
To change or assign colors, just click on the name of the calendar that you want to change. In this example below I have clicked on Patty. There are 3 little dots that will appear to the right of the calendar name, once you click on the calendar name. Click on these dots.
Once you click on the dots, a box will appear of options for colors for the calendar you have selected:
The box will show you the color already assigned to that calendar. In this case it is a red color (indicated by the check mark). You can either keep the color choice by leaving it alone, or you can click on another color to assign that color instead.
If you click on the plus sign in the grey circle right at the very bottom of the color choices, it will bring up a complete spectrum of colors to choose from:
If you know the hex code of a certain color you can insert it there also. This is especially useful if you are using the calendar for a company with certain branded colors. (A hex code is a 6 digit code that is used by designers to identify certain colors exactly).
Obviously this is veering slightly off track to just creating a Google Calendar, but by including this part I wanted to show you some other features to actually show you how functional and full of options the free Google Calendar really is!
Viewing your Schedules
Color coding makes your calendars and schedules so much easier and organized. Take a look at the view below which shows a week color-coded:
As you can see from the calendar above – at a glance I can see easily what is on my schedule for that week. I know that everything my daughter Patty does is in red, everything my son Johnny does is in yellow, my social events are in pink, family time is in turquoise, and my meals for the week are all indicated in purple.
How to Add Events to Your Calendar
It is extremely easy to add events and time blocks to your calendar.
Just click on the Create button in the top left hand corner: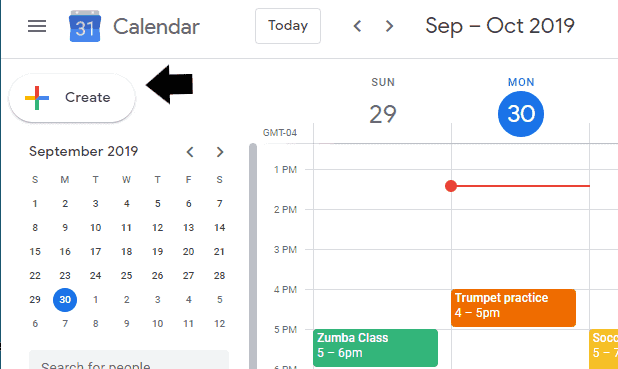 A box will come up allowing you to create the event or time block:
As you can see, it is pretty self explanatory. You add the title of the event/block and schedule the times. You can add it as an event on a calendar, or as a reminder or a task. You can also add a location should you need to, and a description for more information. At the bottom of the box you can assign it to a particular calendar or schedule.
Create Time Blocks
Creating time blocks is a great way of prioritizing time and your productivity. For instance, if you are working on a particular project you could assign a time block of 2 hours every weekend to work on that project. That way that time is assigned and you will see it pop up on your calendar so you can stay on track.
You could also create time blocks for morning, afternoon and evening on your calendar to make them stand out.
To create a time block, just create them in exactly the same way you create an event – using the Create button.
My Tips for Making the Most of your Calendar
Always leave some white space. Don't have your calendar scheduled for every minute of your day. For instance, if you have a particular meeting at 1pm that ends at 2pm, then another thing to do at 2pm, you are not leaving yourself much wriggle room.
Putting some white space around appointments and tasks, gives you some time in case things run over or run late. They also don't make you feel so rushed and overwhelmed.
Sit down and schedule out in advance. If you can give yourself a block of time to setting up your Google calendar, do it! Fill out birthdays, anniversaries, known events and special dates etc. That way your calendar is all set going forward!
A Schedule isn't to keep you busy, it is to keep you organized. Just remember that! You don't need to be assigned doing something every minute of the time. Free and nothing time is good too! It is just to keep you organized and on track!
I hope that this guide to setting up Google Calendar to create a family schedule was incredibly useful to you.
Need more productivity and time management tips? Check out some of my other posts:
How to Set Goals you will Follow Through on
Meal Planning 101 for Beginners
Google Calendar is a well known digital calendar. It is also free to use, and incredibly easy to learn and master.