You may hate your mornings right now! They may be crazy busy and so stressful. But they don't have to be that way at all. See tips and suggestions here for setting up a productive and less stressed morning routine!
Your mornings may be crazy busy and stressed right now. You may be getting yourself and other family members up, fed, and out the door.
You may be rushing to do a job outside the home, trying to beat the traffic and get to work on time.
Whatever your mornings are like right now, they don't have to be so stressed and unproductive.
See my tips and suggestions here for making your mornings more perfect and stress-free!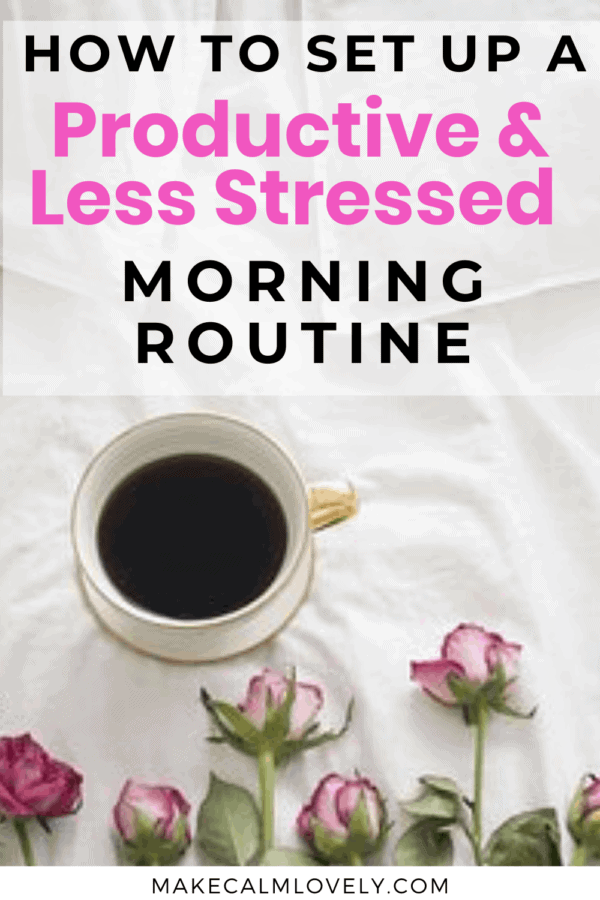 This post contains affiliate links. You can read my disclosures here.
What is the Perfect Morning for you?

Before you start a plan of changing and improving your mornings, think about what a perfect morning would actually be for you.
Is your idea of a perfect morning having some time to yourself before the rest of your house gets up – to drink a cup of coffee and check your email?
Is a perfect morning everybody getting up on time, having everything together for work and school, and leaving the house on time?
Think about what you see as your ideal perfect morning, and consider what you need to do to get there.
Identify the Paint Points in your Mornings
What are the pain points and the things that don't run smoothly in your morning right now?
Write a list of the things that really affect your mornings right now. Include everything that causes you stress, and everything that causes you to be late. Write down everything that is a problem in your mornings.
Your list could include all, or some of the following common morning 'problems.'
Hitting the snooze button and not getting up on time
Having to make lunch for everybody
Having to make breakfasts for everybody
Not being able to find your things, mislaying items
Your children not being ready for school and daycare
Everyone's list will be different. So make a list of all the things that really don't work in your morning right now, and your family's morning.
Start to Take Action
Once you have identified what is causing stress, anxiety and pain points in your morning right now, you can start to take action to correct those things and make them better.
For instance, if you are always late for work, what is making you late? is it because you had to make breakfasts and lunches, then drop your kids off at school and daycare?
If making those breakfasts and lunches is costing you valuable time in the morning, consider making lunches ahead of time the night before, or paying for your kids to have a school lunch instead.
Identifying all those pain points and problem areas is mandatory to changing and making your mornings better.
Meal Planning 101: Get all Your Meals Made up Ahead of Time!
How to make your Mornings More Productive
Get up on Time

I know that many women I talk to state that their mornings are worse because they keep hitting the snooze button. That is understandable – they are tired, probably didn't get enough sleep, and that extra few minutes was what they thought they needed.
But hitting the snooze button is only hurting yourself. Having to rush around because you hit snooze is only adding to your stress and anxiety. Make it a point to get up when the alarm goes off.
If it is just too easy to hit your snooze button, consider getting an alarm clock such as this one, that will make you actually get up to turn it off!
Get up Before Your Family

Once your children are up in the morning, the morning is just a whirlwind with so much needing to be done, mouths to be fed, and everyone needing your attention.
If you get up prior to your children you have quiet time to actually focus on things, to actually think about the day ahead, and to perhaps do something that you want or need to do.
This may mean getting up much earlier than you want to, but if it makes your mornings easier, and you less stressed, it will be worth it.
Have a Plan for the Unexpected

Building additional margin time into your morning can help with unexpected things cropping up. Anticipate problems that might happen/occur and plan accordingly.
If you build in an extra 15 minutes or so into your morning for instance, if something happens unexpectedly (and let's face it when you have kids that can happen all the time), you will have a little more time to deal with it.
Eliminate Time Wasters and Distractions

You may want to set guidelines for your children for the morning. For instance, if you allow them to watch TV but then they zone out and don't pack their backpack and laze around, then perhaps not allowing TV before school is a good thing to do.
Or you could use letting them watch TV as a reward for when they do have everything they need to do done.
Serve Easy Breakfasts

Either prepare breakfasts the night before or meal prep breakfasts ahead of time, or choose easy breakfasts to serve. See easy breakfast ideas here.
Some easy breakfast ideas are:
Cereal with milk
Muffins
Hard boiled eggs
Fruit
Yogurt
Frozen pancakes and waffles
Get a start on your week with Sunday prep and make your weeks run far easier!
Start Your own Day the Right Way
You have a busy day ahead of you, so start the day right for you. Try to set up a healthy start to your own day.
Drink Water
Most people don't drink enough water throughout the day. Having a long cooling glass of water when you first wake up sets you up hydrated for the day ahead. Make it a habit to drink a glass of water first thing in the morning.
Eat a Healthy Breakfast
As busy as you are, you may be tempted to skip breakfast, or just grab something on your way to work.
But breakfast really is the most important meal of your day. it is possible to have a healthy breakfast that is fast to make and assemble.
Easy breakfasts include things such as hard boiled eggs, granola, fresh fruit, and yogurt.
Essential Tasks for Your Morning

Make Your Bed

I swear by making your bed in the morning. This doesn't have to be too hard or time-consuming. If you have a quilt just pull it across the bed, place and fluff the pillows and that is it. Teach your children to make their beds too once they are old enough.
Why this matters: It is far nicer to get into a bed at night that is made, rather than a messy bed. It teaches good habits for children, and gives your home a sense of order. Plus it sets you up for a better night's sleep.
Take out the Trash

Even if you are rushing around it shouldn't take you more than a few minutes to take out the trash. You don't want to come home in the evening to the smell of trash in your home.
Review your Day Ahead

Grab a cup of coffee or tea (or whatever your morning drink is), and sit and review your day ahead. Make out your Daily To Do list (as I mentioned this should just be a list of the few things you want to achieve that day).
Just because you are busy and have many people to take care of, doesn't mean that your mornings have to be as crazy as they are now. Just taking a few steps to making your mornings easier can make a huge difference. You will be less stressed and anxious, less rushed, and you just won't feel so frazzled.
You may hate your mornings right now! They may be crazy busy and so stressful. But they don't have to be that way at all. See tips and suggestions here for setting up a productive and less stressed morning routine!