This stunning houseboat which is moored on the Embankment in Chelsea, London, on the Thames, has a total of 1,991 sq.ft of space.  It is a beautiful and luxurious home, and you won't believe this is a houseboat! Imagine living in a luxurious house, then stepping outside and dining and entertaining with a view over the Thames and the lights of London!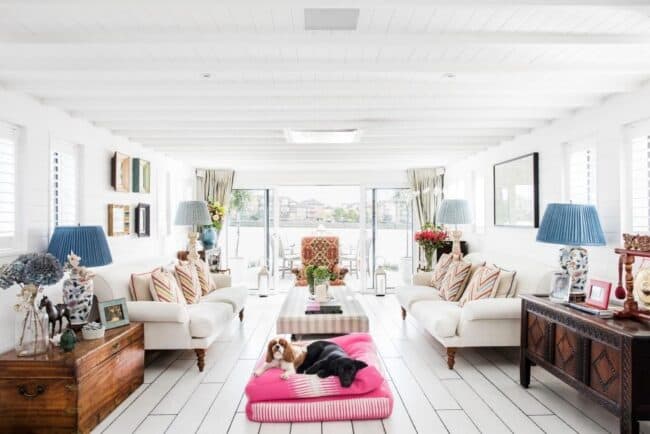 Photo: River Homes
The upper level of the boat has an open-plan kitchen, dining and sitting room, which lead out onto a heated external deck area – which is absolutely perfect for entertaining.  The sitting room is also a cinema, and has the projector and a screen concealed within its ceiling, all ready for use when required.  The upper level of the boat has a TV snug.  The lower level features 3 big en-suite bedrooms, including a master suite which has a super-king size bed which looks out on views over the river Thames itself.  The master bedroom also has a large dressing room and a separate bathroom which features his and hers washbasins, shower and a large bath.
Does this look like a houseboat to you!!
Photo: River Homes
Photo: River Homes
Photo: River Homes
Photo: River Homes
This is the sitting room with the concealed cinema!  The screen and projector are tucked away until you are ready to use them!  Imagine watching movies in here!
Photo: River Homes
Photo: River Homes
Photo: River Homes
Photo: River Homes
This is the outside deck area where you can dine and entertain, whilst looking out over the lights of London! Imagine inviting friends over for a night looking out at this!
The houseboat also features gas under-floor heating, mains electricity and filtered water.
The boat is currently being let fully furnished by River Homes.
See the full listing for this houseboat here.
Homes Snoop is a feature by Make Calm Lovely where we feature houses we are loving!  We are fully into 'property porn,' – we love to drool over properties featured on various property websites online.  If you are like us and just love looking at real estate listings online then this feature of our site is totally for you! Or if you are actually looking to buy a property this will of course be useful to you.  Properties from all over the world will be featured.  But please note: we are showing you these listings for information and to drool over only. We have no connection to any of the property websites featured, and we have no experience or expertise in real estate listings.  We  have not personally visited any of these homes!