Have a very Hygge Christmas!
Create a cozy Hygge Christmas with our tips and suggestions. Christmas is the perfect time to practice and enjoy Hygge!
Hygge (hoo-guh) is all about being content, cozy and enjoying the simple and small things in life. This Danish word and way of life is hard to properly explain. It is best defined as how you feel when you do something.
Hygge is about being warm and cozy. It is about being with friends and family, or alone. It is about having a cozy home and room, doing cozy activities, and just enjoying the simple things. Hygge is a way of doing things and how you feel doing those things.
Christmas is the perfect time for Hygge. Because Christmas (should be) all about being with people you love and like, good food and drink, cozy indoor activities, and feeling warm and content.
So many of the things that we all love about Christmas are also so beloved of Hygge. This includes candles, real fires, warm sweaters, and hot soothing drinks.
Hygge is about being warm inside when it is cold outside. It is about enjoying food and drink that warms and fills us. It is about gatherings of people, and enjoying simple pleasures and traditions.
Really there is no end to the Hygge you can create during the Christmas season. Winter is the very best time for Hygge, as it lends itself to the feelings of warm and cozy that we feel inside, when the weather is cold and it is dark outside.
Here are some suggestions for creating a Hygge Christmas this year!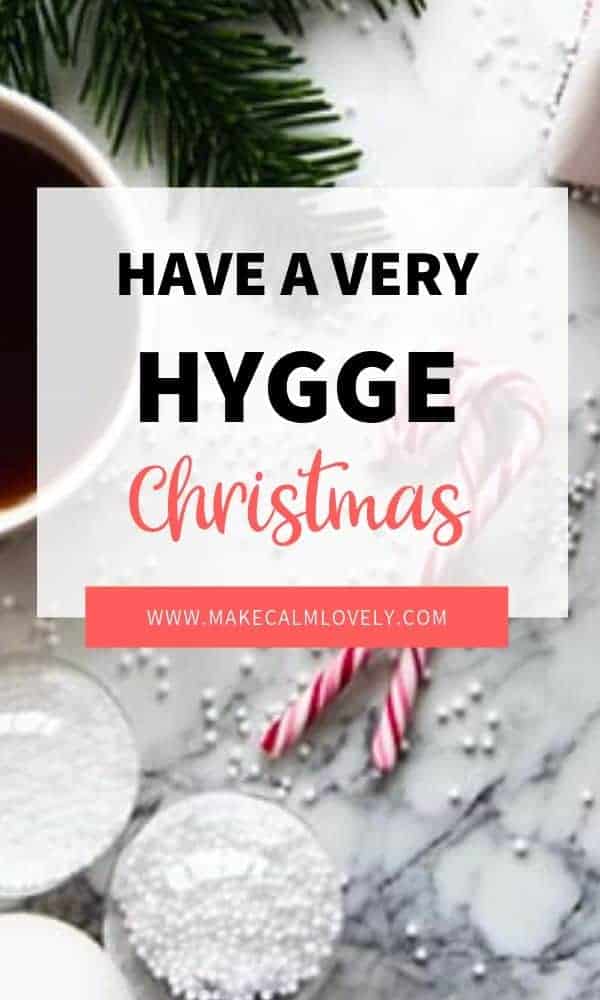 1. Candles and Lights
Candles and lights are so perfect for both Hygge and Christmas. They create a warm glow. Candles give off a glow and make your home smell lovely. Lights put out a glow and liven up something dull.
Your Christmas tree is the perfect place for lights. String lights all around your Christmas tree. There is nothing more beautiful during the Christmas season than turning off all your other house lights, and just sitting looking at a lighted Christmas tree.
Light candles on your mantlepiece, and on your coffee table. Buy candles that have the scents of the season. These include scents such as cinnamon, pine, cranberry, and berries.
Turn off your electric powered lights and enjoy the soft glow of candles instead. They create a more mellow, cozy light, instead of the brash electric lights.
2. Baking
Baking is the perfect thing for Hygge and Christmas. Not only is it enjoyable to bake and spend time creating something, it also makes your home smell pretty wonderful!
Baking Christmas goodies, such as gingerbread, cookies, and more will put wonderful smells all around your home.
You can share your baking with your family and guests. Any entertaining is so much better with good food and drink.
Make baking a big part of your Hygge Christmas.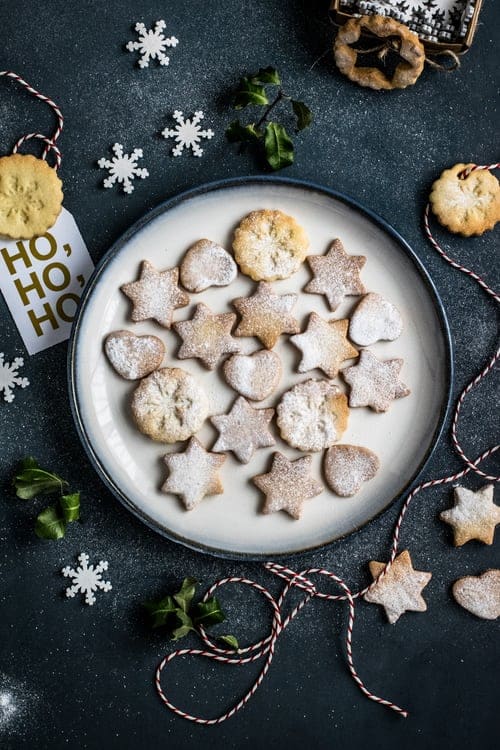 3. Bring the Outside In
Nature is a big part of Hygge. Nature is also so prevalent throughout the Christmas season. It is the one true season when we don't think twice about bringing a tree indoors!
Having a Christmas tree is one of the most wonderful ways to bring nature into your home. Looking at nature and the outside creates calm thoughts and feelings in us.
If you feel bad about having a real Christmas tree – and really there is nothing so special as having that real tree up at Christmas time with its special smell, consider buying a tree with a ball root, so that you can replant it after Christmas.
Wreaths are also a wonderful way of bringing the outdoors in. Place a wreath on your front door, on your mantlepiece, and anywhere else in your home you want some greenery. Wreaths are easy to make with just a few pine branches.
You can be as minimal as you want to with featuring nature indoors. Just a few pine branches in a vase on your table can instill a wonderful sense of the outdoors and nature.
4. Make your Home Cozy & Comfortable
Hygge, and Christmas too, is all about being comfortable and cozy.
Warm and cozy blankets and pillows are perfect for scattering over chairs and sofas. Curl up in a blanket to watch TV on dark nights. Curl up in front of the fireplace with a good book, wrapped in a warm comfortable blanket.
Make your home look cozy and inviting to others. Turn down the lights, light candles, provide great food and drink.
Your home is the number one place for Hygge, so make it warm, cozy and inviting.
5. Do Cozy Activities
Cozy activities that you do alone, or with friends, are perfect for Christmas Hygge. There are so many great cozy activities to do at Christmas time, alone or with others.
Invite friends over and play board games in front of a roaring fire. Drink mulled wine and eat Christmas cookies!
Cozy up in a warm blanket and watch Christmas movies on your sofa. Lay on your sofa draped with a blanket and read a great book!
Baking is a great cozy activity, as are DIY crafts and projects.
Christmas activities such as writing out your Christmas cards and wrapping gifts are good cozy Hygge activities. Light candles, switch on Christmas music, and write out all your cards for friends and family. Wrap and label your gifts and enjoy the moment.
6. Play some Music
Christmas music really lends itself to Hygge. Relaxing Christmas songs, such as Frank Sinatra and Bing Crosby, played in the background will really contribute to that warm cozy Hygge Christmas feeling!
7. Wear Cozy Clothes
The clothes you wear are so important to feeling cozy, warm and content.
It is ok to wear your pyjamas all day if you want to, while laying on the sofa reading a book or watching a movie!
Wear clothes that are warm (but not stifling), comfortable and that feel good. Wool sweaters, warm knitted socks, pjs and sweatpants are all ok!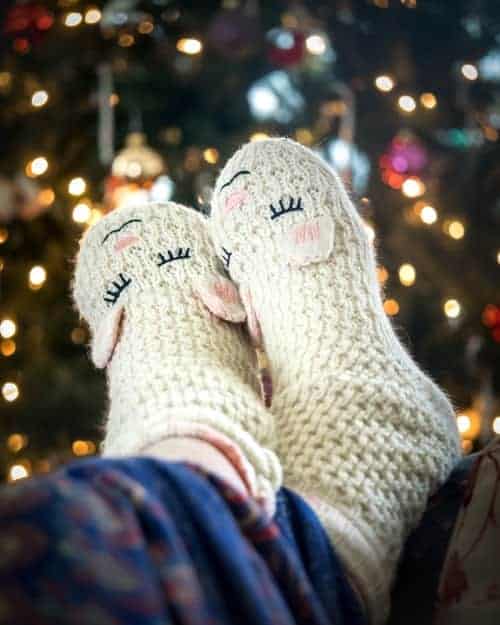 You may also like our Christmas posts:
Unique Alternatives to Christmas Trees
Fun & Easy DIY Christmas Ornaments
Christmas Baking you can do Ahead of Time
Create a cozy Hygge Christmas with our tips and suggestions. Christmas is the perfect time to practice and enjoy Hygge!