During the Christmas holidays I love displaying Christmas themed prints and pictures all around my home.
I always feel that Christmas and the holidays gives us an excuse to go "all out" and decorate every corner (and wall) of our homes!
Christmas prints can really make your walls look great and festive. These prints are also all instantly downloadable from the online Etsy store.
Here is a selection of my favorite prints that I have discovered on Etsy for the holidays. Download them immediately and decorate your home the best way!
This post contains affiliate links. You can view my disclosures here.
1. Merry Christmas Prints
These Merry Christmas prints are just perfect for your home's walls during the holiday season.
This is an instant download of 10 JPEG format prints. Just print them out and frame them! You can get these prints right here.
2.Christmas Tree Printable Wall Art
This pretty Christmas Tree wall art print will make any wall in your home look festive and fun.
It features a whole load of Christmas trees, in gold, black and white. You can buy the print right here.
3.Reindeer Names Print
This fun reindeer names print is sure to put a smile on your guests faces when they visit you!
This print features all the different reindeer names, including Dasher, Comet, Cupid, and Rudolph of course! You can download the print instantly right here.
Related: Download this Free Christmas Tree & Truck Christmas Print!
4.Joy Christmas Print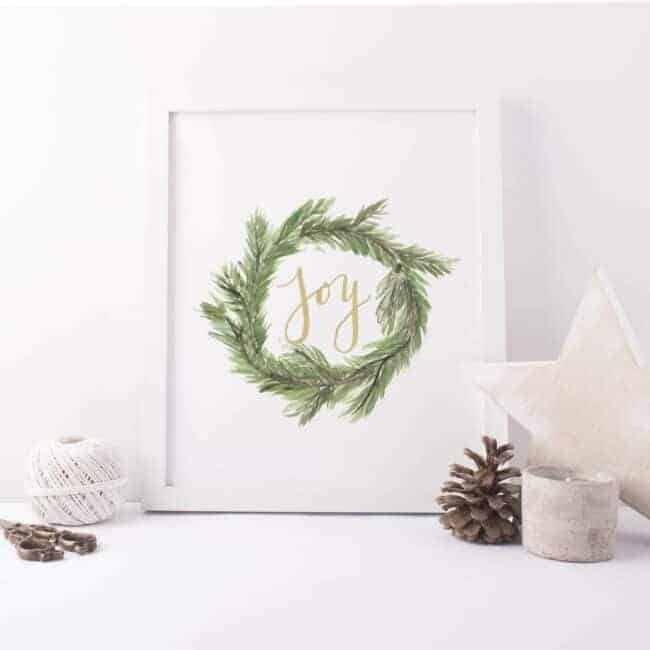 This beautiful Christmas print, that simply says "Joy" will be a treat for your walls.
Again this is an instant download, so you can instantly make your home's walls beautiful during the holidays! You can download the print right here.
5.Scandinavian Tree Print
This is such a pretty Scandinavian tree print, that is so pretty you could even display it year round.
This is an artist grade watercolor print, once again available for instant download. You can download it right here immediately.
6.Set of 3 Christmas Printables
This set of 3 pretty Christmas printables is full of color and fun. The 3 prints are the perfect way to add festive color to your home this holiday season. .You can download the prints right here.
7. Have Yourself a Merry Little Christmas
This pretty Have Yourself a Merry Little Christmas print is so simple, yet beautiful.
It is an 8×10 watercolor calligraphy instant download print, that you can get right here.
8. The Most Wonderful Time of the Year
Christmas is the Most Wonderful Time of the Year, and this lovely black and white chalk style print will let everyone know that! You can get the print right here.
9. Holiday Nursery Print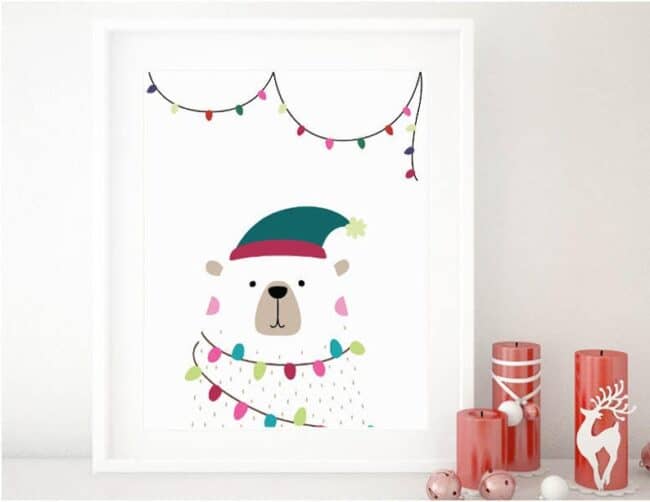 This lovely print is perfect for a kids room or nursery.
This cute bear Christmas holiday printable will look great on any kids wall! You can get it right here.
10. Merry Christmas Print
This Merry Merry Christmas print is bright and colorful for a modern Christmas look to your walls. You can get the instant download right here.
Make your walls bright and festive this holiday season, with these gorgeous instant downloadable prints!
You may also love these Christmas and Holiday posts:
IKEA Christmas Hacks for the most Wonderful Time of the Year
Food Gifts to make for Friends & Family This Christmas