Never Forget a Password Again with this Free Printable Password Keeper!
The majority of websites today want you to create an account, but with so many websites and so many accounts how on earth do you keep track of it all?!
I was constantly searching around in various notebooks, and trying to locate those pieces of paper where I had scribbled passwords and usernames for various websites.
Not to mention having to go through the whole forgot my user name/forgot my password email sequence, and then having to ultimately reset everything. It is enough to drive you absolutely crazy!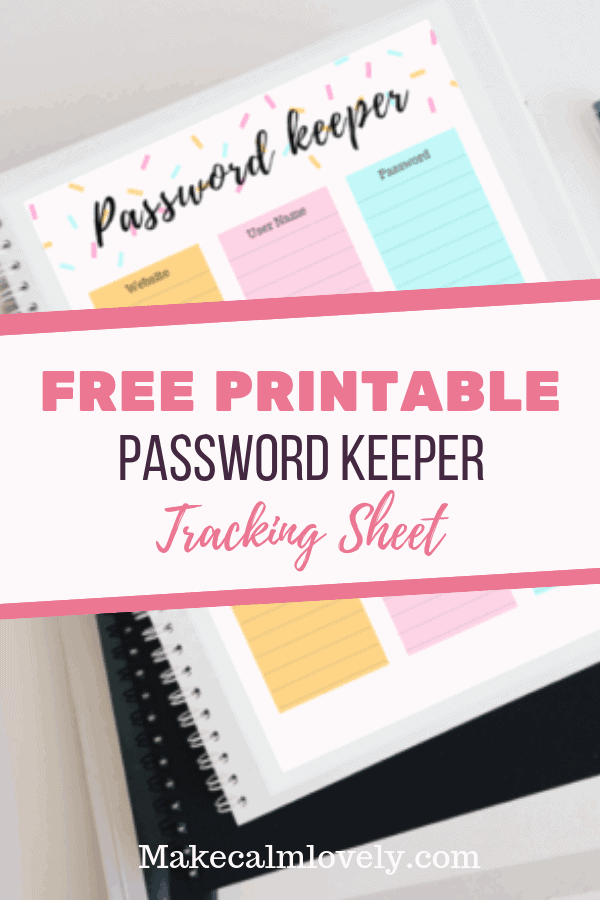 I came up with this Printable Password Keeper tracking sheet to make my life easier, so I want to share it with you to make your life easier too!
I realize security is an issue with passwords and usernames, but if you are keeping it in your own home it should be secure enough to keep all your information on.
Instead of hunting around for passwords, or having to recreate them each time, keep this in a safe place to consult for all the website accounts you may have.
I made it colorful so it will be attractive to look at and keep (plus you will be able to find it easily if it is stacked with other papers!). It should be fairly self-explanatory of how to keep the sheet updated with information you need – website, username and password, that's it – pretty simple!
I really hope you get good use from this Password Keeper sheet. You can print it out as many times as you need to, and give it to others also if you want to (you don't need my permission). Share and help others get organized too!
If you are worried about using up your colored ink, just select black and white when you print it. It still should come out easy and clear enough to write on (it just won't look quite as pretty!).
Download the printable Password Keeper sheet right here.
Read how to a Daily Planner Effectively
How to Set Goals that you Follow Through on
Never Forget a Password Again with this Free Printable Password Keeper!