I absolutely love all the faux fur throws out there right now, but yikes! they are pretty high in price! It is so incredibly easy to make your own however. You really don't need a lot of sewing skill at all – as long as you can sew a relatively straight line.  Using a sewing machine is a lot faster for this, but you could of course do it by hand.  The end result looks fantastic and not hand made at all.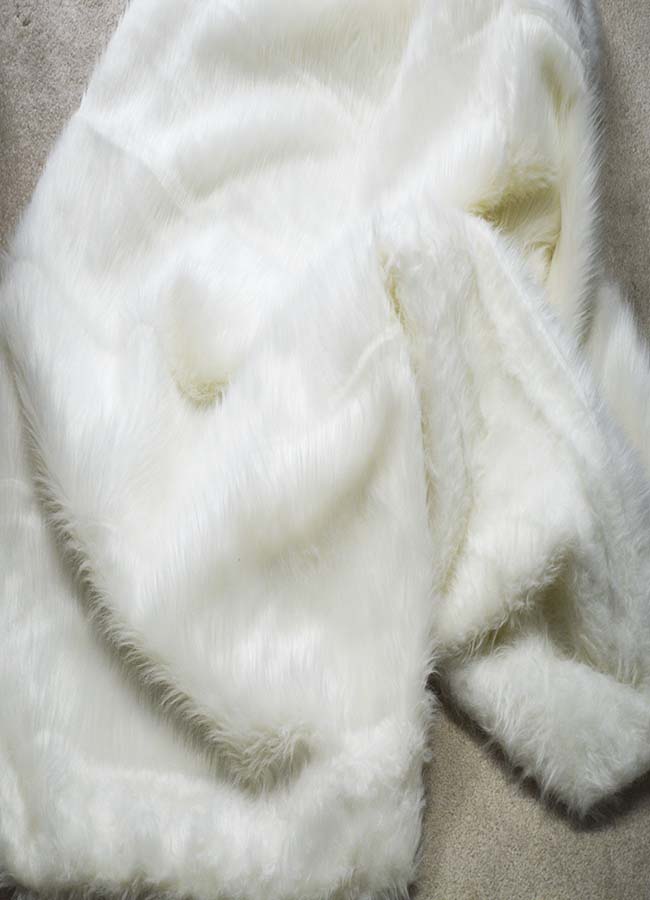 Materials needed:
Fur fabric – about 1.5 yards is what I used for my throw
Backing fabric (same amount as your main fur fabric)
Sewing machine (or hand sew)
Scissors
Needle and thread
Pins
Fur fabric can be purchased in any fabric store, or online.  Choose the fur fabric colour that you like. I used a white fur, but there are so many colours available.  The backing fabric can be any fabric at all, but choose something relatively easy to work with (silky fabrics would look great, but can be very difficult to work with for instance). Just choose a colour that compliments the colour of the fur. You don't want to choose too thick a backing fabric, as it will make the whole throw very difficult to sew through.
Cut out your fur and backing fabrics, or if you purchased exactly what you need of each (I used 1.5 yards of each) just trim them up so both pieces are matching in size completely.
Place the front sides of each fabric piece together (fur fabric and backing fabric), so that the back/wrong sides are on the outside. Pin all the sides together. Leave an unpinned slit of around 4-6 inches or so on one side of the throw (this will be used to 'turn' the throw the right way).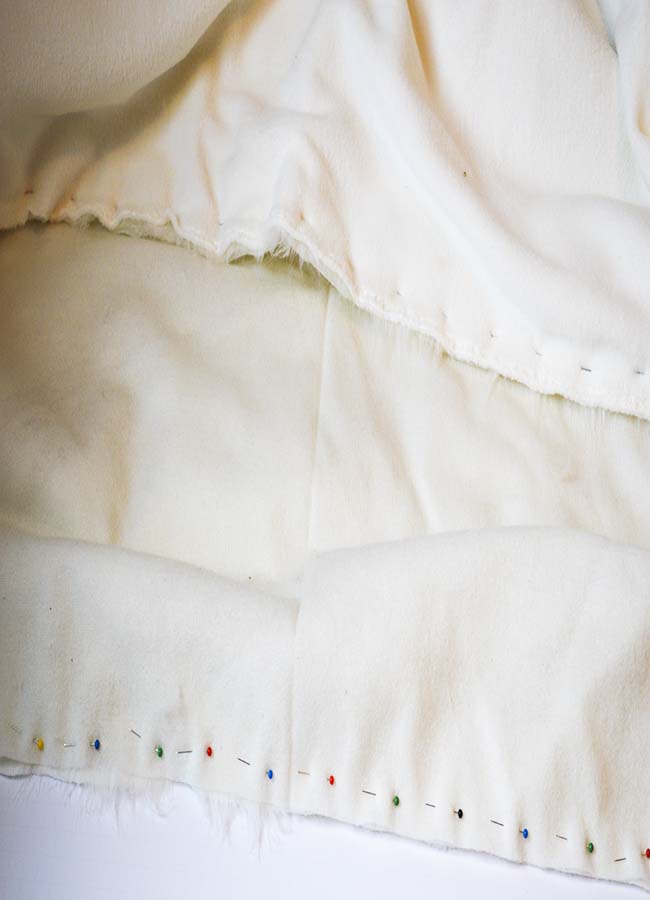 These are the fabric pieces stitched together
Using either a sewing machine or by hand stitching, stitch around the throw, leaving clear the slit/gap as mentioned above. Once the entire throw is sewn all around, pull the fabric through the slit, turning the throw inside out. You should now have the right/front sides of the fabric on the outside.  Using your sewing machine or hand stitching, stitch up the slit/gap (try to do this part as neatly as possible as the stitch/gap part will be visible a little on the outside/main side of the throw.
This throw really should not take too long at all to make up. It can be easily done in an afternoon or evening.  It really does make up a lovely throw that can be used anywhere in your home.