The Holidays and Christmas are the most wonderful time of the year. But they are also the most stressful! All the things you have to do, all the planning, buying and preparation can make the most wonderful time of the year the most stressful time of the year! So here are my meal planning tips for the holidays, so you are more prepared and less stressed
Yes the holidays and Christmas are the most wonderful time of the year. The wonderful decorations, food and socializing that come with the holiday season.
But that season has so much planning and preparation involved – in order to make it the most wonderful time of the year.
You will be prepping and planning food that you don't normally make and serve. You will be planning for more guests to eat that food than usual.
You are also under pressure to make sure that everything is just right. So nobody has a bad experience, and everyone's holidays are the most wonderful!
So here are my tips for meal planning for the holidays, as meals and food take up such a huge part of the holidays!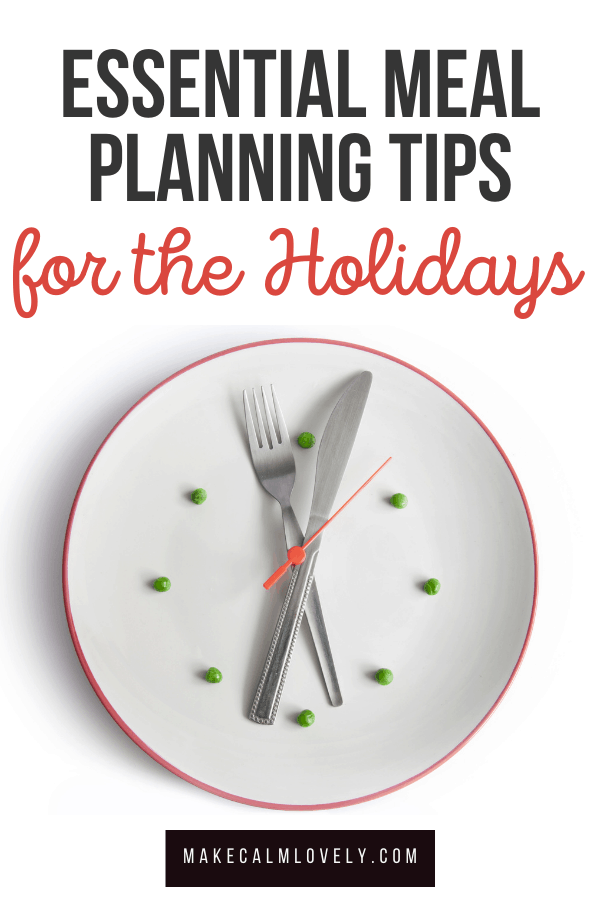 Tip Number One: Use your Calendar
Your calendar is your best friend during the holiday season. It will keep you on track, make sure you don't forget anything, and it will allow you to plan and prep really well.
You can even use multiple calendars, instead of just one if that helps you more too. You could have a calendar just for meal planning. A calendar just for the social events you need to attend, and a calendar for everything else. Or you can roll them all into one calendar for ease of use.
Make sure that you are allowing time on your calendar for all the shopping you need to do. With that shopping comes wrapping.
One of my top tips for being more organized during the holiday season is to wrap those gifts as soon as you purchase them, or as soon as you can afterwards. Gift wrapping quickly adds up, and you don't want to be rushing to do it on Christmas Eve.
Make sure you are scheduling time for you to have fun and relax on your calendar too. Your weekends and evenings leading up to Christmas can very quickly get eaten up.
Make sure you are scheduling time for your family to do fun things over the holidays. Going to the theater, ice skating, a special family dinner etc are all great family experiences.
Also schedule in time to just relax! Maybe you just need an afternoon of watching TV and putting your feet up during this hectic time of year.
Your calendar however can also work really well for meal planning during the holidays. With all the food you have to buy, make, prepare and prep, it can get very overwhelming very fast.
Your calendar can really help you note when a certain meal event will be, so you have time to prep ahead of that time. You can pencil in dates to buy the food, prep the food, and bake and cook the food.
A calendar is also so useful for scheduling all that holiday baking you have to do. If you are baking food gifts for others, pencil in when you will deliver those gifts, and then take the steps back needed to actually buy the ingredients, and bake those items.
Tip Number Two: Make a List of all Recipes
You are going to be making a lot of different meals and dishes during the holidays. Therefore you need to make sure that you have all those recipes to hand.
Keep a list of favorite recipes, and where they are located. For instance, your favorite recipe for a holiday side dish may be on your Pinterest board. Or it may be in a certain recipe book, in your recipe card box, or it may be scribbled on a piece of paper somewhere.
Make a list of all your most favorite go to holiday recipes, and then make a note of where they are all located. That will make it much easier when you actually are ready to make that recipe. You don't want to be wondering where you got that recipe from, and spend hours trying to remember where it is and locate it.
Get our free pack of Recipe Tracking Sheets here! These sheets will let you make lists of your favorite holiday recipes, and you can track where they are stored too!
Tip Number Three: Consider what Meals to Make
Choosing particular meals, and ways of prepping and preparing them, can greatly help you manage during this busy time.
Some meals will be more elaborate and take more prep time and cooking time. But some meals you want to be nice, but quick to prepare and serve.
For instance, if you are eating at home before going out to a special event, you want something that is fast to prepare and cook. You may want something you can prep and cook ahead of time, such as a slow cooker meal, or a quick 15 minute meal.
Use whatever help you can in making and cooking meals. An Instant Pot is a great piece of equipment to have around for the holidays. You can even make numerous side dishes in an Instant Pot for the holiday season.
An Instant Pot can also help you with all the breakfast dishes and foods you need to serve. You can make delicious breakfast and brunch foods and meals in an Instant Pot easily and fast.
Make as many meals and foods ahead of time that you can. For instance freezer meals, that you can just pull on the day you need them, and pre-prepped pastries and cookies that can just be placed in the oven.
Tip Number Four: Know What you Have
Just before the holiday season hits, know what you have and what you will need.
Make an inventory of your pantry, so you know what baking supplies you have, and what you will need to buy. Hopefully you will already have pantry staples in place in your pantry to use. Now is also the time to get your pantry organized.
Make an inventory of your freezer. Some of those items you can use over the holidays. Some of them you may want to use up before the holidays to make room in your freezer for those holiday-related items instead.
Make an inventory of your refrigerator. Now is also a good time to go through your refrigerator and throw out anything that is old and out of date. Give your refrigerator a good clean ahead of the holidays and all the storage you will need do.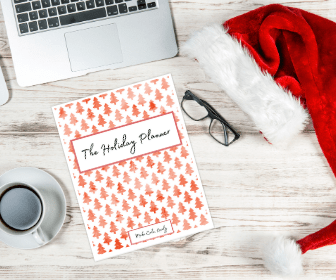 Tip Number Five: Use a Good Planning Pack for all this!
Because the holidays are so crazy, full and stressful, I actually created my own Printables to help me organize and manage it all.
Those Printables are available in a special planning pack that I now sell in my Make Calm Lovely Printables store and also my Etsy store.
The Holiday Planner is 38 pages of planning, scheduling and organizing Printables to help you get through the entire holiday season.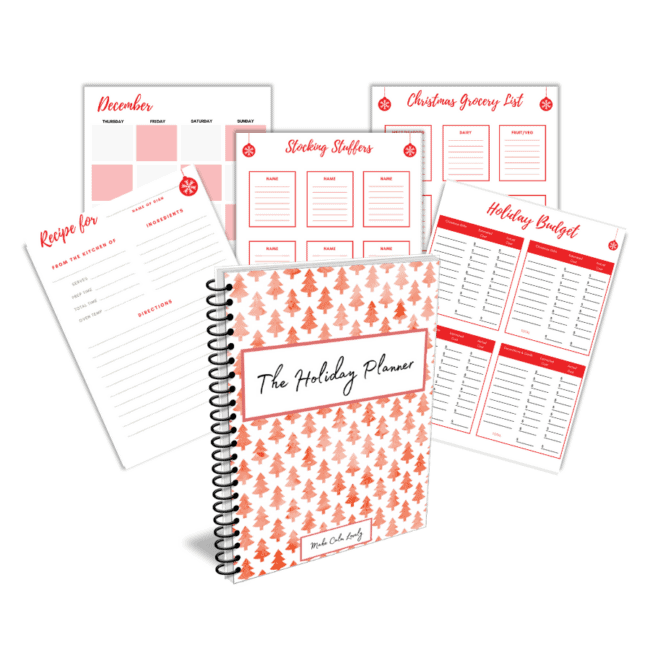 For all your meal planning needs it has a Christmas Baking Plan, Christmas Day Menu Planner, Christmas Grocery list, Recipe Cards, and October – December Calendars.
For all your shopping it has a Christmas Gift Ideas Tracker, Stocking Stuffers Planner & Tracker, a Black Friday Shopping Tracker, and a Cyber Monday Shopping Tracker.
For all the decorating and planning you have to do it has a Christmas Card Tracking list (track who you send to), Planners for Christmas Eve and Christmas Day, a Christmas Movies Watch list, Packing lists, Bucket List for the Holidays, Christmas Wish List, Elf on the Shelf ideas, Events to Attend list, Holiday Budget Trackers, and a Holiday Party Planner and Invite List.
This pack has everything you need to get you through the holiday season, as you will be more organized and prepared!
You can get the planner in my Etsy shop here, or in the Make Calm Lovely Shop on my site.
If you just want your free Recipe Tracking sheets just click here!
The Holidays and Christmas are the most wonderful time of the year. But they are also the most stressful! All the things you have to do, all the planning, buying and preparation can make the most wonderful time of the year the most stressful time of the year! So here are my meal planning tips for the holidays, so you are more prepared and less stressed