Want an easy fast knitting project?! These knitted potholders are an ideal project that makes such beautiful and useful potholders for your home
I love searching through Etsy and Pinterest for ideas for my home, and I love doing DIY projects for my home.
There is a big sense of satisfaction in having made something yourself and taken that time to learn and make something special.
I found beautiful pictures of knitted potholders all over Etsy and Pinterest. So I figured I would try to make some myself.
These potholders are honestly just so easy and fast. I made two potholders in just a few hours one evening while watching TV!
These have a handy hanging leather strap on them, because one of the things I recently added to my kitchen cabinets was an IKEA Fintorp hanging shelf! It hangs all my pot holders and oven gloves really handily close to my stove.
But you could also make these potholders without the strap too. The strap isn't essential, but if you will be hanging these potholders it is a handy and pretty way to do that.
I was a bit concerned at first about a knitted potholder's ability to handle hot dishes and pans.
But honestly it is not an issue with these potholders. I chose a cotton cord, that is normally used for things such as macrame.
It is nice and thick, and it knits up into a really nice solid hard-wearing potholder.
By making a pair of these potholders, means they can both be used together to handle all your hot pots and pans! There is one for each hand!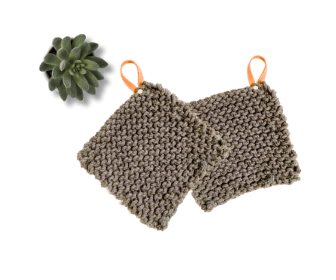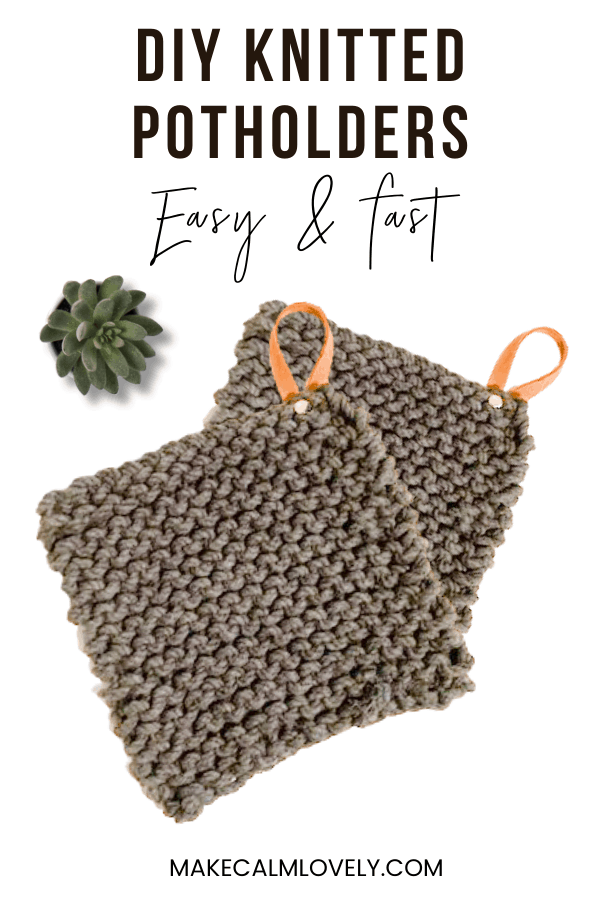 This post contains affiliate links. This means that if you click on a link and make a purchase via that link I may receive a small commission, at absolutely no additional cost to you. You can view my disclosures here.
Supplies Needed to Make the Potholders
US size 13 (9mm) Knitting Needles
5mm Cotton Cord (in color of your choice)
Scissors or a rotary cutter
Ruler or tape measure
Hammer
Related: DIY Rattan Cane Pen Holder
How to make the Knitted Potholders
There really isn't much to this knitting pattern at all!
Just cast on 14 stitches with the cotton cord.
Now knit 24 rows of garter stitch.
Continue knitting until all 24 rows are completed. Cast off, and weave or sew in any ends.
The hardest part of all this (and it really isn't hard at all!) is placing the leather strap on the end of the potholder. As I previously mentioned, you don't need a strap unless you want to hang these up.
If you will make a strap, just cut a piece of leather for each potholder that is around 7 inches long, and about 0.5 inches wide. You can cut these with scissors or a rotary cutter.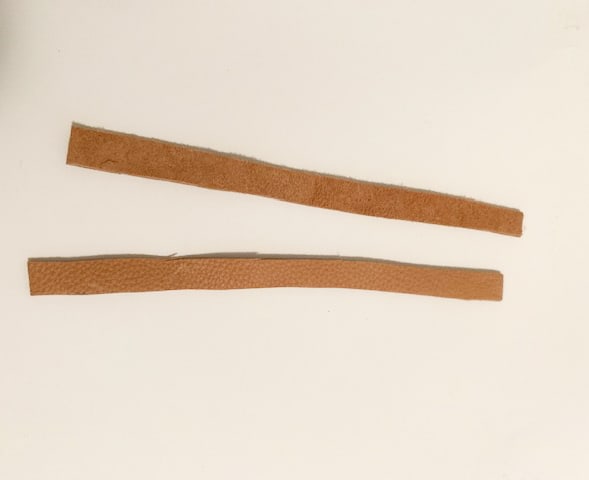 Then using a leather punch, punch a hole at each end of the strip of leather.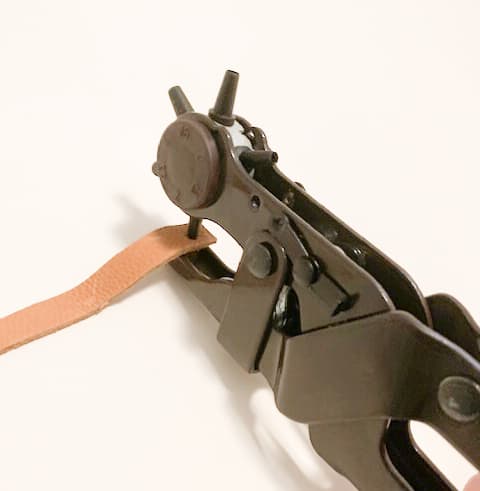 You will next hold both ends of the leather strap together, so that both holes at each end will overlap.
Now insert a rivet pin from behind (the head of the rivet pin will be on the other side, and the smaller end of the rivet pin will be facing you, as in the photo below).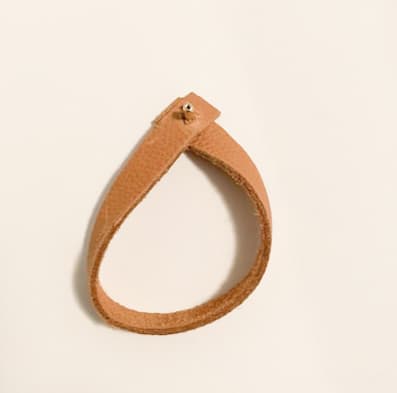 You now need to push that rivet pin through one corner of the potholder. This is the part that I found the hardest to be honest.
My tip for this part is that you should find a tight stitch to push it through. With the weave of the knitted potholder, there will be some tighter stitches and some looser ones.
Find the tightest one towards the corner, and then insert the rivet and leather strap.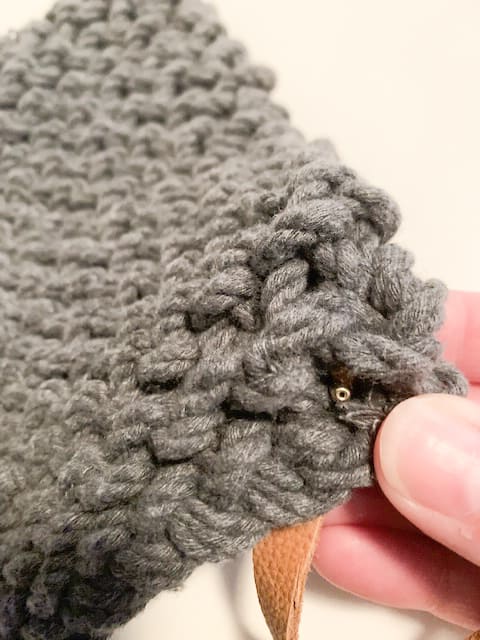 Once the rivet is pushed through, put the cap on the rivet pin.
The rivet kit comes with a setter and an anvil. Use a hammer to lightly hammer onto the rivet cap.
I found that doing this too hard actually bent the rivet too much. Just tap it into place. There is really no need to do a really strong hammering here.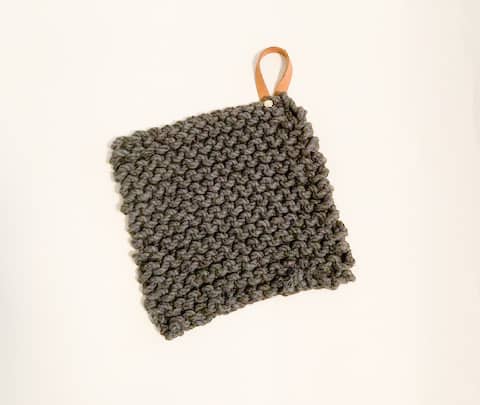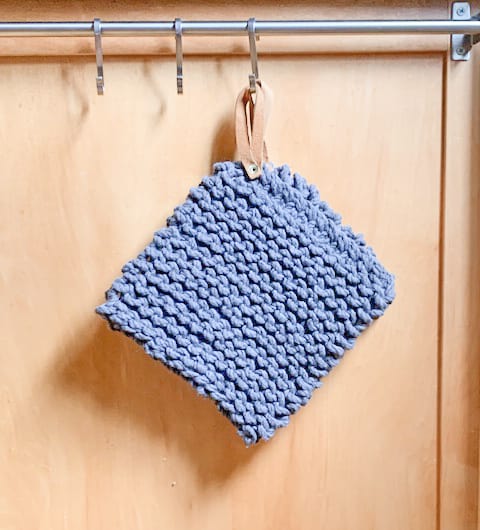 Care of the Potholders
These potholders should be able to go in the wash easily. They are made of cotton cord, so wash them on a warm wash in your washing machine.
The only issue with washing these is the leather strap. Now you can either remove the strap and redo it after they are washed, which is the most dramatic thing you can do, and really not the best approach.
Or you can perhaps somehow tie up the leather strap in a lingerie washing bag so that it is protected.
If you are concerned about washing these with the leather strap on them however, hand washing them, or spot washing them, might be the best way to clean them. They are very hard wearing and durable, and they should last you quite a while!
Related: DIY Fabric Linen Cocktail Napkins
Related: 19 Adorable Leftover Yarn Knitting Patterns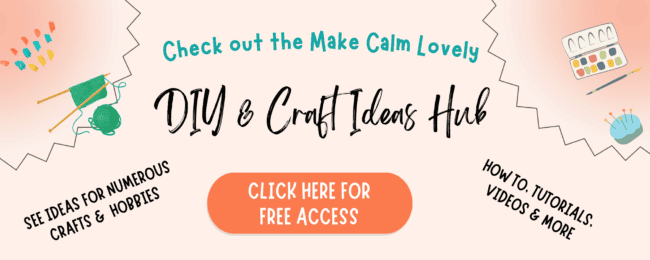 Want an easy fast knitting project?! These knitted potholders are an ideal project that makes such beautiful and useful potholders for your home