Make this pretty jewelry holder from an IKEA cork trivet! This is an easy and fast DIY project that will take you less than an hour!
If you wear jewelry you need somewhere to keep it safely and easily accessible. But it can be hard to find attractive jewelry holders, that are pretty enough to be displayed.
This pretty jewelry holder is a great hanging organizer for all your necklaces, earrings, bracelets and so much more!
This is a very fast and easy DIY project that creates a beautiful holder for all your jewelry. It is pretty enough to give as a gift to others too.
The main core part of this jewelry holder is an IKEA cork trivet. Those cork trivets are available easily and inexpensive in all IKEA stores in every country!
The cork makes it easy to put a nail or pin into to hang your jewelry from, and you can place as many pins or nails into it as you need to.
You will be completely covering the front part of the board in fabric. You can use any fabric for this, including any scraps that you may have. Fat quarters are also the perfect size for this.
You can gear your fabric or colors of the fabric to your existing decor. You can go as colorful, or as pastel as you want to!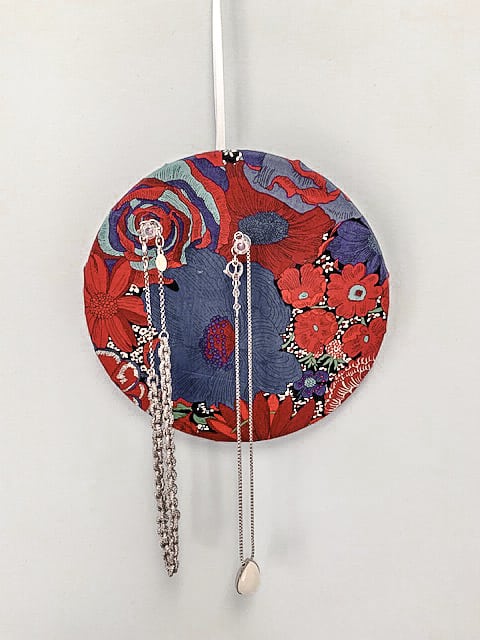 This post contains affiliate links. This means that if you click on a link in this post and make a purchase following that link I may receive a small commission, at absolutely no additional cost to you. You can view my full disclosures here.
To make this hanging jewelry holder you need the following:
IKEA Heat cork trivet mats
Stapler
Fabric pieces
Push pins or small nails
Related: Make this Cork Notice Board from an IKEA Cork Trivet
How to make the Hanging Jewelry Holder
First of all, place the trivet mat on top of the piece of fabric that you will be using. The right side of the fabric should be face down.
You need to make sure that the fabric will cover the entire front and the sides of the mat, and that you will also have enough left over to be easily pulled back and stapled to the back of the mat.
Pull the fabric back to the back of the mat, as tightly as possible. Smooth the fabric down tightly to the mat, and make sure that there are no gaps at all. You can use a fabric glue to glue the fabric down more, but if you are pulling the fabric tightly around the mat you really shouldn't need to use glue.
As you pull the fabric back, staple the fabric in place, tightly. It needs to be stapled so tightly that the fabric is adhered tightly, with no gaps, to the front of the notice board.
Attach something to the back of the holder at the top to hang it from. You can use ribbon, string, cotton, anything at all. Staple into place.
Push pins are great to use in this holder to hang jewelry from. You can choose colored push pins to fit in with the colors of the fabric you used, or use clear ones.
You could also use nails, although they will need to be very small. You should be able to insert them into the board easily by just gently pushing them in. You shouldn't need to use a hammer for this.
This jewelry holder will look great hanging on any wall, or it can also be hung from a door or hook. If you wanted to you could also attach this directly to your wall.
Related: Make these Modern Cork Candlesticks from IKEA Cork Coasters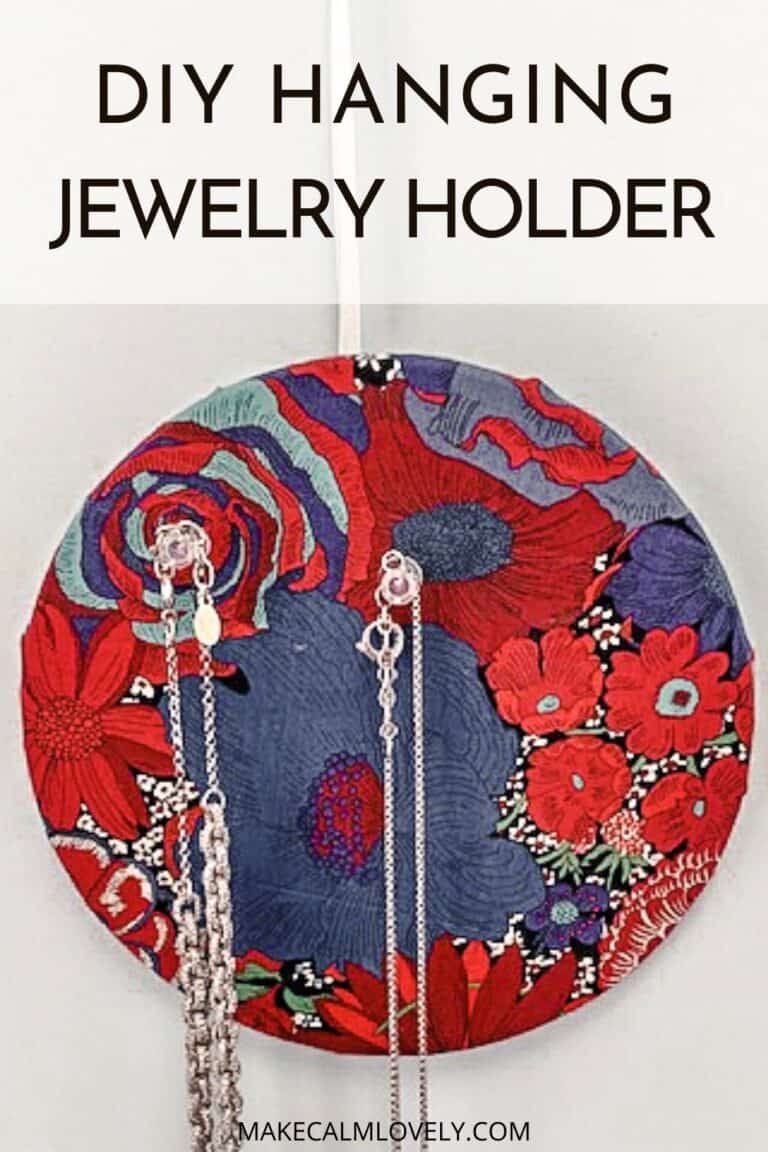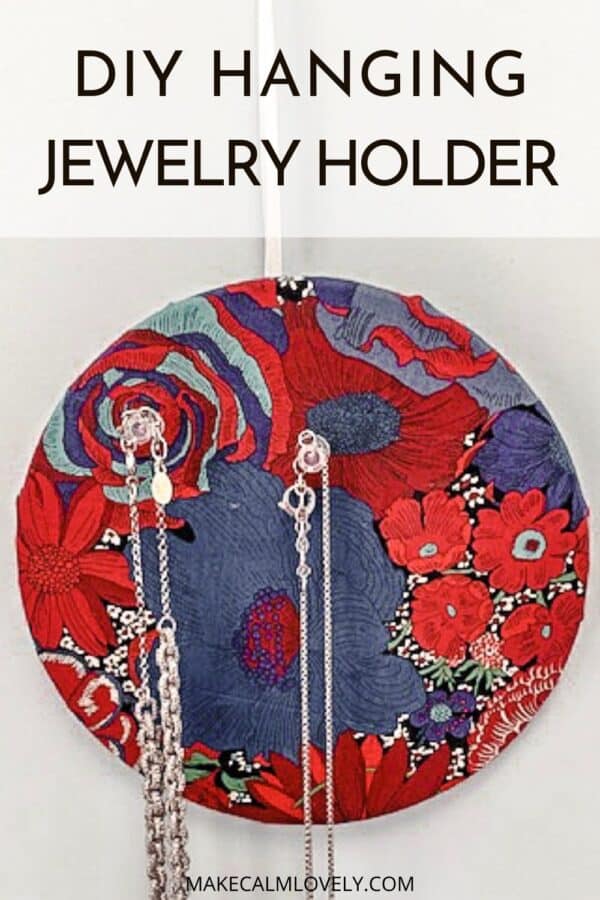 Related: DIY Hanging Cork Planter IKEA Hack
Make this pretty jewelry holder from an IKEA cork trivet! This is an easy and fast DIY project that will take you less than an hour!