These decluttering purge organizing labels will help you sort your stuff into the right piles!
When it comes to starting, and completing a decluttering project you need all the help you can get!
Decluttering isn't particularly fun. It is a job that has to be done, and it can be a chore. But afterwards it will feel amazing! It will feel amazing to get your home clutter-free. It will feel amazing to no longer have to look at all that clutter!
Check out my post here on how to start a Decluttering Project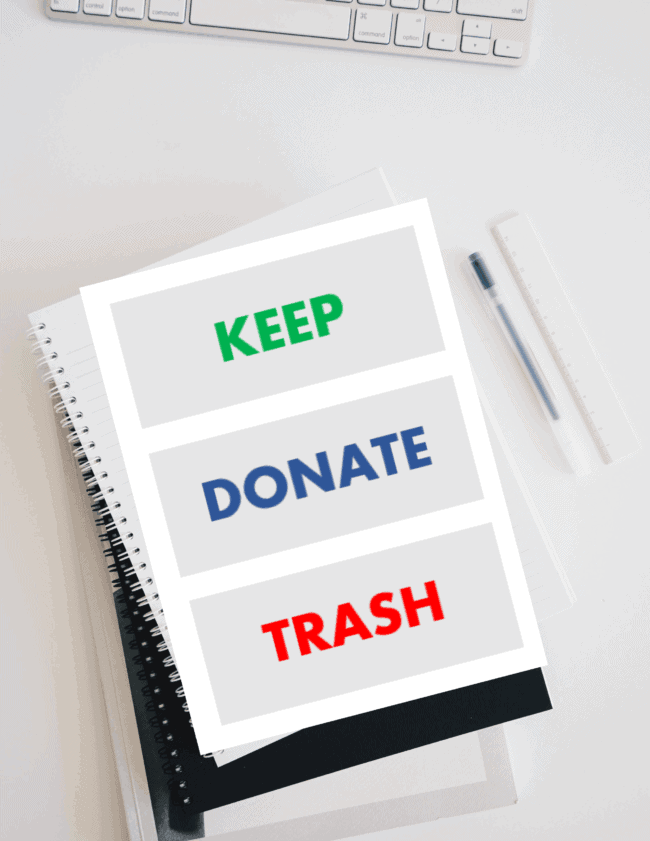 How to use the Labels
Print off the labels, and cut out each individual label.
You have labels for Keep, Donate and Trash. As is pretty self-explanatory, Keep means you keep that item. Donate means you will donate it, and trash means you will throw it away.
Once you have pulled everything out of a closet, or out of a cupboard, or whatever decluttering project that you are taking on, put those items into piles.
Use the correct label to clearly mark what each pile is destined for.
For the things you will keep, put them back, but tidier and more organized.
For the things you will donate, put them into boxes or bags, and either order a pickup, or drop them off for donation.
For the things you will trash simply place them in trash bags and place them in the trash!
These labels look a little more attractive than just writing out labels, and they look more "official" for your piles!
Check out some of my other organizing posts!
Space Saving Gadgets for your Small Kitchen
How to Eliminate Countertop Clutter
Quick & Easy Organizing Tips for your Home
Organize your Closets (just like Professional Organizers do)