After a stressful day there is nothing more inviting and needed than a trip to the spa. But we don't all have the time, or money, to visit a spa just anytime we want to.  But we do have bathrooms with running water and (hopefully) heat!  It doesn't take much work to transform your every day bathroom into a relaxing spa room.
If you have ever visited an actual spa think about what made it so special and relaxing to you.  Was it the color scheme, the plants and flowers everywhere, the dimmed lighting, the mood music? Think about what made it so special and relaxing for you, and try to incorporate those aspects into your own bathroom.
Here are a couple of pictures of spas and home spas that are particularly lovely, to give you some ideas of the features used in them to make them relaxing and beautiful:
This is a home pool house (not a swimming pool, a floating Japanese pool tub house).  The calm and relaxation in this pool house is being provided by the natural daylight, which is flowing into the building, and the nature view outside – which is woods and rocks, which are secluded and show off the natural 'nature' colors of the trees, grass and rocks. From a building point of view they are using dark wood all over the building, together with charcoal colored stones to soak up water.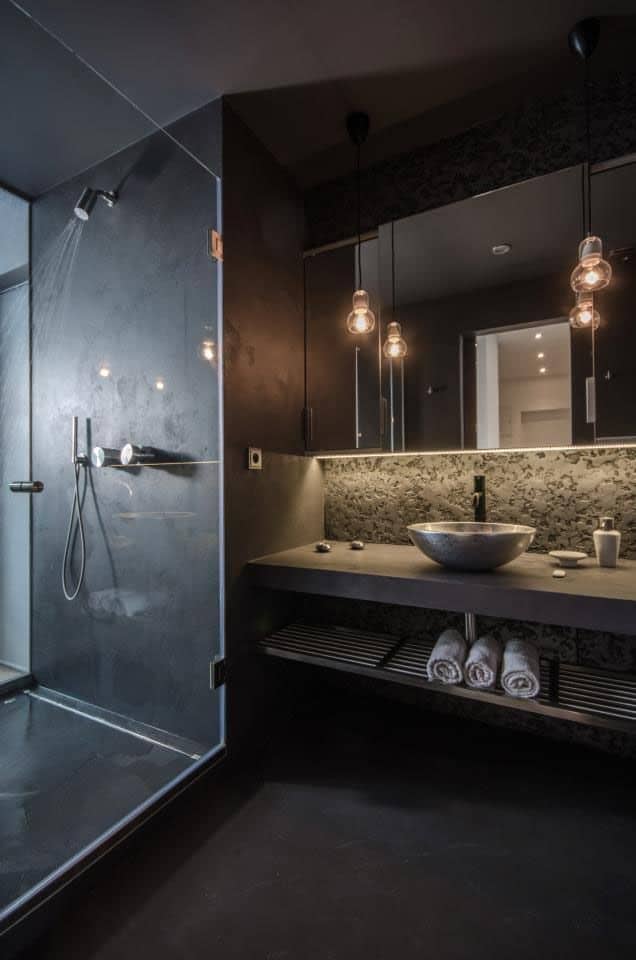 Photo: Stonehouse.com
This spa-type bathroom isn't bathed in natural light, but it is using mood lighting, to make the room seem calmer and more serene.  There are lights both over and under the cabinets that are creating soft mood lighting.  The shower is separate and is lit up also with softer lighting. The entire room is very minimal and not crowded or cluttered.
(This post contains affiliate links. If you click on a link and purchase something, at no additional cost to you I will receive a small commission.
Thank you for supporting Make Calm Lovely!)
Creating the Spa Atmosphere
Natural lighting.  As you can see from the examples above, lighting is so important for that spa-like feel. Natural light triggers happiness hormones, which is what makes your spa experience so much more fruitful.  If your bathroom doesn't have a lot of natural lighting, consider mood lighting – especially picked lightbulbs that create light that is more akin to natural light.  Place lamps and smaller lights around the room rather than having the bright glare of the overhead light. Candles are also great to scatter around for soft flickering light that add mood and atmosphere also.
Minimal.  Spa bathrooms are free of clutter.  You don't want shelves stacked full of every shampoo bottle you have in your home, and general clutter everywhere. You need minimalism – shelves containing just a few items, which are artfully stacked. Clutter causes anxiety in our brains. If your bathroom is full of stuff, consider removing some of it outside the room whilst you pamper yourself, or place it away in cupboards and drawers.  Better still, work on that organizing clearing clutter project you keep putting off and make your bathroom tidier and clutter-free by throwing out and getting rid of items no longer really needed.  Consider transferring your shampoos and lotions into pretty and special bottles that look nicer and more stylish.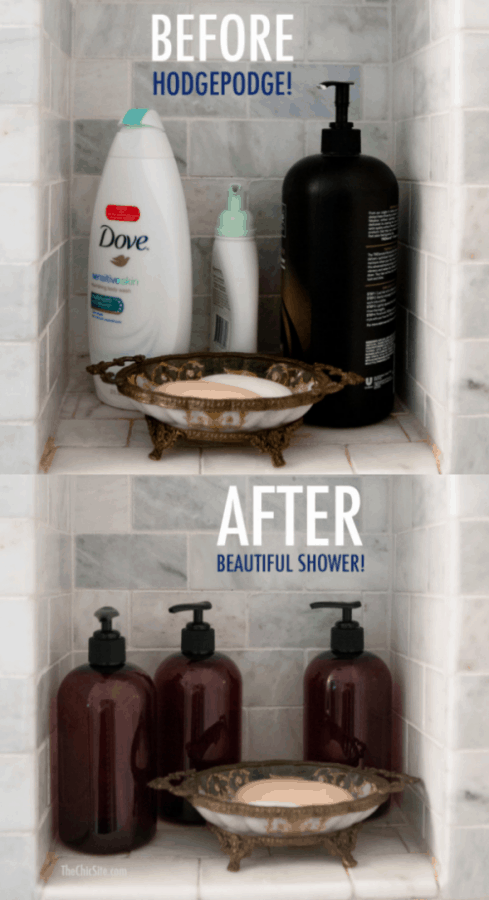 Photo: Thechicsite.co
Colors. Use pale and pastel colors.  Many spas use a lot of white – because it reflects the natural light, it looks clean and bright and soothing.  Pastel earth colors are also good – pastel earth-toned greens, beige, greys, and creams.
Add the green.  Plants make a bathroom really look more special and bright.  The green of the plants also offsets a paler painted room.  If you don't have much counter space hang the plants from the walls and ceilings.
Candles.  Candles add a touch of class and romance to a spa bathroom.  The soft flickering light of a candle is relaxing and comforting.  You could also consider scented candles to add to the spa experience.
Scents.  Scents are very important – whether it is the scent of candles, bath products, or aromatherapy oils. Consider having a lot of scent in your spa bathroom.
Music.  Nice relaxing music will drown out noises from outside (the neighbor's dog barking, your kids fighting downstairs!). It will create a mood to make you even more relaxed.
Softness. Anything that you use from products to towels and mats should be soft and comforting. You need large fluffy white towels that you can wrap yourself up in for warmth and soft comfort after your bath or shower.  Warm soft slippers to slide your feet into, and soft plush bath mats to step onto, soft fluffy bath robes to step into.
Warmth. Nobody wants to get out of the bath or shower into a cold unwelcoming room.  Hopefully your bathroom is heated and warm. Consider wall mounted towel warmers, for that extra pampering feeling of a warm towel rubbing you down.
The Essential props for your Spa Bathrooom
A deep bathtub
We can't all have a Japanese soaking tub like the one above!  (would you ever leave that tub?!), but most of us do have a humble bathtub that can be made exciting and spa-like.
Photo: NewDarlings.com
Buy lovely bath products for your bath, ones that really smell lovely and feel lovely as you soak in your bathtub.
Here are some of my picks for lovely gorgeous spa beauty products:
Place a bath rack over the bath for your book (if you enjoy reading in the bath), or your glass of wine! So that everything you need is close to hand.  You can find many DIY bath tray/rack instructions through Pinterest, like this one from A Beautiful Mess.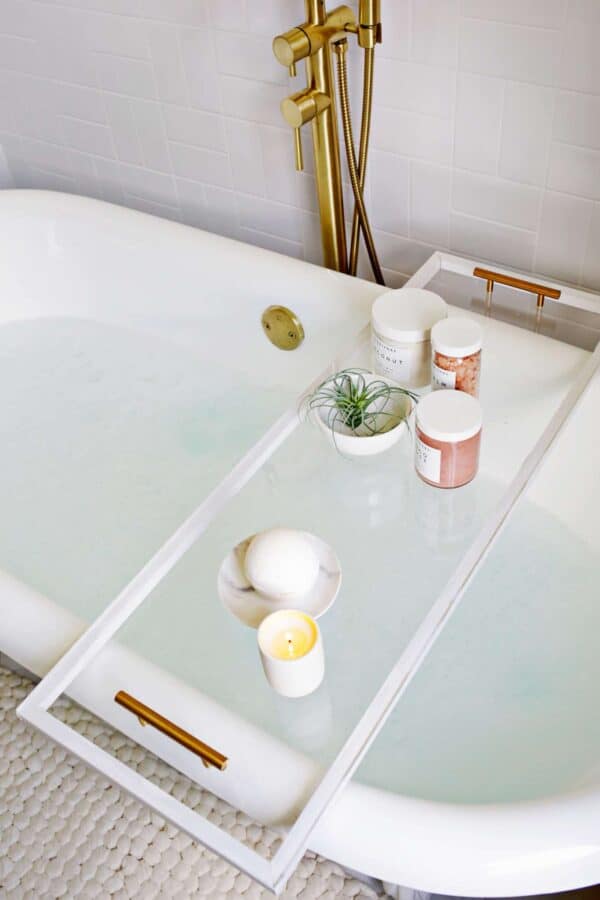 Photo: A Beautiful Mess
Shower
The most important part of a shower is how the water flows down on you, therefore a lovely massaging shower head is a must for your spa shower.  There are many shower heads available from many retailers. This one from Amazon is a very good price for a good massaging shower head.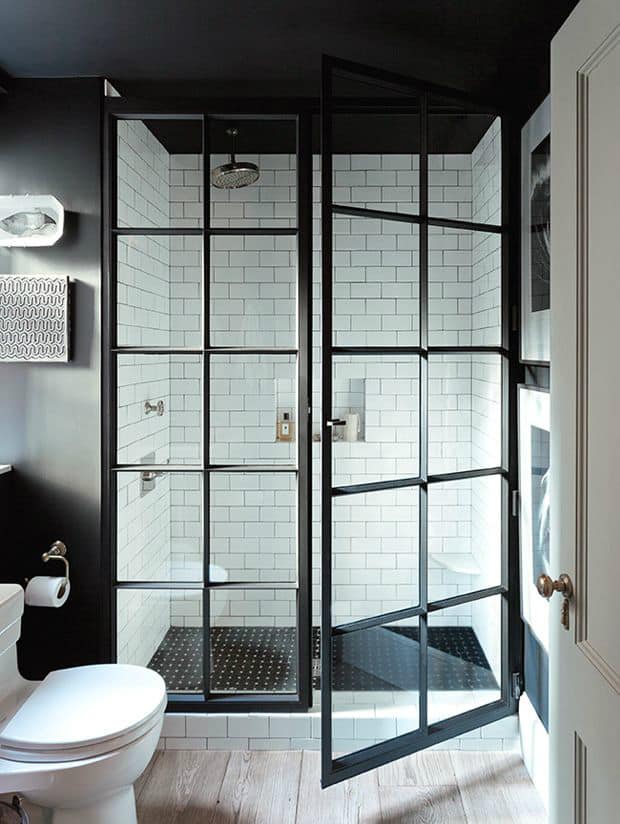 Little extras that can make all the difference
Roll your towels just like they do in real spas!  This post from Megzie shows you exactly how to roll your towels the professional spa way!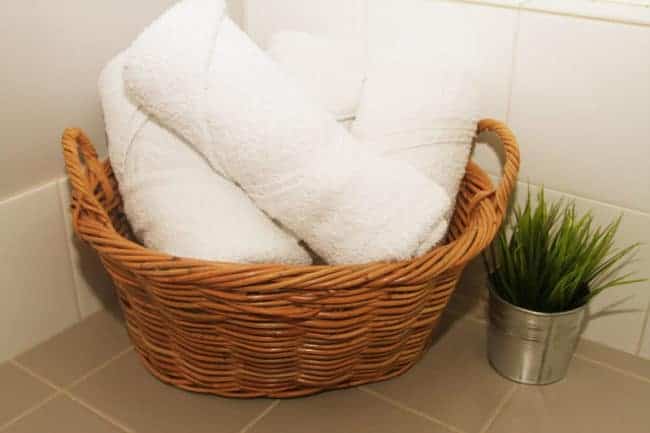 Photo: Megzie
Suggested items for your spa bathroom