Course By Number from Start a Mom Blog: My Complete Honest Review
Course By Number is a course from Start a Mom Blog on creating your own electronic courses. This is my complete and honest review of the course.
Course by Number is a paid course from Start a Mom Blog all about creating, launching, & marketing your own electronic online course.
This complete course is suitable for you if you run a blog or business, and you want to bring in additional income to your business, by creating another stream of revenue.
I paid for, and took, this course and this is my honest review of that course.
If you are considering purchasing Course By Number please take a look at my review here. It will give you more information on the course and a review of the course from somebody who did actually take the course.

This article does contain affiliate links. This means that if you click on a link in this article and make a purchase via that link, I may receive a small commission, at absolutely no additional cost to you.
Have you been blogging for a while and need to expand to include additional sources of income for your business?
Have you always wanted to create a course for your readers and followers, but felt it would take you too much time?
Have you always thought that you just didn't have the skills to create a course?
Do you have a lot of knowledge about a certain subject that you want to share with your readers?
If you answered yes to any of those questions Course By Number is for you. By taking this course and implementing everything it teaches you will quickly:
Benefit your readers and followers by sharing knowledge and expertise with them that they can really use


Bring in another source of income for your blog


Bring in consistent revenue each month, guaranteed


Have absolute control over your course/product. You can charge what you want and market the product how you want to.



About Course By Number from Start a Mom Blog
Course By Number contains 40+ detailed instructional videos and 70+ lectures that take you completely from the initial course idea (and how to find that), right through to creating a money-making funnel for your course once it is complete.
The instructional course videos are just like taking a peek over somebody's shoulder watching how certain things are done.
With this course you also get bonuses too – including a 10k in 10 minutes launch plan, complete course workbook, and an evergreen funnel method.
This entire course will give you the confidence and skills that you need to start your own money-making courses for your readers and followers.
Each step in course creation is broken down and fully explained for you, and that includes absolutely every single step.
Course by Number is easy to follow along with too. You don't need to be a computer wizz or advanced with computer and software systems to take this course.
Everything is explained easily and thoroughly in this course, no matter what your level of expertise.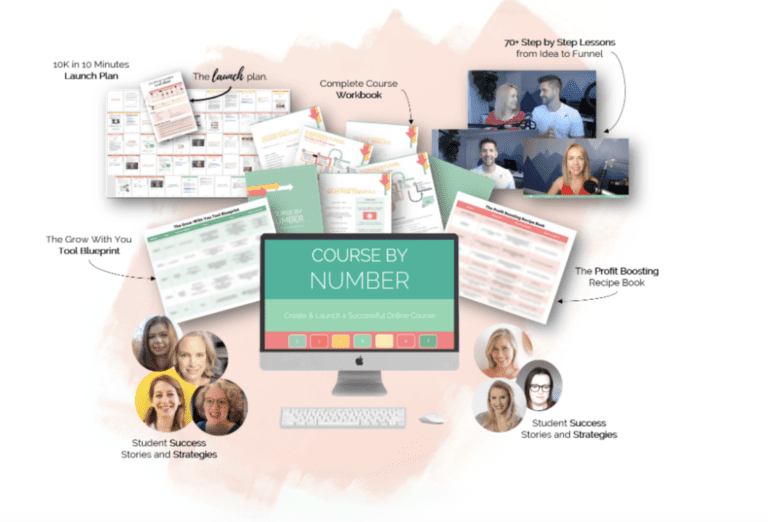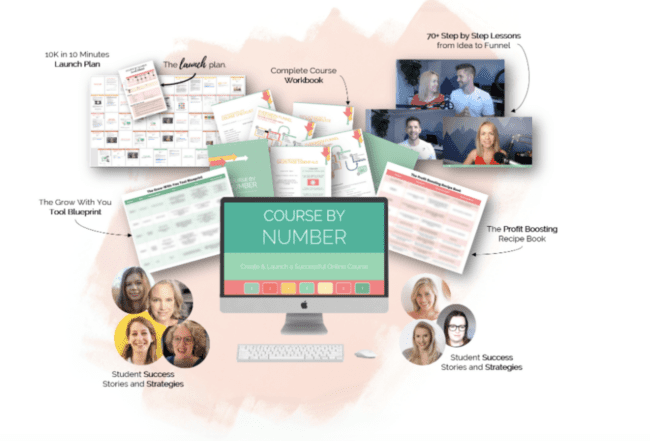 Is Course By Number the Right Course for You?
Course By Number is the right course for you if:
You are a beginner, intermediate or advanced blogger


You already have a successful blog but want to bring in more streams of revenue


You want to take your blog/business to the next level by creating more products



You have always wanted to create courses, but just didn't know how
If you have questions scroll to the end of this article to see all the FAQs!
An In Depth Look at Course By Number
Find the Perfect Course Idea
You may already have an idea of what you want to create a course about, or you may need some additional help coming up with that idea.
Course By Number will help you find the best ideas and show you how to find those ideas.
Outlining Your Course
The course gives you a great template for outlining your course, which saves you time and makes sure you cover all the essential parts that are needed.
How to Design Your Course
Deciding which platform to actually design your course in, and how to sell it is a huge question and headache for course creators, especially newbies.
Course By Number will show you options and suggestions to get you started.
Video Creation
Creating videos can be especially daunting for the beginner and for those of us who have absolutely no idea how to get started.
What equipment should you use?, how do you use it and create videos? Course by Number will show you everything you need to know!
Sales Pages & Marketing
You have created your amazing course, but what do you do now? Course By Number really has you covered here, because it will go in-depth into sales pages and marketing for your course.
Launching Your Course
When you are ready to launch your course to the world you probably won't have any idea how to do this.
But Course by Number will hold your hand through the process and guide you every step of the way.
Evergreen Funnels
Evergreen funnels are the key to bringing in consistent passive income from your course.
But most of us don't even know how to create evergreen funnels. But Course By Number will show you all that every step of the way.

Additional Resources that come with Course By Number
The course also comes with some other great resources that come as bonuses with the course:
Complete Course Workbook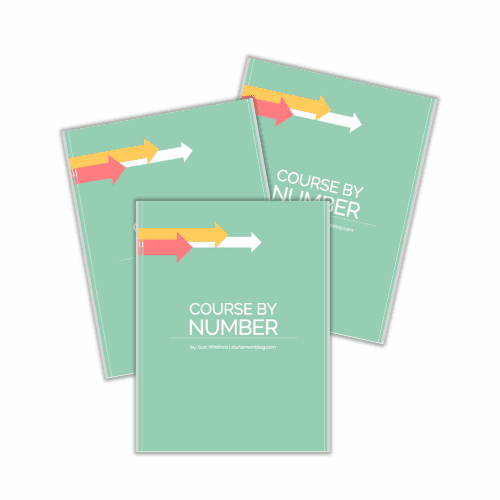 The course workbook is an 8 page workbook that accompanies the course. It contains really handy infographics that break down sales funnels, sales page essentials, a super simple evergreen funnel, and also a course checklist and course template.
Profit Boosting Recipe Book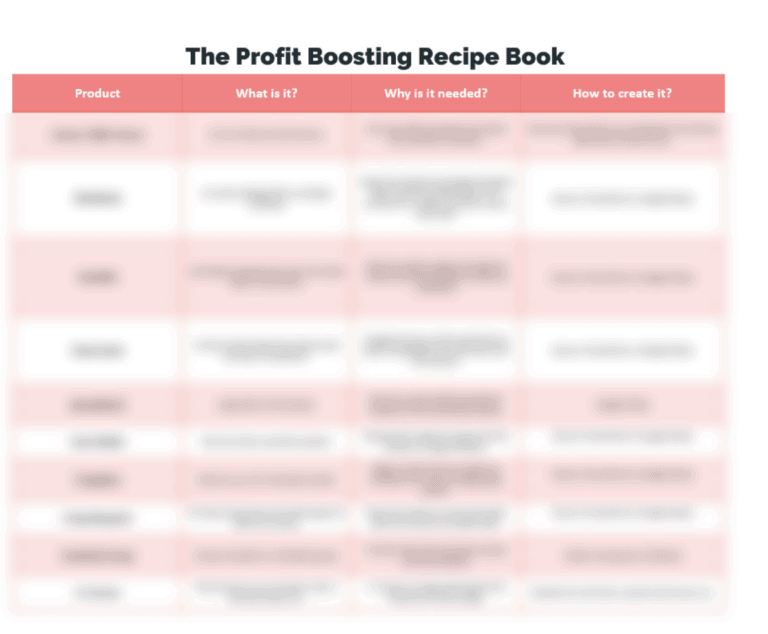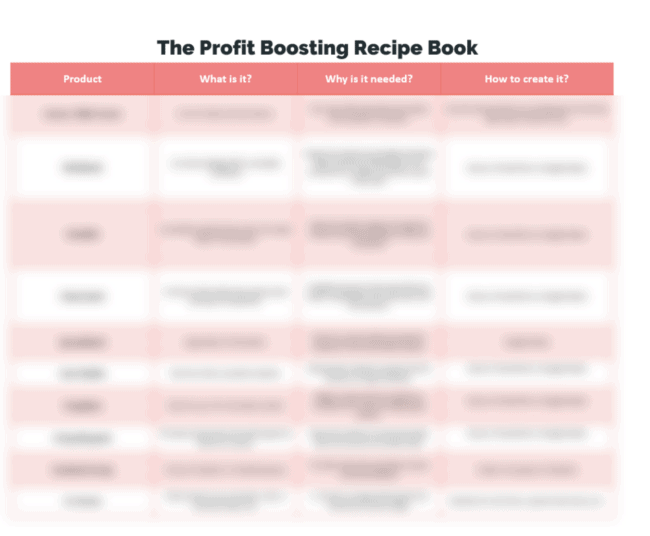 This is a spreadsheet that will help you make your offer even more irresistible! It gives you elements that you can add to your offer that can be used as a bump, up-sell, or down-sell in funnel creation.
Adding more of these elements to your offer means you can charge more and drive higher conversions.
Grow With You Tool Blueprint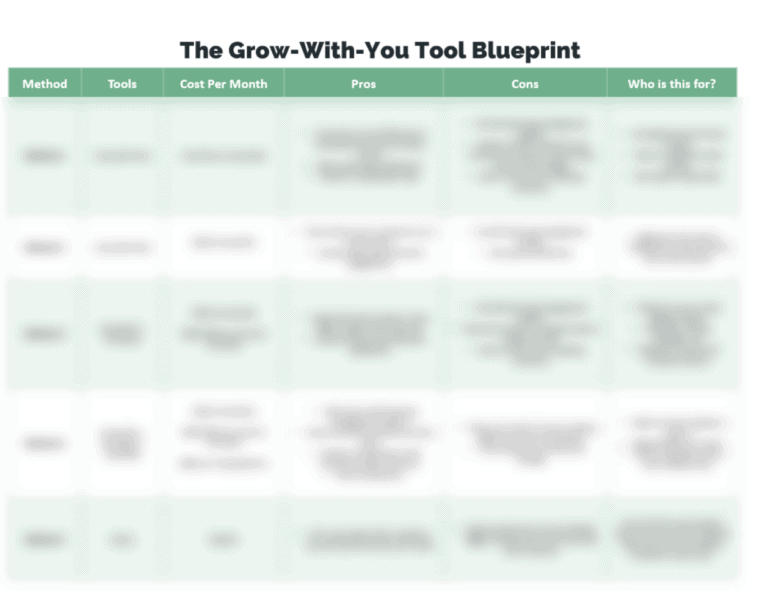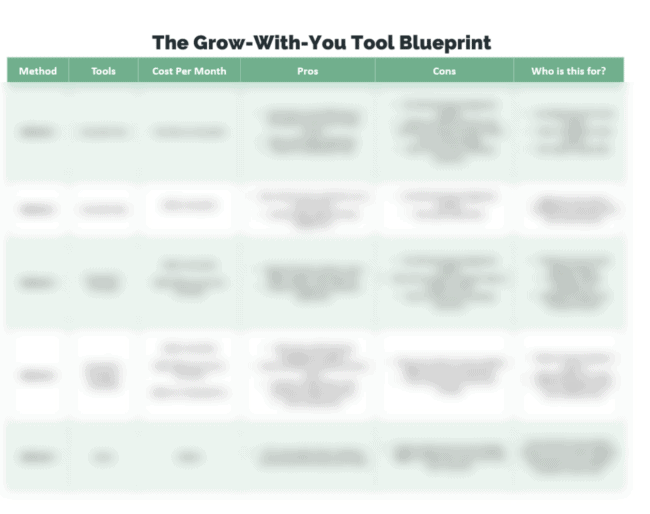 This is a handy spreadsheet which guides you to choosing the right tools to sell your course or digital products.
The blueprint covers 4 different methods. Each method has different tools and different monthly costs, and the spreadsheet rates the pros and cons of each.
Student Success Stories & Strategies
There are numerous student success stories where you are walked through their successful strategies that were used to create their own money-making courses.
This includes courses on art, design software, mental health, motivation, yoga and so much more.
Listening to others and hearing how they did things and implementing them is incredibly useful when it comes to setting up your own courses.


Evergreen Funnel Method
How to completely set up an evergreen funnel for your courses.
10K in 10 Minutes Launch Template


Full Course Modules of Course by Number Broken Down in Full
These are all the course modules of Course By Number broken down in full:
Welcome: Start Here
Let me teach you how to make $500 per day

What to do when you get overwhelmed or busy

FAQ from students

Become an affiliate
Resources and Worksheets
Course workbook

Grow with You Tool Blueprint

Profit Boosting Recipe Book
The Course Vision Board
Course by Number vision board and blueprint
1st Grade Foundation – Your Blog
Why a blog is essential

The basic steps to starting a blog
2nd Grade Foundation – Your Email List
Create content and grow your email list

What makes a great freebie?

The one thing you must do for your email list
3rd Grade: Research Your Perfect Idea
What makes a perfect course idea

Finding your course idea – the research

11 methods to find your course idea

Why would someone pay for my course if they can get the information for free online?

Examples of succcessful courses

5 elements of a valuable course
4th Grade – Funnels & Value Ladders
What goes into a million dollar funnel?
5th Grade: Idea Validation – Make Money with no Money Down
Easy ways to validating your course idea

How to make money with your course idea right now for free (without creating anything today)
6th Grade – Creation: Outlining Your Course
Course Creation – order of operations

Course creation – time saving template

How long should my course be?

How much text versus video?

What you must do now to ensure a great launch
7th Grade: Creation – Profit Boosting Elements
What profit boosting elements to add to your course

How to create profit boosters
8th Grade: Creation – Video Editing Without Expensive Tools
The essential equipment you need to create amazing videos

Introduction to video creation and video editing

The two easiest options for creating and editing quality online videos

The one simple and inexpensive tool you need for video creation

hardware do you need for a professional online course?

How to record your first video

How to edit professional videos efficiently and easily

What hardware do you need for a professional online course
9th Grade: Creation – Tools to Design and Sell your Course Like a Professional
Deciding how to sell your online course – the grow with you tool template

Method 1&2 – How to sell your course with all free tools

Method 3 – How to create simple funnels that work

Method 4 – The simplest method with all the bells and whistles
10th Grade: Sales Pages and Marketing
Essentials of a high converting sales page

How to create your sales page

How to decide on a course headline

What price should I charge for my course?

Secret little words that bring in more sales

Prohibited items you cannot put in your course
11th Grade: Launch – Let's Make Real Money
The launch plan – essential but easy things you must do

How much money can I expect to make during my launch?

Additional ways to make money from your course post launch
12th Grade: Scale & Optimization – The Evergreen Funnel – Make Passive Income Daily
Super simple evergreen funnel to $1m in sales

Additional tips – Driving sales after the launch

How to sell a high priced course
Graduated Student Success Stories
Jodi: $5k per month with an art blog

Liesel: Instagram growth tips from $10k to $153k + followers in less than a year

Varpu: Super successful launch with a super tiny niche

Caroline: Launching her first course on Canva

Carmen: Successful small digital product creator

Athba: Learnings from Course by Number

Jennifer: Launching a course on motivation

Beth: $7,191 with mental health courses
Congratulations
You did it!

Become an affiliate
Bonus #1: Successes and Mistakes of a $37,000 Launch
Personal video – debrief of the first course by number launch

The course by number launch sequence
Bonus # 2 – More Help
How to add teachable students to Convertkit

The mini course funnel – if you have no time

5 seconds to create your course quickly

5 ways to find your profitable course idea without an email list
Course By Number Version 1.0 – Teachable Only Solution
Deciding on your course platform

Creating your online course

Is Teachable too expensive?

Key elements to a high converting sales page

Set up your email support sequence for your course

The super simple evergreen funnel

Optimizing your evergreen funnel

Make sales as you grow your email list

A super easy way to boost your profit

How to convert email subscribers into students
All the Pros of Course by Number
This course doesn't just show you how to create courses, it also shows you how to create evergreen funnels leading into your course. That means that you can make money on auto pilot once your course is created!


course has 40+ informative, follow-along instructional videos, which are just like looking over somebody's shoulder as they show you how to do something


tools recommended in the course are either free or reasonably priced for anyone to afford


entire course has an easy to follow course format and structure


is excellent student support. Good email and Facebook support from the Start a Mom Blog team.


access to the course, and all updates. The course is updated regularly and you get all those updates automatically.



Affordable cost at just $397. I have paid more than 3 times that amount for some courses that don't even have as much content and support.
All the Cons of Course By Number
This is a really thorough course that will take you some time to go through completely. So unless you want to know everything about starting your own course, don't invest in it.



The completeness and thoroughness of this course can seem a little overwhelming. But the information it gives is just dynamite, and as long as you break the course down into easily manageable watching parts you shouldn't be overwhelmed.
About Start a Mom Blog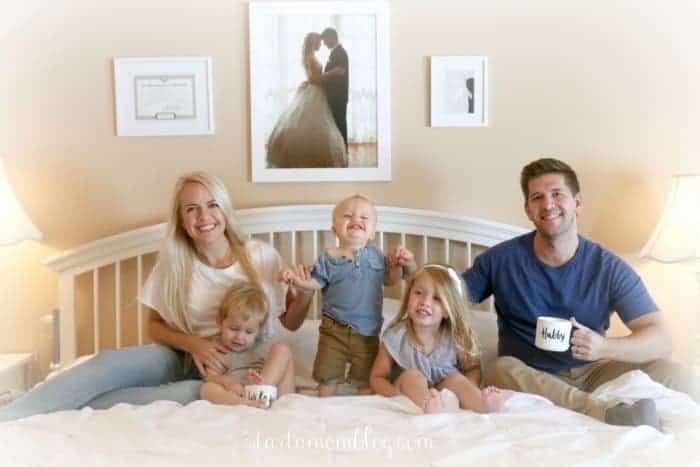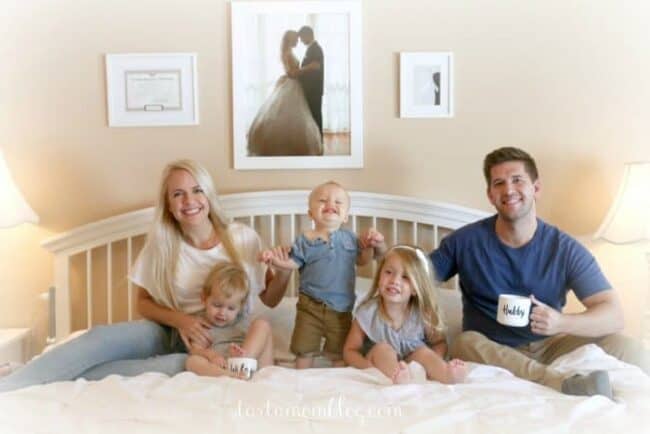 Start a Mom Blog is a very successful blog that is run by Suzi & John Whitford. Suzi & Jon are the parents of 3 small children. Both were engineers by profession before giving up their careers to raise children and start several blogs.
Start a Mom Blog is aimed at showing everyone – not just women and mothers as the name suggests – how to start and run a successful blog. Anyone and everyone who has their own online business can benefit from everything that Start a Mom Blog does.
Start a Mom Blog has taught over 50,000 students all aspects of blogging, and the blog itself has brought in millions of dollars over the past few years.
So in short – they know what they are doing and what they are teaching!
Why Start a Mom Blog Courses are Great Courses
I personally really love the teaching style of all Start a Mom Blog courses and other resources. Because Suzi & Jon were previously engineers by profession they are able to very successful break everything down into easy to follow steps.
This is crucial in blogging, as there is so much to learn and conquer, and many times bloggers have no prior experience and are learning as they go.
Another thing I really love about Start a Mom blog courses is that they are priced just right. They are affordable, yet complete and thorough courses. They know that everyone's money is limited for purchasing courses and resources, and they price their courses accordingly.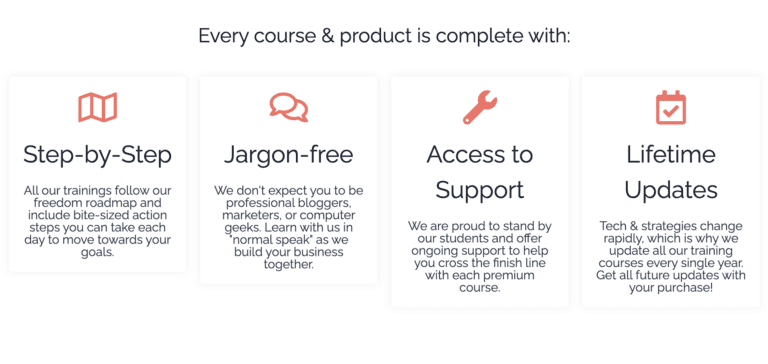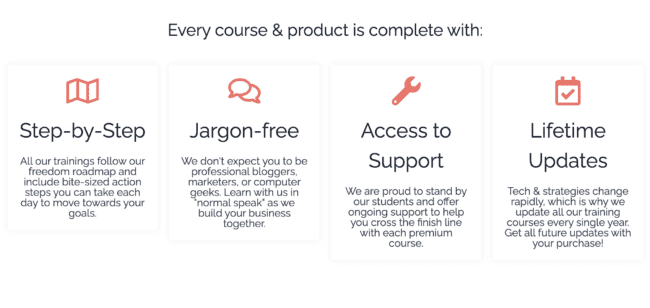 Do I Recommend Course by Number from Start a Mom Blog?
My answer to that question is an absolute YES! All Start a Mom Blog courses are amazingly detailed, yet affordable courses, and this is no exception.
This is a thorough course that explains and shows you absolutely everything you need to know to create your own electronic course.
It is easy to follow and implement, and the course gives you great examples and resources along the way. Considering the price this course is pretty amazing for everything that you get.
You really won't honestly need any other source to help you start creating your own courses. This is all you will ever need.
Other Courses & Products from Start a Mom Blog
In addition to Course By Number, Start a Mom Blog also have numerous other course and e-books.
Try a Start a Mom Blog Free Course First!
If you are still not sure about purchasing Course by Number, try a free course from Start a Mom Blog first!
This will give you an idea of the teaching style and flow of a Start a Mom Blog course before purchasing a paid course.
Here are some of the free courses you may want to take:
Start A Blog Course. This is a free course that is a step by step plan on how to start a blog for beginners.
FAQs
Do I have to have a huge email list and large amount of readers to create courses?
Absolutely not! In fact in this course Suzi & Jon show you how to make sales even when you don't have an email list.

I have no idea how to create sales pages or funnels, so how will I market and sell any course I create?
Everything is covered in this course – from creating sales pages, funnels and more!

Are all the tools and software used to create courses paid tools? Will I need to pay out more money for those too?
There are many free tools listed in the course. In fact there are options given for many of the steps and tools – with options for both free and paid versions and ways to do things.

What do I do once I have created my course? How will I know how to sell it and market it?
Part of Course By Number is helping you sell and market your course too. There is a lot of detail about launching your course, and how to design and create your perfect course launch!

What if I don't want to follow this course exactly as they teach to create my course?
That is absolutely no problem! The course shows you multiple different ways of doing certain things, such as which software to use to host your course. So you can completely choose the method that suits you!

I really don't have the time to create a course
You can successfully create a course by dedicating just a few hours per week to creating it. Suzi & John have created numerous courses while raising children and running their own businesses.

How long will this course take to complete?
The majority of students can complete this course in about a month. But you can work on it at your own pace as your own time allows. You get lifetime access to the course so there is no hurry!

Course by Number is a court from Start a Mom Blog on creating your own electronic courses. This is my complete and honest review of the course.
About Make Calm Lovely
Make Calm Lovely is a lifestyle blog specializing in IKEA DIY hacks, DIY & craft projects, home decor and so much more! Check out all the amazing things you can do and create to make your life calmier and lovelier at Makecalmlovely.com!