DIY Cork Coaster Jewelry Dish
IKEA cork coasters can be turned into pretty and useful jewelry dishes with this incredibly fast and easy DIY hack!
I have a really incredibly easy and fast DIY for you here! This is actually so incredibly easy and fast that you can do this DIY in just a couple of hours! (the longest time this takes is actually the drying time!)
Those little IKEA cork coasters, that are so readily available and inexpensive, can be turned into pretty and really useful little catch-all dishes and jewelry dishes for your home!
I always think that jewelry dishes are just one of the things that are needed so much in a home.  You are always taking off your rings and other jewelry to wash your hands, or do the dishes, and you need somewhere close by to place them, safely.
If you wear jewelry in general you are probably always needing to place your pieces somewhere as you take them off. Even if you have jewelry boxes and holders, sometimes it is good to just have a catch-all jewelry dish to collect and store your items, especially if they are items that you wear every day.
I scatter little jewelry dishes all around my home as catch-alls.  I have them beside my bed, on my dresser, in the bathroom, and by my kitchen sink!
But you know those dishes that you have around have to be pretty and attractive! So this is where the DIY comes in!
These cork coasters make such great little jewelry dishes as cork is such a great material to use for any DIY project. It is lightweight and easy to move around, and you can paint it really easily to create these great designs.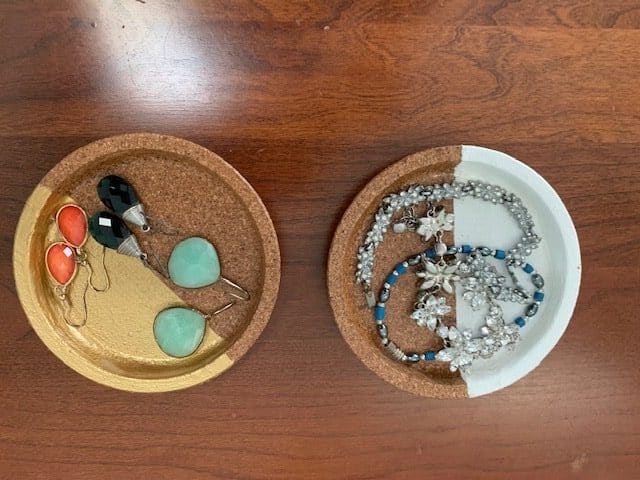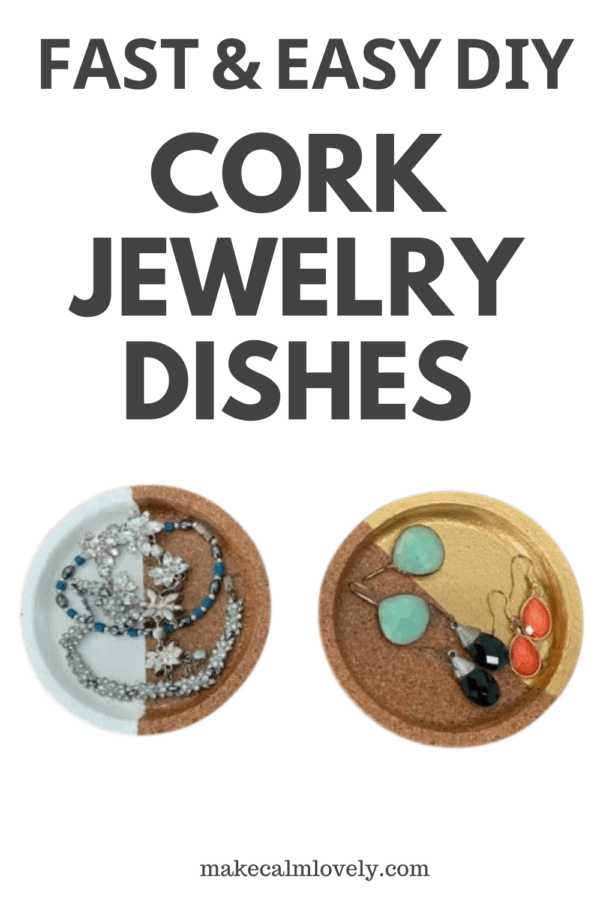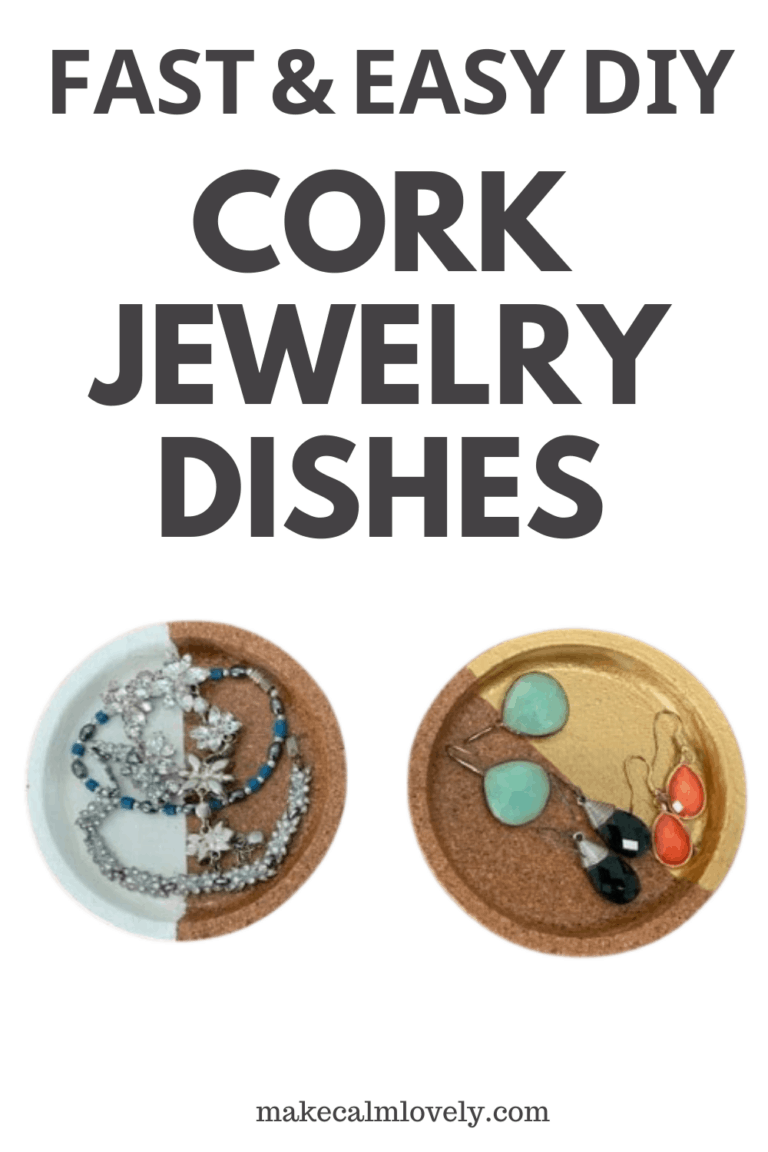 This post contains affiliate links. This means that if you click on a link in this post and make a purchase via that link I may receive a small commission, at absolutely no additional cost to you. You can view my disclosures here.
Supplies Needed to Make Cork Coaster Jewelry Dishes
Cork Coasters (from IKEA) or use other cork coasters
Painter's tape or masking tape
Small Paint Brushes
Spray paint or acrylic paint (I really love this spray paint for so many DIY projects). This is the gold acrylic paint I used, and the white acrylic paint I also used.
Mod Podge. There are several different types of Mod Podge available, this is the one I used.
Related: DIY Modern Cork Candlesticks IKEA Hack
How to make Cork Coaster Jewelry Dishes
As I mentioned previously – this is an incredibly easy DIY! You can make these little dishes in just a couple of hours!
Take the cork coasters and decide how you want to paint them, and the design you would like to have on them.
I have painted half of my coasters/dishes in paint. As you can see from the photos in this post I did one half gold, and one half white painted dish.
Cover your work surface completely with newspaper or something else to protect it from the paint. If you are using the spray paint I would highly recommend doing this outside if at all possible, as it can be very smelly and those fumes are just not good for you!
To make the half-painted dishes, tape off half the dish with either masking tape or painter's tape. You need to completely tape off the half that won't be painted if you are going to be spray painting it. If you are just painting with acrylic paint by hand, you can just tape off more lightly, and the tape doesn't have to cover the entirety of the side that isn't being painted.
Place the tape all over the half that will be painted, and secure it as much as possible. Try to make sure it completely covers the half of the coaster (see the above paragraph).
Using the spray paint, or acrylic paint, either spray the half that is not covered with tape, or paint it with the acrylic paint with a small paintbrush.
Leave the coaster/dish to dry completely. Apply several coats as needed, making sure that each coat dries thoroughly in between each additional coat.
To protect the painted surface of the dish after it is fully painted, apply Mod Podge all over the dish once the paint is dry with a small paintbrush, and leave the Mod Podge to dry.  If you haven't ever used Mod Podge it is like a clear sealant that dries non-tacky and will form a protective layer over something.
So I hope you enjoyed this incredibly fast and easy DIY project! You will now have pretty little catch-all jewelry dishes to scatter around your home!
Related: DIY Terrazzo Pattern Plant Pots
Related: 8 DIY Projects for your Weekend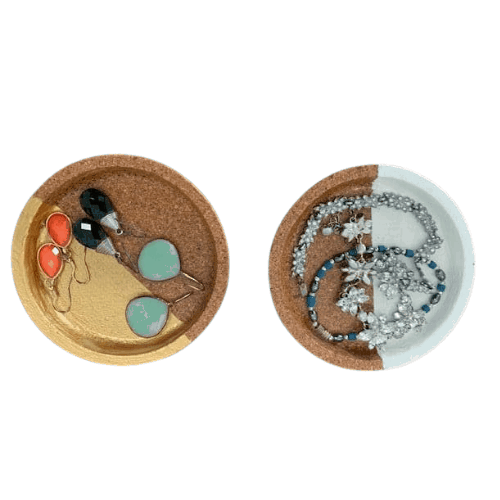 IKEA cork coasters can be turned into pretty and useful jewelry dishes with this incredibly fast and easy DIY hack
About Make Calm Lovely
Make Calm Lovely is a lifestyle blog specializing in IKEA DIY hacks, DIY & craft projects, home decor and so much more! Check out all the amazing things you can do and create to make your life calmier and lovelier at Makecalmlovely.com!