London has so many great and wonderful things to see and do throughout the year, but it really is a special place to visit around Christmas time.  London during the Christmas season is bright, festive, exciting and fun. It can get crowded and busy, but to be honest that just adds to its charm as a great must-do destination.
Here are some great and wonderful things to do in London during the Christmas season, and  many of them are completely free.
Christmas Lights
London likes to do Christmas lights in a big way!  Many streets in the West End, including Regent Street, Oxford Street, the Strand, Carnaby Street, Covent Garden, and Bond Street, have their festive Christmas lights up bright and shining. There are also Christmas lights along the South Bank and in many other places throughout London.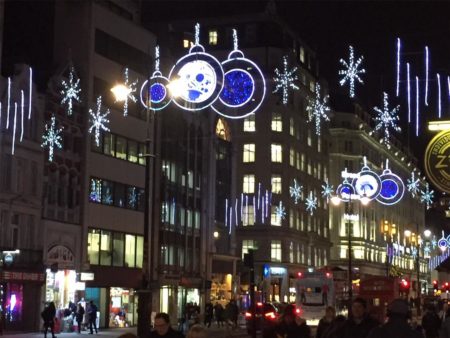 Christmas lights in the Strand
Regent Street Christmas lights
Christmas markets
Christmas markets are in abundance throughout London, including Winter Wonderland, Winterville, the Wintertime Christmas Market on the South Bank, Christmas by the River at London Bridge, the Leicester Square Christmas market and many more. Many areas of London will have their own little regional Christmas markets also.  They are great places for Christmas food and drink, gifts and activities for the entire family.
Ice Skating at an outdoor rink
Every Christmas from November to January Somerset House opens its outdoor skating rink, Skate, to the public, and it is a beautiful place to skate!  There is also a bar where you can rest or just watch the skaters, and great food available, all sponsored by Fortnum and Mason (who also have little mini shops of theirs around the skating rink). There are also some great skating rinks at Hampton Court palace, the Tower of London, the Natural History Museum, Skylight, and Canary Wharf.
Skate at Somerset House
Christmas tree in Trafalgar Square
Since 1947 the people of Norway have given London a Christmas tree, which is always prominently displayed in Trafalgar Square.   A special lighting ceremony is held as the tree is first lit up.
Shopping
There is great shopping in London throughout the year, but especially at Christmas time.  The places to shop are numerous, including Oxford Street, Regent Street, Bond Street, Covent Garden, Knightsbridge, Carnaby Street, and Mayfair amongst many others.   Many of the stores have special Christmas windows, such as the large department stores, Hamley's toy store and more.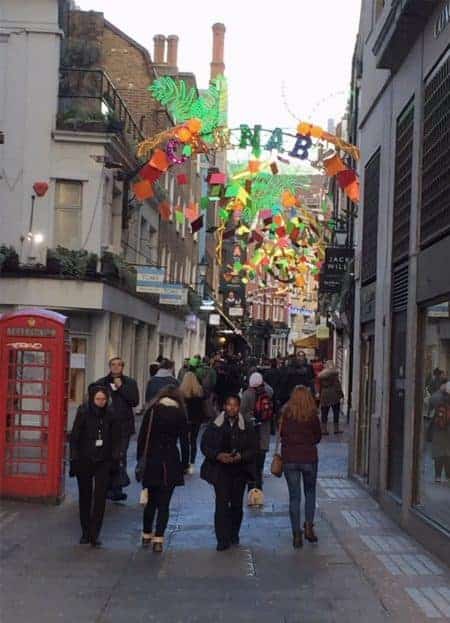 Carnaby  Street
Hamley's toy store Christmas window display
Christmas shows and Pantomimes
Pantomimes are as British as it gets, with these silly but entertaining shows put on every year around Christmas time throughout the UK. Young and old alike love a pantomime.  Many TV stars take parts in pantomimes at Christmas time, which make them all the funnier.  Pantomimes and special Christmas shows are found throughout London in many venues, including the London Palladium.
Nightly show shower at the Savoy
Even if there isn't a snow shower whilst you are in London, just visit the Savoy hotel every night between 5 and 6pm for a nightly dose of snow!  The Savoy has been creating its own snow shower for many years – and it looks very very real!
Christmas themed Afternoon Tea
Afternoon tea is the thing to do in London, and many of the venues that offer afternoon tea do special Christmas themed ones.  Venues include One Aldwych, the Dorchester, Hotel Cafe Royal, and the Waldorf Hilton to name just a few.
Shop for Christmas food and drink
Check out stores such as Harrods, Fortnum & Mason, Liberty's and places such as Borough Market for great food and drink for all your Christmas social gatherings.  They all have special Christmas displays and offerings.