Looking to make your own homemade holiday treats?  Everybody loves to receive something to eat around the holidays, and home made food is always welcome.  Home made food gifts are easy to make and inexpensive, and show the recipient that you care enough about them to make them a gift of food.
These chocolate covered pretzels are loved by everybody. Each bite of a pretzel releases savory and sweet flavors all at the same time.  Your recipient can put them out at their own holiday event, or keep them as a snack themselves.
Ingredients:
Bag of miniature pretzels
White chocolate
Dark chocolate or milk chocolate
Sprinkles
A note about melting chocolate:  You can use all kinds of chocolate for these pretzels.  Either specially bought baking chocolate, regular chocolate bars, or chocolate chips.  The easiest way to melt the chocolate is in the microwave. Some baking chocolate that you buy is especially for melting in the microwave.  Just be aware to not over-melt, as the chocolate can burn if you over-do it.  If melting in the microwave do it in short bursts of about 30 seconds each, remove from the microwave, stir, and then put back again for another 30 seconds. Do this until all the chocolate is melted. The more 'traditional' way of melting chocolate is to place the broken up chocolate into a glass bowl, over a rolling boiling pan of water (only a couple of inches of water is needed for this method).  Whatever method you use, always stir the melted chocolate well to ensure that all chunks and pieces have melted.
Directions:
On a cookie tray or baking pan, covered with parchment paper,  lay out the pretzels.
Melt your chocolate of choice.
Taking each pretzel one by one on a fork, dip into the melted chocolate.  Move the pretzel around in the melted chocolate a few times, so that it gets coated well all over.  Gently shake off as much melted chocolate as possible, before placing the chocolate covered pretzel on the baking pan or cookie tray, on top of the parchment paper.
While the chocolate is still wet, shake the sprinkles over the top of each pretzel.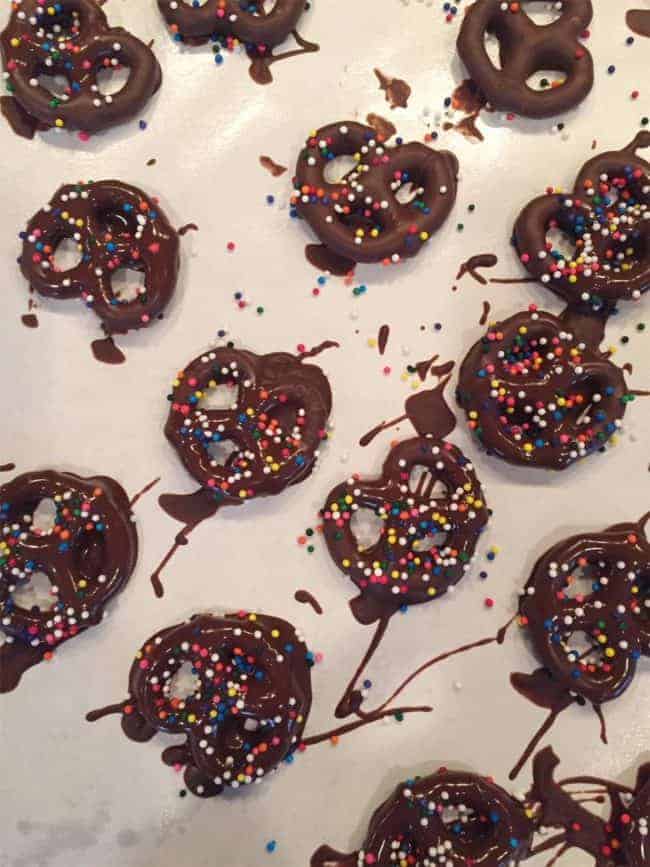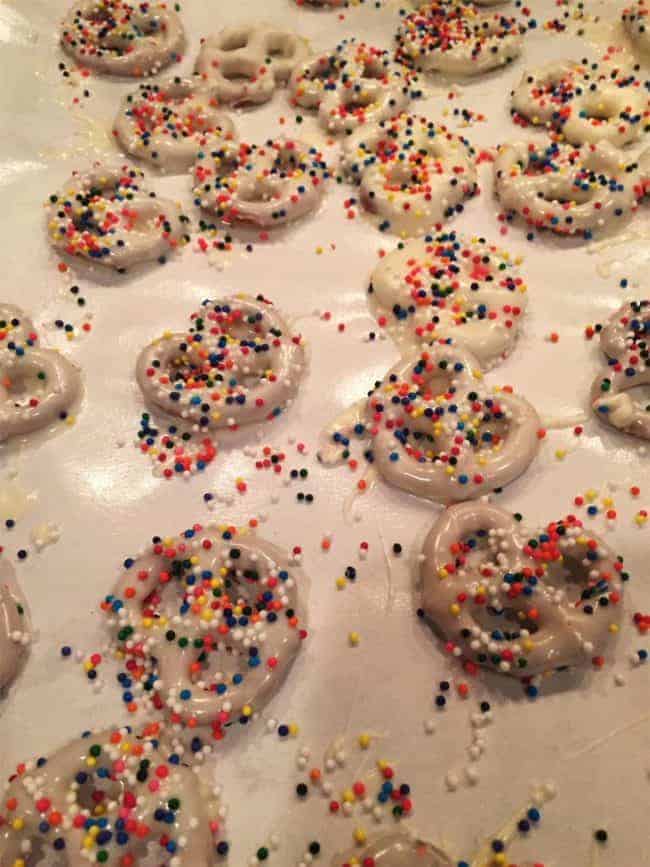 If the melted chocolate gets a little too thick, thin it out with a little vegetable oil, just a teaspoon or so should be enough, you can adjust as needed.
You may need to place the tray of pretzels in the refrigerator for a little while to firm them up better.
Once the pretzels are dry, place in little cellophane bags and tie.