Bullet journals (or Bujos) are one of the latest crazes that is spreading in popularity.  A bullet journal is basically a journal where you *hand write* your to do list, a planner, notes, a habit tracker, lists, tracking things, and a journal – all in one. Starting with a blank notebook you start out writing in your bullet journal, and it quickly becomes your to go to little book.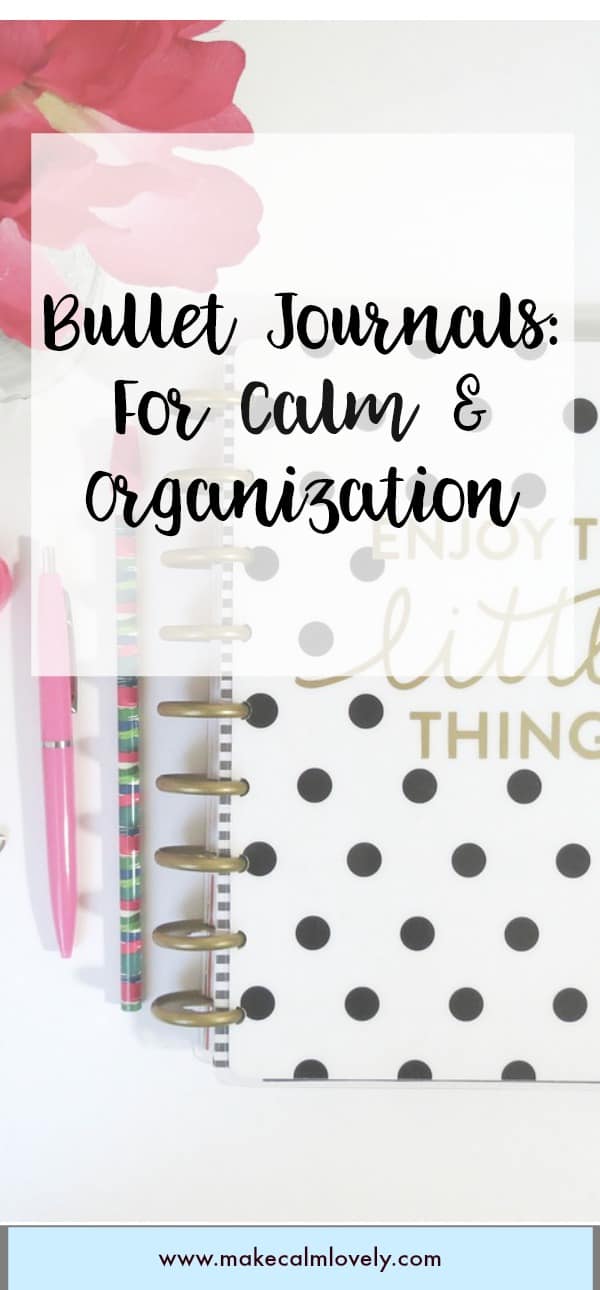 This post contains affiliate links. This means that if you click on a link and purchase something through that link, I will receive a small commission, at no additional cost to you.
But why are bullet journals considered so lovely, and are now so popular?  There are several reasons.  We are going back to our roots a little getting back to hand writing, rather than typing things.  Bullet journals look really pretty – writing in our own handwriting is just so pretty, and so satisfying. A bullet journal can combine a lot of notebooks into just one, and can get us much more organized. You can also doodle and draw in your bullet journal, which can really bring out your artistic side, and your journal will look so pretty!
Trying to keep a bullet journal will not only put something artistic and lovely back into your life, but it will also get you more organized and on track.  Bullet journals were created by a designer from Brooklyn, NY, Ryder Carroll.
So what are the essentials of starting a bullet journal?  What does your bullet journal need to contain?
A bullet journal, because it is a collection of many different things, really needs an index to keep you on track. That way you can easily find something you need to look up.  The index can be at the front or the back of your bullet journal, it is really just a personal choice. I place mine at the front, so it is easily found and consulted.
Project planning pages are great to have for your projects.  They can be concise plans of everything needed for a particular project, with deadlines, to do lists etc.
Monthly Calendar and Monthly goals.  These are great for knowing what has to be done, and when it has to be done.  It can really keep you on track.
Daily Pages.  These can set out what you need to do every day, with to do lists, notes etc.
Lists.  You can keep all kinds of lists.  A list of birthdays and special occasions.  A list of what you have spent, lists of your savings balance, basically a list of just about anything you want.
Watch this You Tube video for information on Bullet Journaling 101.
Steps to starting your bullet journal:
1.  Purchase a notebook. This really doesn't need to be an expensive notebook.  This Essentials notebook
is a really good one for bullet journaling, because it has heavy paper, it is a good size and has a good number of pages.  It also has a bookmark and pockets inside the back cover to hold various notes etc.  Moleskin notebooks make great bullet journals.  Basically any notebook can work for a bullet journal, as long as it has the right number of pages you need, the paper is good quality enough to write on, constantly, and it is the size you want.  You should decide if you want lined paper, plain paper, grid paper etc in your bullet journal.  Just remember that whatever notebook you choose for your bullet journal, you will probably want to keep all your old bullet journals. They are lovely things to go back through for memories and information.
2.  Get some nice pens to use for your bullet journal.  You probably want to use a variety of colors to really make things stand out.  Gel pens that glide more easily across the paper are more pleasant and easier to use. But really you don't have to buy a lot of different pens if you have pens at home you could use. Colored pens just make your journal look nicer and you can color code certain things also for reference. You may also want a set of highlighters to highlight certain things in your journal. If you do want to purchase some nice pens,  these fineliner pens are a really nice choice.
3.  When you first start a bullet journal you will be finding your way with how you want to record things in it, and how you want it to look.  Your first bullet journal may well be a complete guinea pig for later journals. So don't expect perfection the first time. Just remember how much fun you are having with it! You may want to first write out your layouts in pencil. That way you can erase something you don't like before you finalize it in pen.  One of the really great things about bullet journaling is that you can make your own way in how you design it.
3.  For pages that you use frequently, you may want to put tabs on those pages for easy reference.
4.  Set up a Key for your journal, so you can track progress on things.  For instance, a check mark for when you have completed something, a circle for something in progress, a hash tag for something postponed. You can come up with your own reference list.
5.  Figure out what exactly you would like to track/keep notes on in your bullet journal. Everyone's bullet journal should technically be different – as everyone is different.  My bullet journal, for instance, is planning out blog posts, keeping track of when I run and go to the gym, keeping track of what I eat, Daily to do lists, lists of things I want to do that day/month/year, long term goals, a list of books I want to read,  list of birthdays and anniversaries, list of movies I want to see, blogging affiliate lists, expense tracker, savings tracker, blogging editorial calendar, places I want to travel/visit, restaurants I want to visit,  etc.  If you make a list of what you need to monitor and track with your bullet journal, it will be easier to plan out all your pages.
6.  Look up how others keep their bullet journals, what their journals feature, how they plan out their journals.  There are many sources for inspiration for creating your own bullet journal.
Take a look at these Instagram accounts for ideas and inspiration:
Plan to succeed.  Kate is a bullet journalist and a stationery addict! You will love her examples of her bullet journal pages.
boho.Berry.  Kate is a bullet 'journalist' who creates great entries in her bullet journal. Check out her Instagram for her ideas such as a sleep tracker, mood tracker etc.
Ryder Carroll.  Official bullet journal page.  The official Instagram page from the guy who created it all!
Here are some great bullet journal ideas from Pinterest:
Hannah Emily Lane: 5 Daily Log Layouts.
The Petite Planner: Creative Habit Trackers for your Bullet Journal
Sublime Reflection: Bullet Journal Weekly Layout Ideas
I would love to see your bullet journal page ideas!  Share them with me anytime!