Bathroom renovations can be expensive. If your bathroom needs a refresh, but money is tight, here are 14 great ideas to refresh and remodel on a budget.
If you are tired of your old dated bathroom and need to do a complete refresh it can be done quite cheaply. You don't have to spend thousands of dollars replacing bathroom fittings, re-retiling and more.
Many homeowners spend so much money in renovating and overhauling their old dated bathrooms. Renovating is great to do if you plan on selling your home. But what if you just don't have dollars to spend on a complete renovation?
Here are 14 ways that you can completely refresh and update your old bathroom, without spending hundreds, or even thousands of dollars.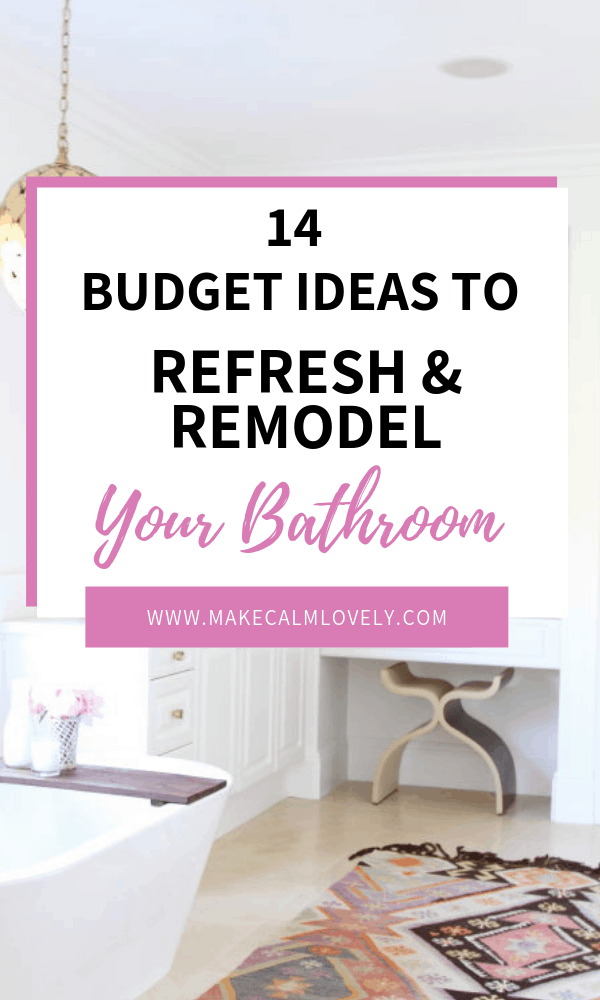 This post contains affiliate links. You can view our complete disclosures here.
Refresh your Flooring
Do you have old tile in your bathroom, or a plain wooden floor? Do you have old dated lino on the floor? Whatever your flooring is, it may be well past its glory days. Choosing a different floor covering, painting the floor, or covering up old tiles can make all the difference. Just using a rug to cover up an existing floor can add color and interest to an old bathroom.
Vinyl Flooring ideas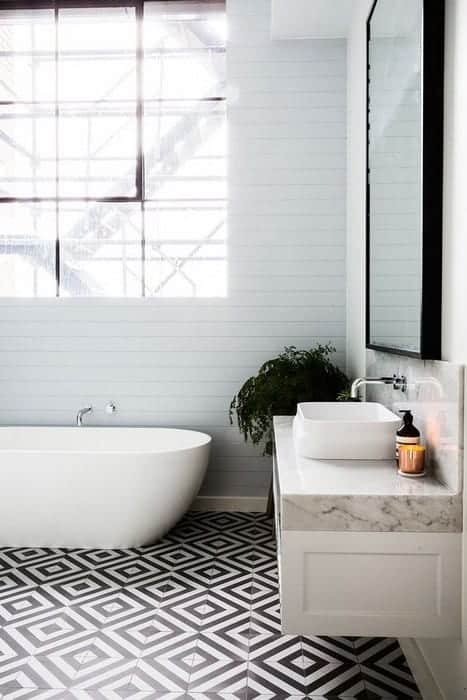 Photo: ID Home
Here you can see how amazing vinyl tiles can look on a floor.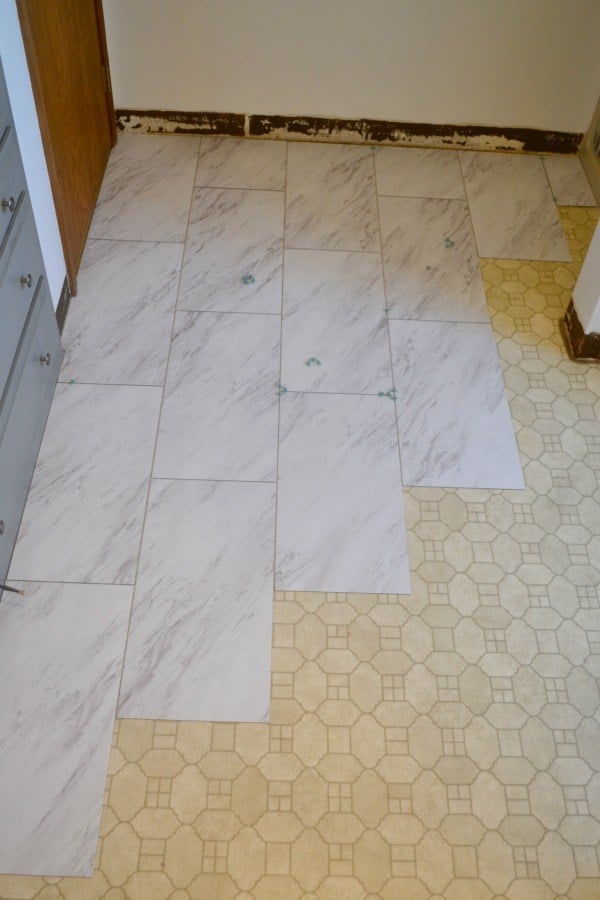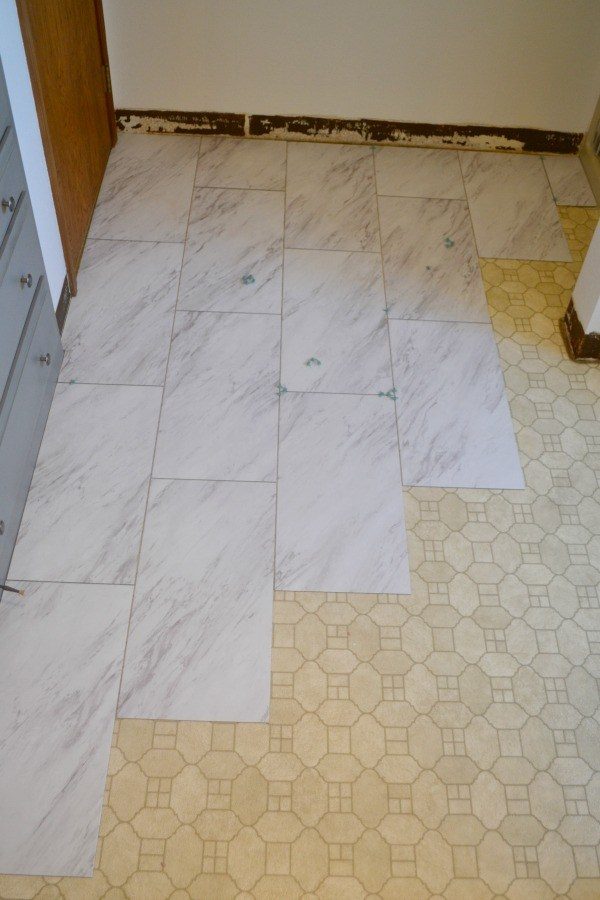 Photo: 1905Farmhouse.com
You can even stick vinyl peel and stick tiles over an existing floor
See the post here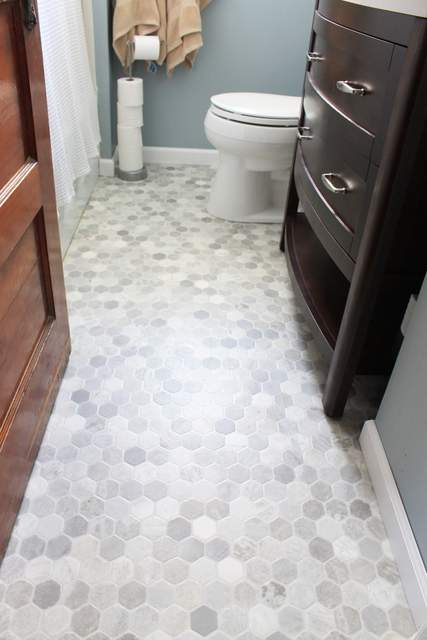 Photo: Hometalk.com
Vinyl comes in sheet form, or peel and stick tiles.
Installing a vinyl sheet floor is easy. See the post here.
Ideas for Painting your Floor
If you have a plain wooden floor, or a wooden floor under vinyl that you will remove, consider painting it. Painted floors can look beautiful. Use a bathroom compatible paint, or use enamel on your wooden floor, which will keep it shiny and durable. You could also use marine paint, which is especially made to withstand damp and water. Purchasing paint is fairly inexpensive, and painting a floor is something that most home owners can handle themselves, therefore eliminating labor costs.
Paint your existing Tile
Your bathroom tile may be old and discolored, or you just don't love the color scheme. Painting tile is easy to do and fairly inexpensive.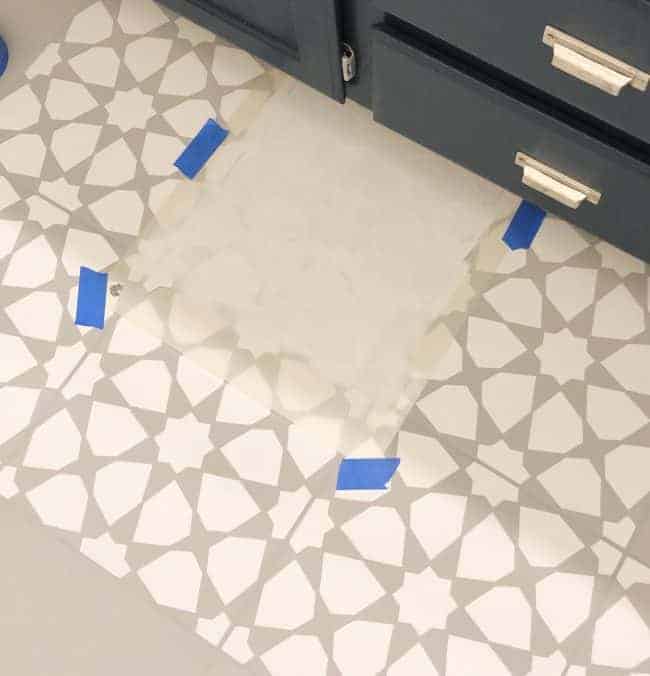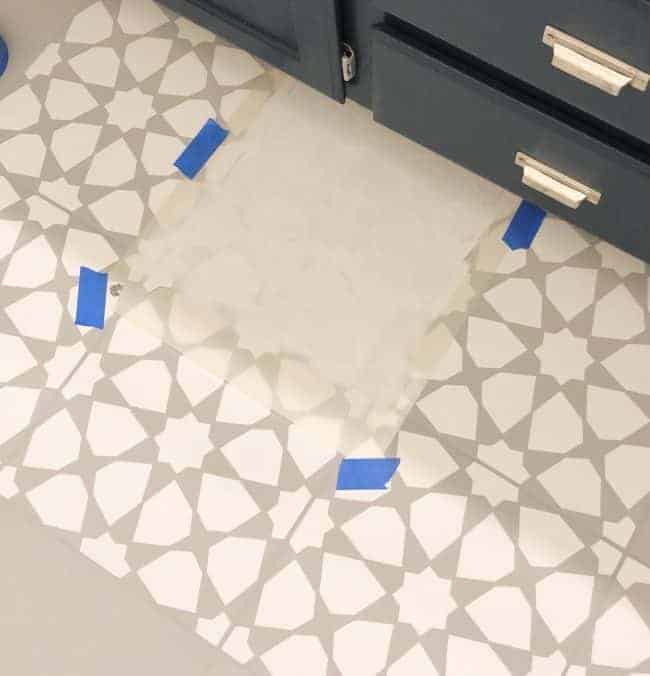 Photo: Young House Love
Stenciling paint over an existing tiled floor can look amazing. See this how to post here.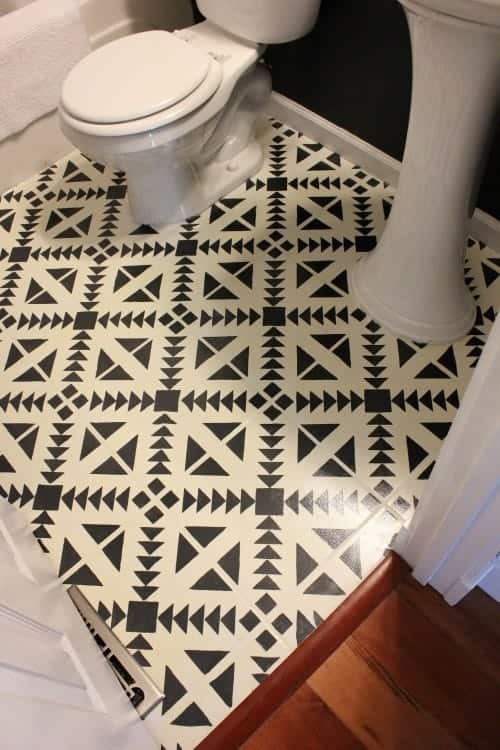 Photo: Leila Burris
Paint your Wooden Floor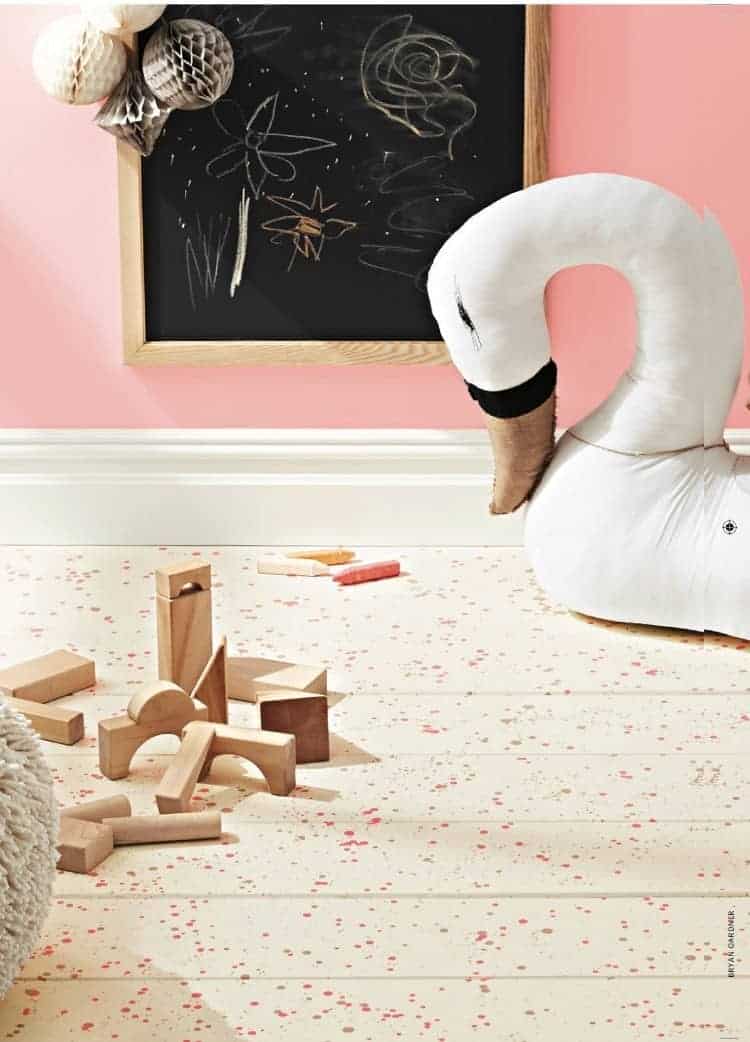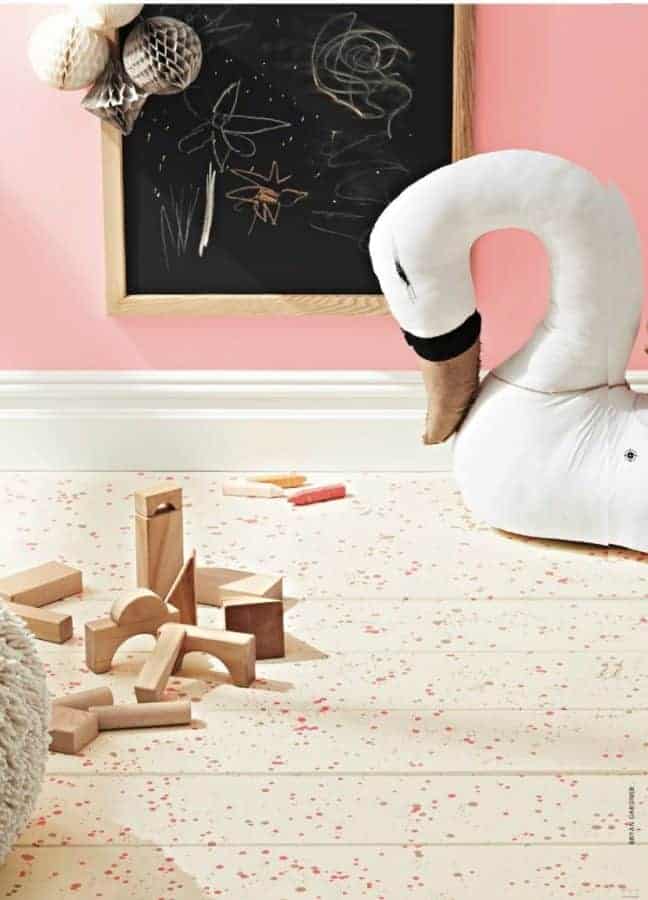 Photo: Martha Stewart
Try a Paint Spattered Wooden Floor look.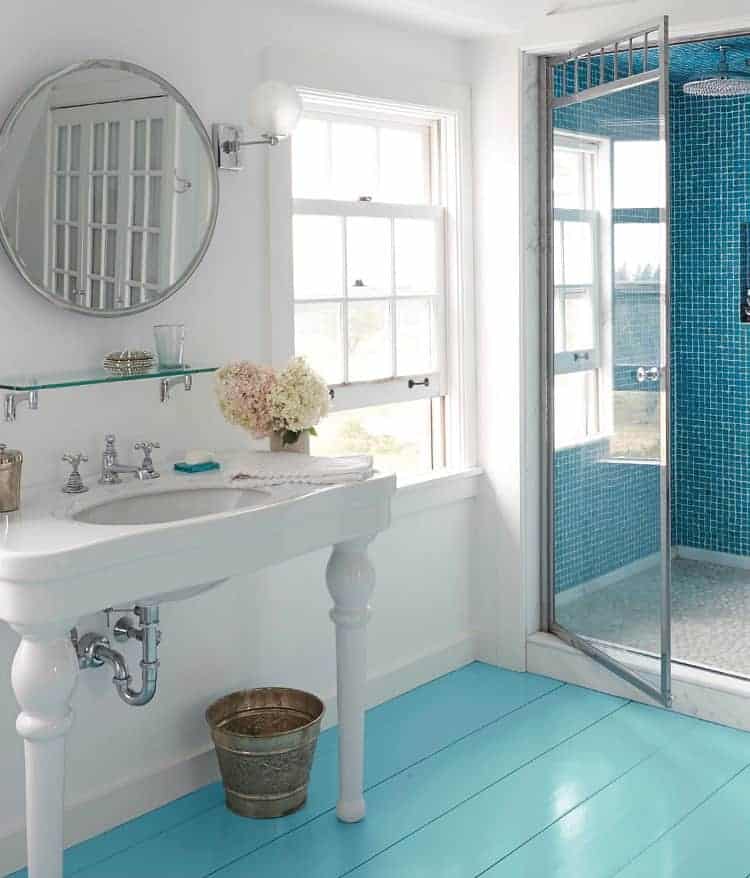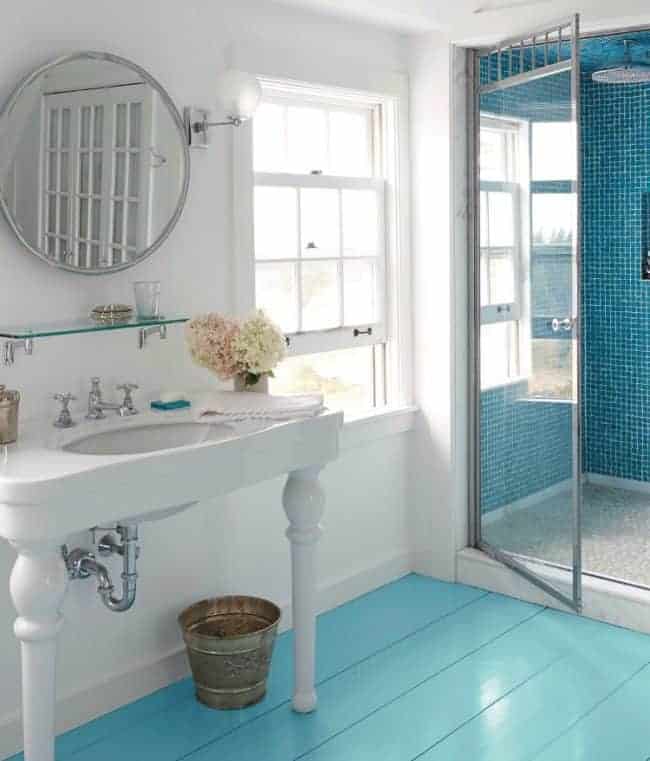 Photo: Martha Stewart
Painting your wooden floors in a beautiful color can really add interest and
glam to your bathroom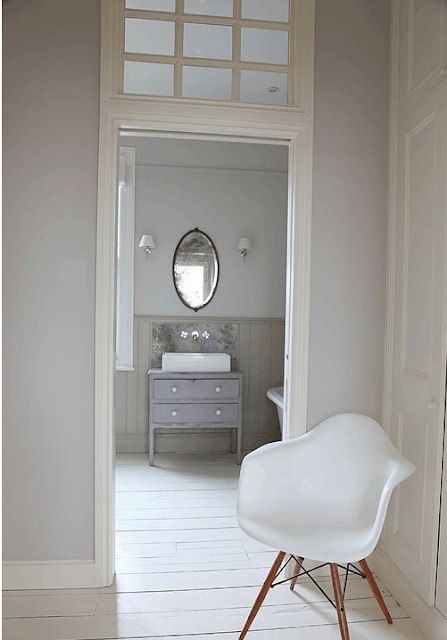 Photo: Modern Country Style
A white painted wooden floor looks classy, vintage, or modern. It makes a small
bathroom look much bigger, and you can add color with other things such as shower curtains etc
to add brightness also
Choose a Beautiful Bathroom Rug
A beautiful rug can make all the difference in your bathroom. Choose a rug to cover up an old tired floor, or to add interest and color to a bathroom. If you do place a rug on your bathroom floor, just make sure you use anti-slip padding under it to make it safe.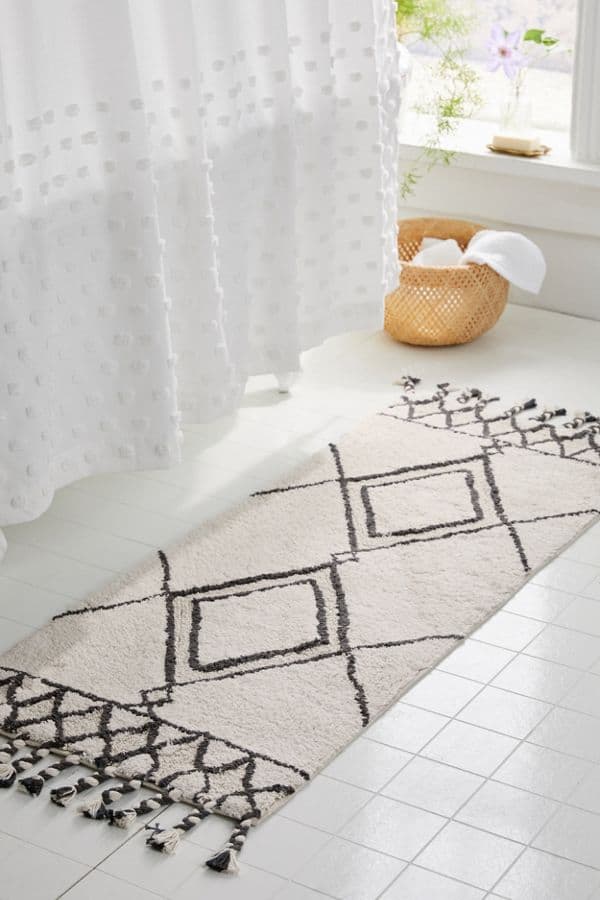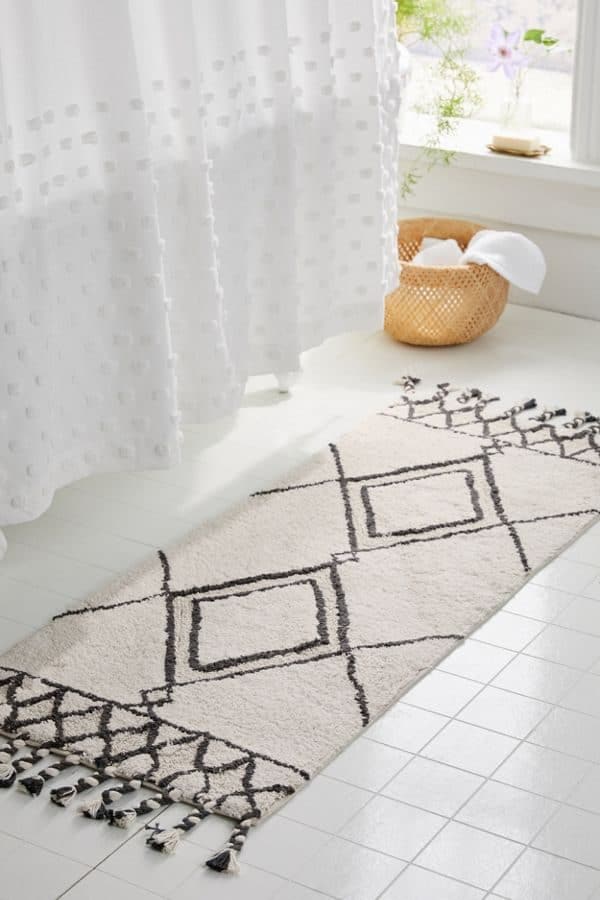 This Southwest Runner Bath Mat from Urban Outfitters adds a great look
to a pale bathroom.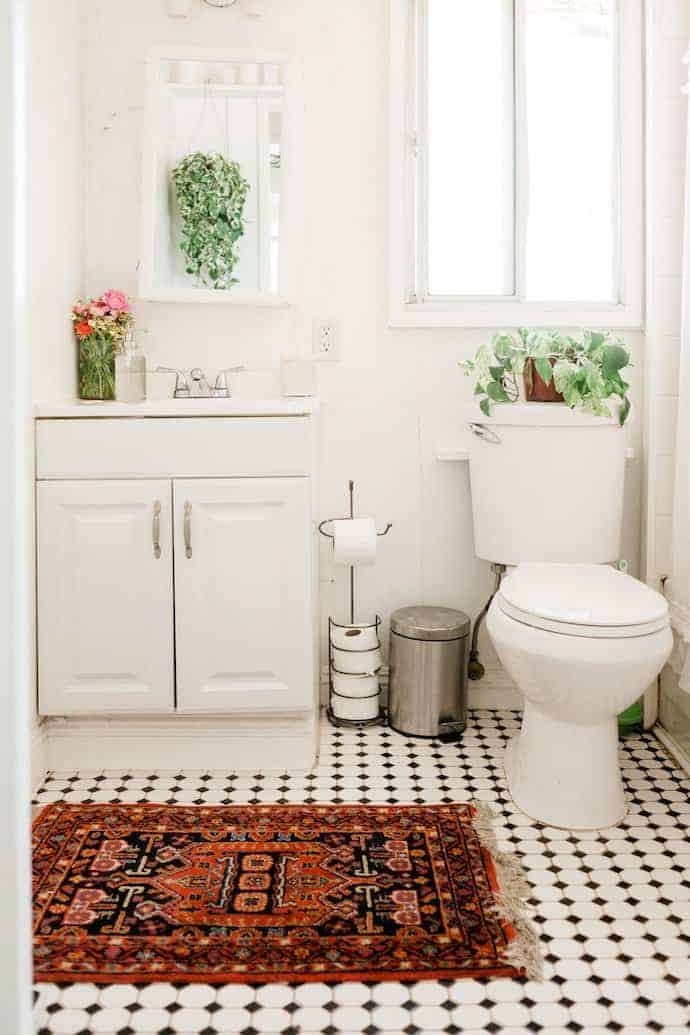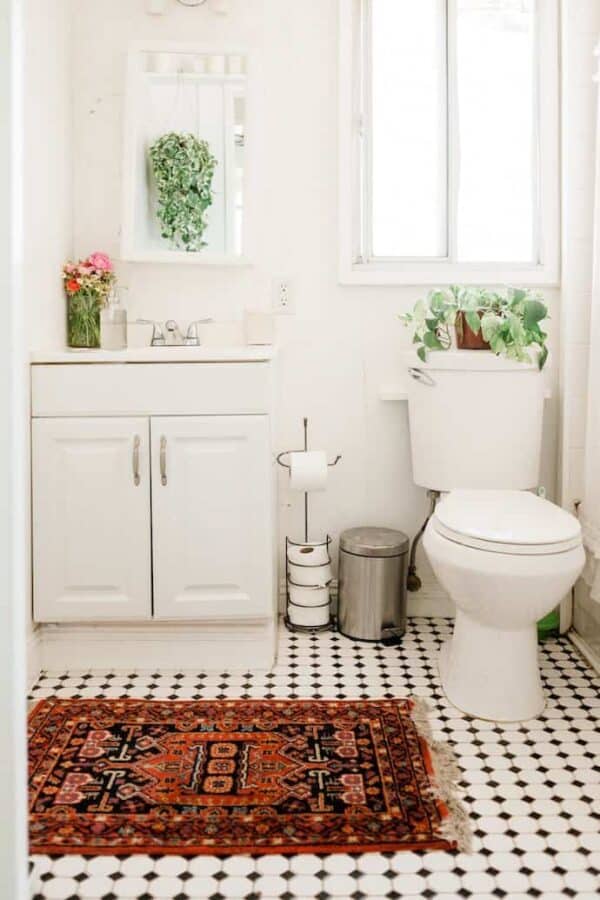 Photo: The Glitter Guide
A vintage rug can add a splash of color, and a lot of interest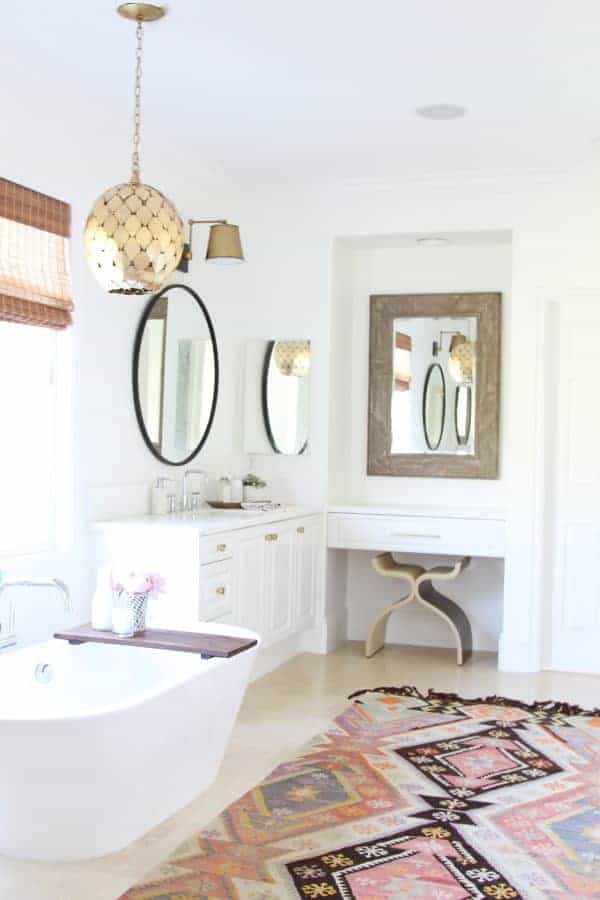 Photo: Style Me Pretty
Any colorful rug can make a huge difference in a bathroom, and make it look
less tired, and far more elegant!
Your bathroom Tub, Sink & Toilet
You probably can't afford to renovate your bathroom by replacing your tub. But if you are stuck with an old tub you can't stand anymore, there are ways to refresh it and make it look like new again.
Refinish your Tub
Refinishing a tub gives it a whole new gleam and shine. There are many companies who can refinish a bath rub for you, at a lot less cost than a new tub. You could even try to refinish your tub yourself. You could also buy a bathtub and/or shower liner, which many companies sell and install. This covers up your existing tub and shower and costs a lot less than replacing the tub and shower.
This would be especially good if your tub is a color you really don't like (at some point people thought that avocado green and brown tubs were a good idea!)
You could also try touching-up your tub, if it isn't damaged or discolored too badly. Super Glue also makes a great Super Glue Porcelain repair.
Get a New Faucet
A new faucet can make all the difference to your bathroom sink. Update an old out-dated faucet with something sleek and modern looking.
Replace Hardware
If you have outdated handles and knobs on your bathroom vanity unit, replace it with new modern hardware. You can also replace hinges.
Paint your Wooden Vanity
If you have a wooden vanity unit in your bathroom, a lick of paint can make all the difference. It is pretty easy to paint a vanity unit, and you can do it in just a weekend. You can choose all different paint colors to match your decor.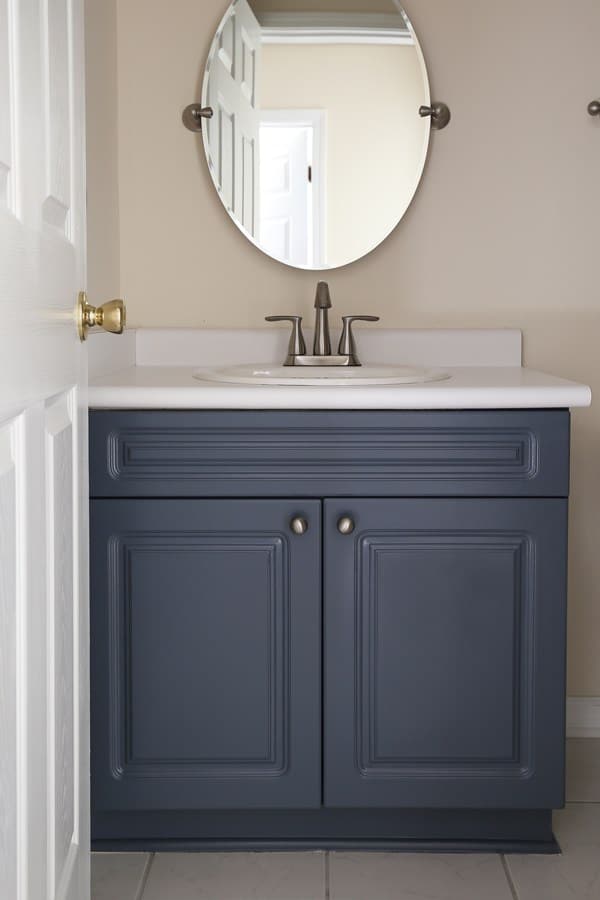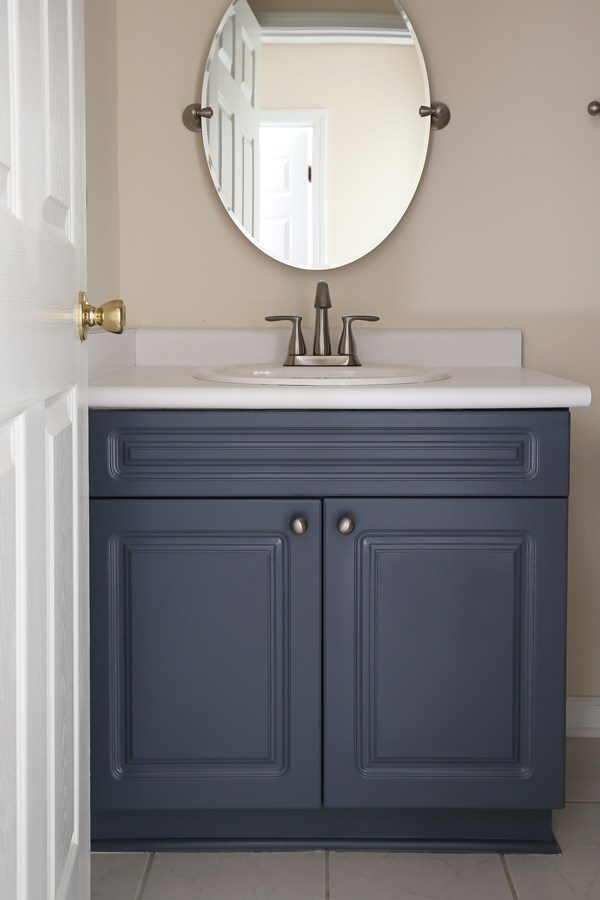 Photo: Angela Marie Made
Make a new Vanity Unit
If you are pretty good with tools, you could try to make your own vanity cabinet. A new vanity, which can be made far more cheaply than purchasing one, can make all the difference to your old tired bathroom. See the post here to make this great vanity unit.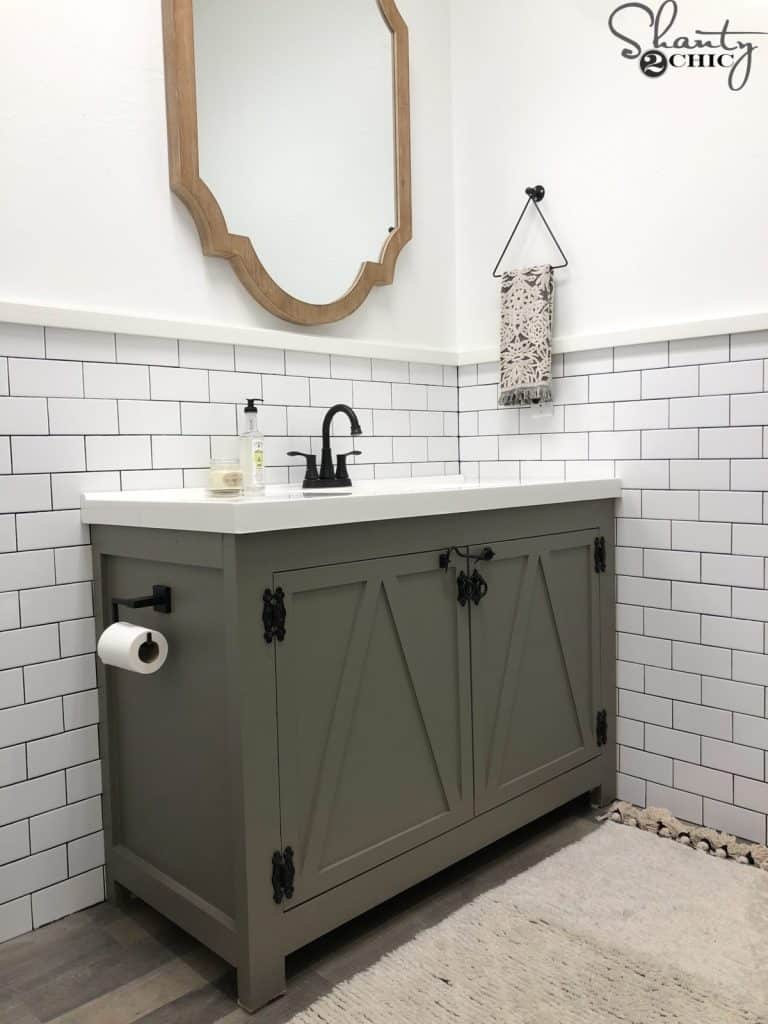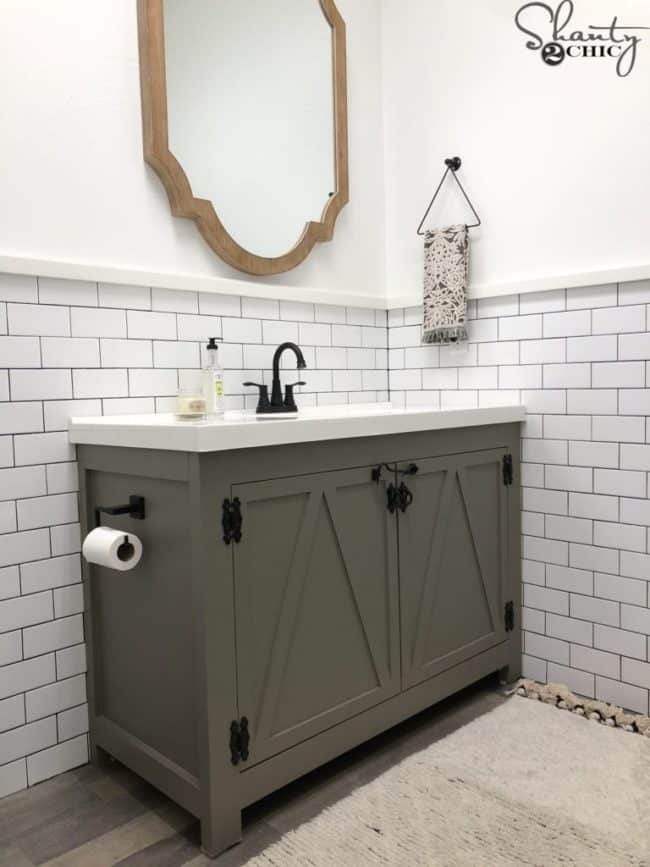 Photo: Shanty 2 Chic
Replace your sink
Replacing a vanity unit sink is fairly easy and inexpensive to do. Or you could even paint over your vanity top, tile it, or top it with a bowl sink that sits right on top.
Bathroom Walls
If your walls are not tiled, you can just paint them to any color you would like. If you do have tiled walls they can easily be painted. You can also paint shower tiles.
Stenciling the walls can install patterns and colors. If you have a plain painted wall, stenciling designs on it can take it to a new level of chicness.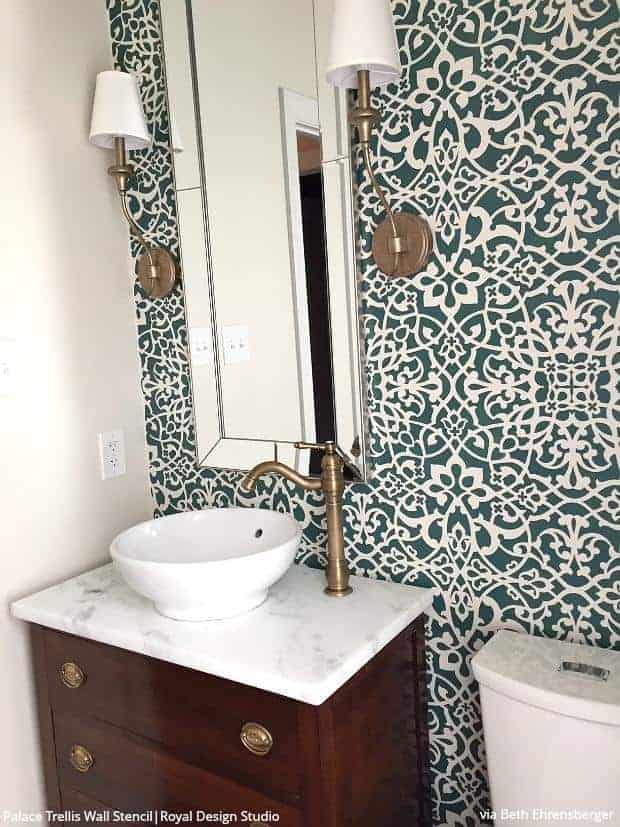 Photo: Royal Design Studios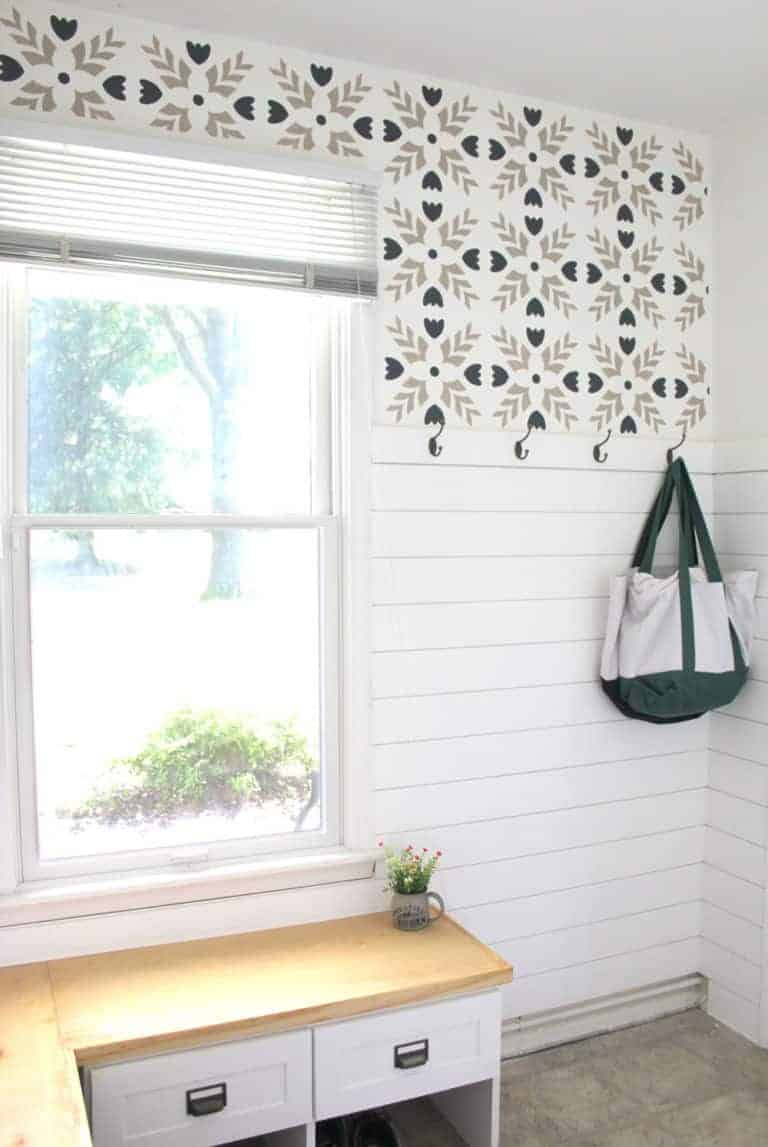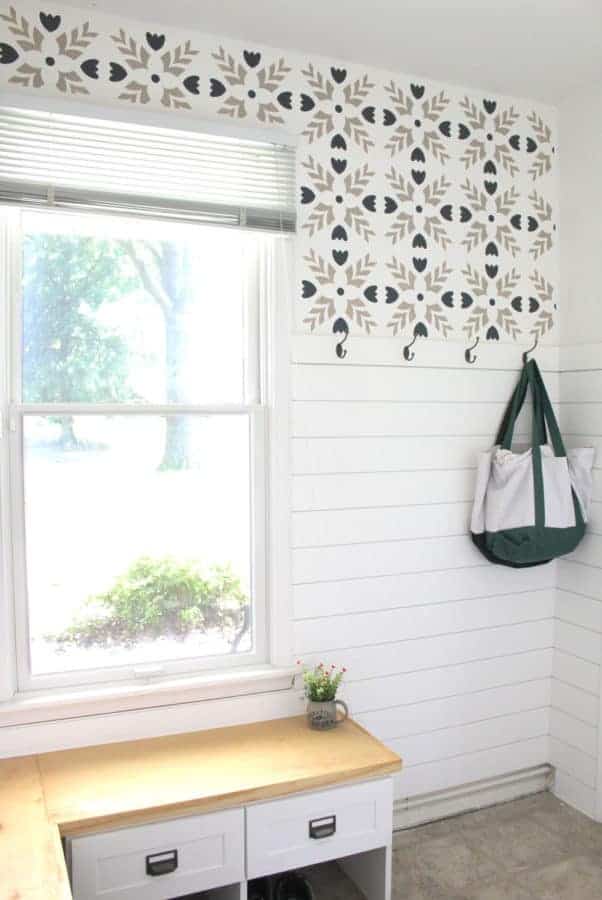 Photo: Just Measuring Up
Wallpaper your Walls
Wallpaper has made a come-back in recent years. Wallpapering your walls can add color and uniqueness. Wallpaper can bring a drab old bathroom back to life, and will look stylish and chic. You can even use peel and stick wallpaper if you would rather not paste wallpaper how it used to be done!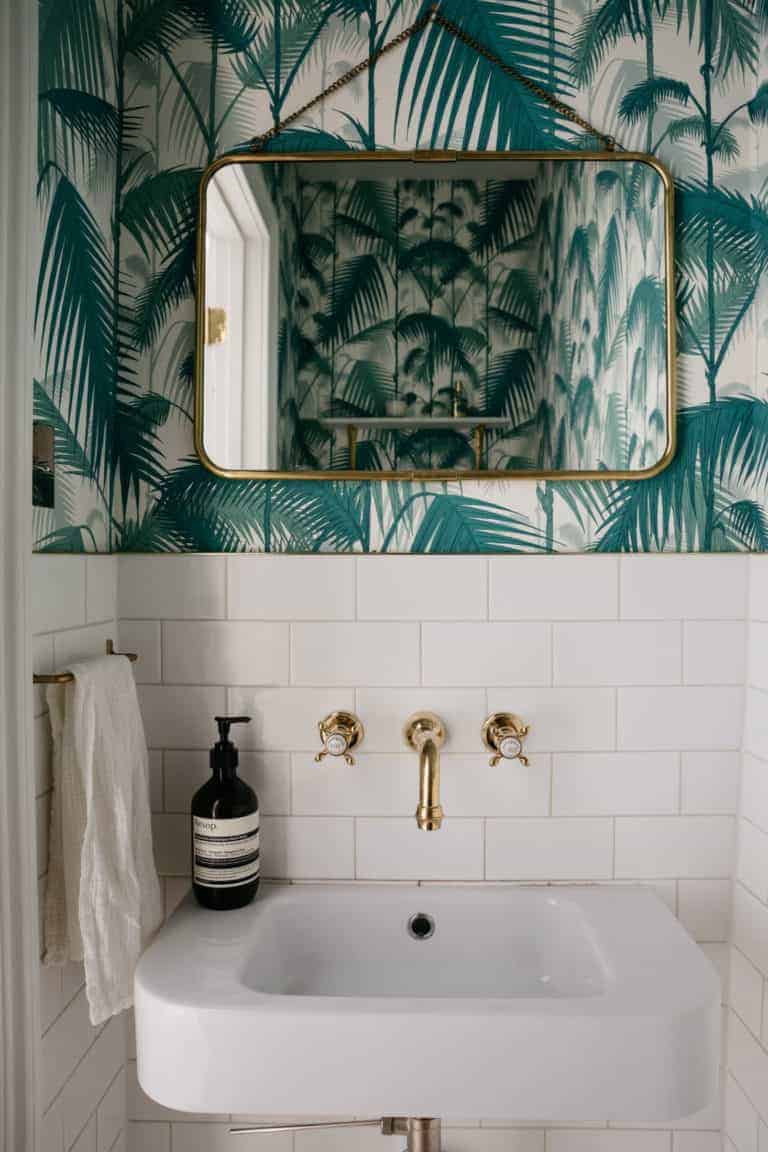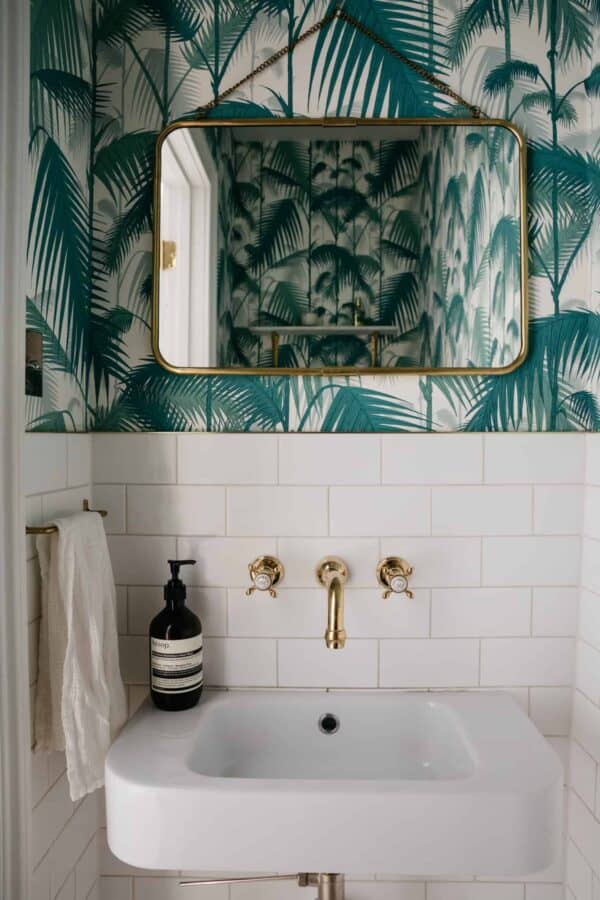 Photo: Remodelista
Replace your Bathroom Lights
Replacing the lights over your bathroom sink can make a big difference to your bathroom decor. The right lighting can also affect the look and brightness of the room. Lighting can also make a room more cozy, more modern, and more attractive.
You don't have to spend a ton of money to update your old drab boring bathroom. See these great ideas for updating and refreshing your bathroom on a budget
You may also like these posts:
IKEA Products & Hacks to help Organize your Bathroom
Anthropologie Inspired DIY Ideas