Plan your budget, and get your finances organized, with this new printable bundle from Make Calm Lovely!
I have a new printable to let you know about today! It is my brand new Budget & Finance Bundle. The bundle contains all you need to plan out, and take control of, your finances.
One of the biggest issues that we all have is staying on track of our finances. It doesn't help that none of us actually likes dealing with our finances! But it is one of those things that we all have to stay on top of, whether we like it or not!
That is why I created this printable pack. It contains all the worksheets that you need to get your finances in order. It is also a pretty design, which should make it far nicer and more fun to actually use!
What the Printable Budget & Finance Bundle Contains
The Budget & Finance Bundle is 23 total pages of worksheets, planning pages and covers.
You get a choice of 7 different covers for your own bundle. You can select the actual one you want, depending on your own style.
There are also 17 pages of various worksheets, these include:
Yearly Expenses
Annual Overview
Password Tracker
Mortgage Payoff Tracker
Car Payoff Tracker
Emergency Fund
Monthly Calendar
Monthly Bills
Savings Tracker
Debt Payment Tracker
Monthly Budget
Bank Account Information
Credit Card Information
Bill Payment Tracker
Charitable Contributions
Financial Goals & Notes
How to use the Budget & Finance Bundle
The Bundle comes in a digital PDF file all ready for you to download and start using immediately!
You can either print the entire file off, or choose the pages that you want and print them off separately. There are 7 different covers to choose from, so you may want to choose the exact cover you want to use and print that off individually.
You can keep your Bundle to hand in a folder or ring binder. Ring binders are great for keeping everything together.
I would recommend this type of ring binder. If you want a clear cover to insert your chosen bundle cover into, this one is also good.
You can also have the bundle professionally bound at your local print store. However I would recommend a ring binder, as then you can replace the pages as you go, year after year.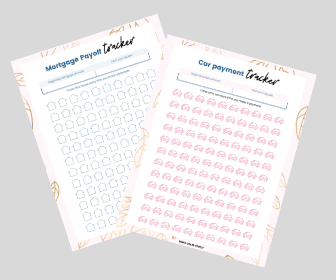 Use the Bundle Year After Year!
The great thing about the bundle is that nothing is dated, therefore you can keep printing it off and using it year after year! Buy it once, and you will never have to buy anything like it ever again!
As certain information changes, you can just print off a new updated sheet for that information.
If the bundle is updated, you will always be notified of updates, and you will always get them automatically for free!
Purchasing this digital file one time means that you will always have it to use!
The bundle is available in my shop right here.
Not sure yet? Sign up below to get the free sample and check it out first!
Plan your budget, and get your finances organized, with this new printable bundle from Make Calm Lovely!